Nate Diaz Shows Why He's the Real BMF by Helping One of His Fans
Jorge Masvidal may have won the BMF belt by technical knockout due to a doctor stoppage, but Nate Diaz thinks otherwise. Diaz disputes the result, as he thinks he could've won if the doctor didn't stop the fight. Diaz has always been a stubborn person, but this time, he's put his money where his mouth is by helping out one of his fans to show the world that he's the true BMF.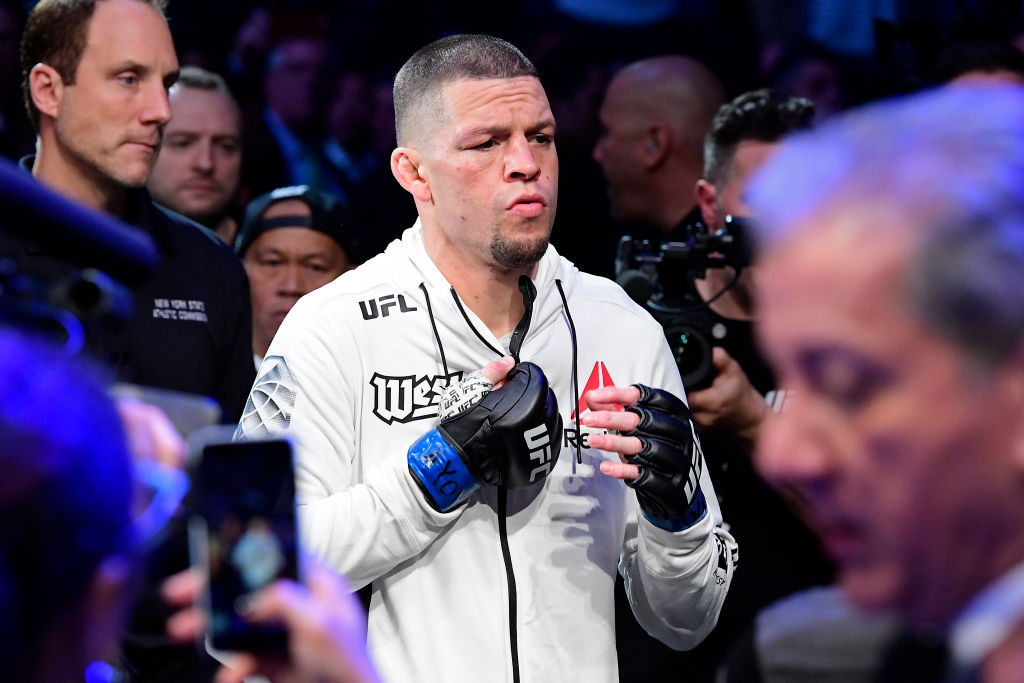 A bad bet
One of Nate Diaz's fans said on Instagram that he lost all of his rent money when he bet it on Diaz at UFC 244. It's not known how much money the fan lost by betting on Diaz, but Diaz didn't care. In a display of philanthropy, Diaz replied to that fan saying to him, in essence, that Diaz had it covered. 
A few days later, as CBS Sports reported, the fan posted on Instagram again the direct messages that he and Diaz had over Instagram. After a brief conversation, Diaz simply told the fan to stop talking and to give him his PayPal address. The fan did that and Diaz sent the fan more money than what the fan had lost from his bet.
The fan, in turn, said that he'd spend the extra money on Diaz's weed company. This act of keeping it real is something that Diaz and Masvidal have always talked about. Although Diaz may have lost the BMF belt, by doing this for one of his fans, Diaz has kept it real, and that's evidence that he's still a BMF. 
Nate Diaz never gives up
This type of stubbornness isn't surprising about Diaz. He and his brother, Nick, are known for not quitting. In fact, in his entire 32 fight MMA career, Diaz has only been knocked out or submitted twice.
He was submitted in his seventh professional fight in 2006 and he was knocked out by Josh Thompson in 2013. However, he was not truly knocked out, as it was a technical knockout and not a true knockout.
A technical knockout simply means that the referee or the doctor has judged that the fight can no longer continue. A true knockout is like what Masvidal did to Ben Askren when Askren was knocked out cold in five seconds.
The reason why Diaz is known for not quitting is because he doesn't give up. He can take the hardest punches from men like Conor McGregor and survive. He can overcome adversity and win from behind.
Because of this toughness, Diaz argued with the doctor's decision to stop his fight against Masvidal. He thought that he was taking what Masvidal had to offer and could tough it out in the later rounds. But of course, the doctor's orders were final, and the fight was stopped.
What's next for Nate Diaz
Masvidal may be the holder of the BMF belt right now, but because of how the fight ended, many fans and many athletes think that the two men should fight again.
Masvidal was dominating Diaz for the first three rounds, but because of Diaz's renowned cardio and toughness, it's possible that Diaz could've made a comeback in the fourth or fifth rounds. 
That said, Masvidal could be fighting for the title next, so Masvidal may not want to fight Diaz. If the rematch doesn't happen, then a trilogy fight between Diaz and McGregor would make a lot of sense. Both men are coming off of losses and both men are down to fight one another.
One thing's for certain though. Despite some rumors about Diaz retiring after his loss to Masvidal, Diaz has stated that he's not retiring. Diaz is only 34 years old and he's more popular than ever.
Whether or not he's the BMF of the UFC doesn't matter to him, because by doing what he's done for his fans, Diaz remains a BMF in their hearts and minds.