Nate Newton Became a Dallas Cowboys Legend in Spite of Weighing Over 400 Pounds
Nate Newton somewhat proved one of the most iconic Star Wars lines to be correct.
When Yoda said "size matters not," he was referring to height. But Newton, a star offensive lineman for the Dallas Cowboys in the 1990s, exemplified that with regards to his weight.
Despite weighing over 400 pounds for most of his career, Newton became a Cowboys legend in the process. This is how he did it.
Nate Newton played 14 NFL seasons
A standout offensive lineman at Florida A&M who spent his first couple seasons in the USFL, Nate Newton didn't join the Dallas Cowboys until 1986.
That decision worked out perfectly for both Newton and the Cowboys. After a few years on the bench, Newton joined the starting lineup in 1989, the same year Jimmy Johnson took over as Cowboys head coach.
Newton made his first Pro Bowl and won his first Super Bowl during the 1992 season. Newton made the Pro Bowl every year from 1992-96 and made it again in 1998.
The veteran offensive lineman earned All-Pro honors in 1994 and 1995. Dallas also won two more titles during Newton's time in Dallas.
Newton was one of the last Cowboys stars to leave the team. He spent his final NFL season with the Carolina Panthers in 1999 before he retired.
Newton struggled with weight problems during his career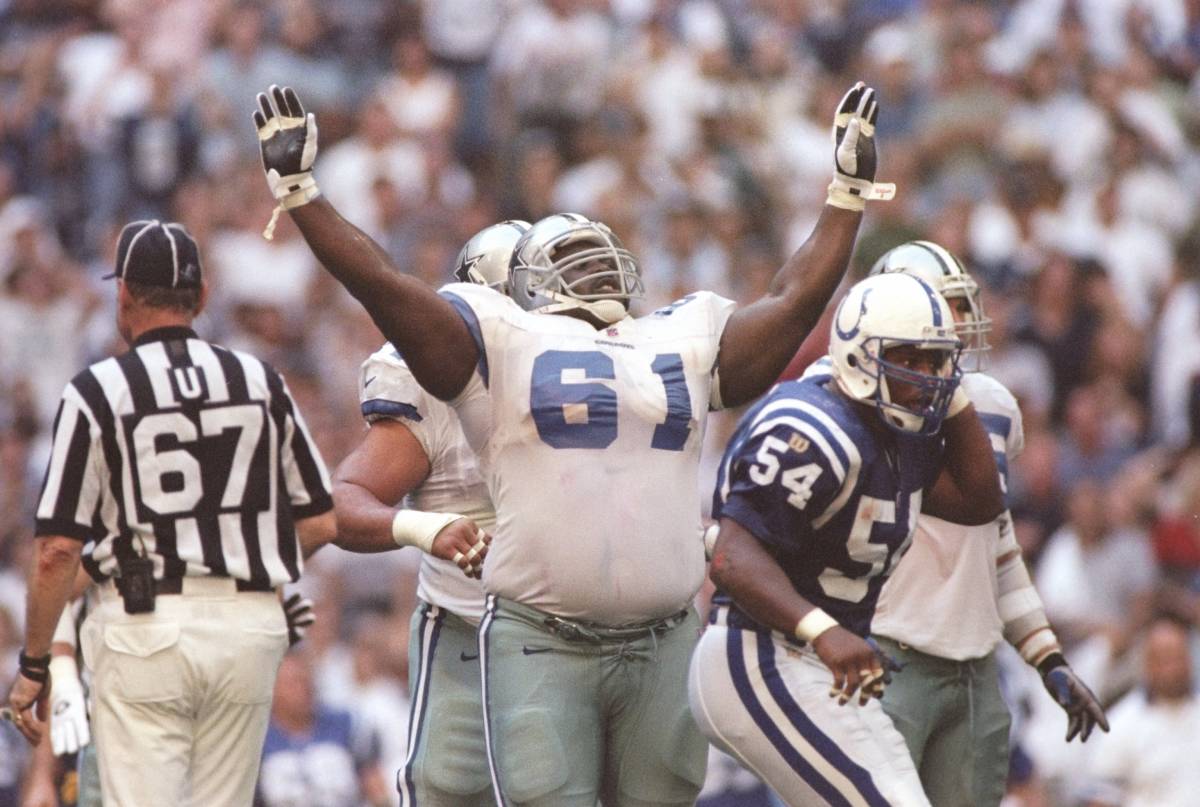 Nate Newton entered the NFL as a heavy player and that reputation stuck with him.
Teammates even nicknamed Newton "The Kitchen" because he was bigger than Bears star William Perry, also known as "The Refrigerator."
Newton struggled with his weight in the NFL, which is why he didn't hold a full-time starting role until Jimmy Johnson arrived. Dallas even considered waiving Newton because of his weight.
Dallas often listed Newton anywhere from 325-375 pounds. The weight didn't stop him from becoming a Cowboys legend.
Pro-Football-Reference valued Newton's approximate value at 120, the 15th-highest score in Cowboys history.
Nate Newton lost a ton of weight after he retired
Dallas Cowboys fans who ran into Nate Newton after his playing career ended may not have recognized him.
There was a reason for that. Newton shed a fair share of his weight because he was motivated to avoid dying early.
Newton said as much in a May 2010 interview with The Dallas News. The idea of not living to see his son, 12 at the time, grow to become age 20 scared him.
At the time, Newton said he lost 70 pounds and was down to 330. He had a weight loss surgery known as vertical sleeve gastrectomy.
"They may not never say I look great, but they can at least say, 'You know what, man? He's changed, and that's good enough for me.'"
Newton's goal was to get down to 235 pounds. By November of that year, he had slimmed down to 220 pounds, the thinnest he'd been since he was in eighth grade.
Like Sportscasting on Facebook. Follow us on Twitter @sportscasting19.