Nate Solder Gave an Update on His Son's Cancer But Doesn't Mention Returning to the NFL
COVID-19 wreaked havoc on sporting events. The NFL allowed players to decide if they wanted to opt out of the season. Among those who took a break from football was Nate Solder, a veteran New York Giants offensive tackle. He cited concerns for his family's health and his own; he's a cancer survivor, and his son, only five, is currently fighting the disease.
Solder hasn't announced whether he'll return next season or continue concentrating on his off-field endeavors. And Giants fans are curious. Here's what we do know about Solder and his son.
Nate Solder's NFL career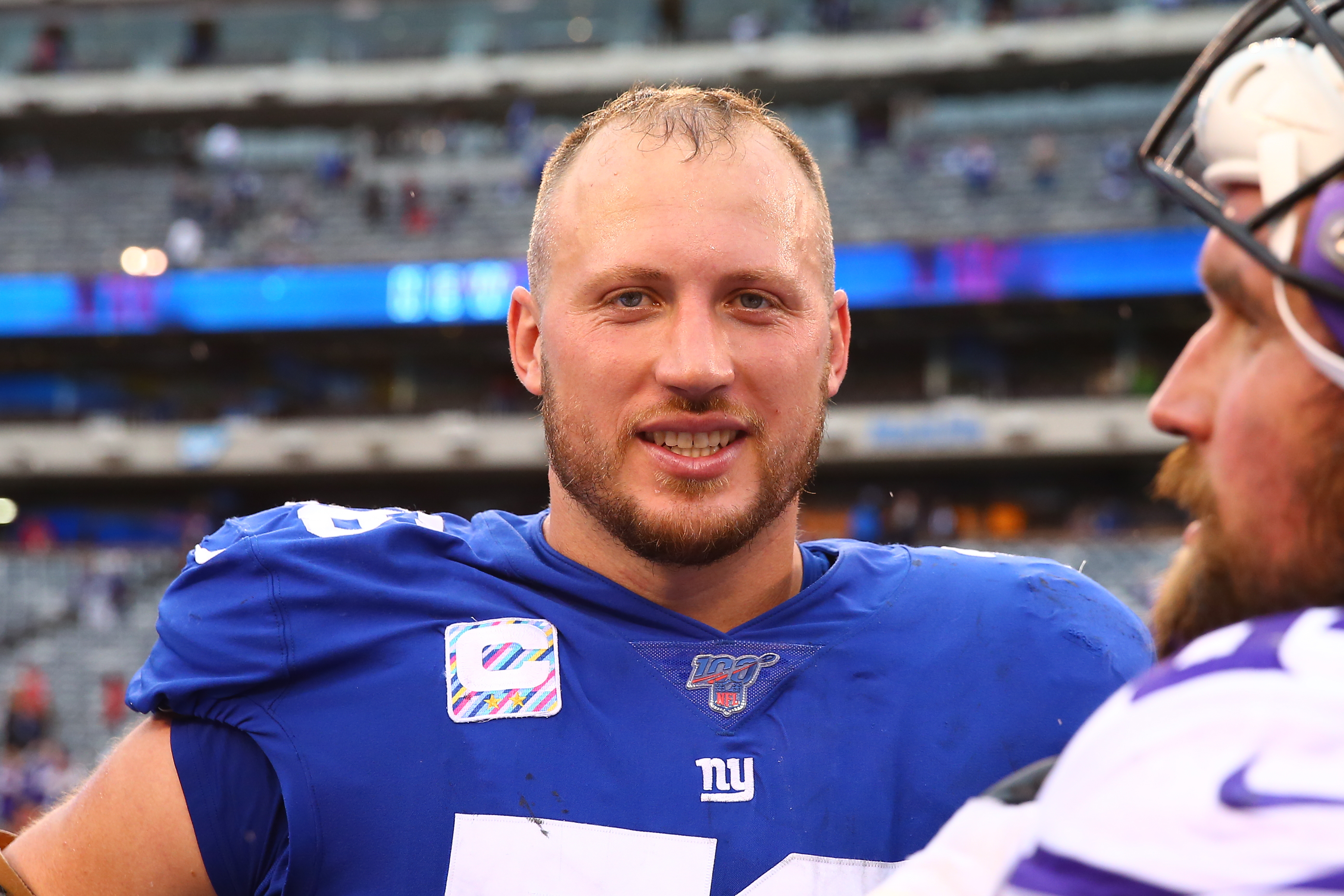 RELATED: Lamar Jackson Spent a Fortune Buying Gifts for His Offensive Line
Solder spent seven years with the New England Patriots, protecting Tom Brady as part of the offensive line. His career spans 130 games, of which he started 127. And he's part of New England's two Super Bowl victories (2014 and 2016 seasons). His leadership on and off the field made him the easy choice for New England team captain in 2015.
In 2018, Solder left the Patriots behind, signing a four-year, $62 million contract with the Giants. With $35 million guaranteed, Solder is the highest-paid lineman in the NFL. He played all 16 games and left tackle and was selected captain of his new team as well.
Nate Solder and his son face cancer
Before the start of the 2014 season, Solder underwent a routine physical and received a testicular cancer diagnosis. According to the New York Giant, the cancer hadn't spread, and he was able to get the testicle removed and continue on with his football season. He only missed two weeks of postseason workouts, but the bad news continued for the Solder family.
Only a few months after his surgery, the family learned that their son Hudson had a rare kidney cancer. Hudson was only three months old when the cancer was discovered. Since then, he's been undergoing treatment. In December 2020, Solder talked with New York sports reporter Tina Cervasio about Hudson's health. She detailed the interview on her Twitter account.
"He's doing well. He finished up his most recent round in April, so he hasn't been on chemo now for quite a while, which is such a blessing. He's grown all his hair back, he's strong as an ox. He's running around, doing everything kids do. It's really good news. The last scan was really good, too, so we're all very hopeful."
Will Nate Solder return to the NFL?
RELATED: James Conner Survived Cancer and Just Bought His Father the Ultimate Gift
Because of his son's cancer battle and his own history with the disease, Solder opted out of the 2020 season. It was a tough decision. He told NJ.com:
In a lot of ways, I felt like I was letting my teammates down. I felt like I was letting the new coaching staff down. The fact is, as a 32-year-old NFL player, it just hurts my chances of having my career trajectory take off at this point. I just have to trust in God and see where he leads me.
Solder hasn't discussed if he'll return next season. In addition to his son's health struggles, he's also heavily involved in several charities. He was nominated as the Walter Payton Man of the Year in both New York and New England, honoring players for charitable works. Currently, he's involved in the Fill the Stadium initiative through Compassion International, which provides food and medical supplies to families in need.
The goal is to help 70,000 children — the average capacity of a football stadium. Each seat is considered one child. With families experiencing financial setbacks due to COVID-19, Solder and others hope to provide basic food and hygiene essentials to those who need it.