Nathan Chen, Figure Skating's 'Quad King,' Prepares for a Different Beijing Winter Olympics Experience
Nathan Chen still seeks to execute that perfect giant leap.
The U.S. men's figure skater plans to take a different, more radical approach for his second Winter Olympics. The 22-year-old promised himself to take more time to look around and digest the 2022 Beijing Games.
A favorite to capture a Gold medal in the individual men's competition, Chen plans to enjoy the entire experience.
Unlike the last time.
Nathan Chen seeks new experience at 2022 Winter Games, not 'redemption'
Known as the "Quad King," Chen struggled to a fifth-place finish during the 2018 Winter Games. He struggled with his performances and how the then-18-year-old responded to his surrounding pressures.
Following a training session on Feb. 1, Chen, now 22, told USA Today he had one big "regret" regarding his rookie Olympic outing.
"If you're talking about regret, I think just the fact that I wasn't able to enjoy it," Chen said. "I was a kid, not really knowing exactly what the Olympics was. I didn't have fun with it."
His short program cost him in PyeongChang, South Korea.
What does he remember?
"I have a pretty terrible memory," he said.
However, he can recall playing a role in Team USA capturing a Bronze medal.
ESPN reported that Chen is not after "redemption" for his individual mishaps.
"Not at all," he said. "This is a completely new experience, completely separate from the last event."
Chen: 'So if I can't enjoy it, then what's the point in doing it?'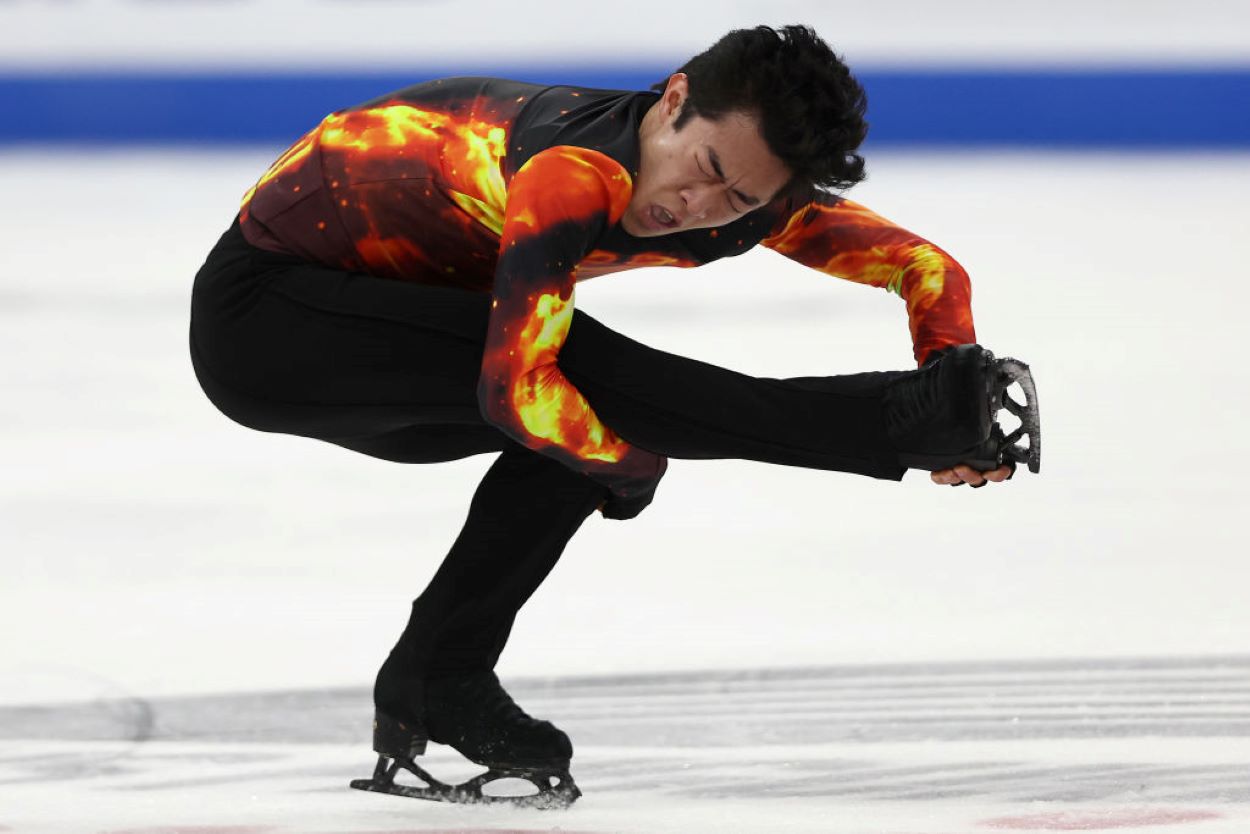 In Beijing, Chen came prepared to have some fun. He traveled with his electric guitar and planned on ad-hoc concerts with ice dancer and fellow musician Evan Bates.
He also plans on spending more time hanging out in the Olympic Village and absorbing more of the atmosphere this time, if he remains coronavirus (COVID-19) clear, that is.
"It's been four years, and (I've) had a lot of new experiences," Chen said. "I think it just gives you a fresh perspective on just recognizing that within the course of my skating career, I only have a very limited amount of time on the ice and in competition, and especially at the Olympics.
"So if I can't enjoy it, then what's the point in doing it?"
Chen is considered the first figure skater to land five quadruple jumps within a 4:30 free skate successfully. But that's old news. He's out to make a giant leap in the short program event on Feb. 3, the day of the Opening Ceremony.
Chen preparing for his individual Gold medal duel with Japan's Yuzuru Hanyu
Chen's significant test begins with the individual men's competition on Feb. 8. Chen and Japan's Yuzuru Hanyu, a two-time defending Gold medalist, are expected to battle for the top spot on the podium.
Chen hopes to investigate his family's heritage following his short program start on Feb. 3, but he'll likely have to wait. The son of Chinese immigrants, Chen recalls touring Beijing when he was 10 years old. He hopes for an opportunity to soon re-visit sites like the Beijing Zoo, but COVID-19 restrictions likely will prevent him from exploring much of the city during the Games.
With the "closed-loop system" athletes must abide by, Chen will not be permitted to visit with family members as much as he originally planned, but he's making the best of things, like wearing a facemask during practice skates.
"Just better safe than sorry, I suppose," he said.
Safe, but fun.
At least more fun than the last time.
Like Sportscasting on Facebook. Follow us on Twitter @sportscasting19.