Even Major League Baseball Supports National Anthem Protests: Here's Why It Matters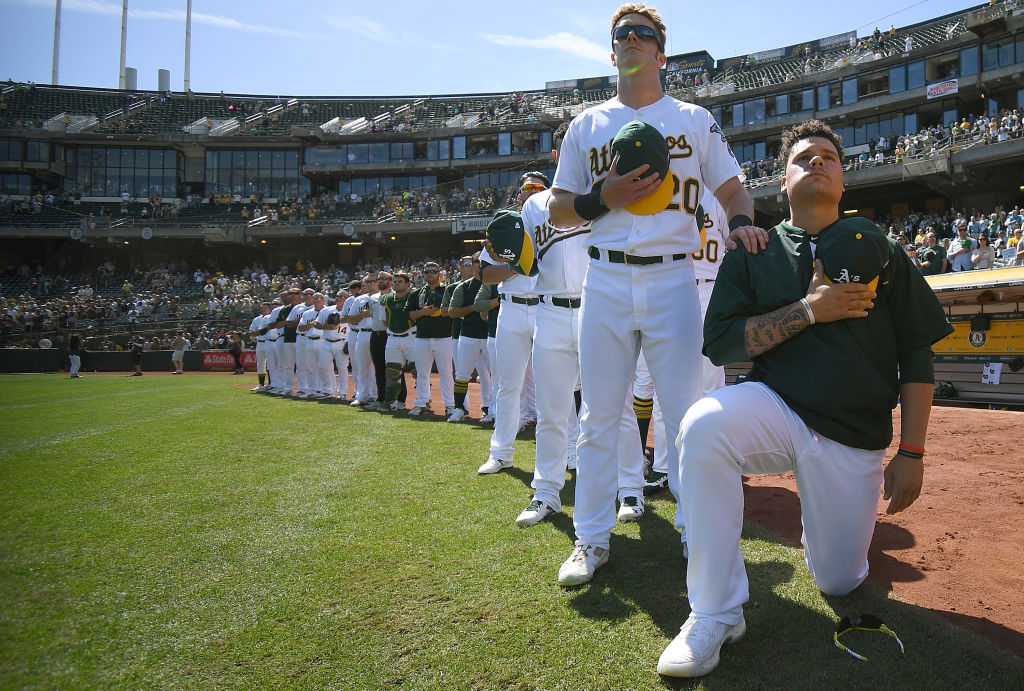 Protesting police brutality and inequality is nothing new to the NFL, where Colin Kaepernick began the process by sitting during the national anthem all the way back in the early part of the 2016 season. While players in the WNBA were quick to join in, the other major sports have been slow to join the protest. For Major League Baseball, that all ended when Bruce Maxwell of the Oakland Athletics took a knee this September.
A 25-year-old rookie catcher and former second-round pick, Maxwell has a lot to lose by putting himself out there. Plenty of people disagree with the protests and find them offensive, and Kaepernick is the evidence that a player could lose his job because of it. But there's more to Maxwell than meets the eye. He comes from a military family, is intelligent and articulate, and few could argue they're more patriotic.
The good news for Maxwell is that many have taken his side. We took a look at those that have come out in support of Maxwell's anthem protest, as well as others that have expressed support for the idea in general.
The Oakland Athletics join the fight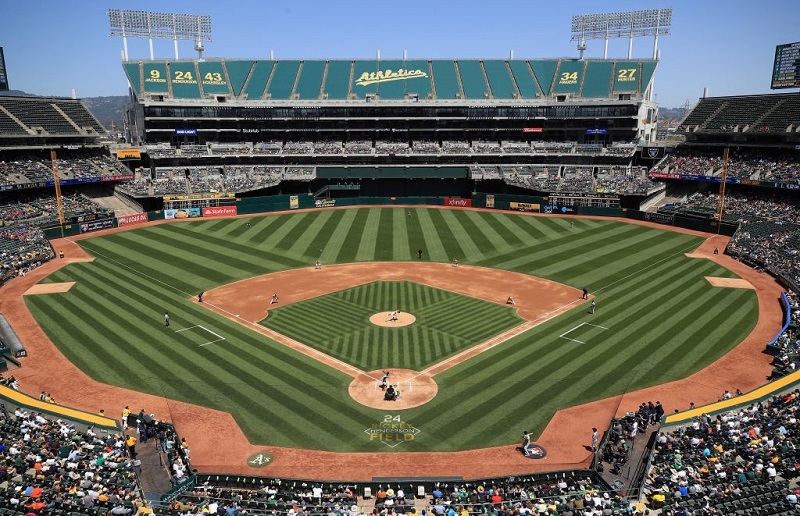 Probably most importantly for Maxwell's future in Major League Baseball, the Oakland A's came out in support of him. Shortly after Maxwell first took a knee on the field, the team's official Twitter account sent out this message: "The Oakland A's pride ourselves on being inclusive. We respect and support all of our players' constitutional rights and freedom of expression."
The reason this is important for Maxwell is that the A's sign his paychecks. He's a backup catcher with a .694 career OPS in 105 games and 0.4 WAR. While Maxwell was a high draft pick, his minor-league numbers are nothing spectacular and he was never rated as a top-prospect in the game. Major League Baseball and every single other team can hate what he does, in theory, but having the support of his organization is big for Maxwell's future in the game.
A's teammate Mark Canha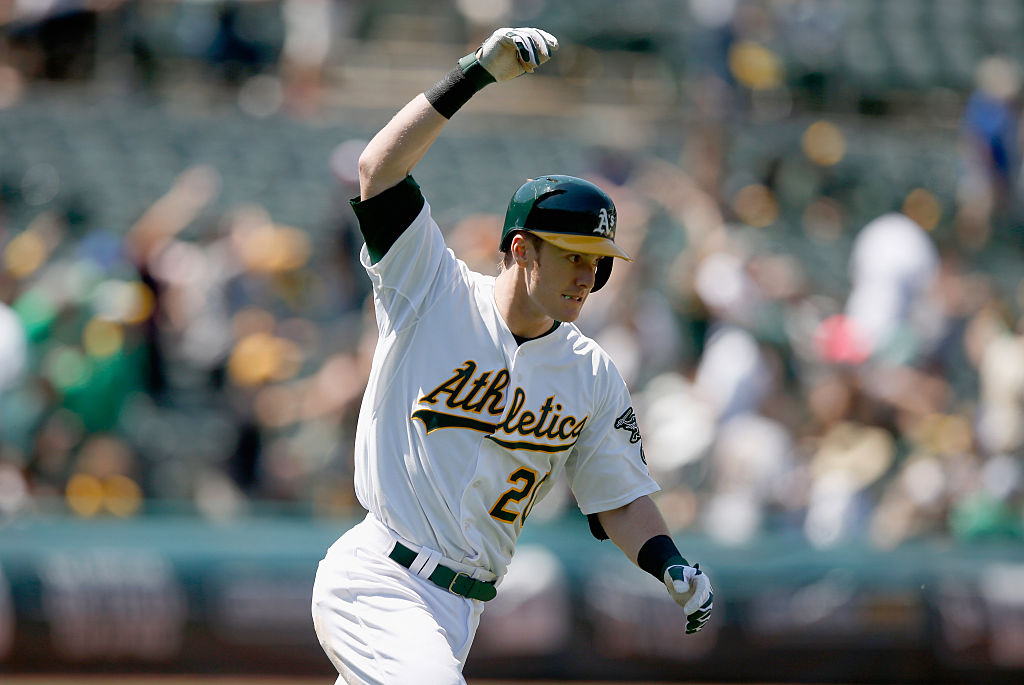 Maxwell's teammate and A's outfielder Mark Canha has been the most supportive of all. While Maxwell took a knee with his hand over his heart, Canha stood next to him and put his hand on Maxwell's shoulder. After the game, he explained his feelings in further detail.
"I knew it wouldn't feel right just because Bruce is doing it. It's not to say I'm against kneeling or for it. I'm fully supportive of my teammate and it's coming from a place of agreeing there needs to be change in the social environment of our country," Canha said. "Also mainly from a point of supporting my teammate. Man to man, I didn't want to leave my brother on an island by himself."
Canha also has plenty to lose by putting himself out there in this way, even if he isn't kneeling. He's 28 years old with a slash line of .214/.275/.383 this season in 167 plate appearances, and in parts of three seasons he has accumulated just 0.3 WAR in 192 games. It would be very easy for Canha to find himself without a job with the excuse that he simply wasn't good enough, even if it were truly because of his support for Maxwell.
A's teammate Jed Lowrie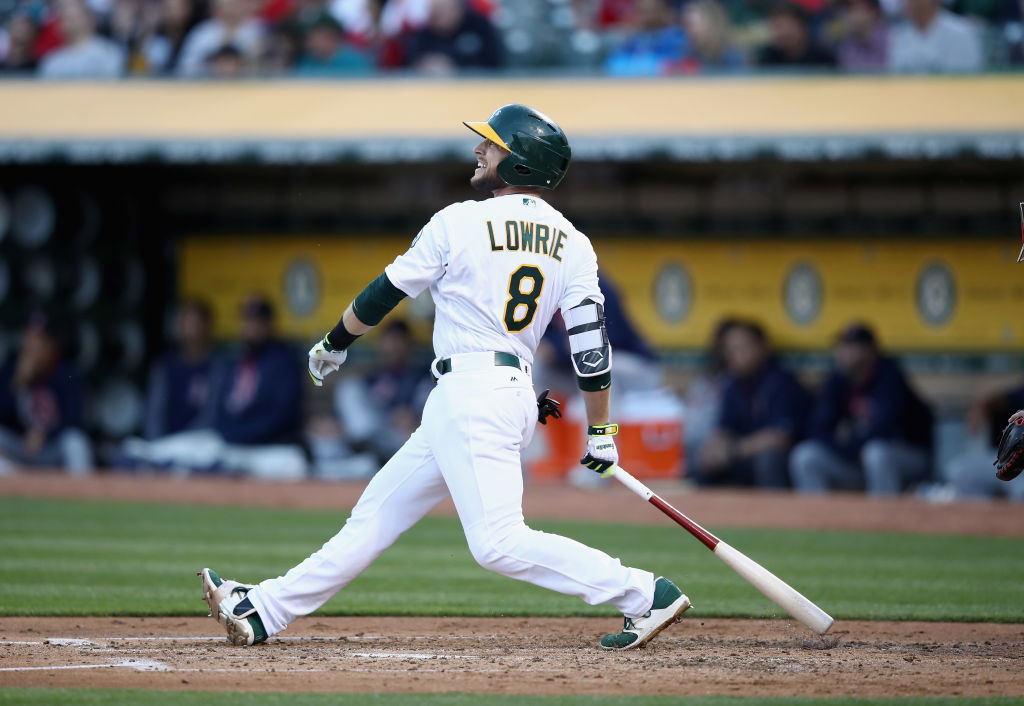 In addition to Canha, who has little experience in the big leagues, one of Maxwell's veteran teammates stepped up with his support. Second baseman Jed Lowrie didn't come out and directly say he supports the cause, but he did support Maxwell and make it clear that the protest doesn't bother him.
"That's their right and something that they are protected under our Constitution to do," Lowrie said. "I think if they feel they can use this platform to further their cause, I'm all for that."
"It doesn't bother me if guys are being respectful," Lowrie said. "You look at what Bruce did with his hand over his heart. He is a guy from a military family. Has a strong respect for this country. I don't think it comes from protesting this country. Bruce has done it the right way."
You could argue about Lowrie's version of support, and whether his nitpicking over the "right" way to protest should be welcome in the conversation. That would be pretty fair. But inside baseball, which is strikingly conservative, having a veteran teammate like Lowrie that's willing to show such public support is valuable for Maxwell and anyone else that may think about taking a knee in the future.
A's manager Bob Melvin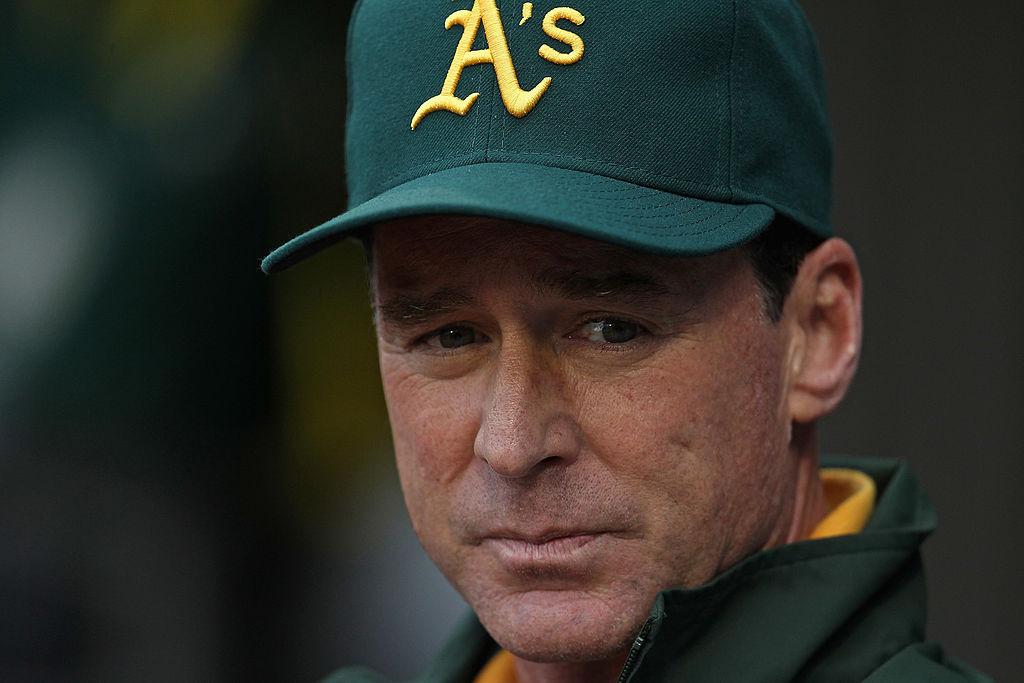 Maxwell's manager, Bob Melvin, has been among those that has had nothing but great things to say about his young catcher. While most are just beginning to find out exactly who Bruce Maxwell is on the national stage, Melvin has done an excellent job painting a picture for baseball fans that haven't decided whether they're okay with the protest or not.
"He was as articulate as I've seen him," Melvin said. "This wasn't an emotional thing just today for him. Something had been leading up to it and he felt today would be the right platform to do it."
"He could not have handled the communication any better than he did. The last thing he wanted was for anyone to be surprised," Melvin said. "It made it a more comfortable situation."
Melvin never comes out and directly states whether he supports the protest or not, but his words make it clear that he supports Maxwell. But it's not just those with the Oakland A's that have expressed support for players expressing their First Amendment rights in such a way. Others around the game have come out in support, as well.
Ricky Renteria and Mike Matheny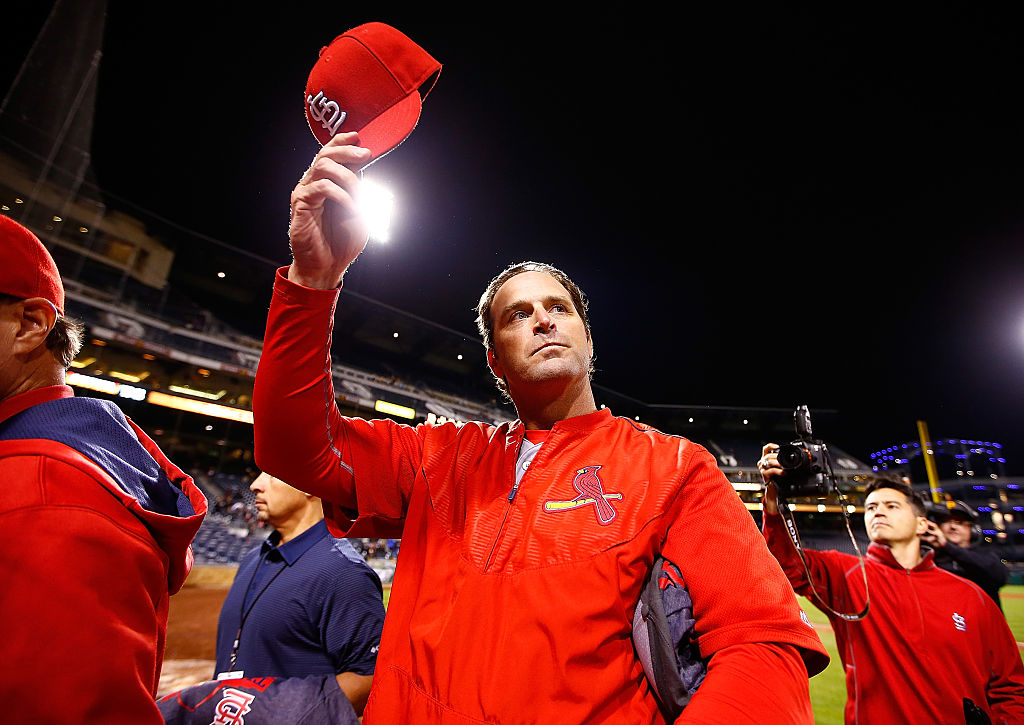 Chicago White Sox manager Ricky Renteria made a statement in support of the protest, stating the following:
"We empathize and understand exactly why he's doing what he's doing, and I think baseball in general has made a wide statement of how we want baseball to include everybody and support everybody."
St. Louis Cardinals manager Mike Matheny, who often is viewed as ultra-conservative, also shared a supportive sentiment while denouncing comments on the protests from President Donald Trump. Matheny referred to those comments as "hurtful." Matheny went on to say that he hadn't spoken directly to any of his players about the protest but would support their freedom of expression.
Indians manager Terry Francona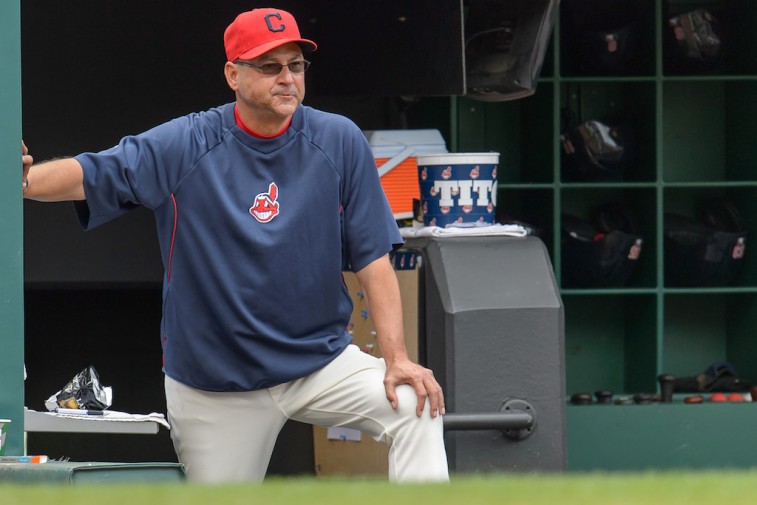 Speaking to MLB.com's Jordan Bastian, Cleveland Indians manager Terry Francona had a lot to say on the topic. He wasn't going to come out and directly say he supports kneeling during the national anthem, but Francona is thoughtful and intelligent. He knew to go to the players first to create an atmosphere of inclusion and support, no matter their choice.
"My point to them was, one, I wanted to listen. But, I just kind of wanted to express that I wasn't talking to them to dissuade somebody. I just think, if somebody felt strong enough about it, there would be a way as a team to show support, because we do things together. It's easy for me to sit here and say, 'Well, I think this is the greatest country in the world,' because I do. But, I also haven't walked in other peoples' shoes."
"So, until I think, not just our country, but our world, until we realize that, hey, people are actually equal?—?it shouldn't be a revelation?—?and the different doesn't mean less. It's just different. We've got work to do. So, I just wanted to make sure that they understood, like if they felt pressure or whatever was on their minds, that as a team we can support each other. That was kind of all it was."
Among the points made by Francona in the interview involved his son being a military veteran, his diverse clubhouse, and the Larry Doby Foundation – which was created to assist at risk youth.
The MLB Player's Union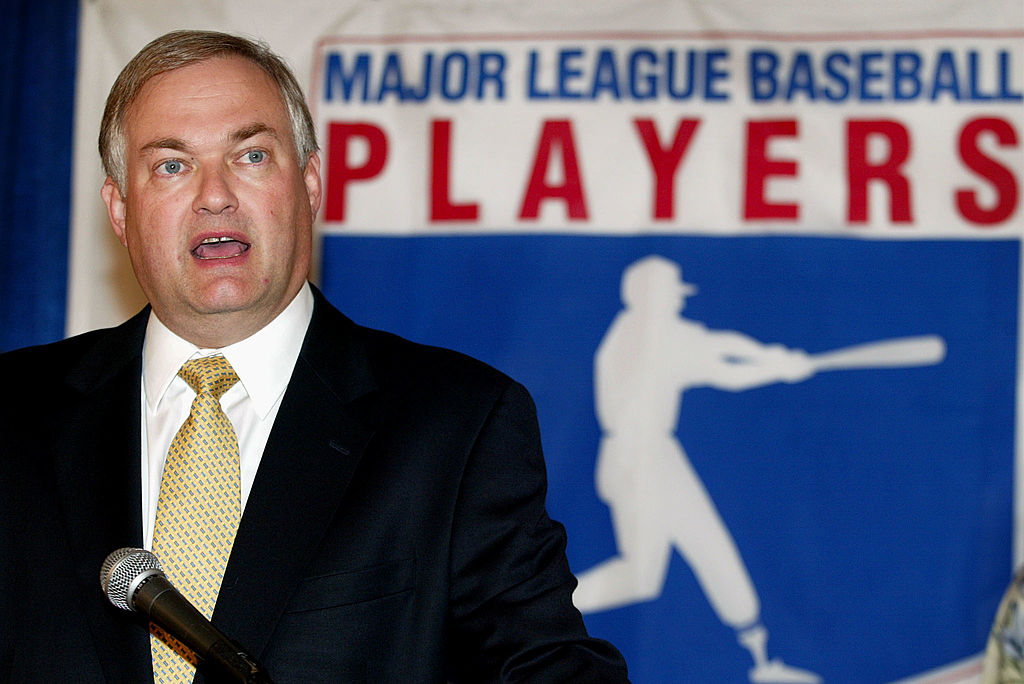 Not surprisingly, one of the biggest supporters of Maxwell – and any player that may choose to kneel during the anthem – is the Major League Baseball Players Union. Here is the full statement they released on the topic:
We will always respect and support all of our players' constitutional rights and freedom of expression. Unless or until there is a commitment to have a discussion about the issues why wouldn't those who are impassioned, have a platform and have a voice, offer those concerns? the hope inherent in the non-violent protests we are seeing is of a collective coming together to address the divisive and culturally destructive challenges that exist… and that we are now seeing on display at the highest levels.
It remains to be seen if other players will join in with Maxwell. With his first protest coming so close to the end of the season, it's possible we may never see another baseball player take a knee to draw attention to racial inequality. On the other hand, it's also possible that this issue is even bigger when the 2018 season comes around, and more players feel the need to take a knee. If they do, they'll undoubtedly have people within baseball supporting them.