Injury Changes Everything for Clayton Kershaw and the NL Cy Young Battle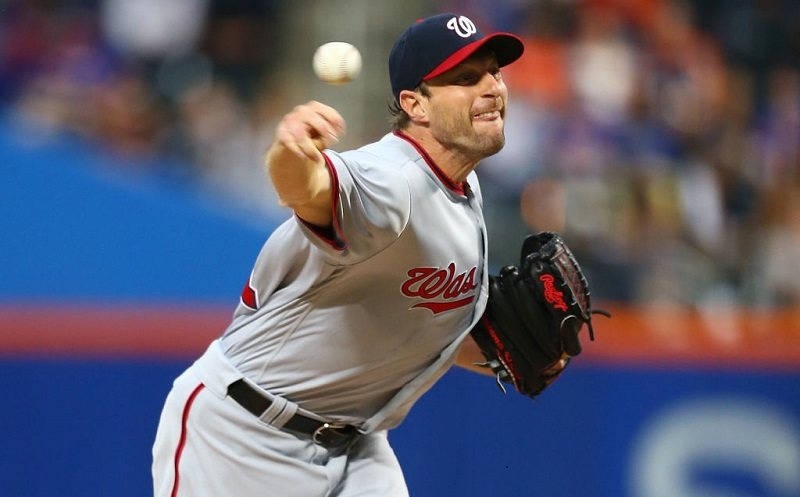 We're hitting the stretch run in Major League Baseball, with the division and wild-card races starting to take shape and the awards outlook for each league becoming more clear. Is there any doubt that Aaron Judge and Cody Bellinger will take home the Rookie of the Year awards in their respective leagues?
But what about the Cy Young award? A handful of players are having excellent seasons, especially in the National League. While the race may clearly favor one player over another, plenty can change between now and the end of September. A great example: Clayton Kershaw's recent back injury will cause him to miss four to six weeks. Here are the frontrunners for the Cy Young award in the National League, ranked from least to most likely to receive the honor.
7. Carlos Martinez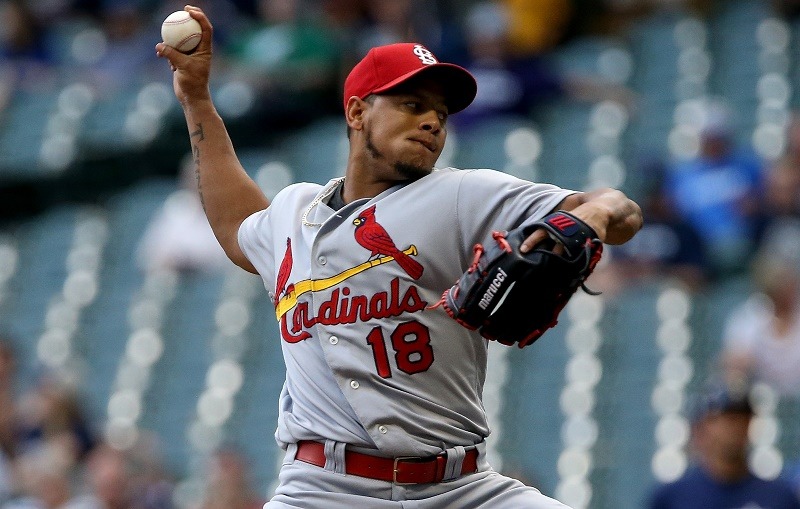 We need to look beyond individual wins and losses with all Cy Young candidates. While Carlos Martinez pitches for a below-average team in the St. Louis Cardinals, he has put up some excellent numbers this season. The hard-throwing right-hander with the blue, clown-like hair has a win/loss record of just 6-8 as of the end of July. But he has a 3.34 ERA and 3.83 FIP with 9.5 K/9 and 3.3 BB/9 in 20 starts.
Martinez is still only 25 years old, despite the fact that it seems like he's been around forever. The Cardinals called him up to the big leagues when he was just 21, back in 2013. And he's compiled 622 innings with a 3.33 ERA and 3.45 FIP since then. As far as K/9 goes, his 9.5 this season would represent a career-high while his 1.175 FIP and 7.3 H/9 would also be a personal best.
6. Jacob deGrom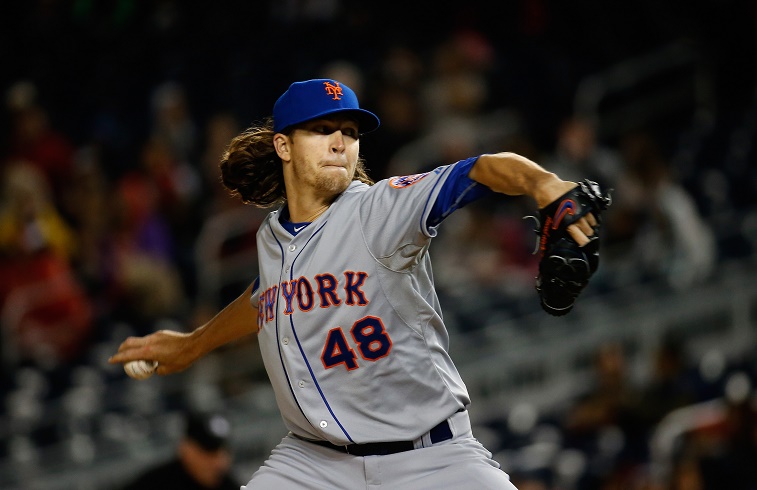 Not too long ago Jacob deGrom wasn't even the best starter on his own team. The New York Mets right-hander was in a starting rotation featuring Noah Syndergaard, Matt Harvey, Steven Matz, and a high-performing Bartolo Colon. You could've argued that everyone overlooked deGrom the most, given that he arrived in the big leagues back in 2014 at the advanced age of 26.
But Colon is gone and the trio of Syndergaard, Harvey, and Matz have all experienced injuries. This leaves deGrom as the remaining member of the 2015 rotation that carried New York to the World Series. He has a 3.30 ERA and 3.68 FIP in 133 2/3 innings this season, posting 10.2 K/9 and 2.8 BB/9 to go along with a 1.160 WHIP. There were rumblings that the Mets might try to move him at the trade deadline. But his strong performance makes that impossible to consider.
5. Jimmy Nelson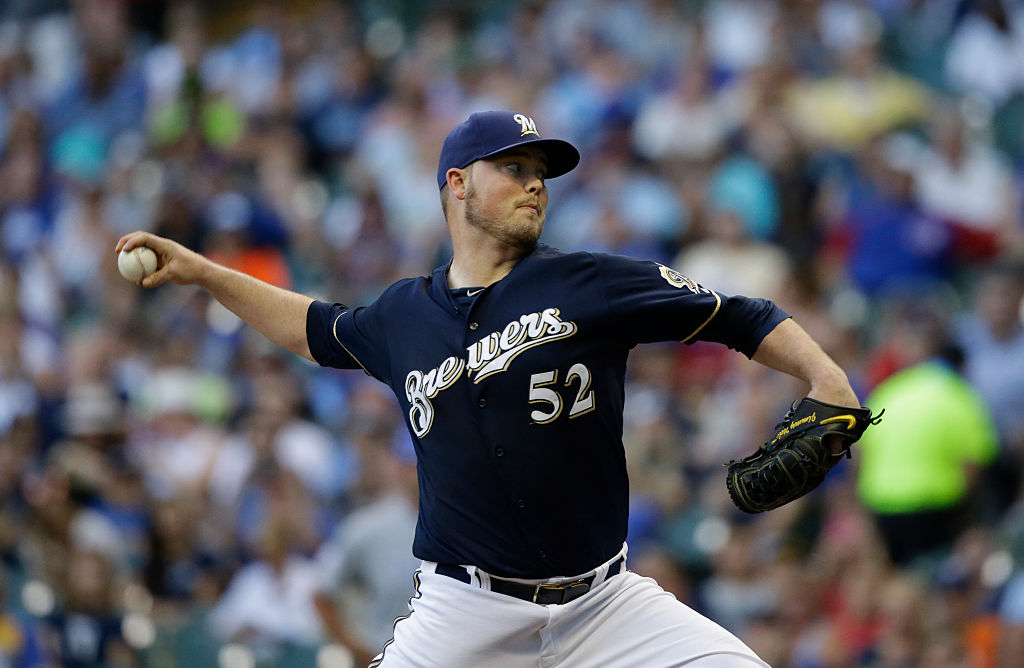 Milwaukee Brewers starter Jimmy Nelson always had the talent, but he had yet to put it together in the major leagues. As a fixture in the rotation from 2014–16, Nelson posted 74 games started with 426 innings pitched to go along with 7.3 K/9 and 3.6 BB/9. In 2016, he led the National League in both walks and hit by pitches, putting up a 4.62 ERA in his 32 starts.
But as a 28-year-old, he's finally figured things out in 2017. Nelson has dropped his BB/9 from 4.3 to 2.2 and has seen his K/9 rise from 7.0 to 9.8. As a result, Nelson's ERA so far through 20 starts for Milwaukee is 3.43 and his FIP is 3.23. The Brewers are fighting for a playoff spot in the NL Central, which brings attention to Nelson and legitimizes his Cy Young candidacy.
4. Stephen Strasburg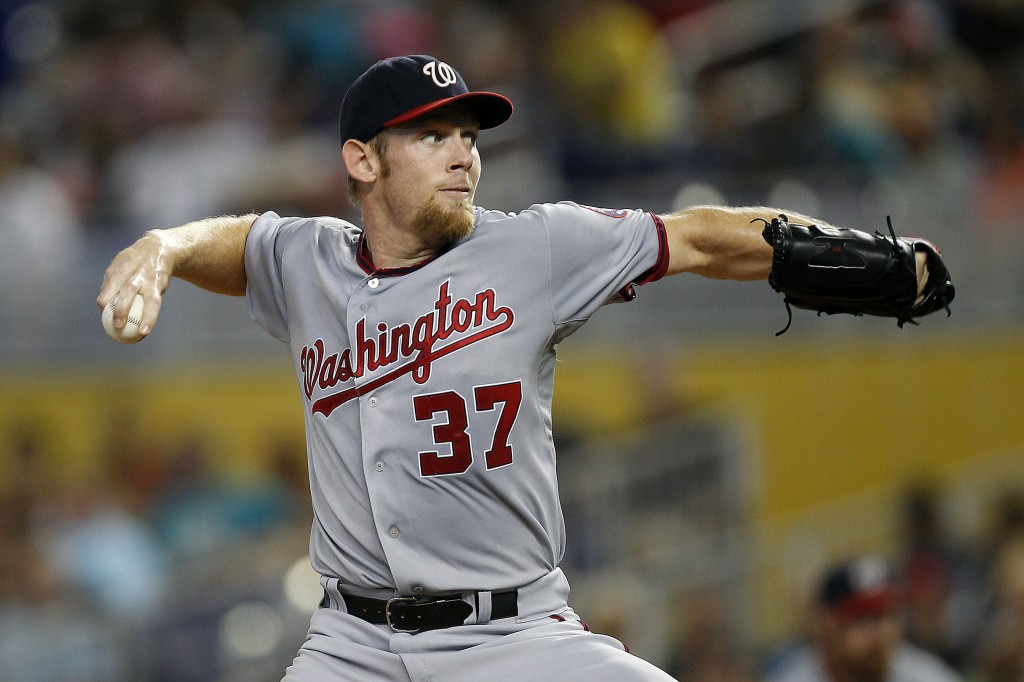 Washington Nationals right-hander Stephen Strasburg is always one to watch in this category. He has the talent to be as good as anybody, but injuries often stand in the way. In the first half of the 2016 season Strasburg posted a 2.62 ERA, but in just eight second-half starts he posted a 6.15 ERA thanks to forearm problems. However there's no doubting that the Nationals' most fragile pitcher could definitely go on a tear through the final few months and walk away with a Cy Young award.
The problem: He's just never fully healthy. In his seven previous seasons in the major leagues, Strasburg has crossed the 200 inning barrier just once and has started 30 or more games only twice. But he remains mostly healthy so far in 2017, posting a 2.08 ERA over his last five starts. Anything is possible.
3. Zack Greinke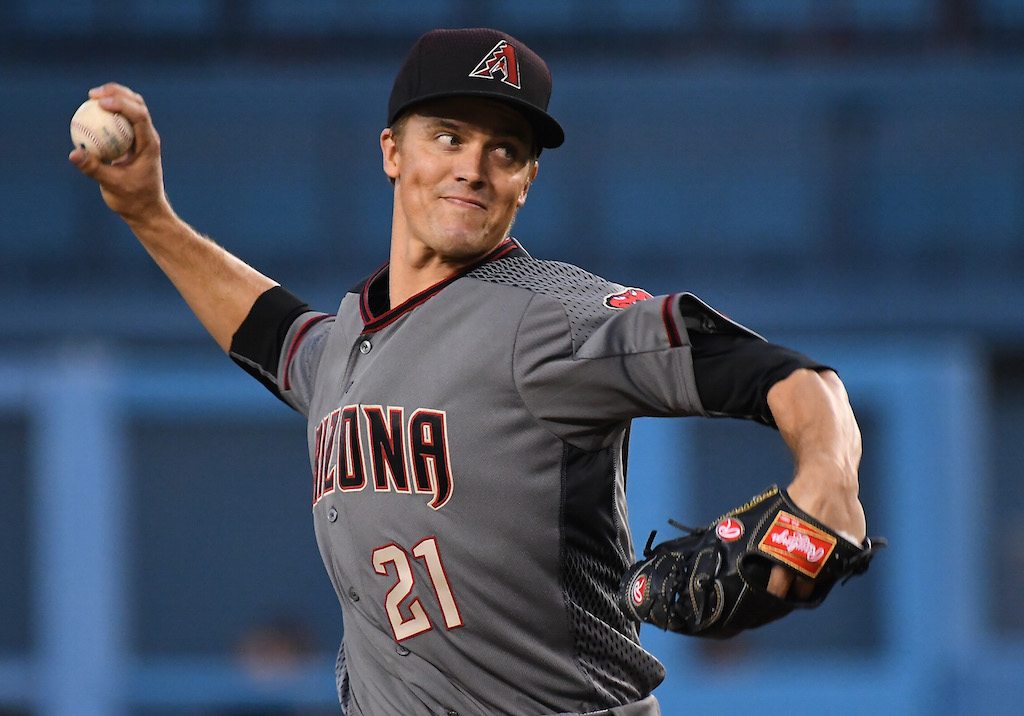 After leading the National League in ERA at 1.66 back in 2015, Zack Greinke opted out of the remainder of his contract with the Los Angeles Dodgers to garner a brand new, six-year, $206.5 million contract with the Arizona Diamondbacks. At the time, it was the largest average annual value on a deal in MLB history. But Greinke's performance in 2016 was an afterthought. He threw just 158 2/3 innings for the woeful D-backs with a 4.37 ERA.
This season has been different, both for Greinke and the team. He is back to his old tricks, posting a 2.92 ERA in 129 1/3 innings through 20 starts. Greinke's 9.7 K/9 are his highest since leading the league in that category back in 2011, while his 1.8 BB/9 put him among the best in that category in the National League. Greinke's excellent performance this year has helped push Arizona into the wild-card chase in the NL.
2. Clayton Kershaw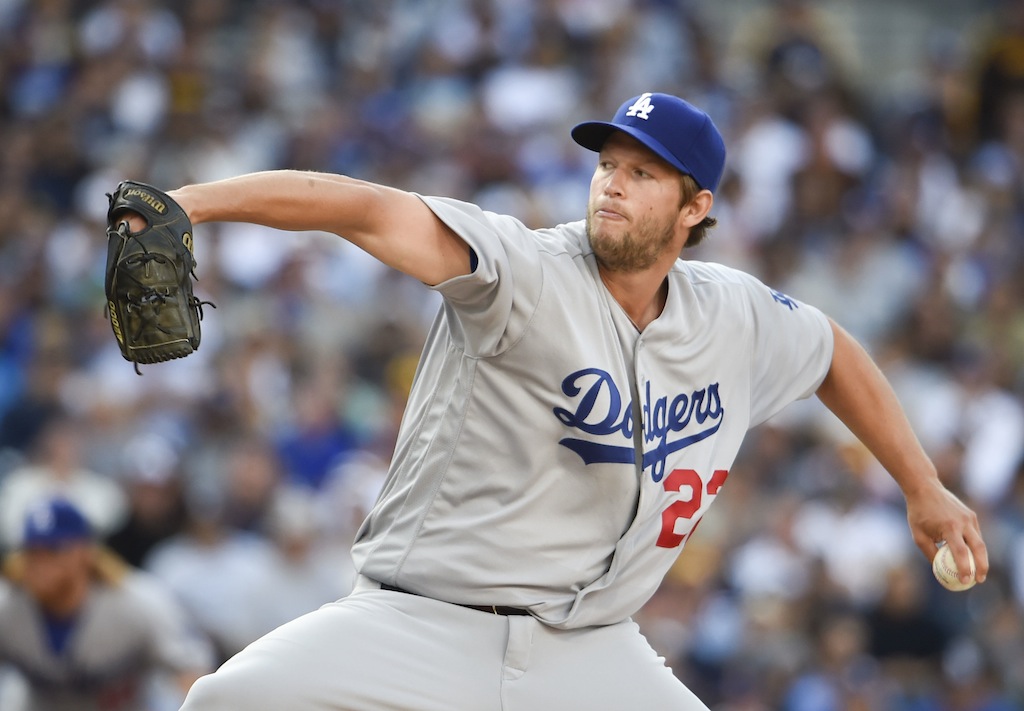 There really isn't ever a season in which Los Angeles Dodgers left-hander Clayton Kershaw isn't in the conversation for the NL Cy Young award. Only once in the last six seasons has a National League starting pitcher finished with a lower ERA than Kershaw, although back injuries limited him to just 149 innings in 2016 and he wasn't qualified for the ERA title.
Cumulative since 2011, Kershaw has a 2.06 ERA in 1,418 innings with 10.1 K/9 and 1.8 BB/9. He's finished in the top five in Cy Young voting every year, winning it three times and even taking home one NL MVP award. But the reason Kershaw can't be in the No. 1 spot on this list is due to injury issues.
The same back problem that limited him to those 149 innings in 2016 has popped up again. The fear is that he could miss anywhere from four to six weeks of action — putting him out until close to the start of the postseason. The Dodgers are talented enough to win their division without Kershaw, so they won't have a problem if he's healthy by October. But as of now, it's hard to put him as the frontrunner for the Cy Young.
1. Max Scherzer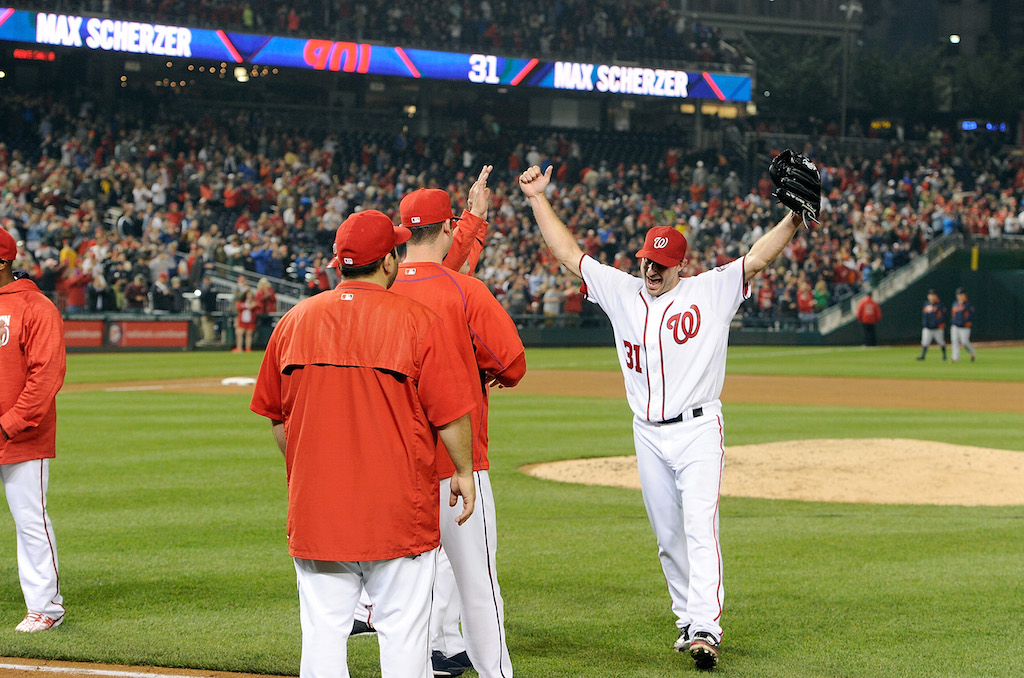 The pitcher who should be the frontrunner — and really, the odds-on favorite barring some sort of catastrophe — is Washington Nationals starter Max Scherzer. The 32-year-old right-hander is having his best season in 2017. And this is saying a lot considering he already has two Cy Young awards on his shelf at home. Scherzer took home the NL award last season with a 2.96 ERA in 228 1/3 innings — best in the National League — while striking out 11.2 batters per nine innings.
This season, he's lowered his ERA to 2.26 with a 2.79 FIP, 12.4 K/9, and 5.4 H/9. The latter three statistics are all best in the league. He has thrown 139 1/3 innings over his 20 starts with two complete games, leading the Nationals to the best record in the NL East. If the vote occurred today, Scherzer would battle the transcendent Kershaw. But with the Dodgers lefty missing the next several weeks, this award will be Scherzer's to lose for the second year in a row.
Statistics courtesy of ESPN and Baseball-Reference.