NBA: 2 Reasons Why Kevin Durant Will Never Return to Oklahoma City
Kevin Durant's departure from the Golden State Warriors to the Brooklyn Nets went fairly smoothly this offseason. Far more smoothly than his departure from the Oklahoma City Thunder did in 2016.
Durant gave the Oklahoma City Thunder nine fantastic seasons, averaging 27 points per game and seven rebounds over a nine-year run that included seven straight All-Star seasons from 2009-10 through 2015-16. But when he decided to leave to join the Golden State Warriors, Kevin Durant suffered a bigger backlash than he was ready for. This backlash led to the two main reasons that Durant won't ever return to Oklahoma City.
1. Kevin Durant was disappointed by the fan's behavior
In a recent interview with the Wall Street Journal, Kevin Durant went into great detail about the negative effects the 2016 offseason had on him and his relationship with the city of Oklahoma City.
"People coming to my house and spray-painting on the for sale signs around my neighborhood," Durant said. "People making videos in front of my house and burning my jerseys and calling me all types of crazy names."
And this wasn't just their response in the heat of the moment. "Such a venomous toxic feeling when I walked into that arena [after joining the Warriors]," Durant said.
2. The Oklahoma City's staff was cold, too
It wasn't only the fans that were venomous towards Durant upon his return to Oklahoma City.
"And just the organization, the trainers and equipment managers," Durant told the Wall Street Journal, "those dudes is pissed off at me? Ain't talking to me? I'm like, 'Yo, this is where we going with this? Because I left a team and went to play with another team?'"
"I'll never be attached to that city again because of that," Durant continued. "I eventually wanted to come back to that city and be part of that community and organization, but I don't trust nobody there. That s— must have been fake, what they was doing. The organization, the GM, I ain't talked to none of those people, even had a nice exchange with those people, since I left."
Kevin Durant was an excellent member of the community in his time in Oklahoma City. In one example, he donated $1 million to an Oklahoma disaster relief fund when the city was struck by tornadoes in 2013. But none of the contributions he made or the lives he touched in his time with the Thunder seem to earn him much respect in the eyes of the fans and Oklahoma City staff.
A harsh reminder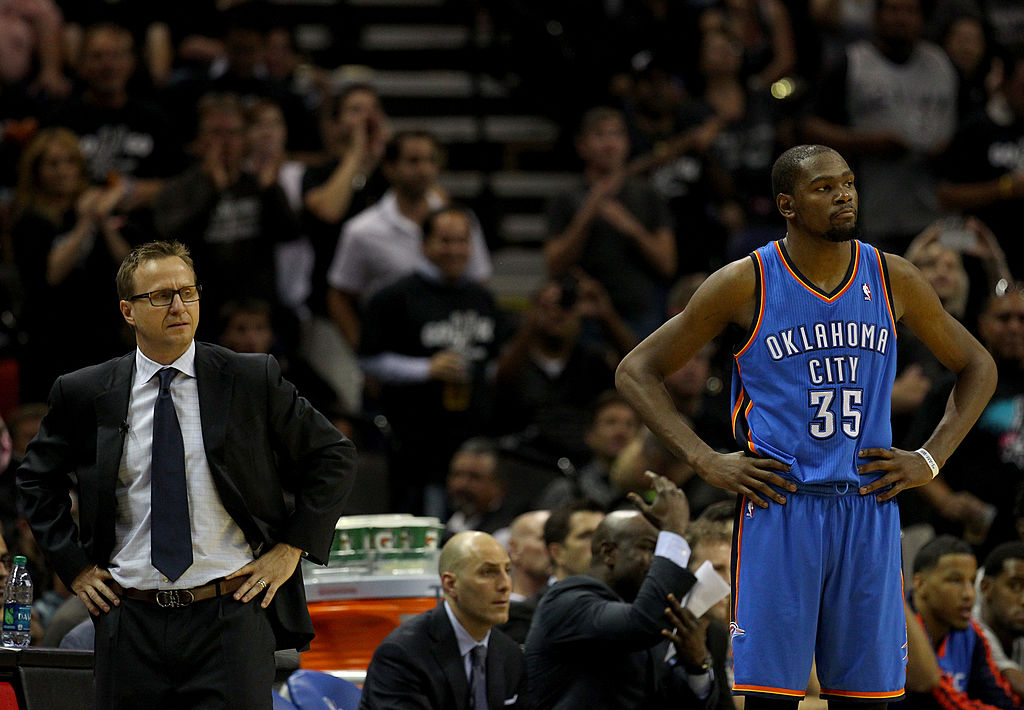 "Some days I hate the circus of the NBA," Durant also admitted in the interview. "Some days I hate that the players let the NBA business, the fame that comes with the business, alter their minds about the game. Sometimes I don't like being around the executives and politics that come with it. I hate that."
"We talk about mental health a lot. … We only talk about it when it comes to players. We need to talk about it when it comes to executives, media, fans."
Kevin Durant isn't wrong. We now live in a 24-hour news cycle that gives fans constant access to teams and players, and the media is forced to keep up with these demands through drumming up big headlines and controversies. Talking heads debate topics every day, and fans can hop on social media to join into the discussion or even harass the athletes themselves. It's a circus.
Durant's comments are a reminder that behind all of these headlines and stories and debates are real human beings, and the actions that executives, fans, and the media take do have an impact on them. This isn't to say that fans and staff members didn't have the right to boo Durant or to be upset that he left, just that it's worth keeping in mind that these words and boos thrown at athletes aren't always falling on deaf ears.