NBA: 3 Landing Spots for Mike Conley in Free Agency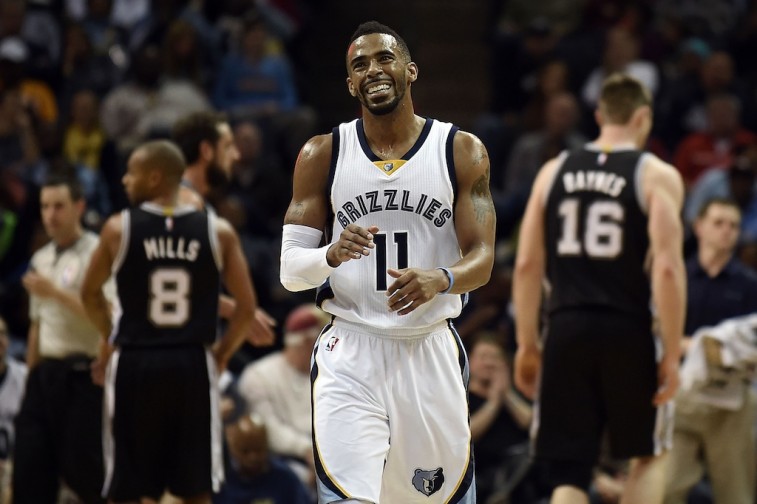 The NBA offseason is just around the corner and there will be plenty of movement across the league. One of the most intriguing free agents will be point guard Mike Conley, who is heading into free agency for the first time in his nine-year career.
The 28-year-old is coming off an extremely frustrating season that saw him miss the last 20 games of the regular season and the first-round playoff series against the San Antonio Spurs due to Achilles tendonitis. Prior to the injury, Conley put another solid campaign averaging 15.3 points, 6.1 assists, and 1.2 steals per game.
Over the last several years, he has been one of the most underrated point guards in the league and a steady force for the Memphis Grizzlies. However, Conley has said that he's looking forward to the free agency process and could wind up elsewhere if the Grizzlies don't find a way to attract more free agents this upcoming offseason.
"We need to be committed to doing the things, whatever it may be and however hard the decision may be, to do the right things in order to get us where we need to go," Conley said a day after the Grizzlies were swept in the first round by the Spurs, according to ESPN.com. With that said, here are three potential landing spots for the veteran point guard this summer.
3. Miami Heat
Around the trade deadline this past February, the Miami Heat were one of the few teams rumored to be interested in acquiring Conley. The Heat may already possess a more-than-capable point guard in Goran Dragic, who is nearing the conclusion of the first season of his five-year, $85 million.
However, the fact that the franchise did look into trading for Conley due to Grizzlies President Pat Riley's high regard for him shows that there could be change on the horizon. Dragic has struggled at times to fit into the Heat's game plan, which requires him to cut back on his scoring as he plays alongside Dwyane Wade, Luol Deng, Joe Johnson and Chris Bosh.
Dragic is also playing at a pace that doesn't particularly suit his skill set. What also may bring fuel to the fire in this scenario is that Miami will have around $40 million in salary cap space. The Heat may become limited with their financial flexibility with many of their key players — Wade, Johnson, Deng, Gerald Green, and Hassan Whiteside — becoming unrestricted free agents. That said, the front office could go in another direction and pursue Conley.
2. New York Knicks
One of the teams linked to Conley for much of the season is none other than the New York Knicks, who have lacked strong play from the point guard position over the last several years.
The Knicks may need Arron Afflalo and Derrick Williams to opt out of their current deals in order to offer a max contract to the 28-year-old. And there's a desperate need to upgrade the backcourt especially with Jose Calderon and Langston Galloway being their best options at point guard.
If New York can position themselves well, Conley seems more than willing to sign a lucrative contract with another team while he's still in the prime of his career if the Grizzlies don't offer him that type of money. According to the New York Post, Conley told reporters:
This city is all I know. I've grown up here. But I understand it's a business and that can be the hard part. I don't think any of us are underpaid. But I have done a lot in even the last contract. I probably outplayed that one. So I know that I've been working very hard to achieve an even better one. That's something I'm looking forward to. I'm trying to establish that while I'm still in my prime.
Despite Knicks President Phil Jackson not viewing the triangle offense as requiring a traditional point guard, the team must make a splash in free agency if they want to be a competitive team in the Eastern Conference and try to maximum Carmelo Anthony while he's still highly productive. They also have a promising player in forward Kristaps Porzingis, who is coming off a strong rookie campaign.
The addition of Conley could be extremely beneficial to his development and provide the team with another reliable offensive weapon. New York doesn't appear to have "adding a point guard" as a top priority, but it wouldn't be surprising to see them make a push to land him.
1. Memphis Grizzlies
Conley has called Memphis home ever since the organization took a shot on him with the fourth overall pick in the 2007 NBA Draft. Over the last nine years, he has developed into one of the top point guards in the league while experiencing much success by leading his team to the playoffs in each of the last six seasons.
Although the Grizzlies have continued to fall short in postseason play, only going as far as the Western Conference Finals just once, he has helped form one of the most formidable teams in the NBA as he plays alongside two All-Star big men in Marc Gasol and Zach Randolph.
Conley has been that steady hand in the backcourt on both ends of the floor over the last several seasons. It's clear that Memphis needs to add more talent this upcoming offseason, but the franchise still remains the frontrunner to retain his services.
Conley has made it known that he wants to return to the team, it's just a matter of them making the strong effort to land a couple notable free agents with a chunk of their expected $30 million in salary cap space. According to SBNation.com, Conley said:
It's no secret. Everybody's wondering if we can bring together enough guys in the offseason. They have the right formula. They have enough money and an opportunity to find the right guy. But will we be able to attract this person or that person?
If the Grizzlies can make some solid free-agent signings, we don't expect Conley to go anywhere.