NBA: 4 Best Pure Shooters on the Court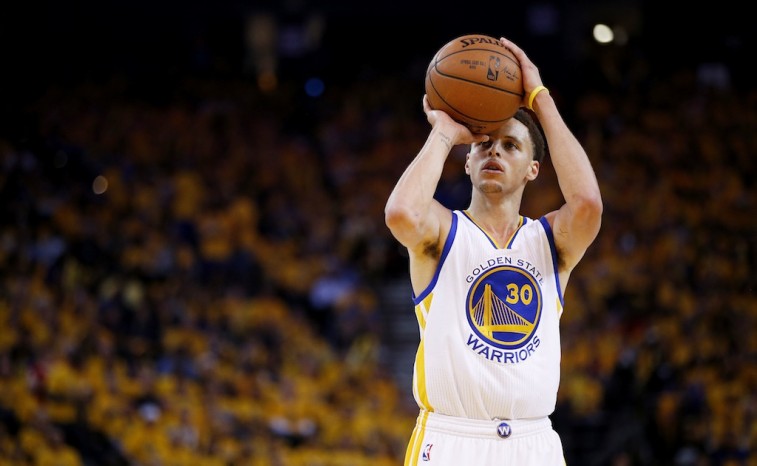 The most fascinating thing about the elite jump shooters in the NBA is just how rapidly they can catch fire and take over an entire game. Sure, we've grown accustomed to the all-around beasts like LeBron James and Anthony Davis dominating, but three-point shooting is not generally considered their strongest asset.
The top basketball players who can make it rain like few others are crafty, quick, and can score from outside in a variety of ways. They may stroll up the court on offense and if the defender gives just an inch too much room, the shooter can pull up for a dagger three from way downtown. Legendary three-point shooters like Ray Allen and Reggie Miller meanwhile were among the best in moving without the ball, working their way around screens, and spotting up for a catch-and-shoot bucket to get a trio of easy points.
When you look at the best quartet of shooters in the league today, you have two, possibly three who are considered terrific all-around players who just happen to be deadly from outside too. Then you have some who are more "three-point specialists" and generally don't score more than a dozen points per game. Regardless, these athletes can (more often than not) make the difficult task of throwing an orange ball into a relatively small basket — while being draped by one or more defenders — look like the easiest job in the world. Here are the four best pure shooters in the NBA.
Honorable mentions: Kevin Durant (Oklahoma City Thunder), Dirk Nowitzki (Dallas Mavericks), Danilo Gallinari (Denver Nuggets), and J.J. Redick (Los Angeles Clippers)
4. Paul George (Indiana Pacers)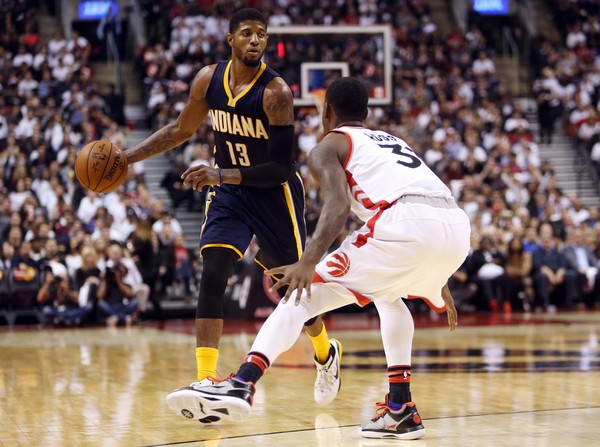 2015 statistics: 2.7 3PM per game, 35 3PM total, .417 3P%
When you think of Indiana Pacers superstar Paul George, stellar three-point shooting is probably not the first thing that comes to mind. The all-around talent is at his best when isolated, taking on a defender one-on-one. His myriad of offensive moves are matched only by a few others in the league, but this year his shooting from outside has really been special.
Of course, PG-13 entered this season coming off of a horrific injury suffered during the summer of 2014 — and he looks superb thus far. The career 36% three-point shooter is currently tied for fourth in both makes per game at 2.7 and in total threes at 35. He likely won't be able to keep up the success rate of nearly 42% on the attempts, but as one of the great "catch and shoot" athletes in the game, George's spot on the list is warranted.
3. Klay Thompson (Golden State Warriors)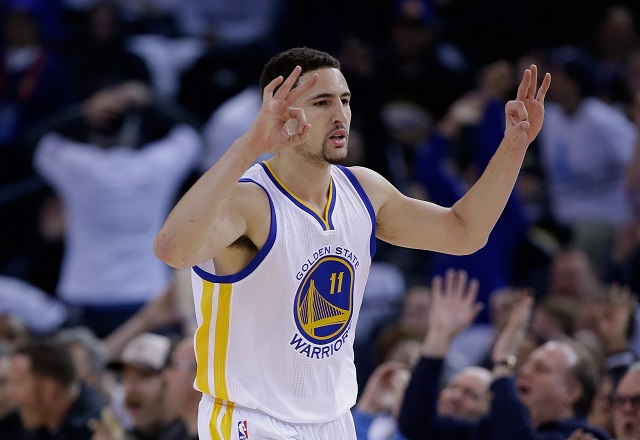 2015 statistics: 2.4 3PM per game, 33 3PM total, .402 3P%
As the less-heralded of the Golden State Warriors Splash Brothers pair, Klay Thompson would easily be the top deep threat on any other Western Conference team. The fourth-year pro makes a living out of draining buckets from way outside, and he put up a performance of epic proportions last season. On the rare occasion when his running mate (more on him later) is off the court, Thompson has shown the touch and talent to take over an offense.
Unlike with George, three-point shooting is clearly Thompson's calling card. No. 11 is second in the NBA in "catch and shoot" points per game at 8.3, trailing only Nowitzki who stands at an even 9.0. For reference, "catch and shoot" is defined by NBA.com as "any jump shot outside of 10 feet where a player possessed the ball for 2 seconds or less and took no dribbles." His .402 mark on three-point shots ranks Thompson 14th among players with more than 50 attempts.
2. Kyle Korver (Atlanta Hawks)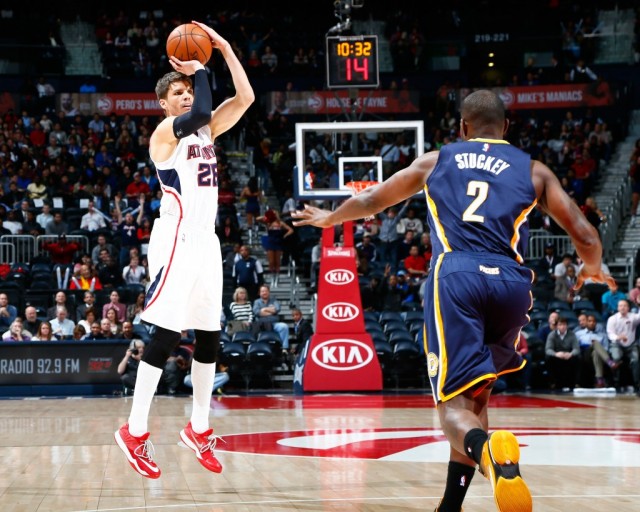 2015 statistics: 1.8 3PM per game, 23 3PM total, .411 3P%
Atlanta Hawks sharpshooter Kyle Korver is clearly the most one-dimensional player on this list, but the one part of the game that Korver excels at, he has mastered to a craft. The 34-year-old has done it in Philadelphia, Utah, Chicago, and is now in his fourth season of lights-out shooting for Atlanta. Korver may be off to a bit of a "slow" start in 2015, but his resume speaks for itself.
The 2014-15 campaign was just absurd for Korver. In his 75 games played, the veteran connected 221 threes and was successful a ridiculous 49.2% of the time. He's led the league in three-point percentage a trio of times in his career, and if the Hawks want to keep pace with the Cleveland Cavaliers, they'll need Korver to keep up the stellar numbers.
1. Stephen Curry (Golden State Warriors)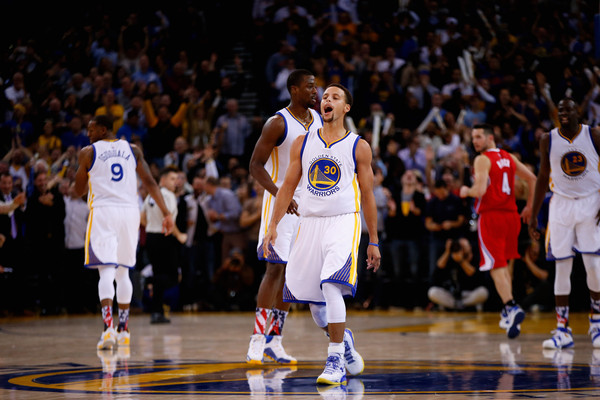 2015 statistics: 4.9 3PM per game, 74 3PM total, .438 3P%
Sometimes you just have to shake your head at a defender after being beat by the scintillating repertoire of moves by the NBA's defending MVP, Stephen Curry. Half of the shots that Curry takes appear to be extremely difficult ones that are off-balance, well-defended, or both. However, seemingly more often than not, the buckets continue to drop for the former Davidson Wildcat.
Curry is rapidly making basketball pundits reconsider the best player in the league discussion, as he has improved drastically since his rookie season. He is no longer just a shooter, but a tremendous multifaceted player. The "best of all" label may be up in the air, but the debate of the best shooter is no contest. With all due respect to George, Thompson, and Korver, Curry blows them out of the water. His 4.9 threes per game and 74 total makes are way more than his closest competition and his 43.8% success rate ranks him sixth among those with more than 50 attempts. If you're going to let Curry beat you as an opponent, make it be on a blow-by dunk or layup, not on another clutch dagger three.
All data, current as of November 23, courtesy of NBA.com, Basketball-Reference.com, and ESPN.com.
Follow Victor on Twitter @vbarbosa1127