NBA: 4 Biggest Snubs From the All-Star Game Starting Lineups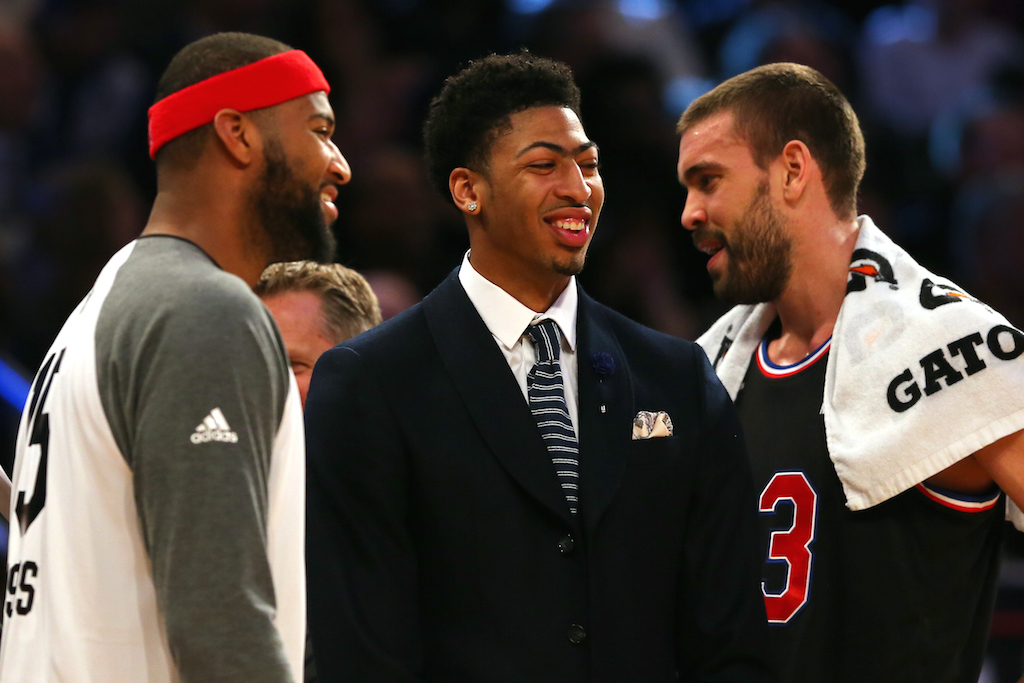 The NBA All-Star game is not for the sport's purists. It is anything but an exercise in basketball fundamentals. This particular game is, and will always be, about entertaining the fans through wicked athleticism, thunderous dunks, and lackluster — if any — defense. This spectacle is all about the fun. And that's how it should be.
For fans of the game, this event is also an opportunity to see the biggest names in the league share the floor, as they let loose and showcase their unbridled talent. This is what is expected. And the players are more than happy to oblige. And while we can expect to see the game's best players strut their stuff, that doesn't mean that the starting lineups for each conference feature the most deserving players.
With the 2016 All-Star game in Toronto just around the corner, the votes have been counted and we know which players have been selected as the starters. For the Eastern Conference, it's Kyle Lowry, Dwyane Wade, LeBron James, Paul George, and Carmelo Anthony. For the West, we've got Stephen Curry, Russell Westbrook, Kobe Bryant, Kawhi Leonard, and Kevin Durant. These are some slam-dunk names — the best the game has to offer. However, if you ask us, not all of them have earned their spot.
Earlier, we predicted which players we believed would start for the Eastern and Western Conferences in this year's All-Star game. Now that we have a definitive answer, it's time to look at which players, unfortunately, got the biggest shaft. In our opinion, these are the four biggest snubs from the 2016 NBA All-Star game starting lineups.
Eastern Conference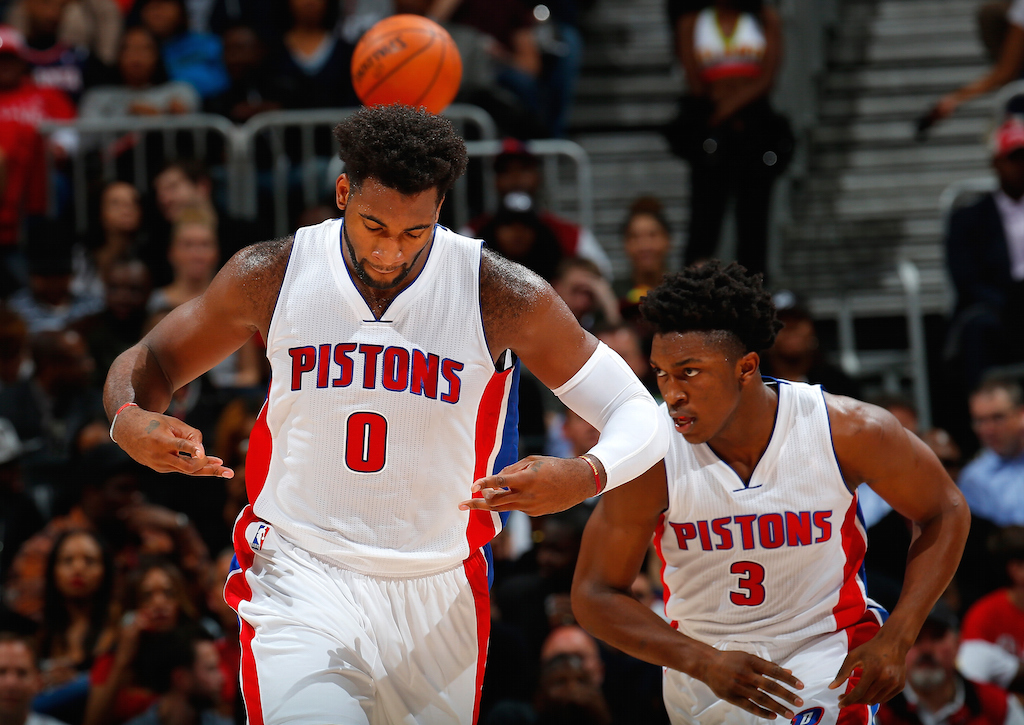 1. Andre Drummond, center, Detroit Pistons
Since coming into the NBA as the No. 9 overall pick in the 2012 draft, Detroit Pistons center Andre Drummond (above, No. 0) has yet make an All-Star team. His coach, Stan Van Gundy, fully expects the NBA coaches to vote him in this time around. And while we wholeheartedly agree with him, the fact is it shouldn't have even gotten to this point. Given the way 22-year-old has played throughout the first half of the 2015-16 season, he should've already made the team — as an Eastern Conference starter.
In 45 games, Drummond is putting up 17.1 points a night, while grabbing an NBA-best 15.2 rebounds per contest. He leads the league in offensive rebounding, defensive rebounding, and total rebounding, to go along with averaging 1.7 steals and 1.4 blocks a game. More importantly, he's helped the Pistons achieve a 24-21 record, which currently puts them in sixth place in the Eastern Conference. As much as we love Carmelo Anthony, we're afraid he's holding the starting spot of a much more deserving player. Sorry, Andre. You got robbed.
2. DeMar DeRozan, shooting guard, Toronto Raptors
With the 2016 All-Star game taking place in Toronto, we think it'd be pretty cool if the East's starting guards both played for the Raptors. Of course, we'd never want this to go down simply because it might make for a good story. The way we see it, based on the first half numbers, this actually should happen.
The play of Raptors point guard Kyle Lowry speaks for itself. It's a major reason Toronto is second in the East — with a 29-15 mark — and the former Villanova standout has a spot in the conference's starting five. That being said, we've been equally impressed with shooting guard DeMar DeRozan. In his seventh season in the league, the 6-foot-7 shooting guard is putting up a career-best 23.2 points per game, while also averaging 4.5 rebounds and 4.1 assists per contest. On top of that, he's shooting 44.3% from the field and 84.6% from the charity stripe. We hate to be the ones to bump Dwyane Wade out of the starting lineup. We have nothing but crazy respect for Flash. Unfortunately, given DeRozan's current level of play, it feels like the right thing to do.
Western Conference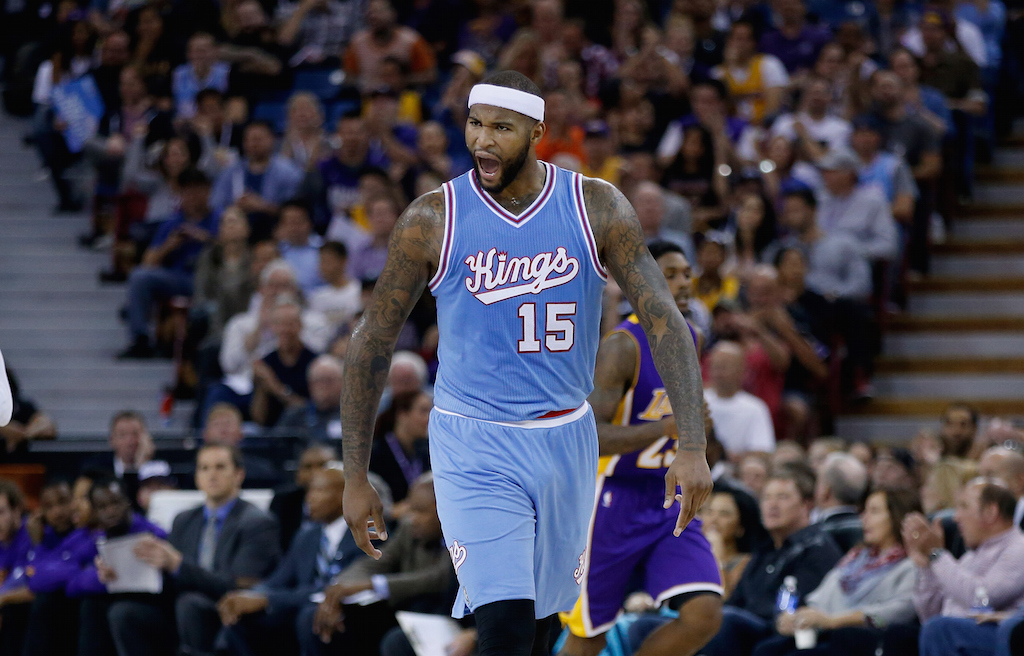 3. DeMarcus Cousins, center, Sacramento Kings
With Kobe Bryant listed as a guard-forward, thus snagging one of the spots in the West's frontcourt, we expected that a few of the conference's top big men would end up with raw deals. But it's incredibly frustrating that one of the those individuals happens to be Sacramento's DeMarcus Cousins (pictured above).
Through the first half of the 2015-16 season, Boogie is averaging 27.6 points (third in the NBA) and 11.4 rebounds (fourth in the NBA). And while those figures are beyond respectable, it's his numbers over the past month that have really blown us away. According to ESPN Stats & Info, in January, Cousins is averaging 34.4 points and 13.6 rebounds per game, while shooting 52.1% from the field. He's also gone for 30 and 10 on eight separate occasions, which includes dropping 56 points and pulling down 12 rebounds during Monday night's 129-128 double overtime loss to the Charlotte Hornets. Based on his numbers and sheer dominance, there is no logical reason why DeMarcus Cousins should not be in the starting lineup for the 2016 All-Star game.
4. Draymond Green, power forward, Golden State Warriors
If you've taken the opportunity to look over our midseason MVP rankings, then you already know how we feel about Golden State's Draymond Green. Unfortunately, with his exclusion from the West's starting lineup, clearly not everyone had the same opinion.
In his fourth season in the NBA, the Warriors' ultimate "glue guy" is averaging 14.6 points, 9.5 rebounds, and 7.3 assists per game. He's shooting 47.1% from the field, while drilling 40.6% of his shots from beyond the arc. Couple that with his ability to guard practically every position on the defensive end of the floor, and it's impossible to truly describe just how valuable Green is to the defending champions. Of course, making him an All-Star game starter would've been a good place to start.
Statistics are courtesy of Basketball-Reference.com, NBA.com, ESPN.go.com, and ESPN Stats & Info.