NBA: 4 Players With the Most Triple-Doubles This Season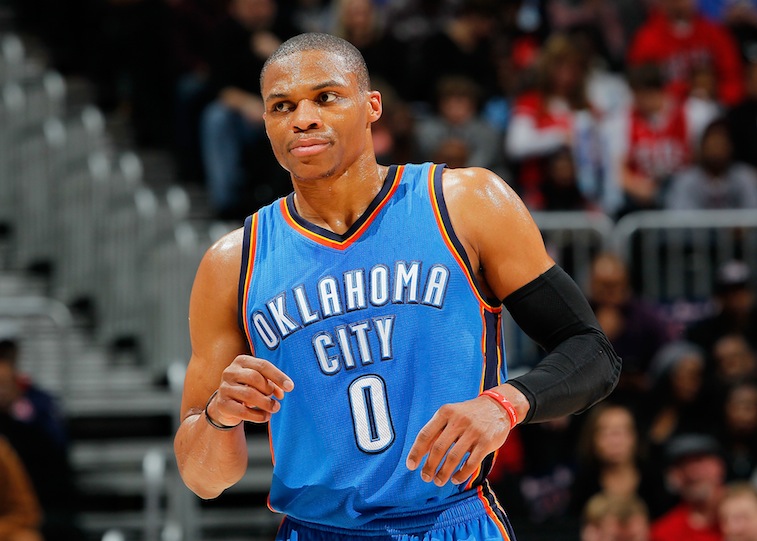 The triple-double is one of the most elusive and impressive feats for an individual player to attain in any given game. You can't just be a knockdown shooter who can score at will, a monster on the glass, or a magician in passing the orange. No, only the absolute best all-around players can do all of those things and more and even then, racking up a score of at least 10 in three of the five categories (points, rebounds, assists, steals, and blocks) can be extremely trying.
Yet for some reason, if you scour the data from recent seasons, you can't help but notice a sharp increase in the amount of triple-doubles for the guys at the top of the league. Using the statistics listed on ESPN.com, starting with the 2008-2009 regular season, the figures representing the top triple-double man list as follows: seven, four, four, six, five, and five. Those are the amounts for the league leaders through the 2013-2014 regular season. Then last season, 12 different players recorded at least two triple-doubles, while the leader had an astounding 11.
This season, it's gotten even more impressive. What's more telling is the fact that among the players with at least three of them this season, only one of them would have been considered among the best players in the league entering last fall. One of them is quickly gaining popularity as a top-notch overall talent and the other two are mostly viewed as one-dimensional specialists. With that in mind, here are the four players with the most triple-doubles this season so far.
4. Hassan Whiteside, Miami Heat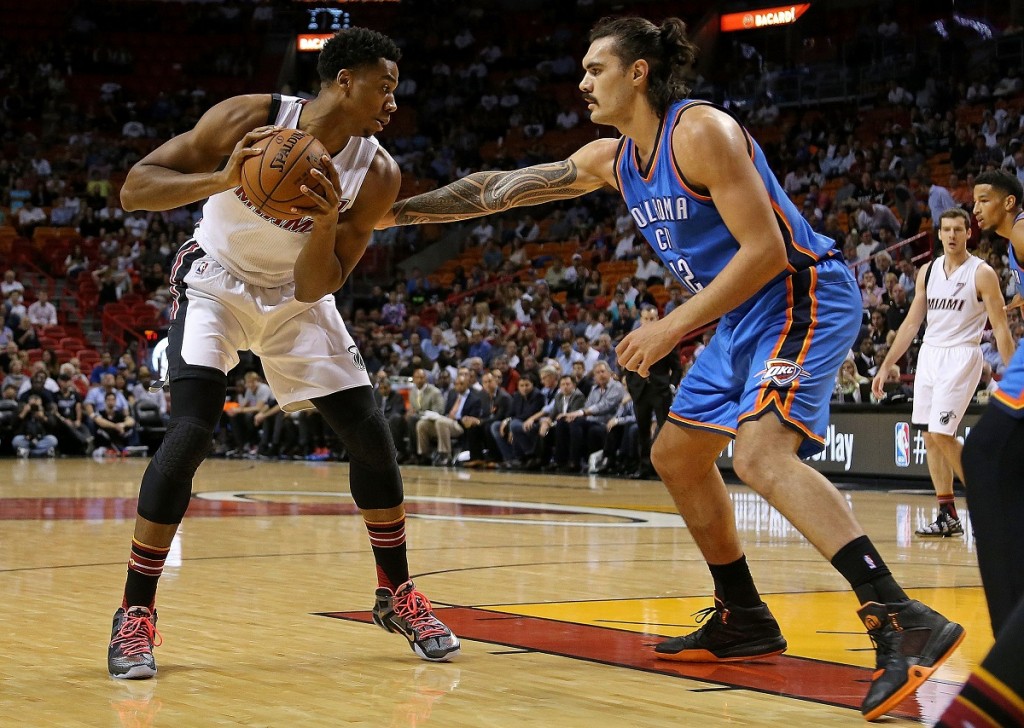 2015-2016 regular season statistics: 12.8 PPG, 11.4 RPG, 3.9 BLKPG in 48 games played
Triple-doubles: 3
Okay, so he's no Anthony Davis, but Miami Heat center Hassan Whiteside is having a pretty remarkable season of his own. With his trio of triple-doubles in 48 games played, the 26-year-old ranks ahead of guys like Marc Gasol, LeBron James, DeMarcus Cousins, Kevin Durant, John Wall, James Harden, and some guy named Stephen Curry. That's some pretty darn good company.
After showing signs of becoming a fantasy basketball star a season ago, Whiteside has dominated this year and is now the best all-around player on a talented Heat roster. Interestingly, when you broaden the statistical output to double-doubles, there are 20 guys ahead of Whiteside in that department as he has "only" 22. Still, the big man's numbers are amazing. He's averaging a freaking double-double each time out and nearly four blocks per contest, all in just 28.6 minutes of action per game.
3. Rajon Rondo, Sacramento Kings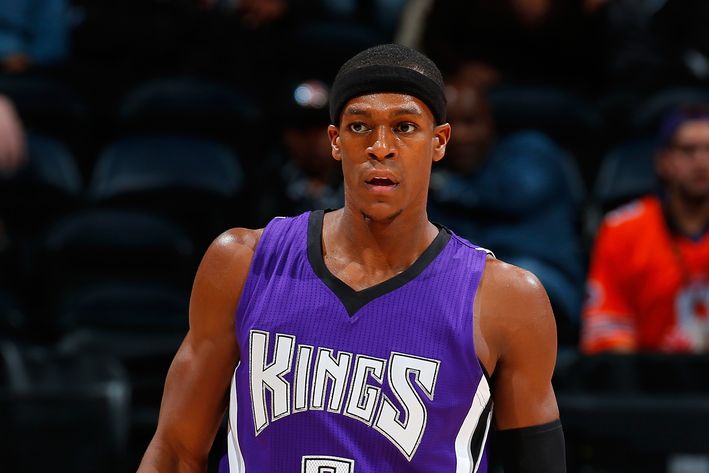 2015-2016 regular season statistics: 11.9 PPG, 6.3 RPG, 12.0 APG, in 54 games played
Triple-doubles: 5
Back before the season began, we called out ESPN's annual #NBArank for placing newly-signed Sacramento Kings point guard Rajon Rondo at No. 223. We felt that despite the recent downward spiral in the enigmatic player's career, he was worthy of a much higher ranking. We'll pat ourselves lightly on the back for catching the mistake but we'll also say that we did not see this fantastic of a season coming for the former Boston Celtic.
Not only has Rondo surpassed our expectations of placing in the 120-150 range, but he's easily been among the top 100 players this year, if not top 50. With his five triple-doubles, Rondo is second among all point guards in the category and his 28 double-doubles put him in third for his position. Following back-to-back disastrous seasons, the guard has stayed out of trouble for the most part this year and is posting tremendous numbers.
Rondo's league-leading 12 assists per game would be a new career-high, as would his 6.3 rebounds per contest and 36.7% three-point success rate. His minutes per game (35.1), field goal percentage (.450), and points per game (11.9) are also at their highest mark since the 2012-2013 campaign, which incidentally, was when he made his last All-Star team.
2. Russell Westbrook, Oklahoma City Thunder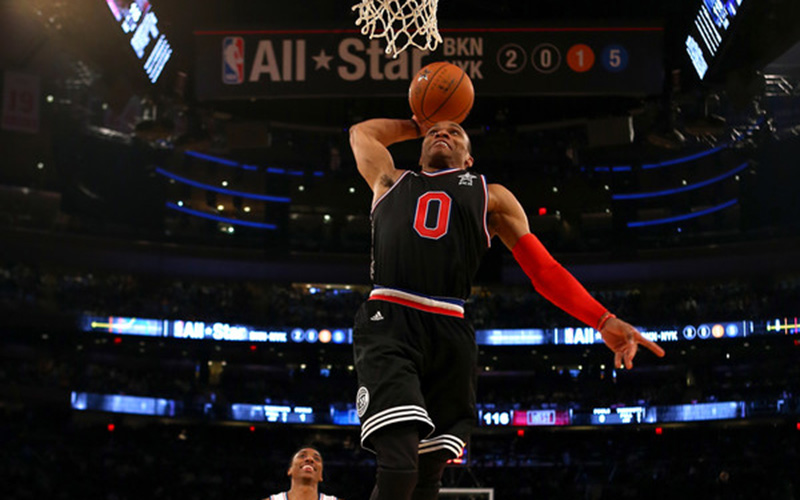 2015-2016 regular season statistics: 24.3 PPG, 7.5 RPG, 10.2 APG, in 58 games played
Triple-doubles: 8
Is it just us or has Russell Westbrook become a more valuable player to the Oklahoma City Thunder than Kevin Durant? Sure, KD has had injuries to deal with and you can't fault him for that, but Westbrook has been right there with Kawhi Leonard and LBJ as the best players in the world (after Curry) over the past 12 months. Anyway, the whole Durant vs. Westbrook argument can be saved for another day. Let's analyze No. 0's awesome numbers.
Westbrook — who's no stranger to triple-doubles — is posting a monster line of 24.3 PPG, 7.5 RPG, 10.2 APG, and 2.2 SPG. He ranks second in all of basketball with his 39 double-doubles and has played in every one of the Thunder's 58 games. Essentially, Westbrook is getting a triple-double about every seven games and the double-double in about 67% of his games this season. That's just silly.
1. Draymond Green, Golden State Warriors
2015-2016 regular season statistics: 14.0 PPG, 9.6 RPG, 7.3 APG in 48 games played
Triple-doubles: 11
Golden State Warriors forward Draymond Green may be having the most well-balanced season that the NBA has seen in some time. It's not often that a stretch like Green's will be overshadowed, but that's exactly what's happening as one of his teammates is the magical Chef Curry. At the end of the year though, we have a feeling that the voting panel will justly recognize Green's prowess this year and he'll earn a top-three MVP finish.
Like a five-tool player in baseball, the former Michigan State Spartan has done it all since the season tipped off. His per game numbers are great, but not elite, but when you put them all together you have one of the most impressive players in the business.
In his 34.1 minutes per game, Green's numbers look like this: 14.0 PPG, 9.6 RPG, 7.3 APG, 1.3 STPG, and 1.2 BLKPG. He's shooting an efficient 48.7% from the field, including a deadly 40.2% from downtown. His 68.1% free-throw success rate and 3.1 TOPG could be better, but that's about all between Green and a spotless regular season.
Follow Victor on Twitter @vbarbosa1127
Statistics courtesy of Basketball-Reference.com and ESPN.com.