Kobe Bryant: 5 Best Career Performances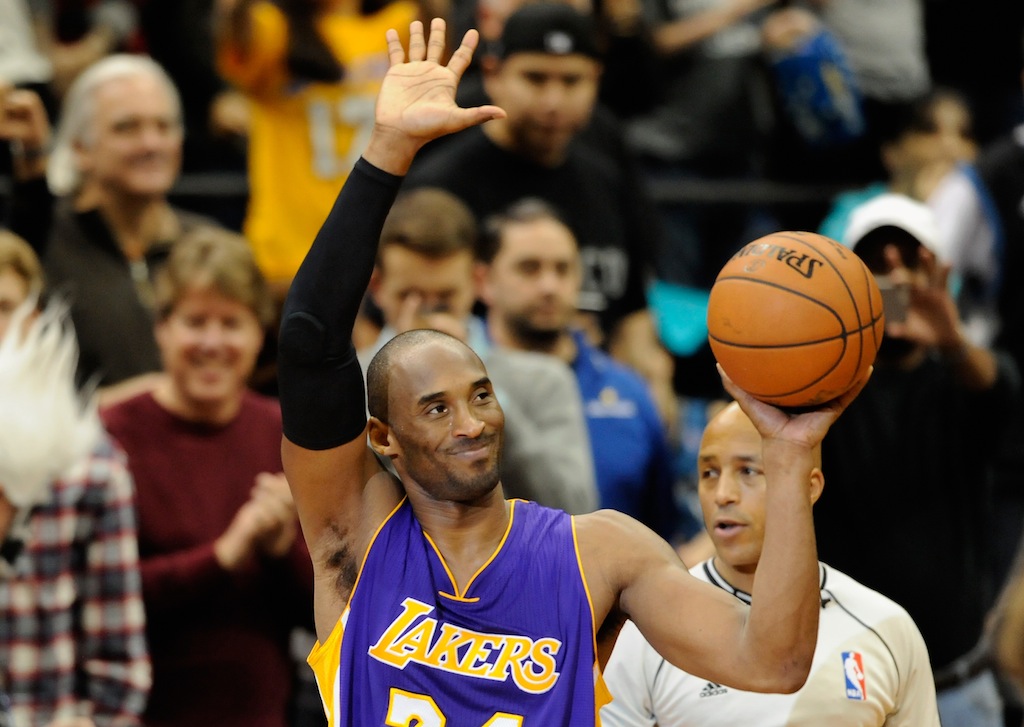 Dear Kobe,

Since you were gracious enough to announce your"goodbye" to the sport you love through a thoughtful poem, we thought it was only appropriate that we respond in a matter fitting a player of your stature.

Thank you.

Thank you for leaving it all out on the court. Thank for your tireless effort, unrivaled work ethic, and enviable competitive spirit. It's hard to accurately describe what it's like to bear witness to greatness. But if there's one thing we are certain of, it's that every time you took the floor, we got exactly that.

You never took a night off. You never backed away from a fight. You never gave anything less than your all. You always reached for the stars.

In a world filled with skilled players, you showed the rest of us that talent was not enough. To be the best of the best, to reach that higher level of excellence, it required practice, focus, discipline, and even pain. You gave us that. And we'll never forget it.

Thank you.
Now that we're about to see the first Kobe-less NBA season since Bill Clinton was president, let's look at the five best performances in his storied career.
5. Kobe torches the Blazers for 65
Heading into a matchup with the Portland Trail Blazers on March 16, 2007, the Los Angeles Lakers found themselves in the midst of a seven-game losing streak. With his team in desperate need of a W, there was only one thing for Kobe Bryant to do — score a boatload of points. On this night, in front of the adoring fans at the Staples Center, the Mamba went 23 for 39 from the field, knocked down 8 of 12 threes, and hit 11 of his 12 free throws, to finish the game with a ridiculous 65 points. With Bryant lighting the Blazers up from all over the court, the Lakers went on to win the contest 116-111 in overtime.
4. Kobe scores 62 in just three quarters
It takes a natural scorer to drop at least 60 points in an NBA game. It takes a freak of nature to do it in just three quarters of play. Take a wild guess which category Bryant falls into. On December 20, 2005, in a home game against the Dallas Mavericks, gave himself a cool 62-point performance. And he did it in just under 33 minutes. How does one possibly accomplish that? Easy. You just have to connect on 18 of 31 shots, nail four three-pointers, and make 22 of 25 free throw attempts. Nothing to it, right?
3. Kobe drops 55 on MJ
We all know Bryant loves to rise to the occasion. So it should come as no surprise that the Black Mamba took his game up a notch when he faced his last head-to-head matchup — on March 28, 2003 — against Michael Jordan. In what was essentially a proverbial passing of the torch, Bryant lit up his Airness and the Washington Wizards for 55 points, including going 15 for 29 from the field, hitting nine three-pointers, and making 16 of 18 from the charity stripe. While we all know there will never be another Jordan, on this particular occasion, it was the Lakers superstar who made people realize there would probably never be another Bryant either.
2. Kobe's Madison Square Garden masterpiece
If Madison Square Garden is considered the mecca of basketball, then Bryant gave a religious experience to the fans in attendance on February 2, 2009. In what became the greatest single-game scoring effort that the venue had ever seen (until Carmelo Anthony topped it during the 2013-14 season), the Black Mamba made 19 of 31 shots, connected on three buckets from beyond the arc, and made all 20 of his free throws, torching the Knicks for 61 points. To make the night even more special, by the time the Lakers won the contest 126-117, Bryant had put on such a show that even the New York faithful couldn't help but chant his name.
1. Kobe goes for 81
81 points. That's how many Bryant finished with during the Laker's 122-104 victory over the Toronto Raptors on January 22, 2006. It was the kind of individual performance that we may never witness again; the kind of game when a lethal scorer catches fire — NBA-jam style — and you know that it's going to take an entire army to prevent them from putting the ball in the bucket. And yet, even if you have that at your disposal, it may not be enough to stop the onslaught. As far as Bryant's epic performances go, it's hard to find one better.
In the words of the future Hall of Famer, "Mamba out."
All statistics courtesy of Basketball-Reference and The Players' Tribune.