NBA: 5 Eastern Conference Predictions for the 2015-16 Season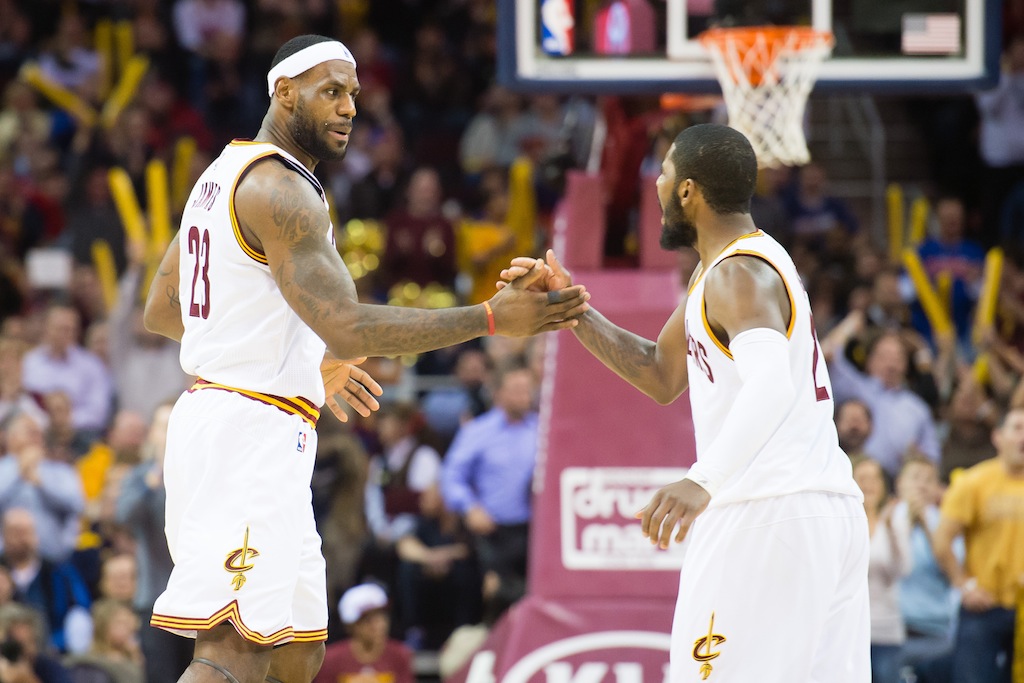 One of the greatest things about sports is the unpredictability. You can go into a new season with all the expectations you want, but that doesn't mean any of them will come into fruition. It's this element of surprise that only increases our love for the world of sports. After all, anything is possible. And as far as the NBA is concerned, few things could be more true.
With the NBA preseason now in full swing, we're starting to get a better sense of how things might play out this year. Some teams are experimenting with different strategies, some players are working hard to adapt to their new surroundings, and some teams are even facing quite a bit of controversy. In the end, all these things should make for an exciting new season.
Of course, while we've mentioned before that you can't always predict the future, that's not going to stop us from trying. Therefore, taking into account what we've seen so far this preseason, here's a look at our five Eastern Conference predictions for the 2015-16 NBA season.
1. The Atlanta Hawks will not repeat as 60-game winners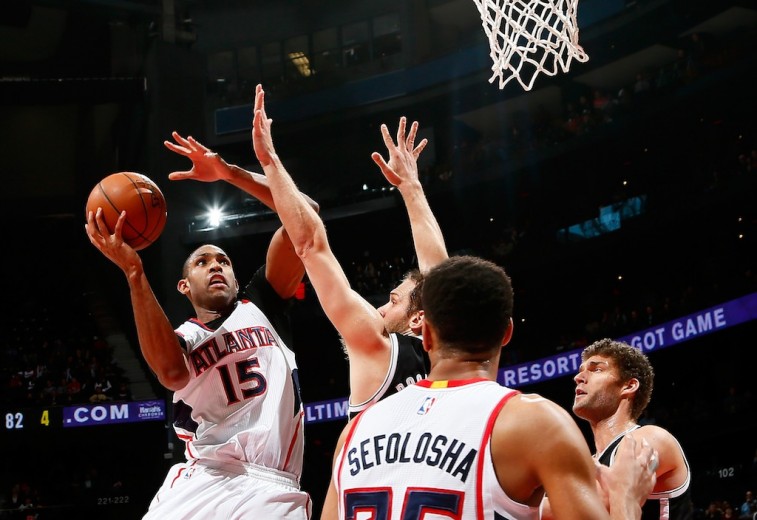 The Atlanta Hawks' rise to the No. 1 seed in the Eastern Conference was one of the more pleasant surprises of the 2014-15 NBA season. This squad showed that it didn't need a true superstar to play quality ball. As a result, through a collective team effort, impressive offensive efficiency, and sure-fire outside shooting, the Hawks rode the way to an unlikely 60-22 regular-season record.
While that was a great storyline, we just don't see the same thing happening again in 2015-16. Not only will everyone be more prepared for them this year, the simple fact is that Atlanta caught lightning in a bottle last season — something that very rarely happens in back to back seasons. Couple that with losing DeMarre Carroll to the Raptors in free agency, and the Hawks just won't have the same balanced attack as they did last year. Atlanta should remain good. Just not "2014-15″ good.
2. The Pacers' small-ball plan will hurt their playoff chances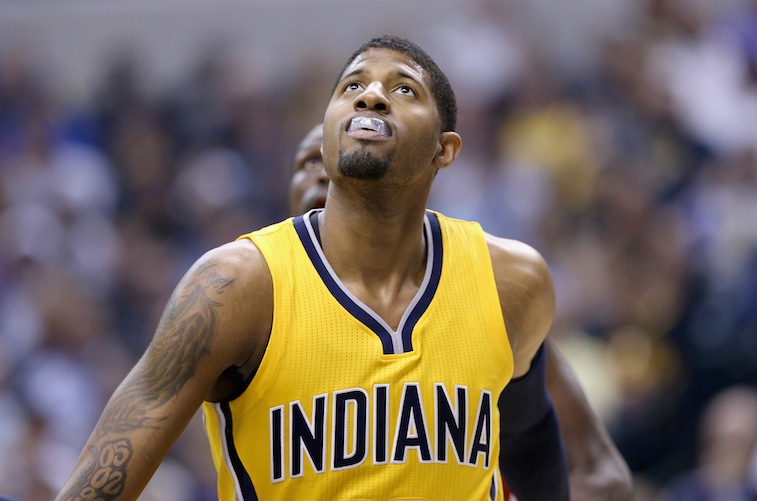 After losing All-Star center Roy Hibbert to the Los Angeles Lakers (not to mention the cliff that he fell off at the end of his tenure with Larry Bird and company), the Indiana Pacers are committed to embracing the small-ball philosophy. To do so, however, means moving superstar Paul George over to the power forward position. While this has the potential to pay off, we can't fully get behind the idea.
While it's clear that putting a player of George's caliber against bigger players on offense allows him the benefit from some obvious mismatches — aka the fundamental appeal of small ball — the defensive challenges can be as rough as the offense is easy. Not only will PG13 have to exert more energy by trying to guard larger opponents, but even he doesn't appear to be onboard with the team's new direction. Unless everyone gets on the same page, the Pacers will struggle to make a dent in the Eastern Conference.
3. The Derrick Rose/Jimmy Butler debate is not going away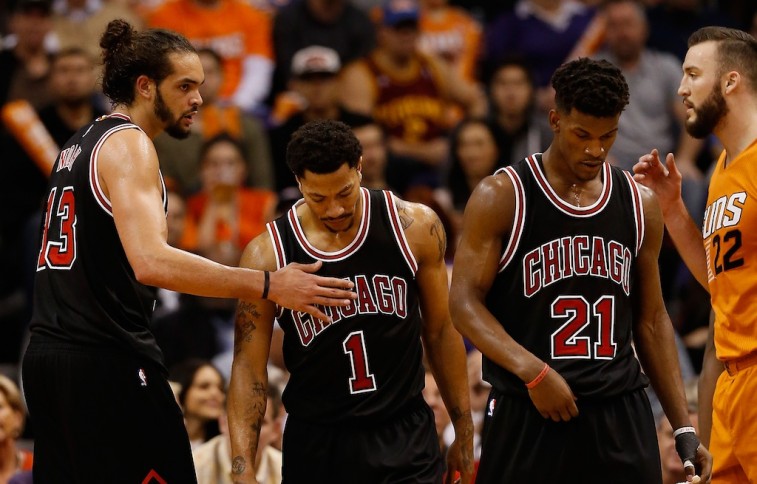 When completely healthy, the Chicago Bulls have more than enough skill to legitimately vie for the Eastern Conference crown. However, the problem with this group isn't going to be about how to best utilize all the team's talent, it's going to be about determining which player is the true face of the franchise, and building around them. That's going to be quite difficult.
We're not ones to let gossip get the best of us. However, with reports circulating that Jimmy Butler doesn't respect the work ethic of teammate Derrick Rose, we can't ignore the fact that this isn't a one-off thing, but rather the latest mention of tension between the two superstars.
With Rose constantly sidelined by injuries, Butler has emerged as the team's go-to scorer; a role of which he is more than deserving. Amid all of this, for some reason, D-Rose has already started talking about his next contract. Clearly not everyone is on the same page. Together these two could be a dominating tandem. Unfortunately, we're not sure Chicago is big enough to support two alphas. Expect this debate to rage on as the season unfolds.
4. The Bucks will prove last year was no fluke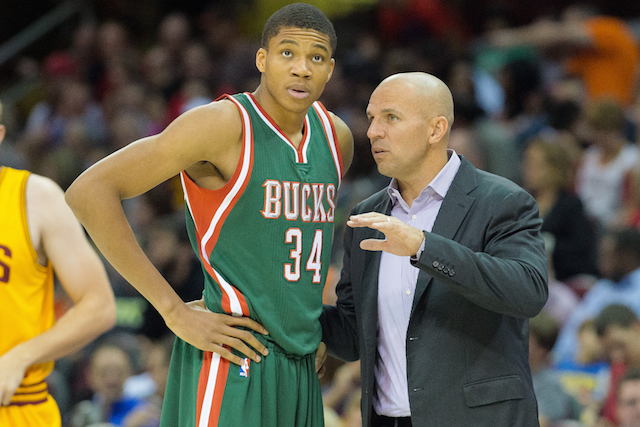 We don't think there were many people who expected the Milwaukee Bucks to go 41-41 in 2014-15 season and earn themselves the sixth seed in the Eastern Conference. We certainly didn't. However, after an offseason that saw the acquisition of prized free agent Greg Monroe, there can no longer be a debate about whether or not this team is for real. They are.
While we're not quite ready to throw them up there with the top 3 teams in the East, Milwaukee is most certainly on the up and up. Monroe, coupled with the return of Jabari Parker — the second overall draft pick from 2014 who tore his ACL last season — should only make this team a formidable opponent. The Bucks are young, motivated, well-coached, and eager to take that next step. With this team destined to have an increased interior presence, which should only bolster its outside shooting, the Milwaukee Bucks will once again show that they are here to stay.
5. LeBron James will not have to carry the Cavs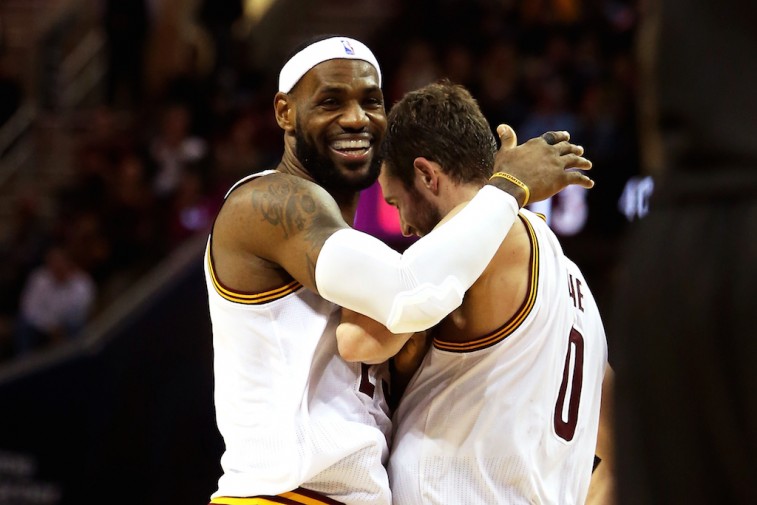 We've already seen what LeBron James can do with the Cleveland Cavaliers when the roster is depleted. If things go as planned for the Ohio squad, though, he won't be forced to carry this team on his back again (something he seems to have no intention of doing). After seeing what the Cavs have started to implement this preseason, we think James will be quite happy with his workload.
In their second preseason game against the Atlanta Hawks, Cleveland made a concerted effort to move the ball and put players in a better position to get open shots. Despite losing the game, this formula should prove most effective come the start of the regular season; especially with the team planning to get Kevin Love more involved in the offense.
The Cleveland Cavaliers were one of the best teams in the NBA last season. They should only get better in 2015-16.
All statistics are courtesy of Basketball-Reference.com and ESPN.go.com.