NBA: 5 Free Agents Carmelo Anthony Should Recruit to the Knicks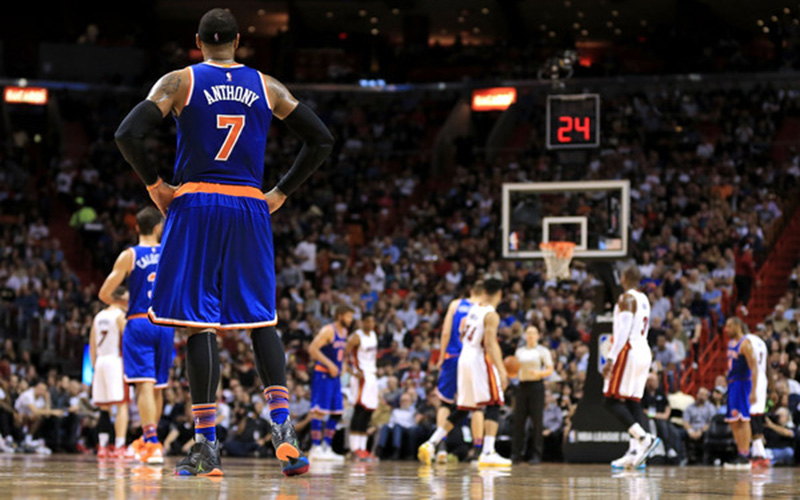 It's obvious that the New York Knicks need to get Carmelo Anthony some assistance if they want to become serious contenders. The question is, who can the team bring in to help him out? Well, the good news is that the Knicks should be active in free agency, and will have a few intriguing options to make their new starting point guard in 2016.
With that said, the Knicks may need to turn to Anthony to have him become their own recruiter of sorts, so that they have a shot at luring in some of the impending free agents. With that said, let's take a look at five free agents who Anthony himself should look at recruiting, as these players could help get the Knicks over the hump and back to relevancy again.
Rajon Rondo
As Marcel Mutoni of Slam Online reported, Anthony already stated that Rajon Rondo would be "perfect" for the Knicks, and he's not wrong. "I think Rondo — just me personally, I don't want to be tampering — but I've heard he said he wouldn't thrive in a system like this," Anthony said. "I think he'd be perfect in a system like this."
Rondo resurrected his career this season with the Sacramento Kings. He's averaging 11.9 points, 12 assists, 6.2 rebounds, and two steals per game through 59 games this season. If he can bring that playmaking ability to New York, it'd not only make Knicks fans happy, but Anthony himself would likely be ecstatic. Even though Rondo is 30 years old, he proves that he has plenty left in the tank, and he can absolutely be the point guard who the Knicks have so badly waited for.
Mike Conley
We aren't sure what to think about the potential for Mike Conley to leave the Memphis Grizzlies this offseason. He's obviously happy in Memphis and that team has had a fair amount of success, so remaining there would make a lot of sense for him. But, if Anthony can do some persuading and get Conley to town, he'd be a lot of fun to watch next to Anthony.
Not only can Conley dish it out (he's averaged over six assists per game in three of the last four seasons), but he can also score the ball with regularity. Obviously this one goes right along with the massive need that the Knicks have for a playmaking point guard, which would mean there would likely be quite a few Conley jerseys sold to Knicks fans.
Pau Gasol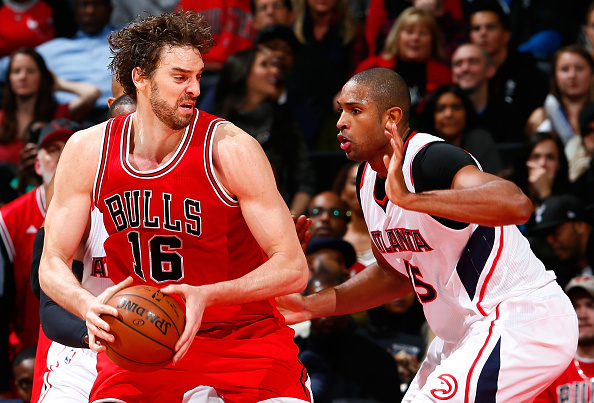 Pau Gasol has become one of the most consistent big men in the NBA, which is what the Knicks could absolutely use. While Robin Lopez has done a solid job for the Knicks inside, having a player like Gasol to pair up with Anthony would be great. We've seen him coexist with another superstar in Kobe Bryant, and it worked out more than fine, so expect Gasol to be a target for the Knicks.
Gasol is averaging 17 points, 11.1 rebounds, four assists, and two blocks per game this season. The only issue for New York? Gasol wants to play for a team that will give him a chance to get another ring down the home stretch of his career. As much as Knicks fans may hate to hear this, that's probably not going to happen for them.
Bradley Beal
Many won't agree with this, and we understand the argument for both sides. What's important about Bradley Beal's game, is that he can seriously score. While he's averaging just 30.7 minutes per game this season, he's averaging 17.8 points, 3.3 rebounds, and 2.8 assists.
Beal won't be the type of guy who fills up the box score on a nightly basis, but what he will do is score, which the Knicks could absolutely use, as Anthony can't do it by himself. The issue with this one: Beal may very well command something close to a max contract. This would pose the question of whether or not the Knicks would be open to paying that much for a shooter like Beal.
Kevin Durant
Talk about obvious, right? Well, let's clarify that if Anthony finds a way to lure Kevin Durant to town, he will automatically go down as one of the most popular men in New York. The reason? Because these two could win a championship together. It doesn't matter how they line up or who plays what position. Putting two talented playmakers like Durant and Anthony out on the floor together will automatically shift the Knicks into contenders.
It'd be a whole lot of fun to watch, but it seems pretty unlikely that Durant would go from a situation where he can get a ton of money and contend for a title in the place he calls home to a place where he could get a ton of money and contend. Plus, he's better off playing with Russell Westbrook, who he's managed to get comfortable working with.
Follow Jeff Smith on Twitter @JSM8ith
Statistics courtesy of ESPN.com and Basketball-Reference.com.