NBA: 5 of Michael Jordan's Best Teammates Ever
To say that Michael Jordan has led an extraordinary life both on-and-off the courts is an understatement. From his namesake line of memorable shoes to a well-deserved 2009 Hall of Fame induction, Jordan also acquired an epic award when he received the Presidential Medal of Freedom in 2016 from Barack Obama.

Alongside another NBA favorite, Kareem Abdul-Jabbar, celebrities like Ellen DeGeneres, Robert De Niro, Tom Hanks, Robert Redford, and Bruce Springsteen received the award that year. Being in the spotlight and rubbing elbows with A-listers was certainly nothing new for Jordan, though. He laced them up with hundreds of players during his career, and these five were the best teammates Michael Jordan had during his NBA career.

5. B.J. Armstrong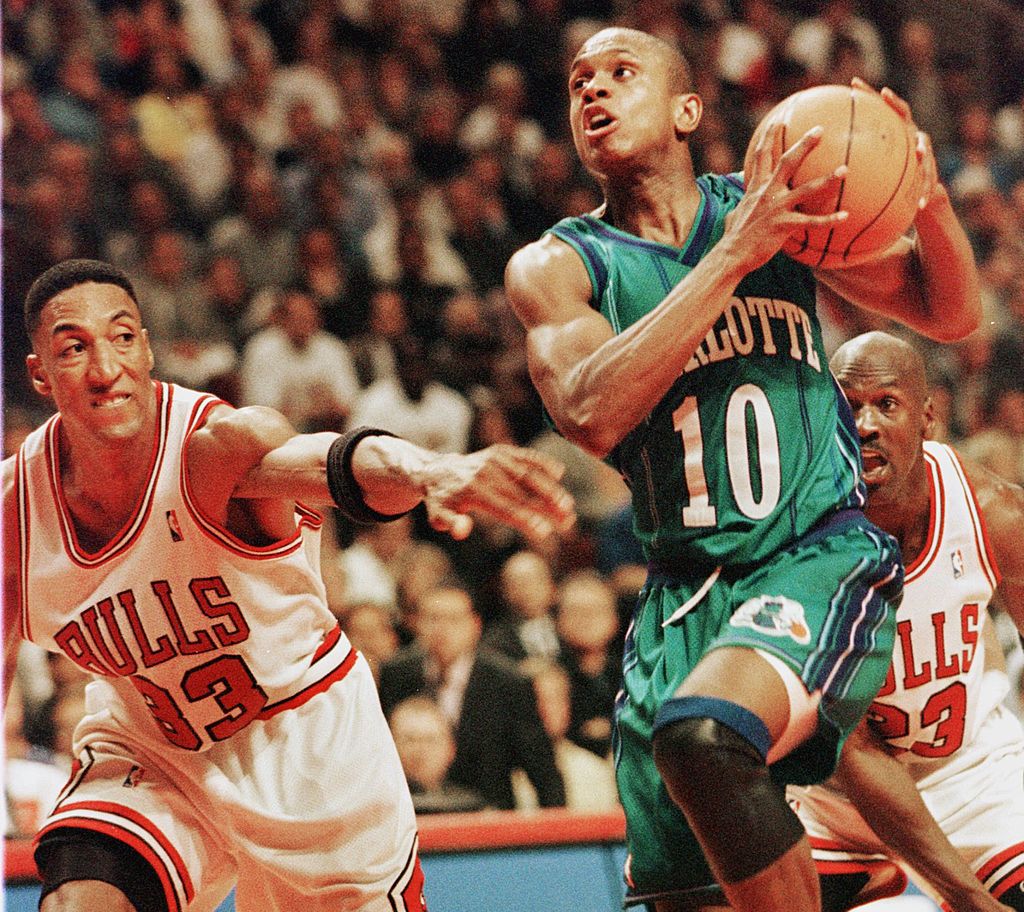 So popular were these two players, they were even tied to a conspiracy theory at one time. The rumor claimed Jordan kept talented free agents from joining the team even after he left. When B.J. Armstrong played for the Bulls, he was truly at the top of his game when you look at some of his numbers:
He led the league in games played with 82 at the end of three different seasons
Armstrong had three more years playing 82 games, though others also accomplished the feat
When shooting 3-pointers, Armstrong hit a league-leading 45.3% during the 1992-93 season
He started his career with back-to-back 50% 3-point percentage rates, though his limited amount of shots didn't qualify him for being a league leader
Pardon the pun, but it's certainly fair to say B.J.'s arm was really strong when he manned the point guard spot for the Bulls alongside Michael Jordan.

4. Toni Kukoc
Standing at nearly seven-feet tall and weighing in at 235 pounds, "small forward" Croatian Kukoc was killing it on the courts while wearing a Bulls jersey and playing alongside Michael Jordan.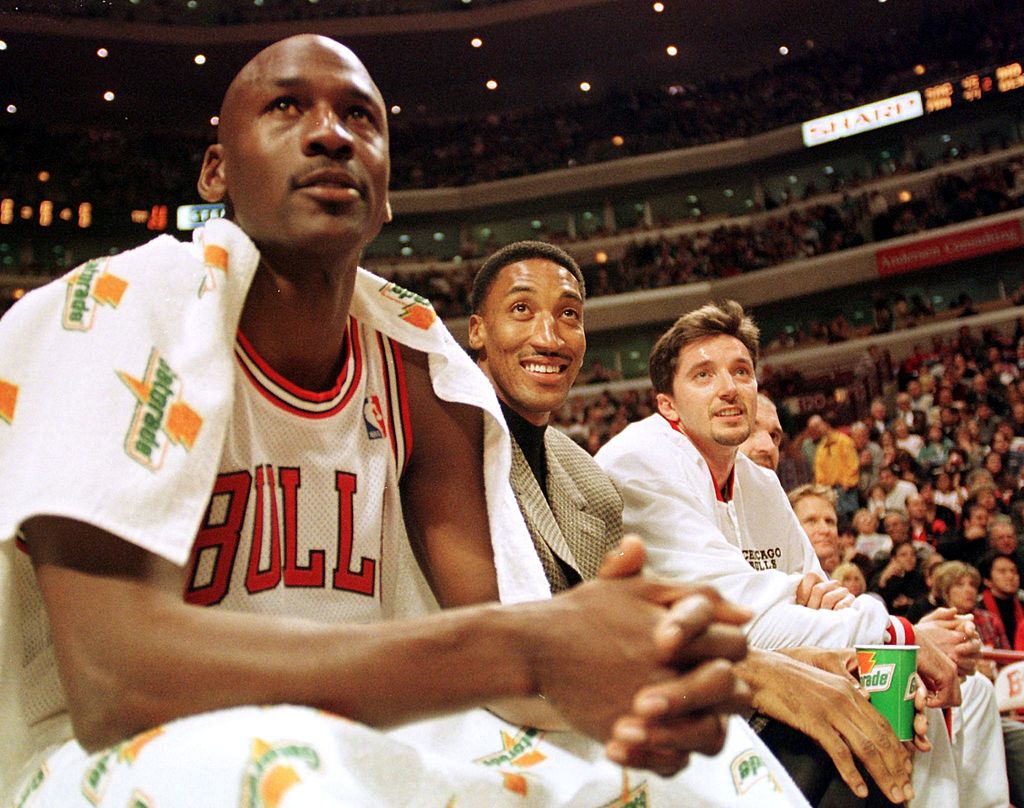 The 1993-94 All-Rookie team member and 1995-96 Sixth Man of the Year winner excelled when Jordan returned to the Bulls following his first retirement. Kukoc won three NBA titles during Chicago's second three-peat.

Toni Kukoc eventually went on to play for Philadelphia, Atlanta, and Milwaukee before calling it quits in 2006. Kukoc went out with a bang with the Bucks during a match-up against the Pistons when he scored 10 points, had six assists and nailed a trio of 3-pointers.

3. Dennis Rodman
Back in the day, Dennis Rodman was famous for his playful antics both on-and-off the court, but mostly for his celebrity status. Think about the word distraction when you consider his lavish lifestyle: Outrageous hairstyles, strange piercings, colorful tattoos, and a wardrobe full of dresses. Rodman's romantic ties to celebrities like Madonna and multiple marriages made it all a bit weird.

Think of it this way — distraction is distraction and intimidation is intimidation. Whether you're hot on the celebrity scene or playing power forward for the Bulls, this type of psychological warfare between opponents is common in nearly every sport, and it's often an effective maneuver. Not to say that Rodman wasn't a powerful force playing for the Bulls, but his frightening appearance, overbearing demeanor, and grizzly reputation didn't hurt his game either.

He might not be in Chicago's all-time starting five, but there's no doubt Rodman's tenacity on defense and knack for rebounding were invaluable to the Bulls as they chased their second three-peat in the late 1990s.
2. Horace Grant
He doesn't have the same recognition as some other players on this list, but Horace Grant was still one of the best teammates Michael Jordan ever had. During his prime in Chicago, Grant averaged a double-double or close to it four straight seasons.

Another player to wear multiple jerseys in the NBA, Horace Grant went on to play for Orlando, Seattle, and the Lakers. Grant had a VORP (Value Over Replacement Player) rating making him one of the most outstanding teammates playing with Michael Jordan in the 90s.

1. Scottie Pippen
The names Scottie Pippen and Michael Jordan are associated with basketball much in the same way Wayne Gretzky is tied to hockey even for people who usually don't follow either sport. Pippen is the only one of Michael Jordan's teammates who can reasonably say he was nearly Jordan's equal on the floor.

Pippen was a seven-time All-NBA player, he made the All-Defensive team 10 times in his career, and he co-piloted the Bulls to six titles.

Jordan and Pippen were a duo for the ages and some claim Michael simply played better with Scottie by his side, and vice versa. Jordan never reached the same heights without Pippen, and Pippen's Bulls struggled in the postseason the two years Jordan wasn't there and only advanced to the second round.

Even though they aren't playing professionally anymore, it will be a very long time before the likes of Michael Jordan and some of his teammates are forgotten or overlooked among NBA fans. With a long list of NBA records under his belt, many of today's players are literally trying to follow in Jordan's footsteps in order to make their mark in the league's record books.