NBA: 5 Players Looking to Make the Leap to Greatness
The NBA season is just underway, with most teams having logged four or five games. and Like with every new set of games, there are always a list of players who many expect to break out and become very good players. potentially even stars. We've hit a point where it's fair to take notice of the early performances of some of the younger class of NBA players and see who might actually be taking that next step in his career.
Last season, Jimmy Butler of the Chicago Bulls was the big breakout player, making the All-Star team, taking over the leadership role on the Bulls from injured star Derrick Rose, and earning himself a nice pay day in the offseason. Of course, it is still very early and things can always change. But as of this moment, there are five clear breakout candidates who look like they're transforming into future All-Stars.
5. Rodney Hood – Utah Jazz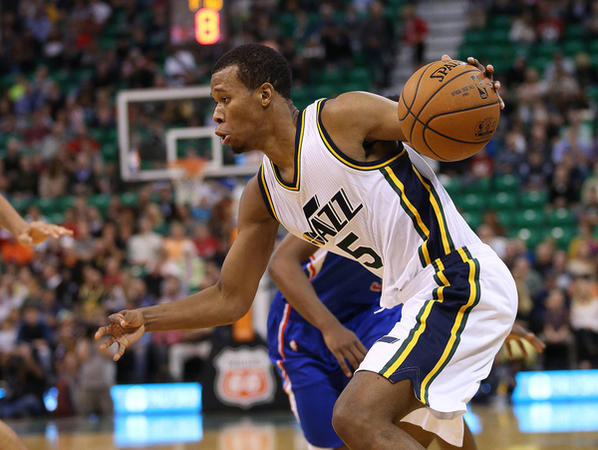 Hood played in just 50 games last season, which was his first in the NBA. The 23-year-old lefty has a sweet outside shot, although he hasn't even turned it on yet this season as he's just 4-for-16 on three-pointers. His sweet-shooting abilities and left-handedness might remind some of Michael Redd, another southpaw with an ability to knock down jumpers. Hood stole the starting job on the Utah Jazz from Alec Burks, who also happens to be having a solid season for the Jazz.
Hood has only been playing 27 minutes per game in his first three games, but he's put up 15.3 points on 47.6% shooting. Again, he's a good three-point shooter but hasn't had that part of his game come out yet this season. Once it does, Hood could be the real break out monster of the NBA season. The same could be said for the Jazz as a team, as they're 2-1 and have an extremely young, talented roster — the oldest player on the team is Joe Ingles, who is just 28. Special props to Hood's teammate Rudy Gobert, who is also a breakout candidate and was a threat to also make this list.
4. Marcus Morris – Detroit Pistons
Morris is an interesting case. He reportedly had some issues last season with his head coach when he was with the Phoenix Suns, leading to him being traded to the Pistons on draft day this offseason and splitting up him and his twin brother Markieff. But so far, so good for him in Detroit. The Pistons are 3-0 in their first three games, and the 26-year-old Morris is a big part of that.
He's setting career highs in minutes (38.0), points (19.3), and rebounds (7.7), and is putting up less three-pointers and more two-pointers than when he was with the Suns. A pessimist might say that his rise in numbers has more to do with playing more minutes than before, but his stats per 36 minutes played have risen as well. He's always been considered a tremendous talent, and it's possible he's showing why many regarded him so highly on draft day way back in 2011.
3. Giannis Antetokounmpo – Milwaukee Bucks
Antetokounmpo, or "The Greek Freak" as he's often called, is one of the more athletic players in the NBA. He also scores points for having one of the most difficult last names to spell. Giannis was drafted 15th overall in the first-round of the 2013 draft, and from early on in his career it was clear he had the skills to be a very good player. He took a big step forward last season, averaging 12.7 points per game and 31.4 minutes.
This season, with Jabari Parker still out rehabbing from a torn ACL he suffered last season, the 21-year-old Antetokounmpo has taken the lead on offense for the Bucks. In his first three games he's averaging 22.7 points and 8.7 rebounds, both of which represent career high numbers. He's shooting 58.1% from the field, which is not sustainable at all, but he's expanded his range and is getting a higher percentage of his shots between 3 and 10 feet from the basket as opposed to playing at the rim like he has in the past. Even as the shooting percentage comes down, there is some staying power for Giannis as a future star.
2. Nikola Mirotic – Chicago Bulls
The bearded forward from Montenegro was drafted 23rd overall by the Houston Rockets in 2011 draft, and, after being dealt twice that day, his rights ended up being held by the Chicago Bulls. They waited patiently for Mirotic, who finally came over to play in the NBA last season. He had a solid rookie campaign, averaging 10.2 points per game in 20.2 minutes, mostly as a reserve for Tom Thibodeau's Bulls.
But this season, under new head coach Fred Hoiberg, Mirotic is starting and averaging around 30 minutes per game. His shooting percentages are a bit higher than last season but not in an unsustainable range, as he's hitting on 46.8% of his shots through his first four games. He's putting up 18.8 points per game in the early-going, and he's getting nearly 12 shots per contest as well. Hoiberg runs an offense more suited to big men who can shoot from outside, so Mirotic will get every opportunity moving forward to continue to showcase his skills.
1. C.J. McCollum – Portland Trailblazers
The 24-year-old third-year player's "coming out moment" actually was last year in the postseason. In the final three games of their five game series with the Memphis Grizzlies, McCollum averaged 25.7 points per game in 33.4 minutes. The Blazers had a rough offseason, losing LaMarcus Aldridge and Wesley Matthews in free agency. They traded Nicolas Batum to the Charlotte Hornets, in part because of their belief in McCollum as a difference-maker.
He hasn't disappointed. Through his first four games, McCollum is averaging 21.5 points per game in 35.3 minutes, which obliterates his previous highs in each category. He's averaging 19.3 shots per game which is also a tremendous jump from last season, in which he only put up 5.9 shots on average. McCollum is a talented player and a good shooter, and this is likely to be more than just a hot start. His shooting percentages are consistent with what he's done in the first two seasons of his career.
It will be interesting watching the season unfold to see which players fade over time and which continue their rise toward stardom. Even if not all these players continue on their current trends the talent is clearly there, and I wouldn't bet against any of them making the All-Star team next February.