NBA: 5 Players Who Could Win Rookie of the Year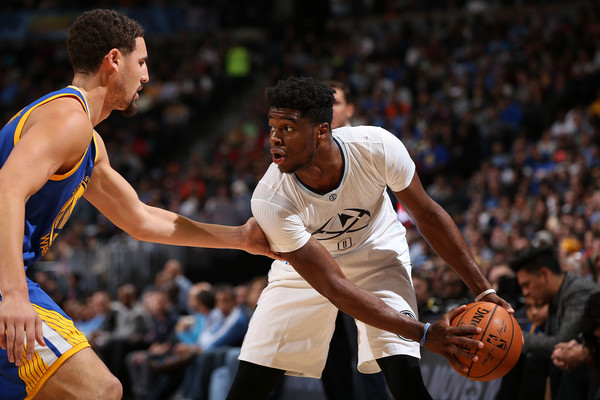 Throughout the history of the NBA, young talent has always had the ability to make a huge impact on the landscape of the league. Looking at some of the best players to ever take the court, from Larry Bird and Michael Jordan to LeBron James and Kevin Durant, all of them have one thing in common: They took home the Rookie of the Year award with amazing first seasons in the NBA. With that, the accolade is clearly a long-term indicator of a player's potential.
This season, a crop of young talent is trying to find their way in the league. Several of these guys have plenty of potential, but through about 25 games for most NBA teams so far in the 2015-16 season, a handful of rookies have separated themselves from the pack. We believe these players are the most likely contenders for the rookie award. Here are our top five contenders for Rookie of the Year:
5. Emmanuel Mudiay
10.7 points per game, 31% from the field, 69% from the free throw line
5.7 assists per game, 3.5 rebounds per game, 1 steal per game
Averaging over 29 minutes per game
Emmanuel Mudiay has all the tools to become a solid point guard in the NBA. After playing professionally for a year in China, the Denver Nuggets drafted him with the seventh overall pick. Mudiay has struggled with scoring and shooting, owning just a 31% shooting percentage through 23 games played. He'll need to improve those numbers if he seriously wants to be considered for the award following the season, but some of his other stats are already at a high level.
With 5.7 assists per game, Mudiay leads all NBA rookies. He's also recorded two double-doubles (fourth among rookies) and manages about one steal per game. The Nuggets aren't a great team (9-14 on the year so far), which may affect Mudiay's chances. However, 29-plus minutes per game is an indicator that Denver is leaning on the 19-year-old. We'll see how he develops as the season goes on, but for now, Mudiay feels like a bit of an outside contender for the award thanks to great starts by some of the other players on this list.
4. D'Angelo Russell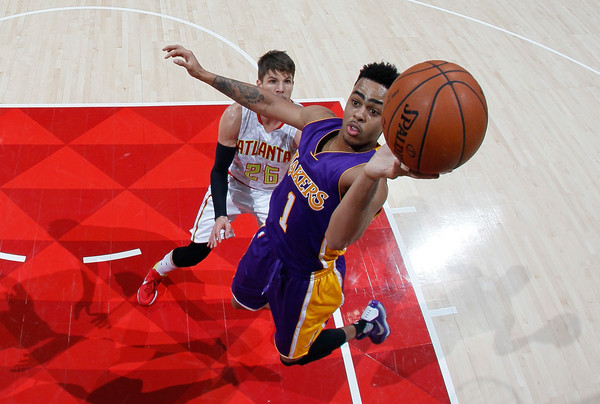 12 points per game, 40% shooting, 75% from the free throw line
3.2 assists per game, 4.3 rebounds per game, 1.08 steals per game
Averages about 28.4 minutes per game
Out of all the players in the draft, D'Angelo Russell seems to have the highest ceiling. So far, the young Ohio State product has put up 15 points or more in a single game on six different occasions this season. During two of those times, his performances resulted in 23 and 24 points (currently his career high). He's shown the ability to hit the three (although just 32% from behind the arc) and makes a solid percentage of his free throws. It's been a nice offensive start for Russell, and it only seems to be getting better with both of those 20-point games coming in his last three ballgames.
Assists wise, one would hope that Russell's numbers would go up, seeing as he is the point guard of the future for the Los Angeles Lakers. He's shown a solid ability to rebound for his size and is getting some work done on the defensive end with more than one steal per game. Of course, the Lakers are a terrible team (just 3-21 at this point), so it will be interesting to see how Russell deals with the frustrations of losing so much. Like we said though, the guy has major potential, and if he keeps improving, the Rookie of the Year award could easily be his.
3. Jahlil Okafor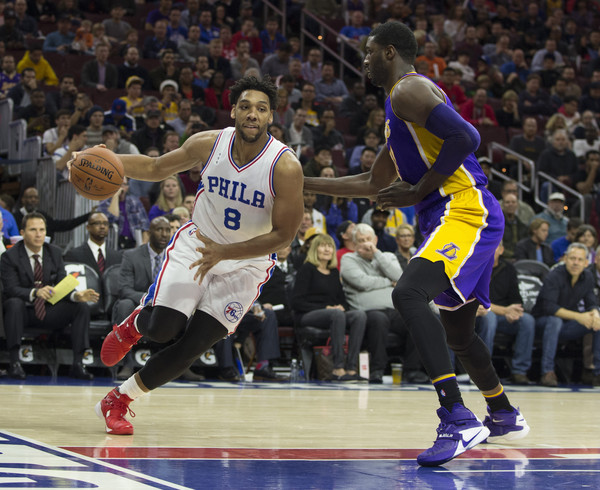 17.6 points per game, 45% from the field, 71% from the free throw line
8.1 rebounds per game, 1.5 blocks per game, 7 double-doubles
Averaging a rookie high 32.6 minutes per game
By many measures, Jahlil Okafor has been the best rookie in the NBA through the first part of the season. He leads all first-year players in scoring and minutes, and he is third in double-doubles and rebounding. However, when you take into account Okafor's off-the-court troubles and the fact that the Philadelphia 76ers are nothing short of horrendous (1-24), his status among rookies takes a huge hit.
Another thing that is worrisome about Okafor is the fact that he plays so many minutes at such an early stage of his career. If the 76ers keep running him into the ground, he could burn out well before the end of the season. However, if Okafor keeps his current production up and maybe finds a way to get Philadelphia over the 10-win mark — a miracle at this point — it'd be tough to sway all consideration away from the Duke product.
2. Kristaps Porzingis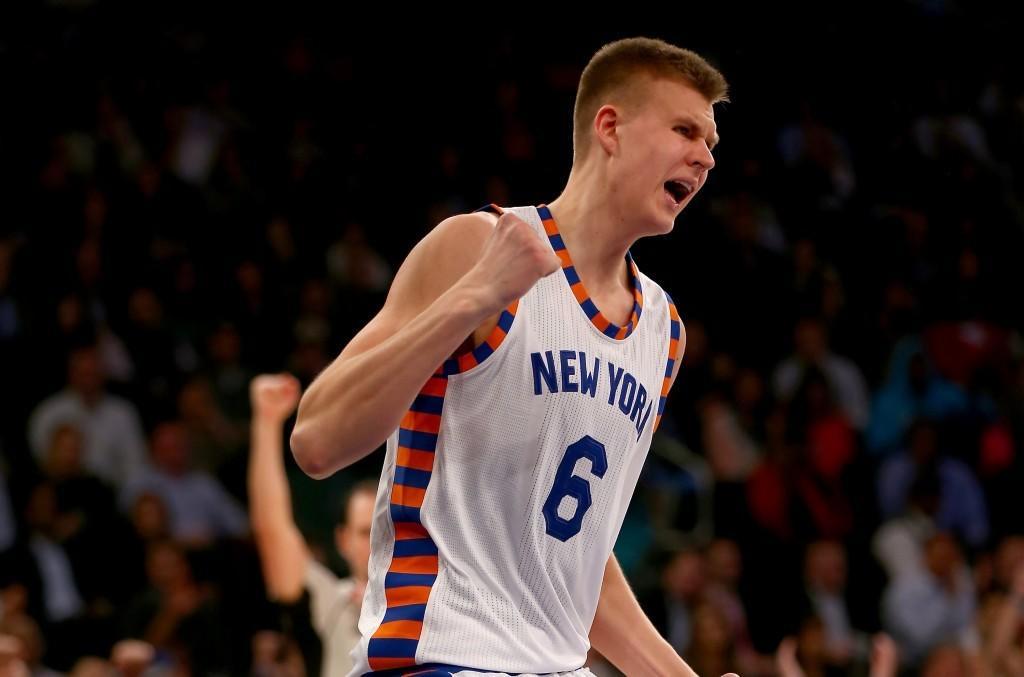 13.6 points per game, 44% shooting, 81% from the free throw line
8.4 rebounds per game, 1.8 blocks per game, 10 double-doubles
Averages 27.3 minutes per game
Kristaps Porzingis fever is running rabidly through the NBA for the first part of the 2015-16 season. A guy who was heckled by his New York Knicks fans at the NBA draft (who isn't heckled by those fans?) has been a bright spot on a team doing better than people expected so far this season (although the Knicks still aren't that good). His 10 double-doubles are tied for the most among all rookies; his rebounding and blocking abilities are great; and he's shooting efficiently from most areas of the floor. If Porzingis can get New York into the postseason (not a long shot in the East) with these numbers intact, it'll be tough for anybody to beat him out for the award. For now though, the No. 1 overall pick stands above Porzingis.
1. Karl-Anthony Towns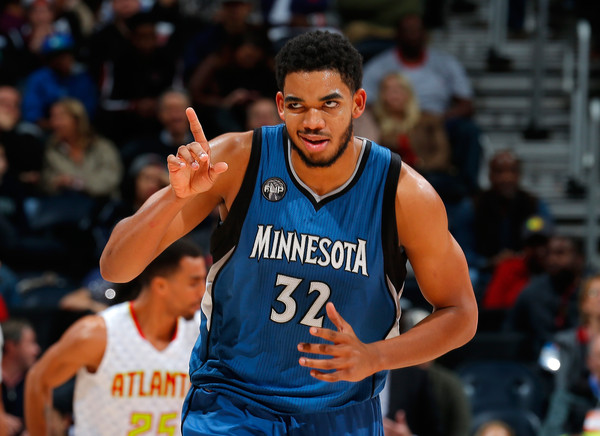 14.9 points per game, 53% shooting, 81% from the free throw line
9.2 rebounds per game, 2.17 blocks per game, 10 double-doubles
Averages 27.8 minutes per game
The Minnesota Timberwolves are accustomed to having their players win Rookie of the Year, as Andrew Wiggins took home the honors just last season. This year though, it's their big man who is making waves early in the season. Karl-Anthony Towns leads so many rookie categories right now that it's tough to place anybody above him. His shooting is better than any rookie, and he grabs more rebounds and blocks more shots. The Kentucky product truly has it all.
Unfortunately, Towns' production hasn't translated to wins on the court for Minnesota, who sit at just 9-14. The Wolves are a young bunch who need time to develop though, and Towns (along with Wiggins) is right at the center of it. He clearly proves he was the right pick at No. 1. If he maintains this level of play, he should win the award with relative ease.
All statistics courtesy of ESPN.go.com and Basketball-Reference.com.