NBA: 5 Players Who Could Win the Rookie of the Year Award
This season, the NBA features another talented rookie class that is led by many of the top picks in the 2015 NBA draft. Several of these players have made some tremendous impact in their first campaign in the league and have given their respective team fanbases much reason for hope. That said, here are the top five players with the best odds to win the Rookie of the Year award.
5. Nikola Jokic, Denver Nuggets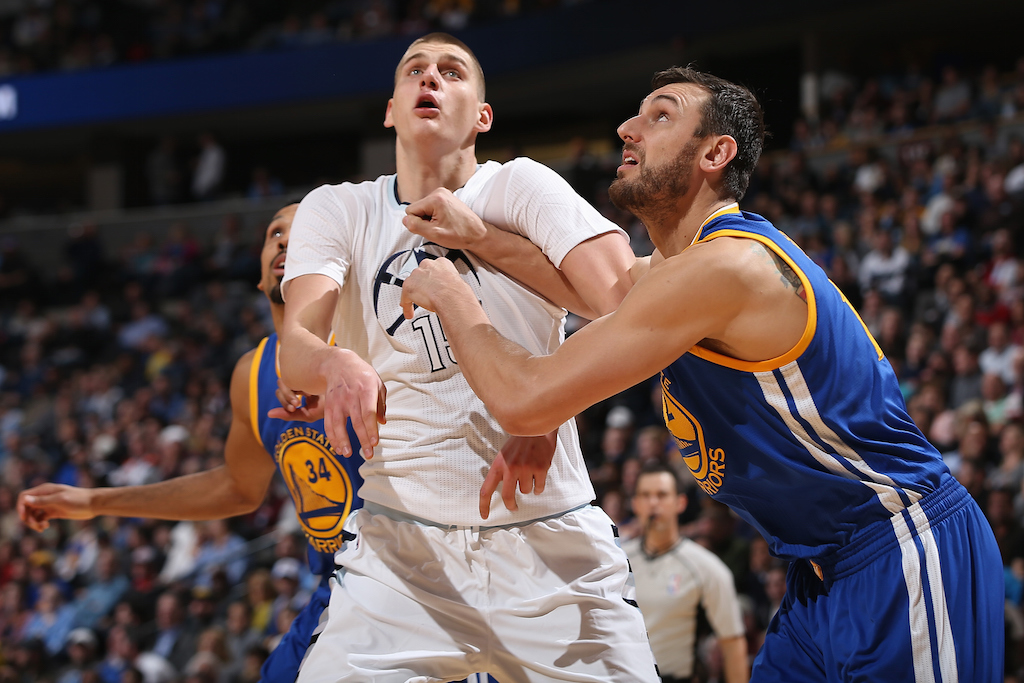 The 41st overall pick in last year's draft has been a pleasant surprise for the Denver Nuggets this season, averaging 9.6 points while shooting a rookie-best 54.8% from the field along with 5.9 rebounds in 19.6 minutes per game. Nikola Jokic currently ranks first among all rookies in player efficiency rating (22.75) and is 16th overall in the league.
Although he has continued to play in a limited role, he has seen an uptick in minutes over the last five games, registering four double-doubles while averaging 15.2 points, 10.4 rebounds, 3.2 assists, and 1.80 steals in just 25.6 minutes. This includes becoming just the seventh player in the NBA since 1983 to have 27 points, 14 rebounds, and four assists in 30 minutes or less.
Jokic is only the eighth player this season to have 27-plus points, more than 14 rebounds, and four-plus assists in a game. His season-high nine assists against the Charlotte Hornets on January 10 made him just the second center this season to record nine or more assists in a single game joining Marc Gasol. Despite playing in limited minutes until the last handful of games, Jokic has cleary proven to be one of the best rookies this season. 
4. D'Angelo Russell, Los Angeles Lakers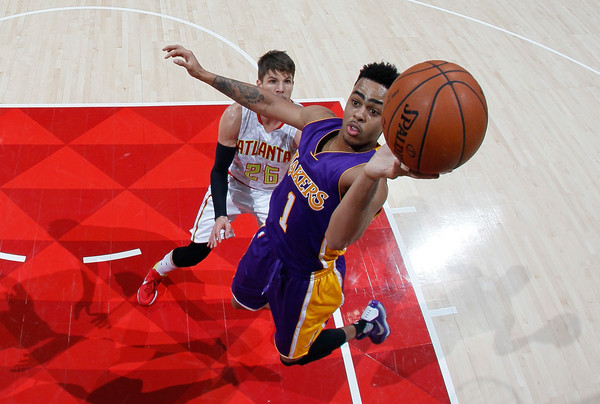 In his first season in the league, D'Angelo Russell has struggled to gain consistent footing with the Los Angeles Lakers under Byron Scott. When the 19-year-old is given a chance to play significant minutes, he shows flashes of promises with four 20-plus performances and multiple three-pointers in 27 games this season. Among rookies, he's currently fourth in scoring (12.0), third in assists (3.3) and steals (1.1), and eighth in three-point percentage (32.9).
There have been stretches of struggles for Russell, dealing with the demotion out of the starting lineup in early December, but he's found some level of comfort coming off the bench, scoring in double figures 20 times, including eight consecutive games in January. The second overall pick in last year's draft would be considered a serious candidate for the Rookie of the Year award if he returns to the starting lineup and plays more than his current 27.0 minutes per game. However, if he stays in a limited role in the second half of the season expect him to just remain in the conversation of top rookies. 
3. Jahlil Okafor, Philadelphia 76ers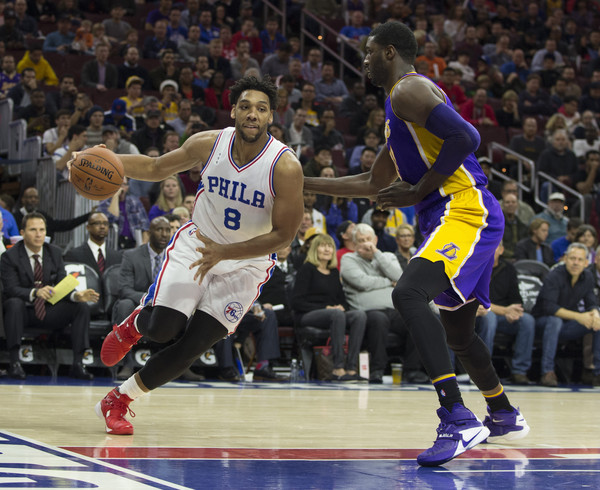 Entering the league, Jahlil Okafor was viewed as the most polished offensive player in his draft class and so far through his rookie campaign this has come to fruition as he leads all rookies with 17.3 points per game and minutes per game (30.6). He's second in field goals made (309) and third in free throws made (107), blocks (47), and rebounds per game (7.2).
More impressively, Okafor is fourth among all NBA players in points in the paint per game (12.1), trailing just Andre Drummond (14.1), LeBron James (13.6), and DeMarcus Cousins (13.4). Okafor is easily the best scorer among his rookie class notching 18 20-point games, which is more than a few former and current All-Stars in Chris Paul (16), Dirk Nowitzki (15), and LaMarcus Aldridge (12).
He has the most 20-point games among all rookies. Okafor has recorded two contests with 25 points and 10 rebounds, tied for second among all rookies. He has also scored at least 25 points in four games this season and is one of seven rookies in the league with at least one 25-point game. Okafor has quickly become one of the best scoring big men in the league, and a viable candidate for the Rookie of the Year award.
2. Kristaps Porzingis, New York Knicks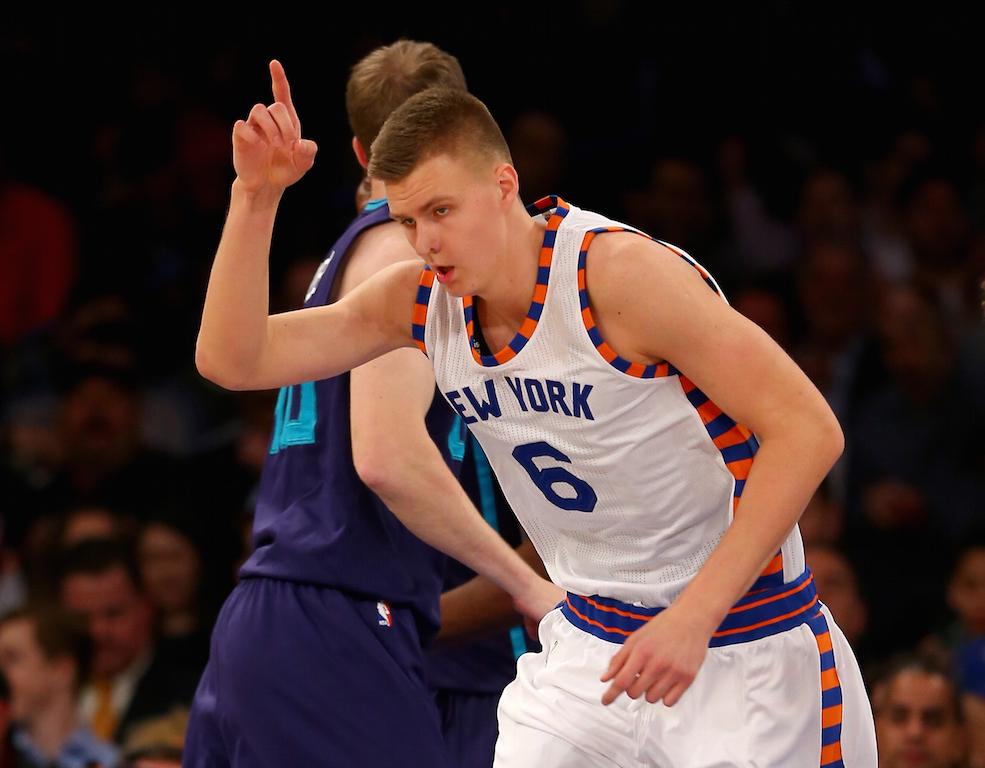 When the New York Knicks selected Kristaps Porzingis with the fourth overall pick in the 2015 NBA Draft, the franchise caught plenty of flack for selecting the little-known European player. However, the 20-year-old Latvian has been a revelation for the Knicks by sweeping the first three Eastern Conference Rookie of the Month awards this season.
Although Porzingis struggled in January, he still ranked fourth among all rookies in scoring (15.3) and second in rebounding (7.2). He also tied Karl-Anthony Towns for the rookie lead in blocked shots (1.63) and led all East rookies in three-point field goal percentage (37.5). For the season, he's third overall among rookies in scoring (13.8), second in rebounds (7.7), first in blocks (1.88), and second in double-doubles (16).
Along with that, Porzingis has broken numerous NBA rookie records such as becoming the first rookie in NBA history to have at least 115 points, 88 rebounds, and six contests with at least three made field goals in his first 10 games. All in all, Porzingis has put together quite an impressive rookie campaign and would be the top rookie in the league if it weren't for the player above him on this list.
1. Karl-Anthony Towns, Minnesota Timberwolves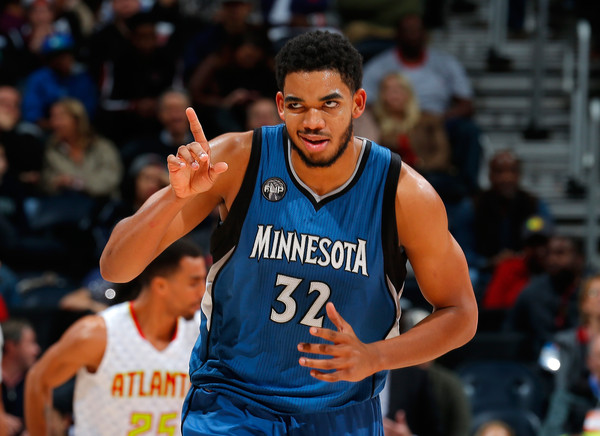 The first overall pick in last year's draft has quickly taken the league by storm with his all-around game on both ends of the court, essentially averaging a double-double with 16.6 points and 9.9 rebounds along with 1.8 blocks per game. The 20-year-old is leading all rookies with 25 double-doubles while he has won each of the first three Western Conference Rookie of the Month awards of the season, becoming just the second Timberwolves player to do so (joining Andrew Wiggins).
In the month of January, Karl-Anthony Towns led all qualified rookies in rebounding (10.9), blocks (1.63), and free throw percentage (87.2%) along with ranking third in scoring (16.9 ppg) and field goal percentage (53.5%). Towns is a unique talent who has the ability to handle like a guard and also be an effective player in the post at his size (seven-feet-tall, 244 pounds), which in itself is a rare commodity in the NBA.
This has quickly shaped a bright future for the franchise with he and Wiggins both serving as centerpieces of the team. He's without a doubt the heavy favorite to win the Rookie of the Year award and could make it just the fourth time in NBA history that a franchise has won the honor in two consecutive seasons.