NBA: 5 Players Who Could Win the Scoring Title This Season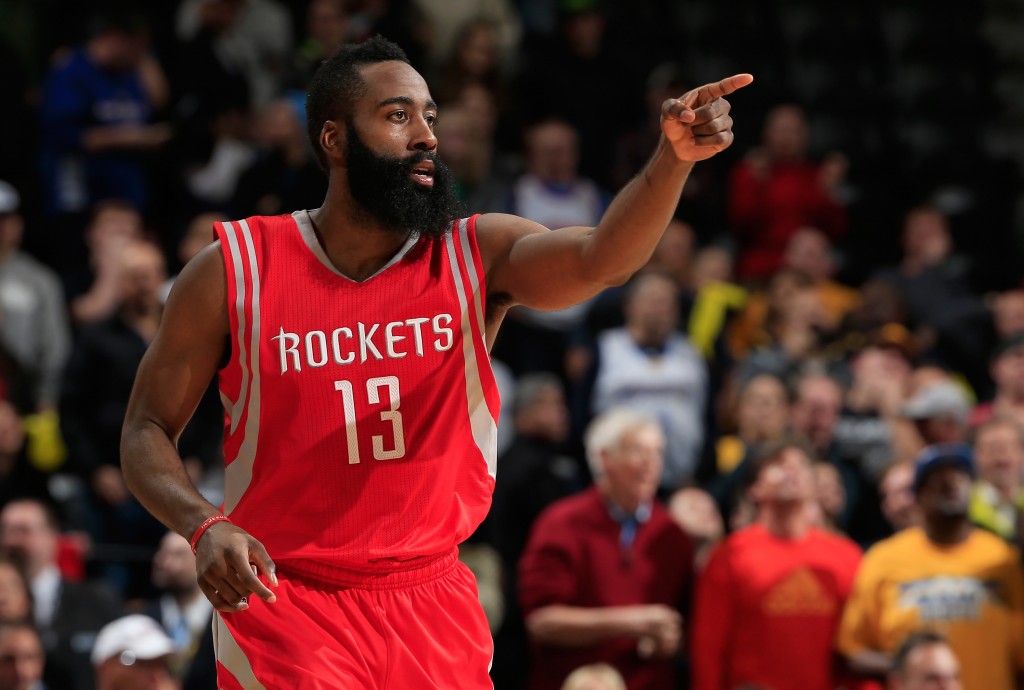 The five most likely players to win the scoring title (highest points per game average) in the 2015-2016 NBA season may surprise you. Yes, two of this season's frontrunners finished inside last year's top five, but the other three top finishers (including the overall winner) have been given the boot.
One of the players on this list finished 13th in the league in scoring output in 2014-2015, a full seven points per game behind the top dog. The remaining two members of this countdown played in a combined 67 games a season ago.
One thing that all of these guys have in common is that they've each finished a season averaging 20-plus points per contest at least once. Other factors working in their favor include the fact that they are all 31 years old or younger and they each know how to score in a variety of ways. These ballers are far from one-dimensional as they showcase a wide-range of deadly three-point shooting, powerful drives to the baskets and overwhelming post play.
Before we take a look at the top five frontrunners to take home the NBA scoring title during the 2015-2016 season (ranked in ascending order of likelihood,) let's see which players narrowly missed the cut.
Honorable mentions: LeBron James (Cleveland Cavaliers), Stephen Curry (Golden State Warriors), Paul George (Indiana Pacers)
5. Anthony Davis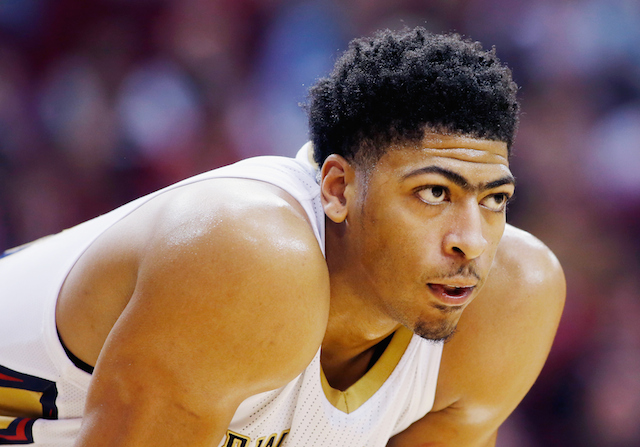 PPG in 2014-2015 (w/ NBA rank in parentheses): 24.4 (4)
Number of NBA scoring titles: 0
In a league that is more or less dominated by point guards, shooting guards and small forwards, New Orleans Pelicans power forward/center Anthony Davis is one of a kind. The 22-year-old was rock solid during his rookie year in the 2012-2013 season and improved dramatically to make his first all-star team the following campaign. In the 2014-2015 regular season, "The Brow" was just sick.
In 68 games, Anthony ranked fourth in the league in scoring while shooting an absurd 53.5 percent from the floor and 80.5 percent from the charity stripe. He also averaged a double-double, hauling in an impressive 10.2 rebounds per game. All of these statistics leave out possibly Davis' most phenomenal part of his game – his defensive abilities.
Posting a league-leading 2.8 blocks and 2.9 blocks per game over the last two seasons qualifies Davis as an elite interior defender. Add on his 1.3 steals per contest over his first three years and you can see why the former University of Kentucky Wildcat finished fourth in the 2014-2015 Defensive Player of the Year voting. With his ability to dominate inside and a quickly improving outside jumper, Davis should again be near the top of the leader board in scoring this season. Plus, who else is there on this roster to score buckets?
4. Damian Lillard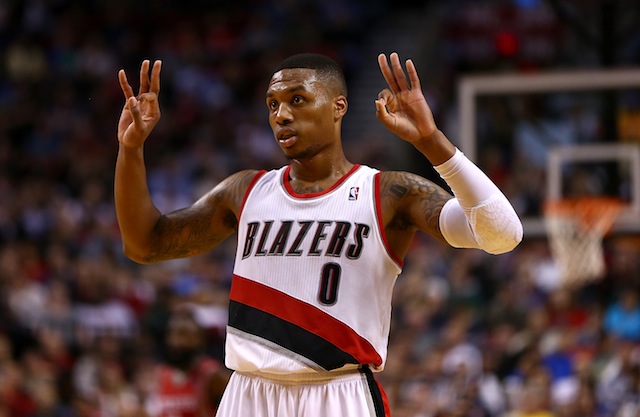 PPG in 2014-2015 (w/ NBA rank in parentheses): 21.0 (13)
Number of NBA scoring titles: 0
Damian Lillard finished just 13th in the NBA in scoring average a season ago and is certainly a dark horse. The biggest thing working in the favor of the 2012 sixth overall draft pick is his supporting cast in Portland – or lack thereof.
It's no secret that the Trail Blazers had a rough off-season and their projected starting five in 2015-2016, on paper is, well… "sub-par" is a nice way of putting it. Gone is LaMarcus Aldridge, who led the league in field goals and was seventh in points per game last year. Gone is Wesley Matthews, who ranked ninth in three-point field goals and was just 23 behind Lillard. Plain and simple, Lillard is going to be asked to carry the offense on a nightly basis and will get way more shots than in previous years.
Not only that, but the point guard is a pretty darn good player anyways, and a durable one — he hasn't missed a single game yet, all while increasing his scoring average, field goals made and attempted per game and field goal percentage each season. This guy is becoming a top-notch point guard and it would surprise few to to see his scoring continue to increase in the upcoming season.
3. Kevin Durant
PPG in 2014-2015 (w/ NBA rank in parentheses): 25.4 (Did not qualify)
Number of NBA scoring titles: 4
Obviously, Kevin Durant's chances at snagging the number one spot in points per game this year will largely depend on his health and ability to return to elite form. The history is certainly there as KD is a four-time scoring champion, but he is coming back from an injury-marred 2014-2015 campaign that saw him appear in just 27 games. Luckily for Durant, it was the first time in his eight-year career where he was forced to miss any significant amount of time.
Due to the low game total, Durant did not qualify for the scoring title. When he was healthy though, his 25.4 points average showed that he was still one of the best pure bucket-makers in the league. Remember folks, it was less than two years ago that the Oklahoma City Thunder forward put out a career-high 32 points per contest.
Like perhaps no other player on this list, Durant has a tremendous supporting cast, particularly in the way of offensive players. With Russell Westbrook and Serge Ibaka among others by his side, you'd think that the 26-year-old might have trouble consistently scoring 25-points in a game. He has proven that theory to be incorrect though in the past. It'll also be interesting to see if new head coach Billy Donovan's style has any effect on the Durantula. Count us as predicting that it won't.
2. Carmelo Anthony
PPG in 2014-2015 (w/ NBA rank in parentheses): 24.2 (Did not qualify)
Number of NBA scoring titles: 1
Like Durant, Carmelo Anthony is also making is way back from a difficult season full of the injury bug. 'Melo played in a career-low 40 games a season ago and is looking to prove that he's still one of the best offensive players in the game.
Also akin to his OKC counterpart, Anthony is less than two years removed from a tremendous season scoring-wise. In 2013-2014, number seven was fourth in minutes played, third in field goals made, second in total points, first in minutes per game and second in points per game. What 'Melo lacks in defense and other aspects of his game, he certainly makes up for in scoring the basketball. He is a guy not afraid of taking the three-ball and is a difficult player to defend in the post or driving to the basket.
Similar to Lillard and the Trail Blazers, Anthony's New York Knicks are not expected to compete for a playoff spot in 2015-2016. With an expected starting five that includes Jose Calderon and Derrick Williams, Anthony will again be the go-to man for buckets. Not having to play with notorious shot-hauler and ball hog J.R. Smith should help as well.
1. James Harden
PPG in 2014-2015 (w/ NBA rank in parentheses): 27.4 (2)
Number of NBA scoring titles: 0
With a remarkable, near-MVP season from James Harden last year, the Beard finished just 0.7 points per game behind Westbrook, settling for the runner-up spot. His lack of a scoring title is deceiving though, as the first three season of his career were spent coming off of the Thunder bench.
Now, entering his fourth year as the star of the Houston Rockets (sorry Dwight Howard,) Harden is one of the most explosive, creative scorers in the NBA. His step-back jumper can be devastating to a defender, his crossover causes opponents to reconsider their profession of choice and he loves knocking down the pull-up three.
He can shoot and ball-handle with the best of them, which makes Harden the top candidate for earning the NBA's scoring title in 2015-2016.
All data courtesy of NBA.com, Basketball-Reference.com and ESPN.com.
Want more great content like this? Sign up here to receive the best of Cheat Sheet daily. No spam; just tailored content straight to your inbox.