NBA: 5 Signature Shoes Redesigned as Marvel Superheroes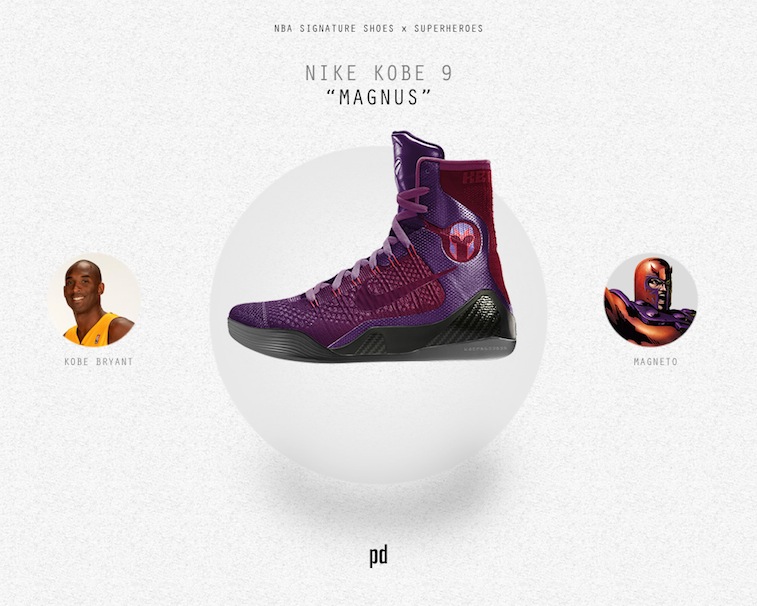 It's impossible to watch NBA basketball and not find yourself completely mesmerized with the athleticism on display. Whether it's a thunderous throwdown, an impossible-to-fathom no-look pass, or a deep three ball, you never know when a player is going to do something superhuman.
And if an individual is going to play like a superhero, then it's important they have the proper matching attire. In the case of ballers in the National Basketball Association, there's really only one way to customize one's gear: through their kicks.
In a stroke of pure genius, graphic designer Patso Dimitrov had this brilliant idea to take the signature shoes of NBA players and redesign them as superheroes. After all, is there really a better way to pay tribute to individuals whose abilities are so beyond comprehension that they are often mistaken for being inhuman? We didn't think so.
After looking over this impressive collection of redesigns, we have to admit, we did have some favorites. Therefore, without further ado, here's a look at five signature shoes redesigned as superheroes.
1. LeBron James
It makes perfect sense to equate NBA superstar LeBron James with Iron Man. Have you seen the dude's body? He's such a physical specimen, and so unbelievably powerful, that you'd think he had to be made out of Tony Stark's armor. Throw in the fact that the Cleveland Cavaliers colors match up perfectly to the Iron Man suit and this is easily a slam dunk. For the record, we'd also love to see what James could do with an arc reactor at his disposal.
2. Kawhi Leonard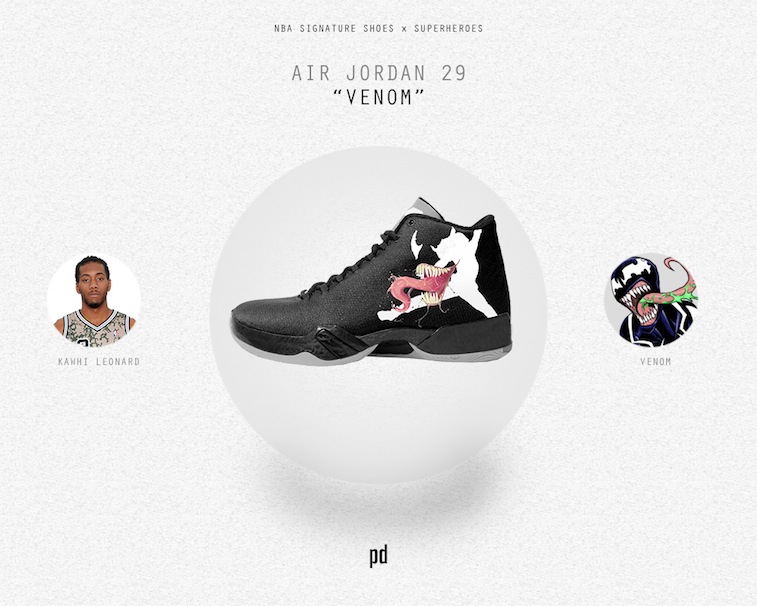 We have to believe that this collaboration was all about the color scheme. After all, we've never thought of San Antonio's Kawhi Leonard as much of a villain; let alone one as maniacal as Venom. Then again, if you're willing to base this solely off of Leonard's insane wingspan and massive hands, perhaps you can justify the connection after all. Plus, this redesigned Air Jordan 29 is super tight. If given the opportunity, we'd totally rock a pair.
3. James Harden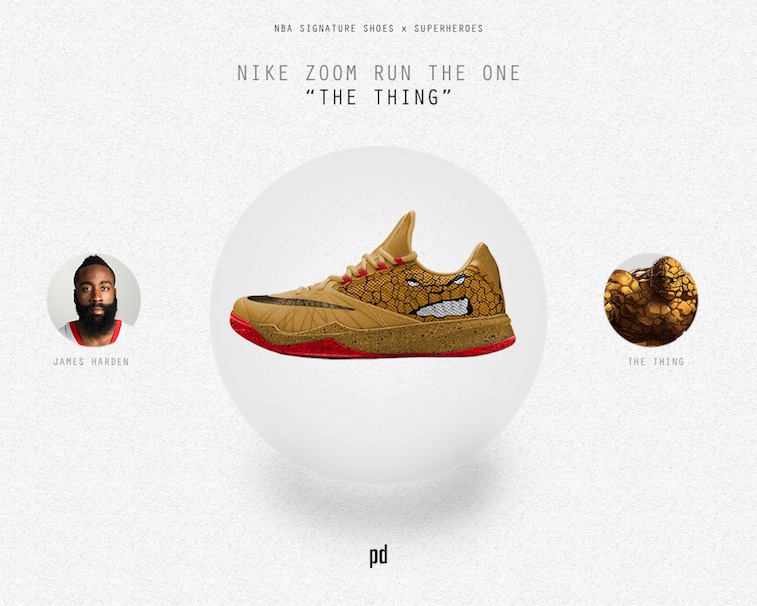 This isn't the most attractive shoe, yet we can't help but be drawn to it. It's interesting, unique, and we've never seen anything like it. Clearly that's something this redesigned Nike shoe has in common with superstar shooting guard James Harden. The colors of the Houston Rockets most certainly fit the bill on this one, however, we can't forget that the smooth lefty is now a $200 million Adidas man. Perhaps Dimitrov would like to take another crack at this one. We'd suggest something with three stripes and some sort of beard.
4. John Wall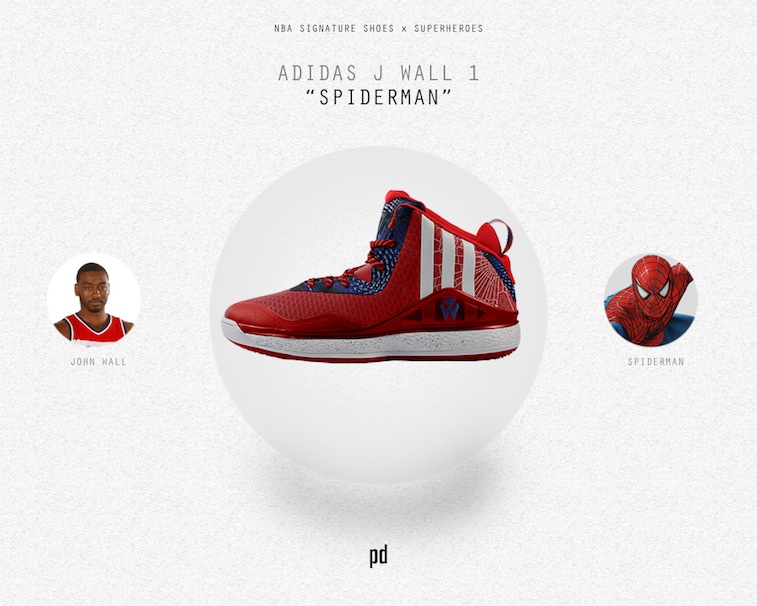 We love the connection between John Wall and Spider-Man. These kicks would look absolutely perfect with his Washington Wizards getup. On top of that, we see some clear similarities between the All-Star point guard and Marvel universe icon. They're both smooth, agile, and have crazy reflexes. The only thing Wall can't do is web-sling his way across the hardwood. Then again, we don't see Spidey averaging 10 dimes a game either. What these two could accomplish if they were one person, would be nothing short of AMAZING.
5. Kevin Durant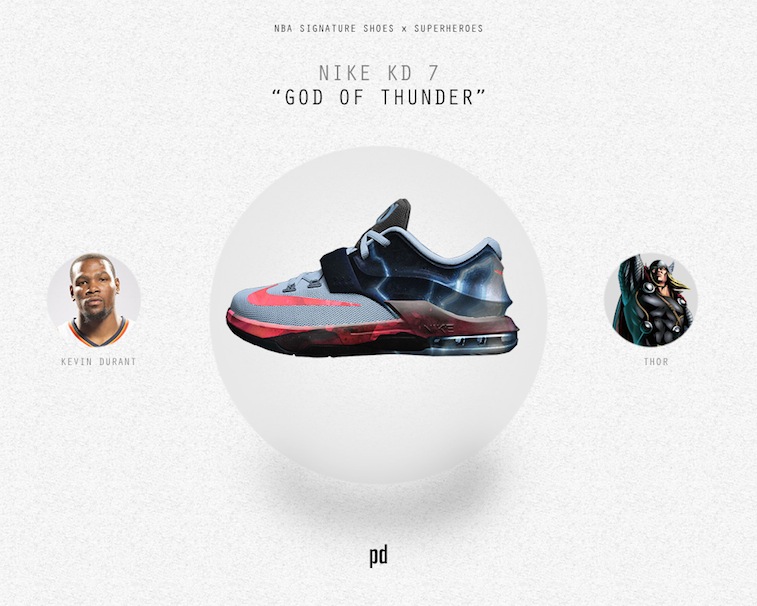 If we had to pick a favorite of the bunch, this Kevin Durant shoe would have to be the one. Aside from KD and Thor each making a strong case to be dubbed the "God of Thunder," we think the overall look of this design is super electric. It oozes with strength, power, and a sheer will to dominate. If someone would be kind enough to get us these kicks, we'd be eternally grateful.
For more NBA signature shoes redesigned as superheroes — courtesy of Patso Dimitrov — click here.