NBA: Do Fans of These 5 Teams Have Unrealistic Expectations?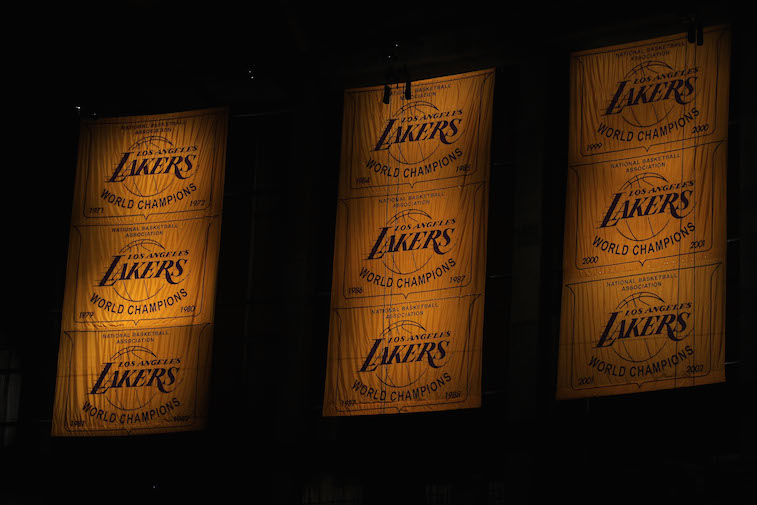 Of the five NBA teams in this post, one is expected to be among the worst record-wise in 2015-2016, another is coming off of a franchise-worst (since they changed cities) 21 wins last season, and yet another is in the middle of a rebuild and lacks a true superstar. To be fair, one of the remaining pair is projected to be a top dog in the Eastern Conference this year and the other may be the favorite to win it all in June.
With the wide-ranging expectations bestowed upon them for the upcoming campaign, what do they all have in common? All five of these teams have fan bases who expect greatness from them every single season. In some cases that means winning a championship, or at least making the NBA Finals. In other cases it means just making the playoffs. But all five organizations have a group of fans that presume their boys on the hardwood will be participating in that spring's postseason.
So why is it that these fans anticipate success each year? In many instances, the team is located in a big city and is therefore a so-called "big market team." In some cases the franchise is highly-decorated with numerous Larry O'Brien Championship Trophies, and fair or not, the fans have become spoiled throughout the years and are accustomed to winning. One other reason for the yearly lofty expectations is the group of various hall-of-fame talents who have called these cities their home in the past.
Without further ado, here are the five NBA teams with fan bases that expect them to win every year.
1. Los Angeles Lakers
Number of NBA Championships (w/ league rank in parentheses): 16 (2)
Population of city as of 2013: 3.884 million
Number of players in Hall of Fame: 21
The Los Angeles Lakers franchise (who relocated from Minneapolis for the 1960-1961 season) have remarkably reached the NBA Finals at least once in every decade of their existence. Spanning from their first title in 1949 to their most recent one in 2010, they have captured at least one championship in each decade except the 1960s and 1990s. With 16 Larry O'Brien trophies to their credit, the Lakers trail just one team (by just one title) as the most decorated franchise in history.
Behind only New York City as the most populous city that holds an NBA franchise, Los Angeles has lots and lots of Lakers fans. While the newer Los Angeles Clippers have shown great strides toward success in this decade, the Lakers are obviously still the preeminent basketball team in the city.
Showcasing talents such as hall-of-fame inductees George Mikan, Elgin Baylor, Jerry West, Wilt Chamberlain, Kareem Abdul-Jabbar, James Worthy and Magic Johnson (not to mention future members Shaquille O'Neal and Kobe Bryant), this organization has produced some of the best players ever. With all of this to consider, the Lakers fan base is one that is not used to their current five-season "drought" without a finals win.
2. Boston Celtics
Number of NBA Championships: 17 (1)
Population of city as of 2013: 645,966
Number of players in Hall of Fame: 27
At the top of the NBA mountain is the Boston Celtics. The Cs are only behind the New York Yankees and Montreal Canadiens for the U.S. sports teams with the most championship titles. Although the Lakers have reached the NBA Finals a record 31 times (compared to the Celtics 21 appearances), Boston blows Los Angeles out of the water in terms of their rate of success. The Celtics are 17-4 in the finals, while the Lakers are a pedestrian 16-15. And while the Lakers have been significantly more successful in recent decades, the Celtics own it in terms of history. They captured an unprecedented eight straight championships (and 11 out of 13) from the late 1950s to late 1960s.
The other four teams featured in this article all play in cities with a larger population than Boston (as of 2013), but what Beantown may lack in numbers, they sure make up for in passion. It'd be hard to find a more dedicated fan base than Boston sports fans as they love their Boston Red Sox, New England Patriots, Boston Bruins and of course, the Celtics.
The Celtics have basically matched the Lakers in terms of hall-of-fame talent to come through their rosters over the years. Bob Cousy, Bill Russell, John Havlicek, Larry Bird and Robert Parish are among the all-time greats to call Boston home during their storied careers. Future hall-of-famer Paul Pierce was the man through the late 1990s and all of the 2000s, and a player who helped bring home banner number 17 in 2008, breaking a 22-year drought. Celtics fans are thirsty for another banner and to put some more distance between their bitter rivals from across the country.
3. Chicago Bulls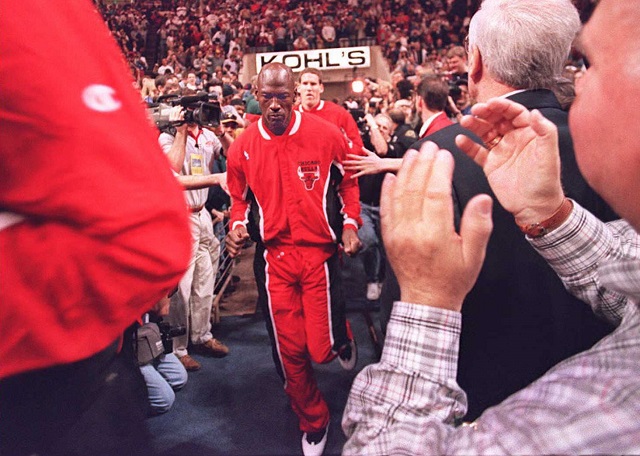 Number of NBA Championships: 6 (3)
Population of city as of 2013: 2.719 million
Number of players in Hall of Fame: 9
The Chicago Bulls were, without a doubt, the team of the 1990s. From 1991 through 1998, the Bulls completed two "three-peats", taking home all six of their NBA championships in a span of seven years. And hey, for as long as they don't make the NBA Finals again, they will have the most spotless record on that grand stage as the only team with multiple titles without a loss. After modest success in the playoffs from their inception in 1966 to that 1990-1991 season, the Bulls went on their roll. Then after only on a brief six-season hiatus from the postseason in the early 2000s, the franchise has been a perennial playoff team in the past 11 years.
Although the Chicago population ranks the Bulls fourth among the 30 NBA teams, they are only behind New York City and Los Angeles. This is simply because of L.A. having two basketball teams. Suffice to say, along with the Blackhawks, Cubs, White Sox and Bears, the Bulls have their fair share of dedicated followers.
Of the nine hall-of-fame players to have ever worn the red and black, the three most recognizable are arguably the trio from that 1990's dynasty. Scottie Pippen, Dennis Rodman and some guy named Michael Jordan played immeasurable roles in making basketball the focal point of Chicago sports for a decade. It's hard to say what exactly Bulls fans expect on a yearly basis now, but with the stacked rosters they've had in recent years, it's fair to say that if the team did not make the playoffs in a given season, it would comes as a shock to most.
4. New York Knicks
Number of NBA Championships: 2 (tied for 7th)
Population of city as of 2013: 8.406 million
Number of players in Hall of Fame: 17
Of the quintet of teams in this piece, the New York Knicks have easily had the least historical success. With a 2-6 record in their NBA Finals showings, Knicks fans may have grown accustomed to playoff failures. It's the mega-market of a city that Carmelo Anthony and company play in, as well as the great players of years past, that make this franchise's fan base count on them for annual success. In 69 total seasons, the Knickerbockers have made the playoffs an impressive 42 times, but when they've been bad, boy have they been bad. Including last season's debacle when they finished with a franchise-worst 17 wins, they have finished lower than a .333 winning percentage nine times. Despite making the playoffs three times in a row from 2010 to 2013, they have fallen on hard times of late. Overall, the team has not won a championship since 1973 and has not made it that far since 1999.
Many free agents and big-money seeking NBA superstars are attracted to the Knicks simply because of the atmosphere. As the largest city holding a basketball team, the nightlife and entertainment is endless. A-list celebrities are seen on a nightly basis at the historic Madison Square Garden and seem to have developed close relationships with many NBA players in recent years.
The Knicks have had a tremendous amount of quality players come through their organization and for that, fan expectations are usually high. Willis Reed, Walt Frazier, Bernard King and Patrick Ewing have been among the biggest names to play for New York, but just Reed and Frazier have experienced that championship taste.
5. San Antonio Spurs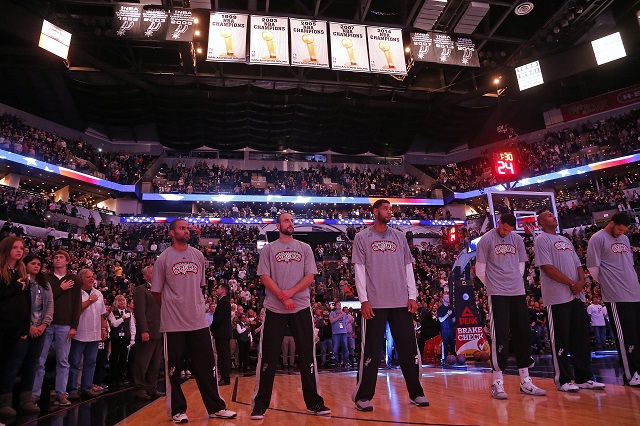 Number of NBA Championships: 5 (4)
Population of city as of 2013: 1.409 million
Number of players in Hall of Fame: 8
The final team on this list is the San Antonio Spurs. A current 17-year stretch that has included five NBA titles, one series loss in the championship and 11 other years of making the playoffs has prompted basketball fans in south Texas to grow used to seeing their team at the top of the Western Conference. Since the 1997-1998 season, the Spurs have finished either first or second in their division and in their 48 total seasons of existence, they have amazingly made the playoffs 43 times. This includes their nine years in the ABA where they were formerly the Dallas Chaparrals and Texas Chaparrals. The first 30 years of basketball for this franchise consisted of nearly annual postseason berths but also finals shortcomings. Since the inception of Gregg Popovich as head coach, the stellar play of multiple hall-of-fame and future hall-of-fame players and the flawless execution of running the league's model franchise, it's been a different story in San Antonio.
Of the 30 NBA teams, the Spurs barely crack the top ten and highest tier in terms of city population. They're not the city with flashing lights and court side celebrities like L.A. and New York City, but San Antonio would certainly not be considered a "small market."
As alluded to, Popovich has had plenty of on-court assistance from terrific players during his tenure. Even before the current slew of excellence that includes Tim Duncan, Tony Parker and Manu Ginobili, there have been plenty of superstars to put on this uniform. George Gervin and David Robinson are the headliners, but the Spurs have had many more that contributed to the countless great seasons. Since Popovich and Duncan became a thing in San Antonio, Spurs fans have certainly come to expect greatness from this team every single year.
All data courtesy of NBA.com and Basketball-Reference.com
Follow Victor on Twitter @vbarbosa1127.
Want more great content like this? Sign up here to receive the best of Cheat Sheet daily. No spam; just tailored content straight to your inbox.