NBA: 5 X-Factors for the 2016 Playoffs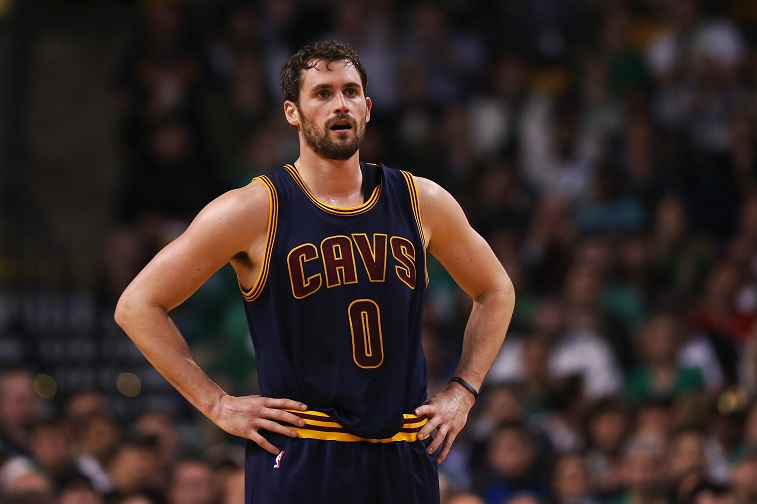 Is it already a foregone conclusion that it will be a Cleveland Cavaliers/Golden State Warriors rematch in the 2016 NBA Finals? The Western Conference is stacked, but there seems to be a strong separation between the top four (Warriors, San Antonio Spurs, Oklahoma City Thunder, and Los Angeles Clippers) and the bottom four. Many NBA fans and experts are already penciling in the Cavs as the Eastern Conference representative, while others expect a classic Western Conference Finals series between the Warriors and the Spurs.
As Cleveland and the four best in the West compete to be the top title contenders, what will be the difference-maker concerning who takes home the ultimate prize? Sure, LeBron James, Stephen Curry, and Kawhi Leonard will have a lot of say in that conversation, but what about the sidekicks, or even further, some of the third or fourth options? Each of the top five squads has an X-factor who could be the difference between reaching the peak of the basketball world and falling just short. Here they are.
1. Kevin Love, Cleveland Cavaliers
We've said it since nearly day one of the Kevin Love/Cavaliers era: He is hugely important to the team's success. When he is on — racking up rebounds at a high rate, dishing out absurd outlet passes to lead a fast break, and draining buckets from beyond the arc — he helps complete perhaps the best "Big Three" in the league. Unfortunately, K-Love has clearly had trouble fitting into the Cavs' offensive system in his nearly two seasons with them now, and his play has regressed a bit.
He is probably not the nightly 20-20 threat that he was in Minnesota anymore, but he does not need to be. He is still a strong talent — certainly a top-10, if not top-five NBA power forward — and can contribute to this team when they need him. Thanks to the freak shoulder separation against the Boston Celtics in the opening round of the playoffs last spring, we did not see a full postseason of James, Kyrie Irving, and Love. If the Cavs want to bring a title to Cleveland at last, they will need No. 0 to step it up.
2. Harrison Barnes, Golden State Warriors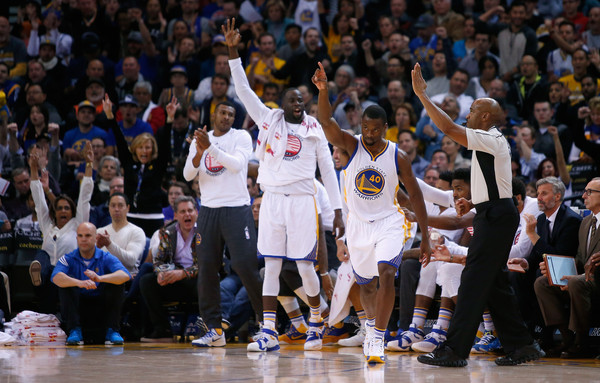 We all know about Chef Curry's dominance of the entire NBA over the past 12 months and beyond. On any other team, Klay Thompson would be the best shooter on the roster and arguably the No. 1 scoring option. Draymond Green has taken his play to another level this season and the trio stood tall as our best big three in the rankings from a few weeks ago.
What about a big four though? Okay, upping small forward Harrison Barnes to elite status like the other three is definitely premature and will not happen anytime soon, but he could be a key to the Dubs' chances at a repeat in June. He opened the year as a starter and after missing 16 games in late-November and all of December, he returned to the starting role.
Despite the missed time, Barnes is still averaging career-bests in minutes per game (30.7), field goals made per game (4.3), free throw percentage (.770), assists per game (1.8), and points per game (11.4). If the UNC product continues playing like this throughout the spring, Golden State may literally be unstoppable.
3. Tony Parker, San Antonio Spurs
Unlike Love and Barnes, Spurs point guard Tony Parker is surely past his prime. The Belgian is in his 15th NBA season and will turn 34 on May 17 (ironically the same day when the Conference Finals are scheduled to begin), but No. 9 is still a critical piece to San Antonio's team. He has played in 67 of the team's 75 games thus far (as of March 31) and will be counted on to stop some of the league's best point guards in the playoffs.
Maybe "stop" is a bit of a stretch, but in order for the Spurs to be considered the one and only favorite for the championship, he will at least have to slow down guys like Russell Westbrook, Chris Paul, and Damian Lillard. And when matching up against Curry? How about just somewhat containing him and not letting him drop 50 on you?
4. Serge Ibaka, Oklahoma City Thunder
Westbrook is perhaps playing at an all-time high right now for the Thunder. Kevin Durant is maybe heading into his last month or two in his OKC career and should have all the motivation in the world to take home that elusive championship. So what could be the difference-maker in pushing the Thunder from just another Western Conference contender to the favorite, or at least co-favorite? The play of power forward Serge Ibaka could be that factor.
The Congo native has been a solid third option in 2015-16, averaging 12.7 points per game, 6.9 rebounds per game, and 1.9 blocks per contest. In order for the Thunder to overtake the Spurs and Warriors though, they will need him dearly to step it up on defending offensive superstars in Green, LaMarcus Aldridge, and Tim Duncan. We shall see if he is up to the challenge.
5. J.J. Redick, Los Angeles Clippers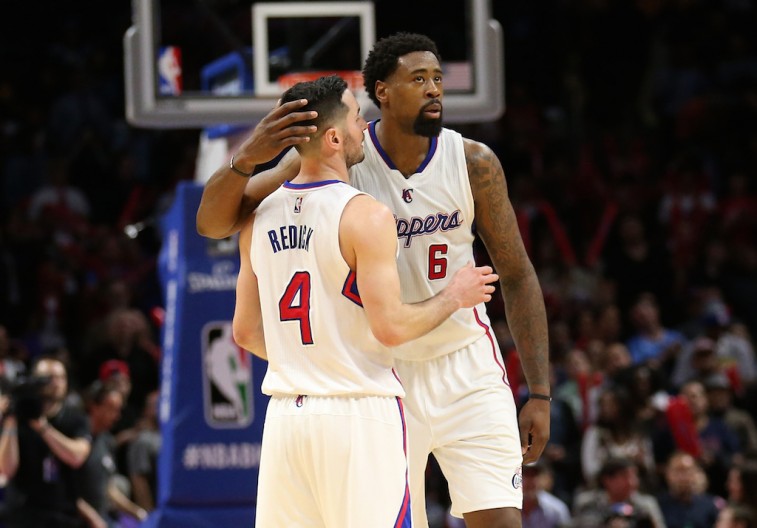 Clippers shooting guard J.J. Redick will be massively important to his team's NBA Finals chances this spring. With the well-chronicled shortcomings of his back-court mate in Paul in the postseason, LA will need Redick to do what he does best — knocking down threes. Sure, the Clippers have Blake Griffin returning and DeAndre Jordan patrolling things down low, but a lights-out three-point shooter in the starting lineup would go a long way.
The former Duke Blue Devil is shooting a career-best 47.1% from downtown and is making nearly three per game. Even in nearly three minutes of action per contest less than last year, Redick is still posting a career-high 16.5 points per game too. No. 4 may not provide a whole lot to the stat sheet other than three-pointers, but if he is on, then that could be the difference between CP3 and the Clippers finally getting over the playoff hump or failing to meet lofty expectations yet again.
Follow Victor on Twitter @vbarbosa1127
Statistics courtesy of Basketball-Reference.com.