NBA: 7 Leading MVP Candidates Right Now
The parity in the NBA this season is truly unbelievable. The race in the Western Conference is the closest it's been in years, and there are a few surprises coming out of the East. With the NBA usually maintaining the status quo, it's nice to see a few changes at the top of the leader boards. At this point, anything is possible, and a handful of teams are more than capable of winning the Larry O'Brien trophy at the end of the year.
The reason behind the resurgence of so many (often docile) teams starts with the talent pool in the league this year. In order to contend in this league, a franchise needs at least one star to lead the way. Sure, basketball is a team game, and as the Spurs proved last year, team chemistry certainly counts for something. However, teams are built around their stars, and the Spurs just so happen to have an immortal one.
Fortunately, there is an abundance of talent in the NBA right now, and these guys are not just showcasing their skills, but putting their teams in a position to win. Which is why certain players are beginning to emerge as front runners to receive individual recognition at the end of the season. Namely, the most valuable player award. So, in alphabetical order, this is who we feel are the 7 leading MVP candidates in the NBA right now.
All statistics are courtesy of Basketball-Reference.com and ESPN.go.com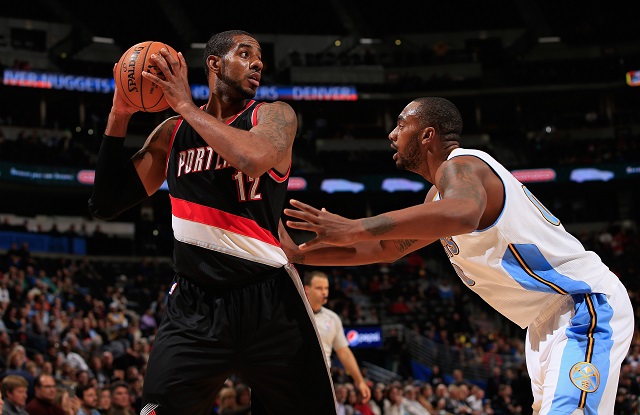 1. LaMarcus Aldridge, power forward, Portland Trail Blazers
2014-2015 Statistics: 23.6 PPG, 10.3 RPG, 1.8 APG
LaMarcus Aldridge is an absolute force on the basketball. He's strong and tough to guard down low. But, he is also more than capable of extending the floor and hitting the mid-range jumper. Along with superstar point guard Damian Lillard, Aldridge has the Portland Trail Blazers playing high-quality basketball, and currently sitting second in the Western Conference, and first place in the Northwest Division, with a 36-17 record. Over the last few seasons, he has become one of the elite players in the NBA.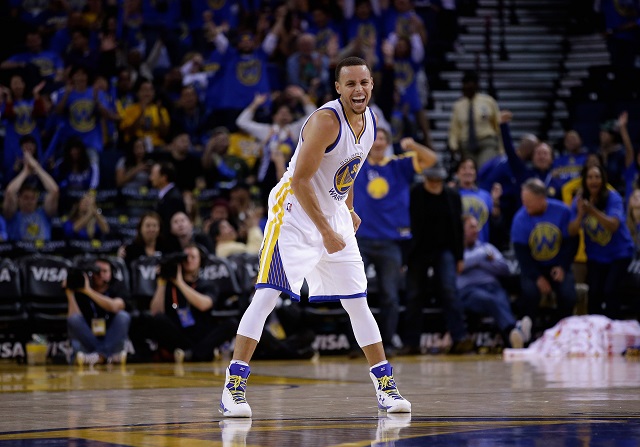 2. Stephen Curry, point guard, Golden State Warriors
2014-2015 Statistics: 23.6 PPG, 4.7 RPG, 7.9 APG
The best player on the best team in the NBA is point guard Stephen Curry. Smooth handles, unlimited range, very high basketball IQ, and the purest shot the game has seen in quite some time, these are just a few of the characteristics that make Steph Curry absolutely lethal on the basketball court. He just also happens to be one of the most fun players to watch in the game today. If he starts knocking down shots, good luck slowing this kid down. Plus, he's more than able to create his own shot, and that's not something a point guard tends to do. But, Curry is no ordinary point guard. The Golden State Warriors are an incredible 42-9, and look plenty capable of making a run in the playoffs. Curry is the driving force behind this scary team.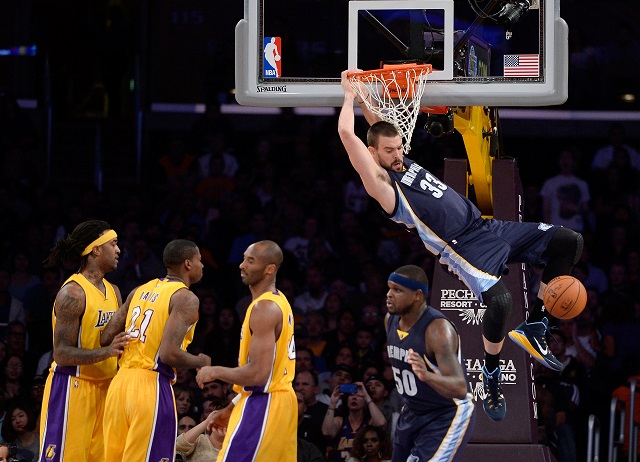 3. Marc Gasol, center, Memphis Grizzlies
2014-2015 Statistics: 18.3 PPG, 8.1 RPG, 3.7 APG
The Memphis Grizzlies lead the Southwest Division with a 39-14 record, and they are one of the most physical teams in all of the NBA. This toughness is exemplified in their extremely talented center, Marc Gasol. He's a throwback who plays like he belongs in the more physical game of the 1990s. He's a beast in the paint, playing with unmatched physicality. But, he also has a refined finesse game that makes him a very difficult matchup. His post moves are sick and he dominates in a half-court offense. Gasol has a sweet turnaround jumper, excellent court vision, and he also thrives on the defensive end of the floor. He's more than deserving of MVP consideration.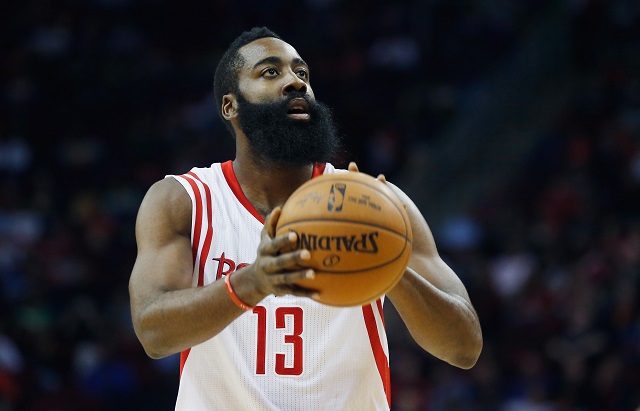 4. James Harden, shooting guard, Houston Rockets
2014-2015 Statistics: 27.4 PPG, 5.7 RPG, 6.8 APG
Since becoming a member of the Houston Rockets before the 2012-2013, James Harden has taken his game to another level. And that level has put him among the best players in the game today. This season is proving to be his best yet. He's the leading scorer in the NBA, and there are not enough adjectives to do his offensive game justice. Harden is simply that good. But, he has also become a more well-rounded talent, and his numbers are up in almost every major category. James Harden is the face of his franchise, and a worthy one at that. When the Rockets are playing their best ball, they can hang with any team in the NBA. And it all starts with James Harden.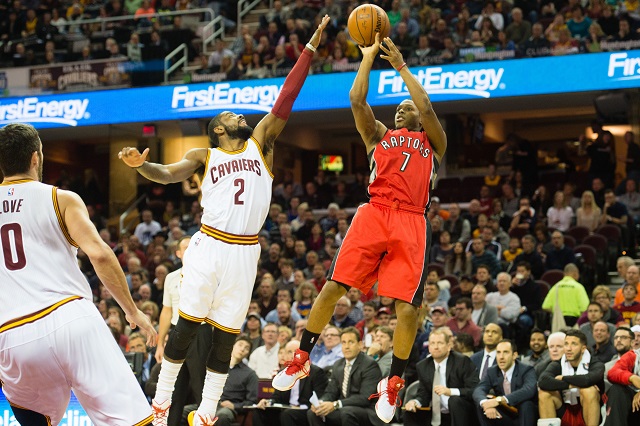 5. Kyle Lowry, point guard, Toronto Raptors
2014-2015 Statistics: 18.6 PPG, 4.8 RPG, 7.2 APG
The Toronto Raptors are a good basketball team. But, with a 37-17 record, and currently sitting in second place in the Eastern Conference, they are exceeding expectations. The main force behind the Raptors impressive start? Kyle Lowry. Point guard, scorer, and leader. Lowry cannot be categorized into any particular box. It's safe to dub him a superstar, and call it a day. In order to be considered a viable MVP candidate, you not only need to have the numbers to back up your individual efforts, but you need to help your team contend. The Raptors are up 8.5 games in the Atlantic Division, and star shooting guard DeMar DeRozan has only played in 16 games this season. How is this remotely possible? Two words: Kyle Lowry.
6. Jeff Teague, point guard, Atlanta Hawks
2014-2015 Statistics: 17.0 PPG, 2.5 RPG, 7.5 APG
The Atlanta Hawks are in first place in the Eastern Conference. Yes, you read that correctly. The Hawks' emergence as a bona fide contender is, arguably, the biggest surprise of this young NBA season. And the man running the show is point guard, Jeff Teague. The fifth-year pro out of Wake Forest is putting up career numbers and, while they pale in comparison to other members on this list, winning has to count for something. And Teague has the Hawks winning. Truth be told, he might not even be the best player on the Hawks' roster. But, Teague is definitely their most important. And that's why he is a worthy MVP candidate.
7. Russell Westbrook, point guard, Oklahoma City Thunder
2014-2015 Statistics: 25.8 PPG, 6.3 RPG, 7.6 APG
The Oklahoma City Thunder currently sit on the outside of the playoff picture. But, that's to be expected when Kevin Durant has only played in 26 games due to injury. But, the Thunder are right there. And, if they get into the playoffs, everyone better watch out. Given the obstacles they've faced this season, the main reason why they've remained afloat is Russell Westbrook. He has only played in 39 games himself this season, but he has carried the load. His athleticism is immeasurable, his explosiveness is second to none, and, most importantly, he's helping the Thunder win. Too often has Westbrook been considered Kevin Durant's sidekick. Well, in reality Oklahoma City has, potentially, two of the best five players in the NBA. KD knocked LeBron off the pedestal last season. Perhaps, when this season is all said and done, it will be Westbrook's turn to hoist the MVP trophy.