NBA: 7 Teams Likely to Win the Most Games This Season
As the NBA's regular season has just begun, we can hopefully start to get a sense of how this upcoming season will play out. Which teams will need some time to build chemistry? Which clubs are already gelling and ready to take on all comers? Which individuals are a bit rusty? This is when we'll start to get some of these answers.
Of course, that hasn't stopped some from starting to make predictions. That's right, oddsmakers in Vegas are already releasing their projects for the upcoming year. For those of you who wish to know how many wins these folks have your favorite team winning — or how the best of the best will finish — we've got you covered. With that in mind, here's a look at the seven teams set to win the most games during the 2015-16 NBA season.
7. Memphis Grizzlies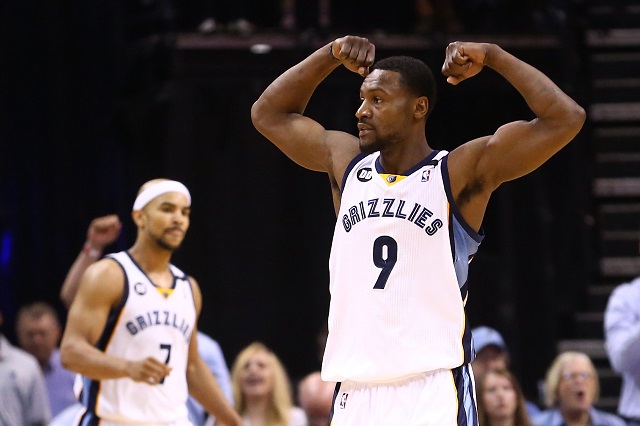 Win total: 50.5
The Memphis Grizzlies have been to the playoffs five years in a row and won over 50 games in each of the last three seasons. As far as wins are concerned, based on Vegas' projections, the Grizzlies should continue that trend during the 2015-16 season. With Marc Gasol, Mike Conley, and Zach Randolph leading the charge, we have no reason to bet against this figure.
6. Houston Rockets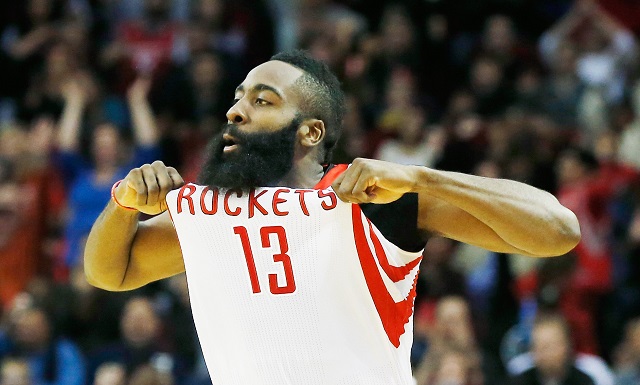 Win total: 54.5
With James Harden dropping 27.4 points per game and establishing himself as a legitimate MVP candidate, the Houston Rockets finished the 2014-15 season with a 56-26 record and a Southwest Division crown. While this year's club is not projected to reach that total, there can be no denying the talent on Houston's roster. Should the Rockets play up to their potential, there's no reason why they shouldn't be able to win over 54 games during this upcoming season.
4. Los Angeles Clippers (tie)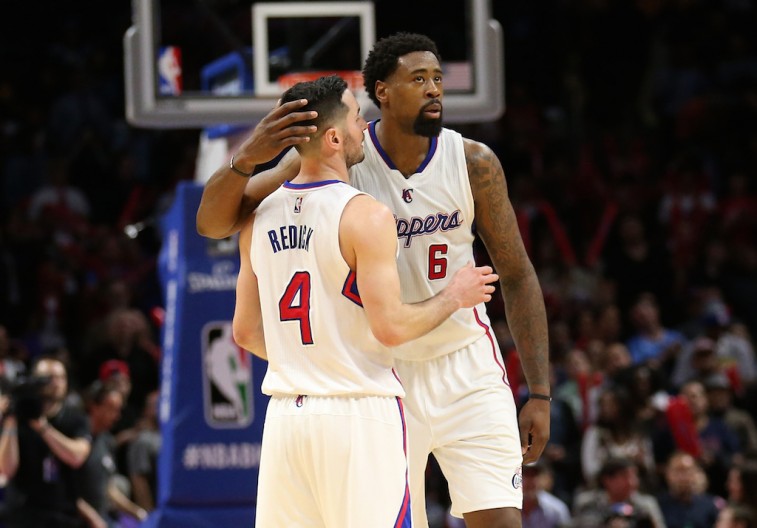 Win total: 56.5
We can only imagine how many wins Vegas would have given the Los Angeles Clippers had the 2015 free-agency period not worked out in their favor. Fortunately for them, DeAndre Jordan changed the game by opting to return to Tinseltown. The Clippers have won at least 56 games in each of the last three seasons. There's no reason to think this trend won't continue during their 2015-16 campaign.
4. Cleveland Cavaliers (tie)
Win total: 56.5
After finishing with a 53-29 record last year in LeBron James' first season back in Cleveland, the Cavaliers know they are the team to beat in the Eastern Conference — opening night loss to the Chicago Bulls or not. With Kevin Love having re-upped this past offseason — along with the majority of the team's core players — you'd think this group would have no trouble building off what they started last season. Of course, if the Cavs can't stay healthy, then all bets are off.
3. Oklahoma City Thunder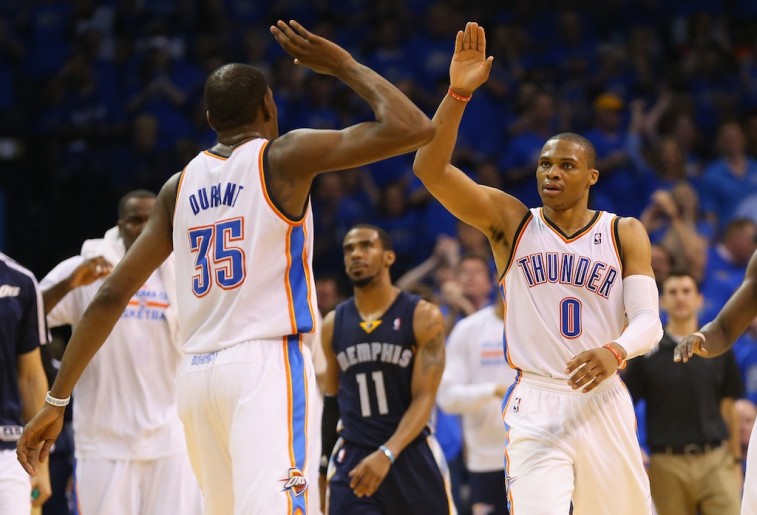 Win total: 57.5
It doesn't matter that the Oklahoma City Thunder finished last season with a 45-37 record and missed the playoffs for the first time since 2008-09. It doesn't matter that this will be Billy Donovan's first year as an NBA head coach. The only thing that matters is that superstar Kevin Durant is completely healthy and ready to dominate. Because when he and last year's leading scorer Russell Westbrook are playing together and at their best, the Thunder are among the best teams in the entire NBA. Considering Vegas' projected win total for Oklahoma City, it's clear they're banking on this happening.
2. San Antonio Spurs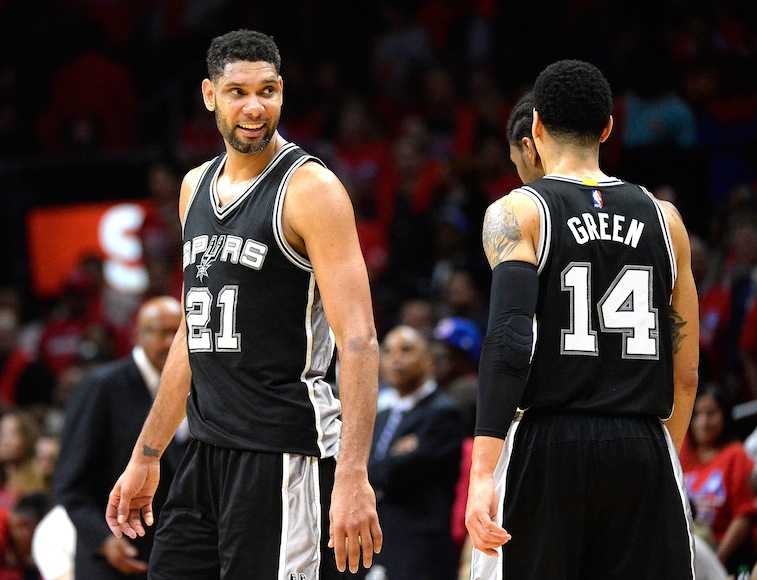 Win total: 58.5
The San Antonio Spurs took care of business this offseason, re-signing Kawhi Leonard and scoring prized free agent LaMarcus Aldridge. Now this organization can get back to doing what it does best: Winning NBA championships. With Gregg Popovich at the helm and Tim Duncan and Manu Ginobili each returning for another go-round, does anyone believe this win total is out of the realm of possibility? We didn't think so.
1. Golden State Warriors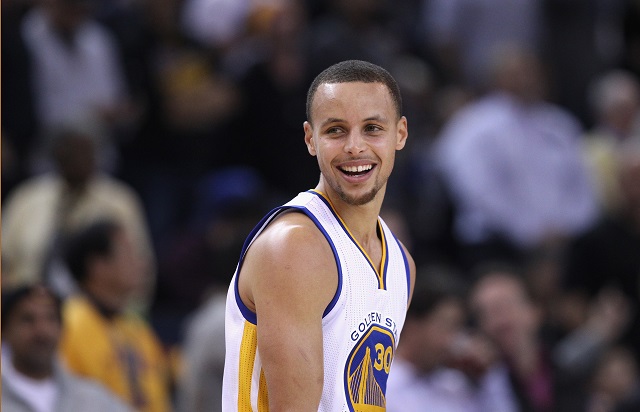 Win total: 60.5
To be the best, you have to beat the best. And right now, the best runs through Golden State. The good folks in Vegas don't believe the Warriors will hit their 67-win total from this past 2014-15 season, however, they are projecting them to win the most games out of any other team in the National Basketball Association. And on opening night, as we got to watch MVP Stephen Curry and his fellow Splash Brother Klay Thompson drop triples on the Pelicans, we can say we'll have a hard time going against this prediction.
Odds are courtesy of Westgate Las Vegas SuperBook.
All statistics are courtesy of Basketball-Reference.com, NBA.com, and ESPN.go.com.