NBA All-Star Game: 3 Under-the-Radar Things to Watch
The 2022 NBA All-Star Game features plenty of familiar players. LeBron James, Giannis Antetokounmpo, Nikola Jokic, and Joel Embiid, for example.
But it also features some new faces. Ja Morant has broken out and led the Memphis Grizzlies to the third-best record in the Western Conference and is making his first appearance. Andrew Wiggins was a controversial selection, but a first-time selection nonetheless.
The game itself is always free-flowing and entertaining, and the fourth quarter sees some of the best basketball players in the world put a little effort into winning an exhibition game.
But every year, things happen — maybe players, stats, or performances — that no one expects.
Here are three of those under-the-radar possible surprises to watch out for in the 2022 NBA All-Star Game.
An enticing mix of first-time All-Stars
This year's All-Star contest has seven players making their first appearances in LaMelo Ball, Fred VanVleet, Jarrett Allen, Darius Garland, Morant, Wiggins, and Dejounte Murray.
VanVleet is a tough, steady guard in charge of a competitive Toronto Raptors squad and is averaging almost 22 points and more than seven assists this season. Ball is the opposite but in all the best ways — he's quick, flashy, athletic, and isn't afraid to put some razzle-dazzle on his passes.
Garland and Murray are somewhere in between. The Cleveland Cavaliers point guard is the floor general of one of the most pleasant surprises in the league. Murray is a triple-double threat and a fantastic defender who doesn't get enough love playing in San Antonio.
Allen is Garland's center and partner in crime — an athletic, rim-protecting pile of limbs. Wiggins is having the best season of his career.
But Morant is the lone starter in this group for good reason. He'll likely get NBA MVP votes at the end of the year, and he's turned into an A-list NBA superstar for one of the best teams in the league.
Morant, Ball, or Luka Doncic?
Some players are just made to play in All-Star games. They're totally at home messing around during a scrimmage, throwing full-court baseball passes on a dime, behind the back lobs, or trying to avoid hitting their face on the backboard on the other end of said lobs.
There are several players in this year's game with those attributes — Giannis, Jokic, LeBron, Steph Curry, even Trae Young. But we've seen those guys do it before.
This year, the most interesting candidates to steal the show are Morant, Ball, and Doncic.
Luka has already been named an All-Star twice, but he hasn't taken his training wheels off yet. He scored eight points and had four assists in the 2020 game and had eight points and eight assists last year, per Basketball Reference. He's capable of much, much more in this type of setting.
The flamboyance of Ball's game and the fact that he's not shy about it can make for a fun All-Star experience. He's also incredibly unselfish and one of the best passers in the league, so behind-the-back alley-oop tosses and nutmegs galore are on the menu.
And Morant is the guy who'll dunk over anyone. Like literally anyone. And he's competitive enough not to care if it's a just-for-fun All-Star game. LeBron, Giannis, Embiid — it doesn't matter. If someone's in his way, he's going up and over.
Which veteran decides they're going all-out to win MVP?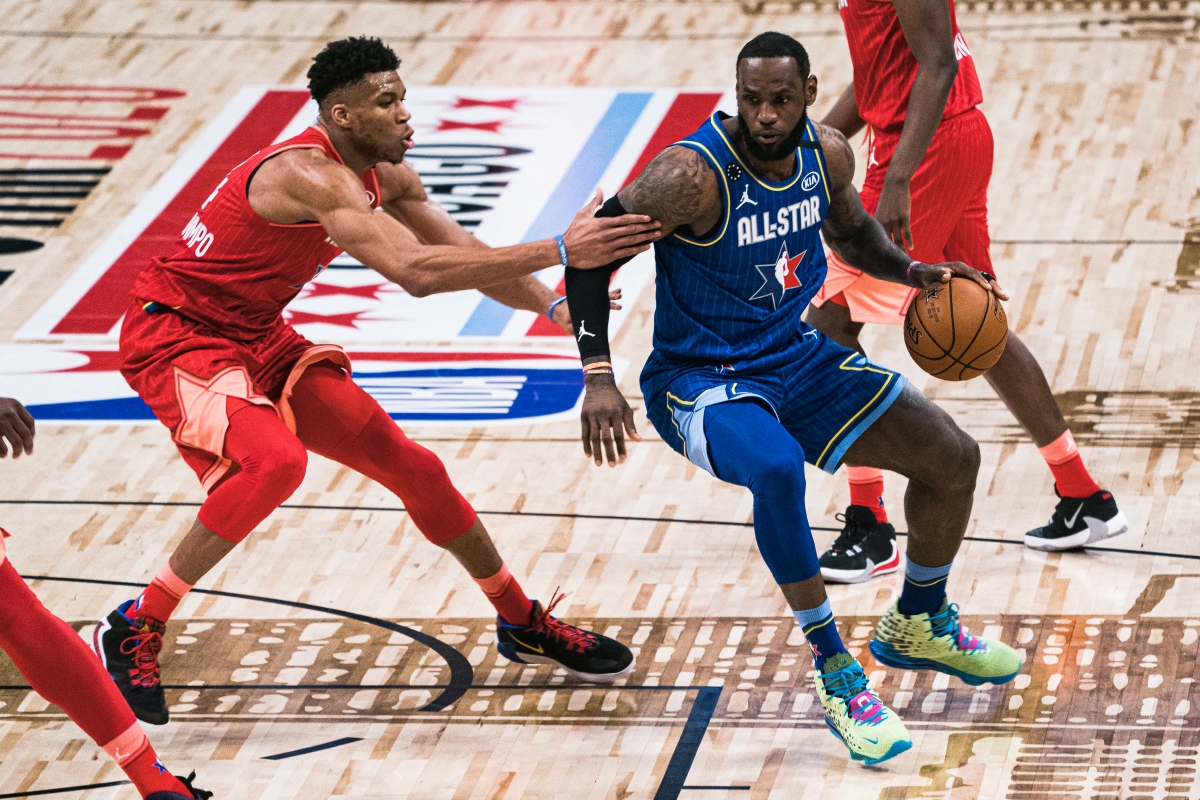 Then there's always the case of a veteran player who flips a switch at some point and starts putting up numbers and highlight-reel plays to gun for the now aptly-named Kobe Bryant Most Valuable Player Award.
LBJ is probably No. 1 on this list. He's 37 years old and playing at home in Cleveland.
Antetokounmpo shouldn't be counted out. DeMar DeRozan is having the best season of his career; he could be looking to add this to his 2021-22 resume. Ditto for JoJo. Trae is on that list somewhere too.
It's always later in the fourth quarter when stuff gets real, the starters come back on the floor, and both teams play to win.
Whichever All-Star turns his jets on the highest will be the front-runner for the Kobe Bryant MVP Award.
Like Sportscasting on Facebook. Follow us on Twitter @sportscasting19.
RELATED: NBA All-Star Voting: How Does the All-Star Game Draft Work?