NBA All-Star Game: James Harden Didn't Deserve a Place on the Roster, Even as a Reserve
More often than not, every player selected for the NBA All-Star Game earned their roster spot. That's mostly true for the 2022 showdown, with James Harden serving as the glaring exception.
Harden was selected as an Eastern Conference reserve, his 10th All-Star honor. It's hardly a surprise the Brooklyn Nets guard made the team, considering his name and resume. However, given his disappointing season and the list of snubs he beat out, the Beard doesn't deserve a trip to Cleveland.
James Harden is an All-Star for the 10th time in a row
As long as Harden has been a starting guard in the NBA, he's been an All-Star.
The 32-year-old has All-Star recognitions dating back to 2012-13, his first year with the Houston Rockets. The following season, he started the first of six All-Star Games, the last of which was back in 2019-20.
Very rarely, if ever, did Harden not deserve an All-Star nod. The three-time scoring champ averaged 29.6 points, 7.7 assists, and 6.0 rebounds through over nine full seasons in Houston. While his scoring has dropped considerably after last year's trade, Harden is racking up 10.5 assists and 8.2 rebounds a night through 80 games with the Nets.
Harden was one of seven Eastern Conference reserves. The former MVP joins Miami Heat forward Jimmy Butler, Cleveland Cavaliers guard Darius Garland, Chicago Bulls guard Zach LaVine, Milwaukee Bucks forward Khris Middleton, Boston Celtics forward Jayson Tatum, and Toronto Raptors guard Free VanVleet.
The five starters, who were announced a week earlier, are Atlanta Hawks guard Trae Young, Philadelphia 76ers center Joel Embiid, Bulls forward Zach LaVine, Bucks forward Giannis Antetokounmpo, and fellow Nets teammate (and All-Star captain) Kevin Durant.
Harden doesn't deserve to be an All-Star this year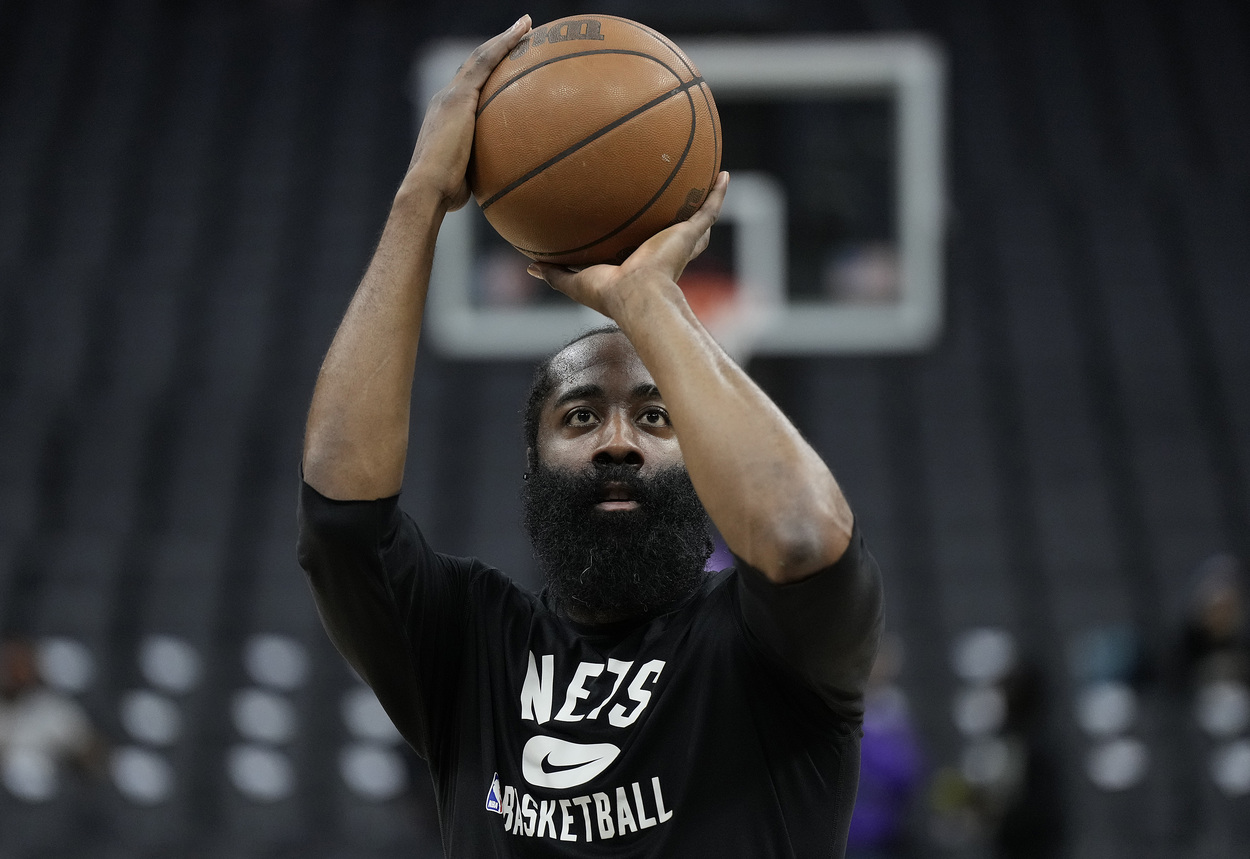 Clearly, Harden's prior accolades are well-deserved. But for the 2021-22 season, name recognition and reputation is the only legitimate case he has to be a worthy All-Star pick.
This season, Harden is scoring 22.5 points per game, his lowest average since his sixth-man days on the Oklahoma City Thunder. While he's taking fewer shots than he did with Houston, the veteran is converting just 41.4% of them. Worst of all, his 48.6% effective field-goal percentage is the second-lowest of his entire career, just barely above the 48.4% from his rookie season.
Along with poor shooting, no player has more turnovers per game than Harden's 4.8. While fellow All-Stars Young and Luka Doncic are also averaging their fair share of giveaways, they've also shot and scored far more efficiently than the Nets vet.
Yet there's still another reason why Harden shouldn't be an All-Star. On top of poor shooting and constant turnovers, the Beard has caused some drama off the court. Several reports suggest the star guard could want out of Brooklyn. That would mean abandoning Durant and Kyrie Irving after demanding to play with them just over a year ago.
Poor play combined with a selfish attitude doesn't exactly scream "All-Star."
Several Eastern Conference snubs were more deserving than James Harden
Despite all of the reasons why the Bearded star shouldn't have made the All-Star team, a thin Eastern Conference might have made his inclusion necessary. But this year, you can practically form a new group of reserves just from the deserving players who missed out on this prestigious honor.
The 23-year-old Jarrett Allen, who was ironically a part of last year's Harden trade, has had a career year in Cleveland. In addition to averaging 16.0 points and 10.7 boards, Allen owns the second-highest trust shooting percentage in the NBA at 69.6%.
Allen is also fifth in win shares. For perspective, every player in the top-10 is an All-Star, with the exception of Allen and Indiana Pacers big man Domantas Sabonis.
Speaking of Sabonis, the two-time All-Star is someone who, like Harden, might be unhappy with his current team. But the 6-foot-11 star is in the top-10 of win shares, true shooting percentage, and VORP. Harden, for what it's worth, just barely cracks the top-20 in one of those (VORP).
The voters also made a mistake by selecting the Nets' slumping star above Charlotte Hornets guard LaMelo Ball and forward Miles Bridges. Both players have an excellent case, particularly Ball. The 20-year-old is averaging 19.9 points, 7.7 assists, and 7.2 steals for a Hornets team that hasn't made the playoffs since 2016. Not to mention, his style of play is far more entertaining than the tedious and often-frustrating way Harden approaches the game.
Whoever you feel is the most flabbergasting snub, one thing is for sure. All of these players would have been more-deserving selections than Harden.
All statistics courtesy of Basketball Reference.
RELATED: Charles Barkley Is Dumbfounded by James Harden's Recent Whining: 'That Makes Zero Sense Whatsoever'