NBA All-Star Game: Predicting the Western Conference Starters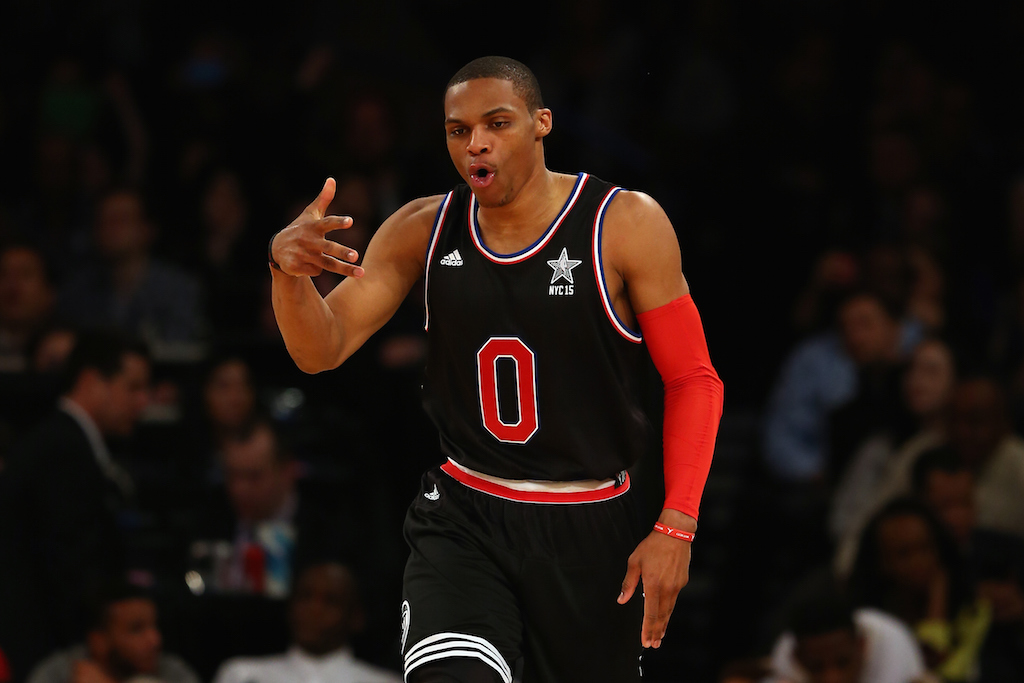 If you're the kind of basketball fan who's drawn to crazy tempo, minimal defense, and an endless supply of dunks brought to you by some of the greatest athletes on the planet, then we have a feeling the NBA All-Star Game really gets you amped up.
And for those of you who fall into the above category, not only is the show in 2016 going to feature everything you love about the star-studded even, it's going to bring even more to the table.
On February 14, for the first time in the 65-year history of the event, the NBA All-Star Game will be held outside of the United States when the game's best take their talents to the Air Canada Centre in Toronto. For this special occasion, the players will be rockin' sweet gear and a particular brand will have it's logo featured right on the jersey — Nascar-style. But more importantly, the All-Star Game is all about the opportunity to be entertained by the game's best players.
While there's still plenty of time to get out and vote for your favorite players, it's never to soon to guess which individuals will find themselves front and center at the big event. Since we already took the time to predict the Eastern Conference starters for the 2016 NBA All-Star Game, it's only fitting that we do the same for the Western Conference.
Guards (2)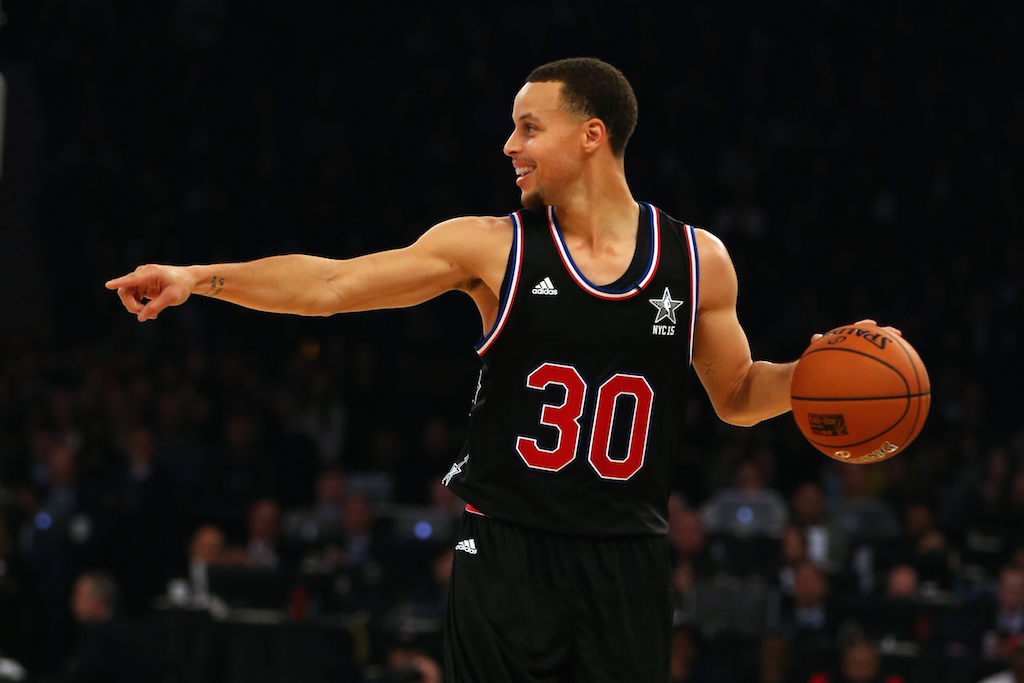 Prediction

: Stephen Curry (Golden State Warriors), Kobe Bryant (Los Angeles Lakers)
Simply put, the Western Conference is loaded with top-flight guards. Based on this obvious fact alone, one would have to assume that a few worthy players will fall short of earning a spot on the All-Star Game roster. However, that unfortunate circumstance aside, we'll do our best to try and sort this one out.
First and foremost, not only is reigning MVP Stephen Curry a lock to make the starting five, but he will mostly likely end up as the top overall vote getter. That's what happens when you're shooting 51.7% from the field, 45.8% from three, lead the league in scoring (32.3 points per game), and dazzle fans on a nightly basis. The real question is, who will start alongside Chef Curry?
From a strictly numbers standpoint, the remaining guard spot should go to either Houston's James Harden (29.1 PPG, 6.3 RPG, 6.8 APG) or OKC's Russell Westbrook (26.1 PPG, 7.3 RPG, 9.8 APG). And while both of these individuals deserve a place in the starting lineup, if forced to choose just one, we'd have to learn towards Westbrook, who is second in the NBA in assists per game and Player Efficiency Rating (31.3).
Of course, as we all know, it doesn't always come down to numbers. Which is why this being Kobe Bryant's last year in the league, and considering he's one of the most popular figures in the sport, our gut tells us the Black Mamba himself will be in the starting lineup.
Forwards (2)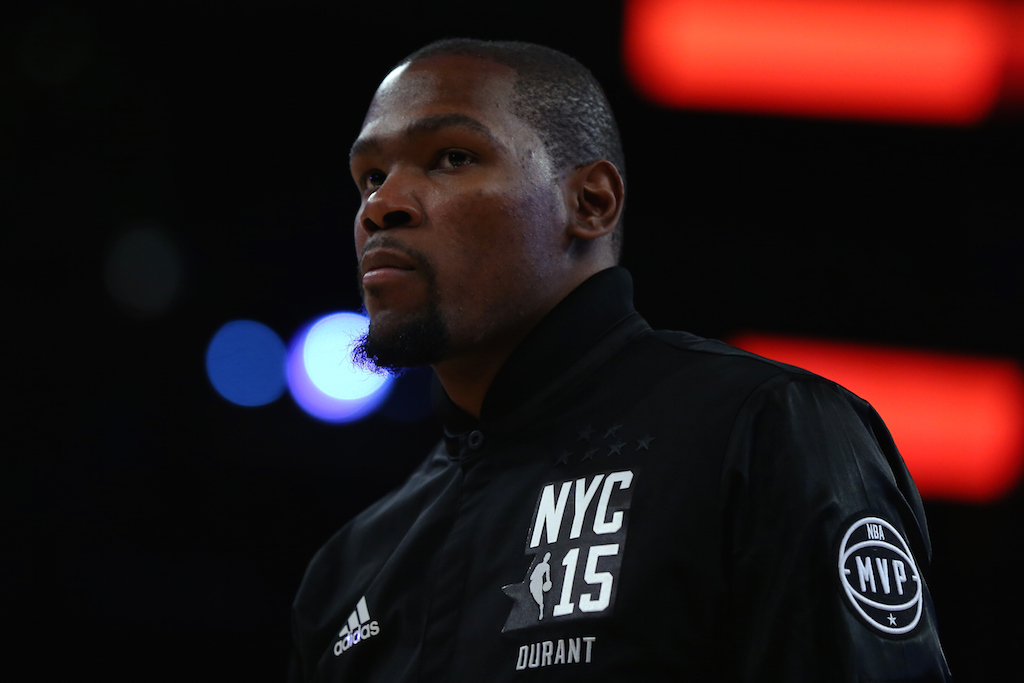 Prediction

: Kevin Durant (Oklahoma City Thunder), Blake Griffin (Los Angeles Clippers)
Just as it is with the guard position, the West is stacked with dominant forwards. However, if you look at last year's roster, you can see that position tends to be irrelevant when it comes to the "bigs." Forwards and centers are practically interchangeable. As a result, to make things easier on everyone, we've decided to go with a small forward and a power forward.
For our three spot, it's all about Kevin Durant. In 17 games, KD is shooting 52.8% from the field, 45.0% from deep, grabbing 8.1 boards a night, and putting up 27.3 points per contest (third in the NBA). The way we see it, the Durantula is officially back. As such, so is his place in the West's starting five.
We could go two separate directions with respect to the the power forward position. And since this is the only way to get the best possible lineup for the Western Conference, we have to believe Blake Griffin will land in the starting lineup as the four. This season, the Clippers superstar is putting up 23.9 points per game, grabbing 9.0 rebounds per night, and has the sixth best Player Efficiency Rating in the NBA with 25.5. Plus, let's be honest, he's built for this event.
Center (1)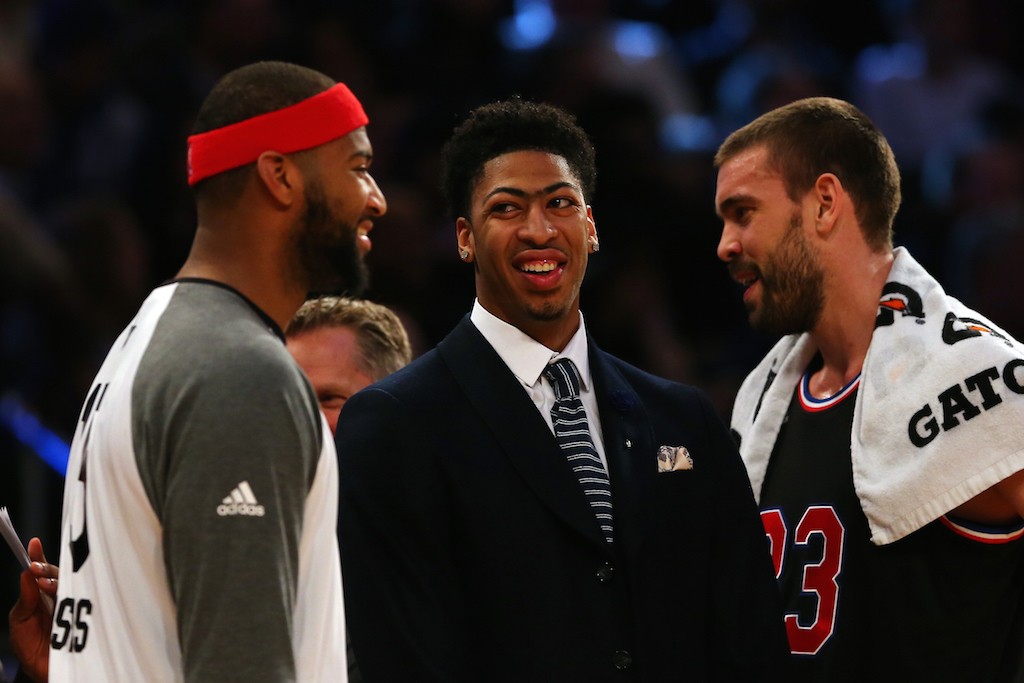 Prediction

: Anthony Davis (New Orleans Pelicans)
Now that small ball has taken over the NBA, the "traditional" center is essentially nonexistent. If you ask us, that's why this year's voting tells fans to vote for three "frontcourt" players as opposed to two forwards and one center. Still, we have a feeling most will agree with our selection.
As far as true bigs are concerned, the Western Conference is filled to the brim with talent. Last season, Memphis' Marc Gasol earned the right to be the conference's starter. In the 2015-16 season, anyone from DeAndre Jordan (Los Angeles Clippers) to Sacramento's DeMarcus Cousins could find themselves in the starting lineup.
However, if you ask us, it's hard to picture one of the final frontcourt spots not going to New Orleans' power forward-center Anthony Davis. His numbers this season may have dipped a bit from the figures he had in 2014-15 season, yet when push comes to shove, The Brow is simply to good to overlook.
All statistics are courtesy of Basketball-Reference.com, NBA.com, and ESPN.go.com.