NBA All-Star Game: The Greatest Starting Lineups of All Time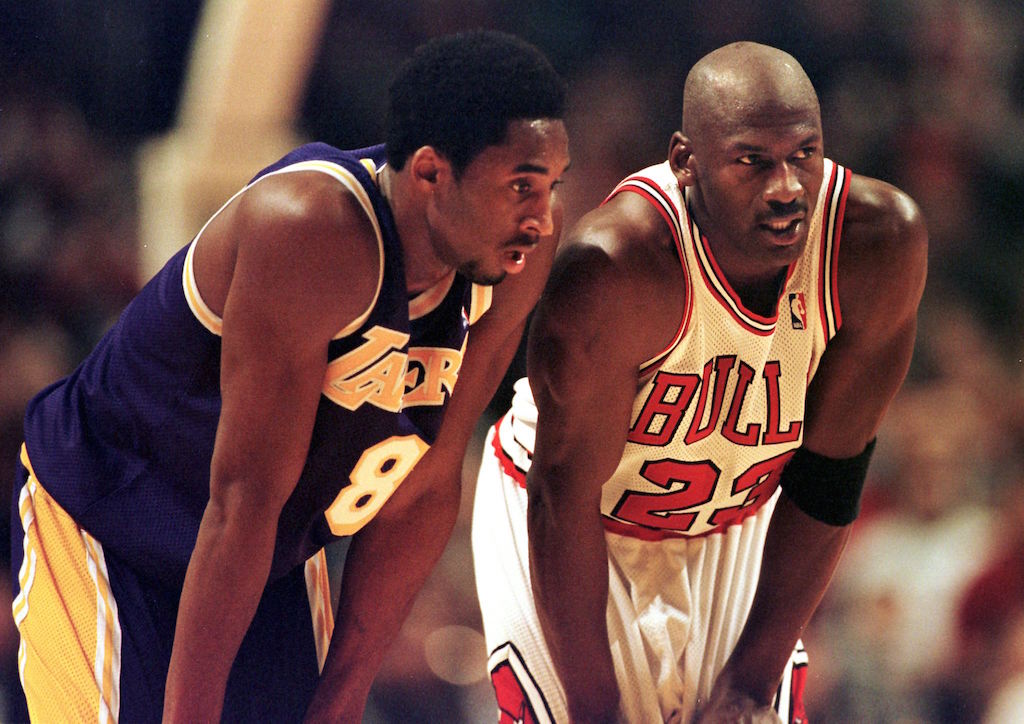 The NBA All-Star Game is a show. Plain and simple. It's not about running set pieces or playing defense or focusing on the fundamentals. It's about the best players in the game (well, for the most part) coming together and entertaining the crowd. This year's main event will be no different.
Now that the votes are counted, we know which players will start in the 2017 NBA All-Star Game in New Orleans. While we can't complain about the talent of the individuals who will participate, we admit that some players who deserved spots in the starting lineups (cough, Russell Westbrook, cough) were majorly snubbed. Unfortunately, when it comes to the starting lineups in an NBA All-Star Game, popularity tends to outweigh performance. We'd like to change that. And we plan to — in our own way.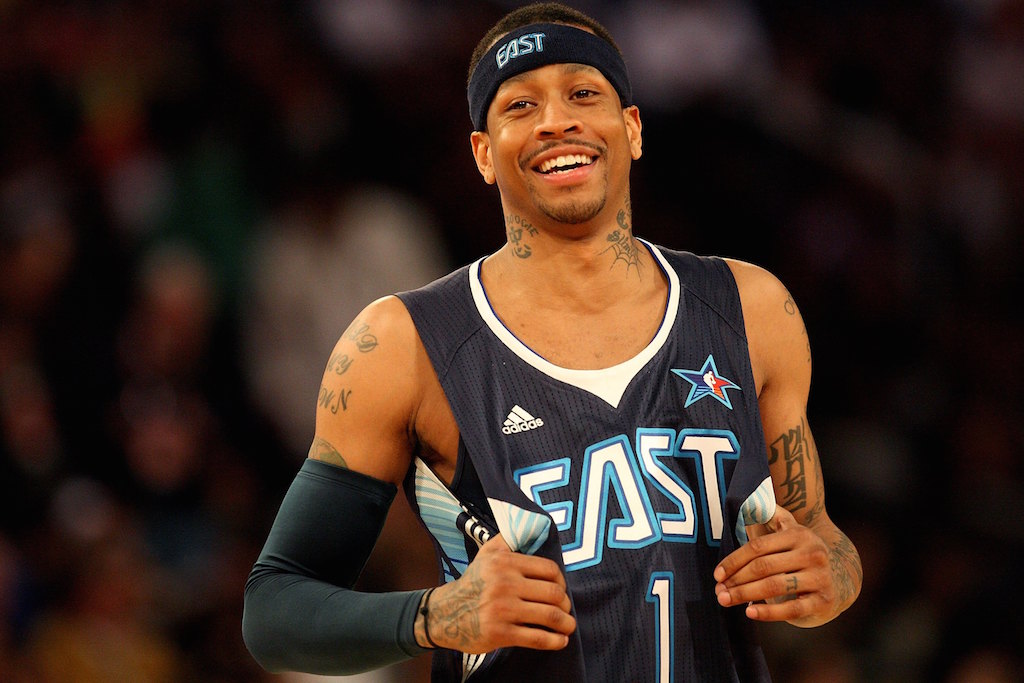 We've always wondered what it would be like if the best NBA players of all time suited up and faced off in an epic NBA All-Star Game showdown. Wouldn't that be something? Who would win? How would this all go down? Don't tell us you've never thought about this.
Therefore, we decided to take matters into our own hands. The most obvious place to start? The starting lineups. Something tells us that not everyone will agree with our choices. Fortunately, that's what a debate is all about. With that in mind, here's a look at our all-time starting lineups for the NBA All-Star Game.
Eastern Conference 
–

backcourt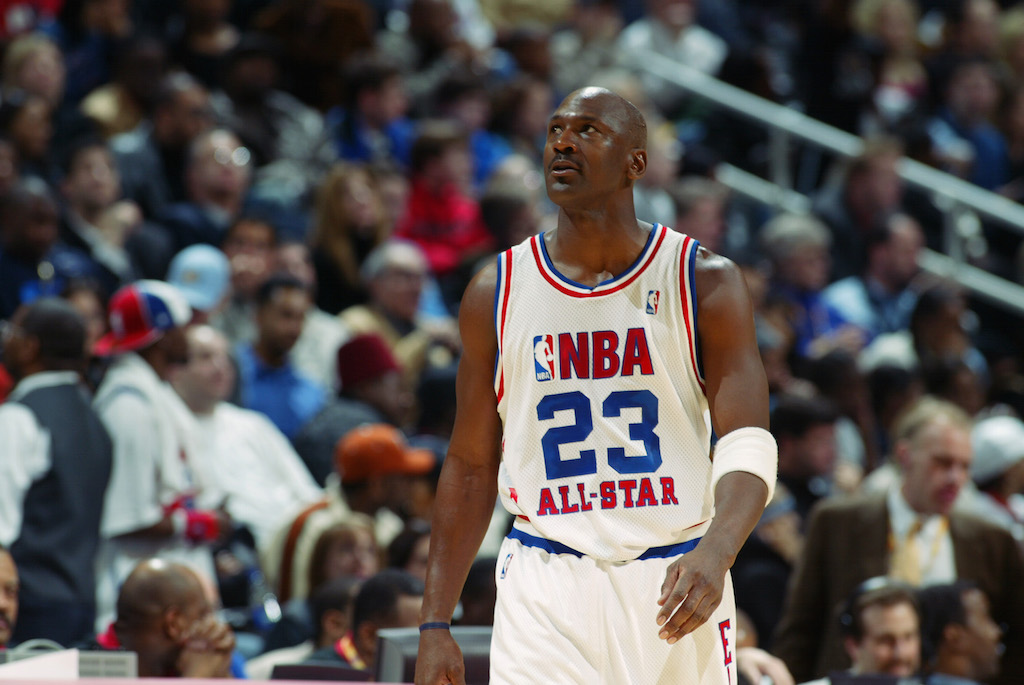 Oscar Robertson 
Oscar Robertson was the ultimate "all-around" player. During his 14-year career with both the Cincinnati Royals and Milwaukee Bucks, the 6-foot-5, 205-pound point guard — and Hall of Famer — averaged 25.7 points, 7.5 rebounds, and 9.5 assists per game. He was a 12-time All-Star, a nine-time First-Team All-NBA selection, and he led the league in assists on seven separate occasions. We'd be crazy to leave the "Big O" off this list.
Michael Jordan
Michael Jordan is the greatest to ever play the game. During his Hall of Fame career, his Airness averaged 30.1 points, 6.2 rebounds, and 5.3 assists a night. He won 10 scoring titles, six NBA championships, five MVP awards, and made First-Team All-NBA 10 times. MJ was super competitive, lethal on both ends of the floor, and was willing to do whatever was necessary to win the game. Seriously, who else would we put here?
Eastern Conference 
– f

rontcourt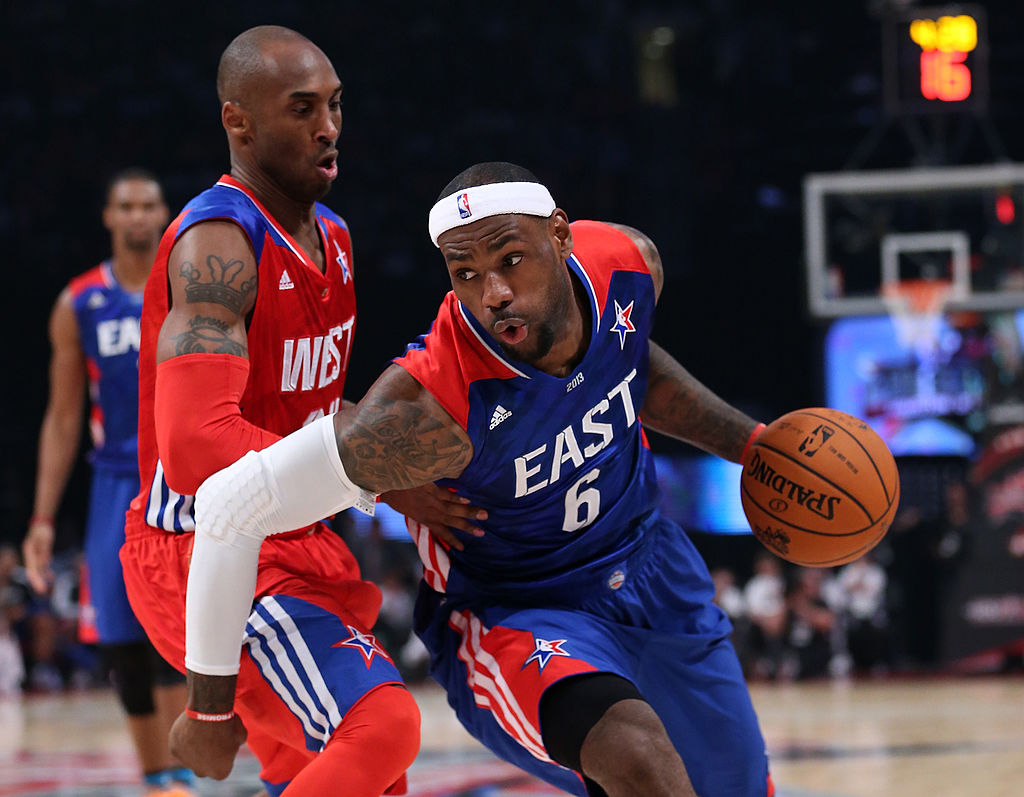 Larry Bird
You can play him at the three, or you can play him at the four. It really doesn't matter. What matters is that Larry Bird would light it up as an Eastern Conference starter. The Hick From French Lick averaged 24.3 points a game, shot 49.6% from the field, and hit 88.6% of his free throws. For good measure, he also pulled down 10 rebounds and dished out 6.3 assists per contest. Larry Legend was made for this game.
LeBron James
LeBron James is big, strong, athletic, dominant, and has one of the best basketball minds the game has ever seen. And he's still in the midst of leaving his mark on the NBA. At this moment, the King has career averages of 27.1 points, 7.2 rebounds, and seven assists per game. He's a three-time NBA champion, a four-time MVP, and an 12-time All-NBA selection. This once-in-a-generation talent was dubbed the "Chosen One." And you better believe we choose him as well.
Bill Russell
There is no better player to anchor the Eastern Conference All-Stars than the greatest winner of them all: Bill Russell. In his 13 years in the NBA, Russell averaged 15.1 points and 22.5 rebounds per game, while asserting himself as a true force on the defensive end and a leader in every sense of the word. Also, it's impossible to ignore the fact that he won five MVPs and captured 11 NBA championships. This is — and always will be — Russell's spot.
Western Conference 
– b

ackcourt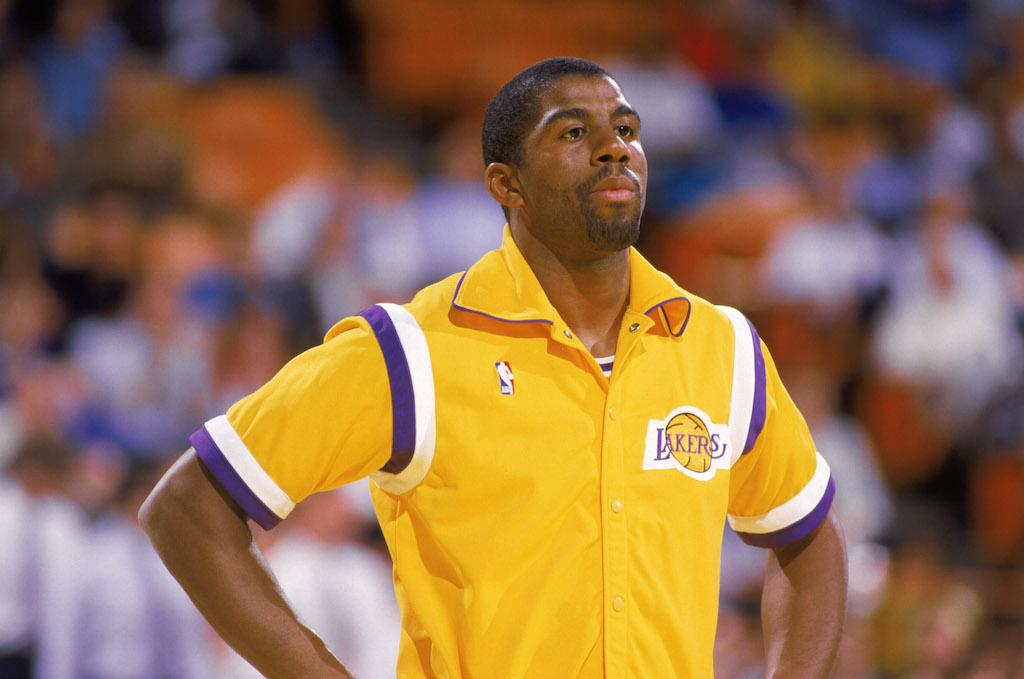 Magic Johnson
Magic Johnson was special. He was skilled, he was cerebral, and he was the first point-forward the game ever saw. Johnson averaged 19.5 points, 7.2 rebounds, and a ridiculous 11.2 assists per game. He won five NBA titles, three MVP awards, and was a nine-time First-Team All-NBA selection. And yet, when we think of the great Johnson, only one word comes to mind: Showtime.
Kobe Bryant
We'll take some heat for this pick. After all, how could this spot belong to anyone other than Jerry "The Logo" West? We get it. And yet, we don't care. With his 25 points per game, two scoring titles, five NBA championships, and 11 First-Team All-NBA selections, the Mamba is the closest thing we've ever seen to His Airness. Jordan. Bryant's drive, desire, and unapologetic competitive nature helped him become one of the greatest players in NBA history. For us, Kobe is an all-time NBA All-Star starter. For those who disagree, sorry, we're not sorry.
Western Conference 
– f

rontcourt
Kareem Abdul-Jabbar
This is where things get a bit tricky. Since the All-Star game starting lineups consist of two guards and three frontcourt players, we decided not to focus on "positions" for the Western Conference. That's what happens when you're forced to choose between so many great bigs. As a result, we're going with the NBA's all-time leading scorer — 38,387 points — and winner of an NBA-best six MVP awards. Welcome to the stage, Kareem Abdul-Jabbar. We can't wait to see the best of the best attempt to block that skyhook.
Shaquille O'Neal
In his prime, Shaquille O'Neal was one of the greatest forces the game ever saw. He averaged 23.7 points and 10.9 rebounds per game, while imposing his will on anyone who had the unfortunate task of trying to guard him. Of course, the Diesel wasn't just a scorer. He was a beast on the defensive end and an excellent passer out of the double team. The only way to stop him was to foul him; thus the creation of the Hack-A-Shaq. Although, we like to think this wouldn't be a problem in the NBA All-Star Game.
Wilt Chamberlain
When you look at what Wilt Chamberlain did during his time in the NBA, it doesn't seem real. He averaged 30.1 points and 22.9 rebounds per game, leading the league in scoring seven times and rebounding on 11 separate occasions. Wilt the Stilt won four MVPs, made 13 All-Star games, and was a seven-time First-Team All-NBA selection. Somehow, he managed to drop 100 points in a single game. Chamberlain was so dominant that the league had to change the rules to make things harder for him. He literally changed the game. We rest our case. Chamberlain is in.
How it all plays out…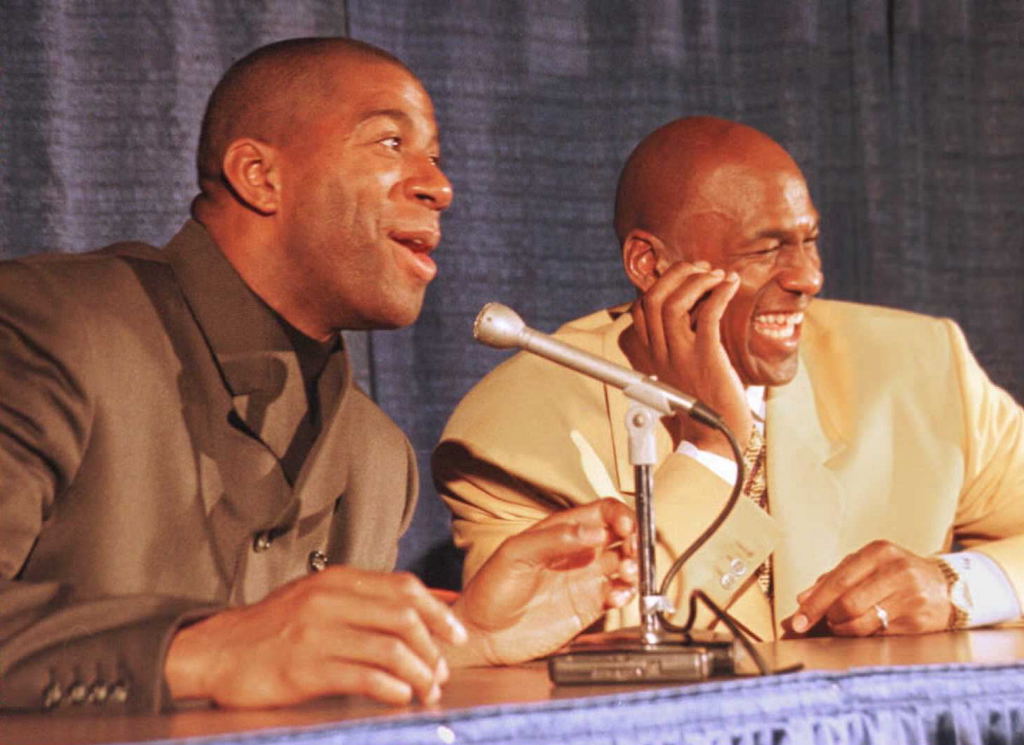 You may not agree with our list, but you must admit, this all-time All-Star game would be a spectacle for the ages. Unfortunately, even a game designed for pure entertainment has to have a winner. And something tells us, our final outcome will (also) be met with a fair share of criticism. So be it.
It doesn't happen often, but we think Jordan will come out on the losing end of this one. All the greatness in the world cannot overcome the strength, force, and sheer size of the players in the Western Conference. Plus, there's something to be said for having a bench that includes players like Jerry West, Charles Barkley, Tim Duncan, and Karl Malone. Not even the spark that is Allen Iverson — who would probably drop 50 just to show he can — would help the East close the gap.
Ultimately, this one would be a shootout. However, when the dust settles and the final buzzer sounds, we think the West will prove to be the best.
Prediction: West 160, East 154
Statistics courtesy of Basketball-Reference and NBA.com.