NBA All-Star Game: Will Kristaps Porzingis Make the Cut?
Since initially receiving boos after the New York Knicks selected him with the fourth overall pick in the 2015 NBA Draft, rookie forward Kristaps Porzingis has quickly won over one of the league's most passionate fan bases with his impressive play through the first half of his first season in the NBA. The 20-year-old became the youngest player to start for the New York Knicks — since Trevor Ariza did so in the 2004-05 season — and began with an encouraging performance scoring 16 points, which is the fourth highest total for a rookie in Knicks' history.
This only marked the start of what's been a record-breaking season for Porzingis as he became the youngest NBA player to post at least 24 points, 14 rebounds, and seven blocks in a single game since Shaquille O'Neal did so for the Orlando Magic. He's also just the fifth rookie in the past 20 seasons to record at least 20 points, 10 rebounds, and seven blocks in the same game.
Porzingis notched 10 double-doubles in his first 20 NBA games of his career, giving him the second highest total in Knicks history for that span, behind Hall of Fame center Willis Reed, who had 15 in 1964. In comparison, former Knicks' great and Hall of Famer Patrick Ewing had seven double-doubles through his first 20 games and a total of 17 during his entire rookie year in the 1985-86 season. Porzingis already has 15 through the first 41 games of the season.
Porzingis is just the sixth Knicks' rookie to have at least three double-doubles through his first seven games. The others on the list were Ewing (three), Jim Barnes (three), Reed (seven), Paul Hogue (four), and Charlie Tyra (three). He was also the fourth rookie in Knicks' history over the first seven games of his career to register at least 80 points and 60 rebounds, joining the likes of Ewing (1985), Barnes (1964), and Reed (1964). Porzingis is the second rookie in franchise history to post at least 80 points, 60 rebounds, and nine blocks in his first six games.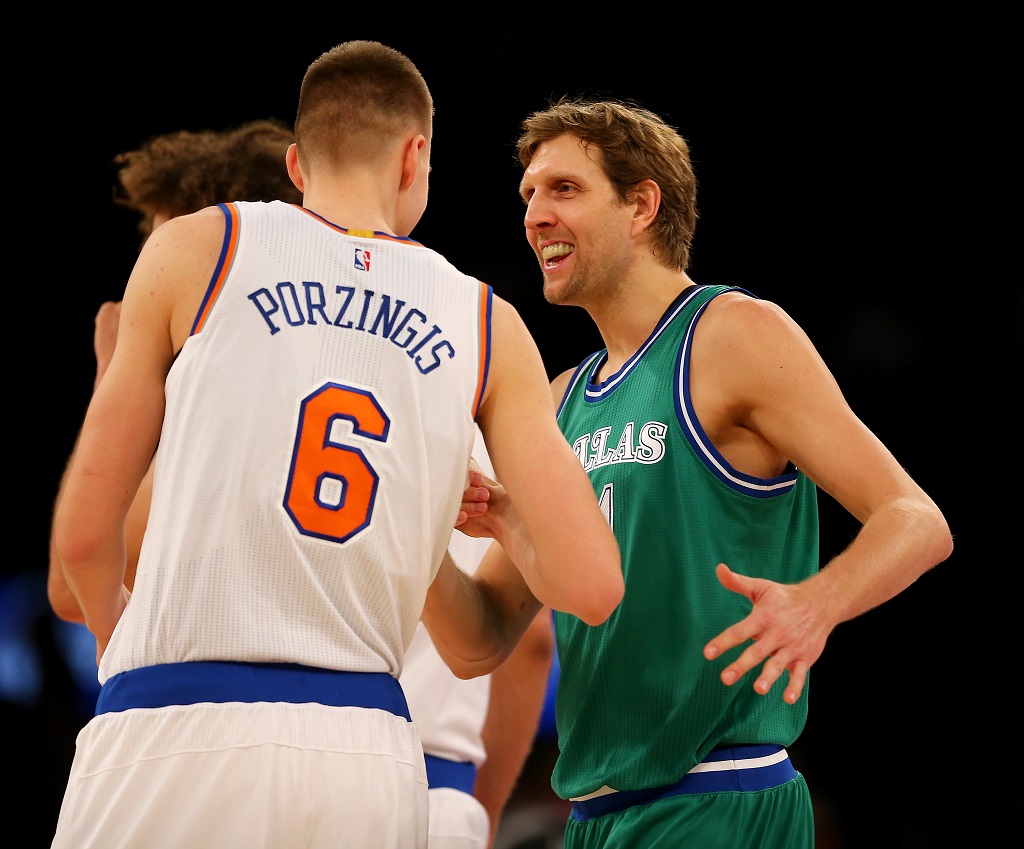 Porzingis is the first rookie in Knicks' history to post at least 29 points and 11 rebounds in a single game since Ewing, and he is the first rookie in NBA history to have at least 115 points, 88 rebounds, and six contest with at least three made field goals in his first 10 games. Porzingis is one of three rookies in NBA History to notch at least 80 points, 60 rebounds, nine steals, and nine blocks in their first seven games (joining Ewing and San Antonio Spurs Hall of Fame forward David Robinson). Lastly, the Latvian forward tied the Knicks' single-game rookie record with seven blocks against the Minnesota Timberwolves on December 16.
In short, Porzingis has had a historic rookie year, rightfully earning Eastern Conference Rookie of the Month for the first three months of the season. He has taken the league by storm quickly, convincing the doubters that questioned the Knicks for selecting a little-known 19-year-old European player. Porzingis's play has clearly pushed him ahead as the frontrunner for the Rookie of the Year award, but has he done enough in the first half of his rookie season to earn himself an All-Star selection? We think so.
Porzingis has recorded historic and impressive numbers for a player his age, which already have him mentioned in the same company with several Hall of Famers or future Hall of Famers. He has helped the Knicks win more games than they did all last year, putting them in playoff contention. He's currently averaging 13.9 points, 8.0 rebounds, and 2.0 blocks while playing in just 28.0 minutes per game.
In the third returns of the 2016 NBA All-Star Game voting, Porzingis sits seventh among frontcourt players in the Eastern Conference and 13th overall among all players in the East. Porzingis leaped two spots in the latest return and is closing the gap on the players in front, Chicago Bulls forward Pau Gasol and Miami Heat forward Chris Bosh, trailing by just over 18,000 and 45,000 votes respectively. If he continues to play at a high level, he could make up ground on these two All-Star big men. All in all, Porzingis has been one of the greatest surprises this season, producing like a player worthy of an All-Star selection.