NBA All-Star Weekend: Remembering When Vince Carter Single-Handedly Resurrected the Dunk Contest
The enthusiasm for the NBA's Slam Dunk Contest has all but disappeared. Michael Jordan, Dominique Wilkins, and Spud Webb brought the event alive in the 1980s, but it began to fade. By the late '90s, excitement for the competition had long gone.
Then along came Vince Carter and Madison Square Garden.
The NBA Slam Dunk Contest had become stale in the 1990s
After 'Nique and Dee Brown won the 1990 and '91 dunk contests, things started going downhill. From 1992-1996, the winners were, in order: Cedric Ceballos, Harold Miner, Isiah Rider, Miner again, and Brent Barry, per NBA.com.
After an 18-year-old Kobe Bryant took home the title in 1997, it looked like things could be turning around.
But there was no dunk contest in 1998 as the NBA swapped it for an NBA/WNBA two-on-two shooting contest. There was no competition in the lockout season of 1999, either. So all the momentum Kobe brought back had come to a halt.
At least until Carter revved everything back into high gear with an unforgettable performance in 2000.
Vince Carter's iconic 2000 performance brought the dunk contest back to life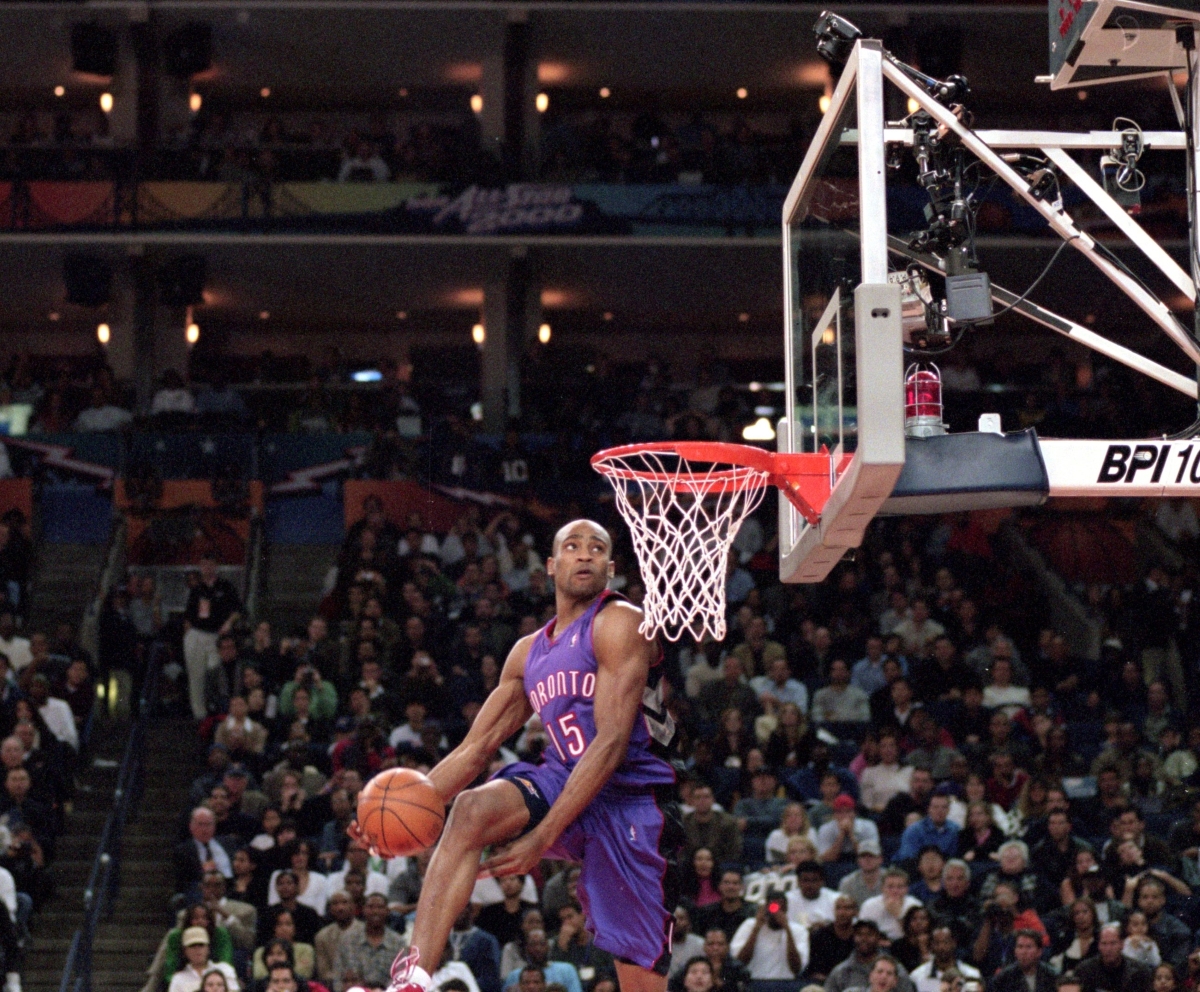 Carter's first dunk in the Garden during 2000's All-Star Weekend — in his No. 15 purple, black, and red Toronto Raptors jersey (which has become legendary on its own) — was a reverse 360, one-handed windmill that had TNT's Kenny Smith repeatedly screaming "Let's go home" and Marv Albert saying, "This building just exploded!"
TNT had Vince's jump measured at 36 inches, and it received a perfect score of 50.
Dunk No. 2 was a one-handed windmill that started behind the backboard. His vertical was measured at 35 inches and he was awarded a 49 — with Smith being the only judge not to give it a 10.
The third was the most mesmerizing move in dunk contest history other than, perhaps, MJ's free-throw line exploits in 1988.
Carter's cousin and Raptors' teammate Tracy McGrady bounced the ball into Vince's path. He grabbed it, went between the legs, and threw it down with one hand.
(It's important to note that this was 22 years ago when between the legs dunks were still rare, let alone off the bounce).
As if that wasn't enough, his fourth and final dunk saw Vinceanity get up so high that he stuck his entire forearm into the basket and hung on the rim by his elbow. No one in the arena realized what happened until replays showed him getting so much air he had to put his head down to avoid slamming it into the rim.
It was the most iconic performance in dunk contest history, and Carter's first, third, and fourth dunks could be considered three of the four best dunks ever completed in the event.
Half-Man, Half-Amazing resurrected the event
Three years later, Golden State Warriors guard Jason Richardson did an upgraded version of Vince's between-the-legs move. It was incredible, but nothing like what Carter did in 2000.
The former UNC star also went up and dunked over 7-foot-2 Frederic Weis in the 2000 Olympics, which eventually became known as the "Dunk of Death."
Carter played 22 years in the NBA. He was an eight-time All-Star, made two All-NBA Teams, and was the 1999-2000 Rookie of the Year. He'll eventually be inducted into the Naismith Memorial Basketball Hall of Fame.
But he never did anything quite like what fans witnessed on Feb. 12, 2000.
As Reggie Miller — a part of that night's broadcast team — said in a story on ESPN, "Everybody was thinking it: "God bless Vince Carter. The slam dunk competition is back."
Like Sportscasting on Facebook. Follow us on Twitter @sportscasting19.
RELATED: NBA All-Star Weekend: Ranking the 5 Events Actually Worth Watching