NBA Buyout Market: Lakers Gearing up for Multiple Options, Including 1 of LeBron James' Old Running Mates
An uneventful trade deadline was just another thing that didn't go the Los Angeles Lakers' way.
On top of having a season-worst 26-31 record, the Lakers roster isn't any better than it was a week ago. Even with Anthony Davis returning from a sprained MCL late last month, LA has still dropped seven of its last nine contests.
The Lakers now have one final opportunity to improve their roster ahead of the final 25 games of the season. And they already have their sights set on a number of intriguing buyout candidates, including a longtime teammate of superstar LeBron James.
The Lakers struck out at the deadline and will now have to scour the buyout market
LA entered the deadline with limited assets and very little money. But it was still somewhat shocking to see general manager Rob Pelinka fail to pull off a deal.
To their credit, the Lakers attempted to make some type of trade. Most notably, a deal with the Houston Rockets involving Russell Westbrook and John Wall fell through. However, given LA's tight cap and its hesitancy to trade draft picks just to ship out Westbrook, the team sat tight.
Now, the Lakers will shift their focus to the buyout market. Buyouts season is in effect until March 1, as several veterans have hit free agency and are free to sign with a new team for the remainder of the season.
LA has become a staple in the buyout market the last couple of seasons. The 17-time champions signed Markieff Morris in 2020 and Andre Drummond in 2021, each of whom played valuable roles for the team moving forward.
Goran Dragic, Tristan Thompson among the Lakers' reported targets
As the Lakers assess their buyout options, there are two particular names worth watching. According to Shams Charania on Bally Sports' The Rally, Goran Dragic and Tristan Thompson are on LA's radar.
Dragic will be one of the hotter names on the market. The former All-Star was bought out by the San Antonio Spurs soon after the Toronto Raptors traded him at the deadline. Although he has only appeared in five games, the 35-year-old would be a major addition to the Lakers. Just last year, the Slovenian averaged 13.4 points in 26.7 minutes for the Miami Heat.
As for Thompson, the big man would be reuniting with LeBron after the duo spent four seasons together with the Cleveland Cavaliers. The 11-year vet, formerly with the Sacramento Kings, is now with the Indiana Pacers following the Domantas Sabonis blockbuster. Thompson is averaging 6.0 points and 5.2 rebounds in 15.2 minutes between Sacramento and Indiana.
While Dragic is available, several contenders are expected to pursue him. LA will have to beat the Dallas Mavericks, Milwaukee Bucks, and Heat for the guard's services. Meanwhile, there's no guarantee Thompson will even get bought out considering he's already played three games for Indiana. But his relationship with James, along with his Klutch Sports representation, should make LA the favorite if he becomes available.
Other possible buyout candidates for the Lakers include Rockets guard Dennis Schroder and Orlando Magic sharpshooter Gary Harris.
How much will any buyout candidate help the Lakers?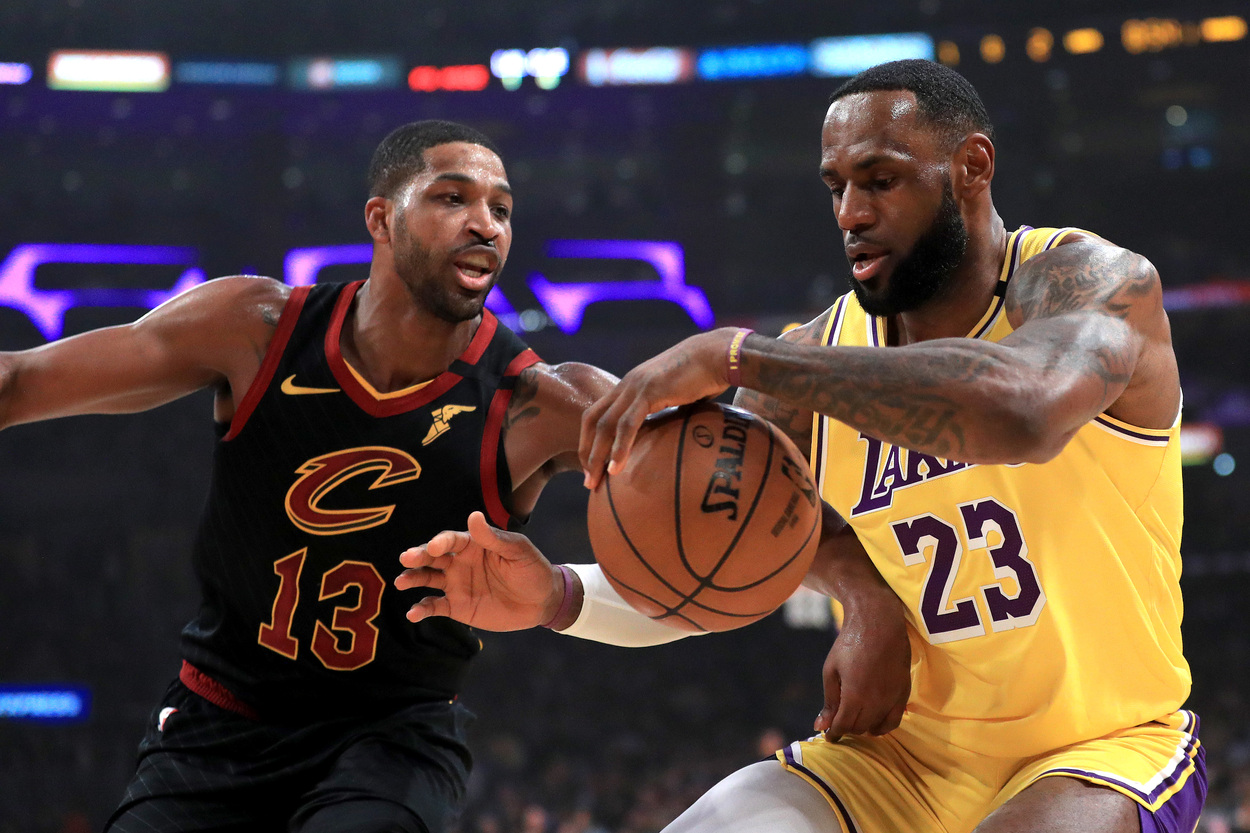 Adding anyone off the buyout market means the departure of an existing player. That could spell the end of Kent Bazemore, DeAndre Jordan, or Dwight Howard's Lakers tenure.
Dragic is certainly an upgrade over any of those players, as is Thompson. But while LA's depth would significantly improve, it's hard to see the team's overall outlook doing a 180.
The Lakers will always be defined by LeBron, AD, and Russ. Even when all three take the court together, the Purple and Gold are a pedestrian 10-9. No amount of Dragic's, Thompson's, Schroder's, or whoever is going to be able to completely solve that.
That being said, perhaps there is some opportunity for improvement. Someone like Dragic will alleviate Westbrook, who's had an erratic first year in Hollywood. Meanwhile, Thompson's presence down low could help take some pressure off of Davis, who has essentially become LA's only big man in the rotation.
Adding a buyout candidate might be enough to get LA to the playoffs. But the ceiling won't extend much farther beyond that.
All statistics courtesy of Basketball Reference.
RELATED: How Much Did LeBron James' Future in Los Angeles Play a Role In the Lakers' Silent Trade Deadline?