NBA Buyout Market: The 5 Best Players Likely to Be Available Before March 1
With the trade deadline in the rearview mirror, the clock is ticking toward the March 1 deadline for playoff eligibility. Non-contenders looking to trim payroll are considering the NBA players they wish to waive. Meanwhile, contenders are anxiously waiting to see what players will hit the NBA buyout market in time to provide them with a boost heading into the postseason.
One prominent player will hit the market on Feb. 13. The Houston Rockets acquired center Enes Freedom in a trade from the Boston Celtics and immediately cut him.
But he's not on the list of the five best potential buyout additions. Here are the players with the most potential juice on the NBA buyout market.
5. Tristan Thompson, Indiana Pacers
The Sacramento Kings sent veteran big man Tristan Thompson to the Indiana Pacers as part of the Domantas Sabonis trade. Thompson averaged a career-low 15.2 minutes per game in Sacramento and got 15 minutes in his debut with the Pacers on Feb. 11.
The 11-year veteran has 83 playoff games under his belt and won a ring with the Cleveland Cavaliers in 2016. He turns 31 on March 13 and is on an expiring contract that pays him $9.7 million this season.
Even with Sabonis gone, the Pacers have a crowded frontcourt that becomes more so when Myles Turner returns from a foot injury at some point after the All-Star break.
Indiana's gone full rebuilding mode for the first time in nearly 40 years, and James Boyd of the Indianapolis Star tweeted the team is still deciding whether to buy Thompson out. He could fit a contender shopping in the NBA buyout market for depth up front.
4. Robin Lopez, Orlando Magic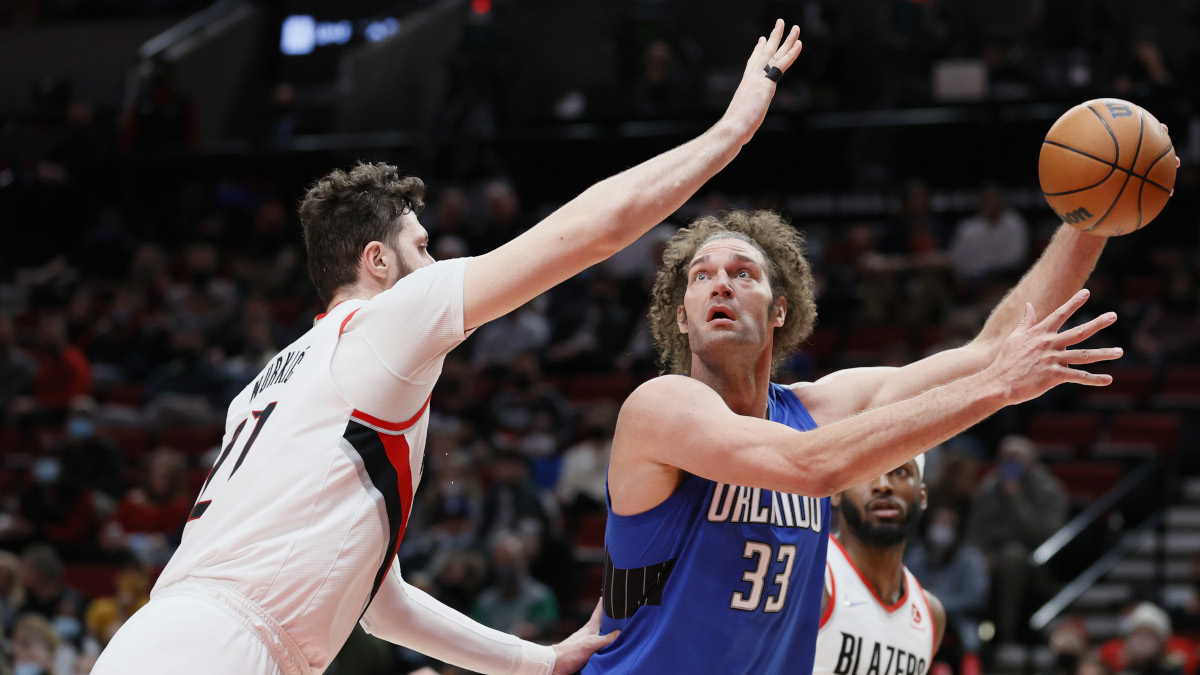 Robin Lopez has played sparingly for the Orlando Magic, appearing in 25 games. He's not Splash Mountain (aka injured twin brother Brook Lopez of the Milwaukee Bucks), but he's still an effective defender in the paint.
He's averaged 8.2 points and 3.8 rebounds in 17.8 minutes per game. But RoLo will be 34 on April 1 (no joke) and doesn't fit the timeline for the young Magic, who have younger options in Wendell Carter Jr., Mo Bamba, and Moritz Wagner.
Lopez is on an expiring one-year deal for $5 million.
According to John Schrock of NBA Sports Bay Area, the Golden State Warriors are looking for big man depth and could consider Lopez if he's available. A return to Milwaukee isn't off the table, either, should he hit the NBA buyout market.
3. Dennis Schröder, Houston Rockets
The Rockets added Dennis Schröder in the deal that brought them Freedom and sent veteran center Daniel Theis back to Boston.
The 28-year-old Schröder doesn't fit Houston's rebuilding timeline. But with John Wall not playing and Eric Gordon nursing a heel injury, the Rockets might not want to give up the backcourt depth.
The German averaged 14.4 points and 4.2 assists in 29.2 minutes per game with the Celtics and was an effective sixth man for the Oklahoma City Thunder from 2018–20. Schröder famously rejected an $84 million extension from LA before signing a mid-level exception with Boston for $5.9 million.
Kevin O'Connor speculated on The Mismatch podcast that the Lakers might have interest in a reunion with the ninth-year veteran if he were on the NBA buyout market. However, Jackson Gatlin of Locked on Rockets tweeted that the Rockets aren't planning to buy out Schröder. Still, he's a name to watch if the situation changes in the next couple of weeks.
2. Gary Harris, Orlando Magic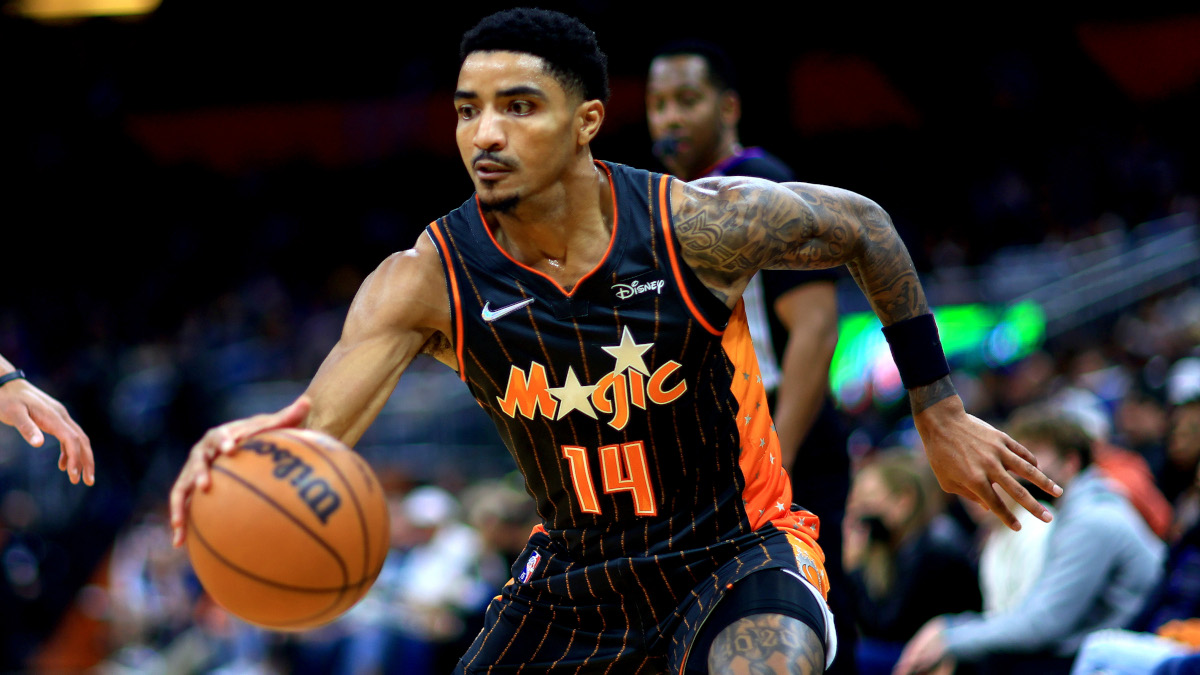 Seventh-year guard Gary Harris is another Magic veteran who would receive much interest in the NBA buyout market. A reunion with the Denver Nuggets is a strong possibility in a buyout scenario.
Harris averages 11.6 points in 29.5 minutes per game in Orlando and is hitting 38.6% from three-point range. He makes $20.5 million on his expiring contract.
Keith Smith of Spotrac tweeted that the 27-year-old isn't a slam dunk to hit the market. He's helped the team's young guards, Cole Anthony and Jalen Suggs, and Orlando also has a spate of backcourt injuries to navigate.
1. Goran Dragić, San Antonio Spurs
As soon as the San Antonio Spurs acquired the 35-year-old point guard, Adrian Wojnarowski of ESPN tweeted that Goran Dragić is likely to hit the NBA buyout market. He hasn't played since Nov. 13, and the Toronto Raptors sent him home shortly after that.
Most assumed the Slovenian would join countryman Luka Dončić with the Dallas Mavericks. But after Dallas acquired Spencer Dinwiddie in the deal that sent Kristaps Porziņģis to the Washington Wizards, there might not be a role in Big D for The Dragon.
The Bucks could be a contender, though their focus may shift to a wing player with Pat Connaughton's injury. The Chicago Bulls are navigating a tough stretch without Lonzo Ball and Alex Caruso and might want a veteran for a playoff push.
Teams most likely to be buyers include the Lakers, Bulls, Nuggets, and New York Knicks, all of whom sat out the trade deadline.
Statistics courtesy of Basketball Reference. Contract information courtesy of Spotrac.
RELATED: NBA Trade Deadline: Nuggets' Curious Decision to Stand Pat Signals Cautious Optimism Regarding Jamal Murray and Michael Porter Jr.