NBA Champion Marc Gasol Started a Pro Team With His $50 Million Net Worth and Now He's Suiting Up
Marc Gasol enjoyed a highly accomplished career as an NBA player. He was a two-time All-NBA player, was named Defensive Player of the Year in 2012–13, and won a ring with the Toronto Raptors in 2019. Gasol retired in September 2021 to end a 13-year run in the NBA, but he's not hanging up the kicks just yet.
Gasol announced on Nov. 25 that he is resuming his professional basketball career with Basquet Girona in his native Spain. It's a return to the city in which he played before launching his NBA career with the Memphis Grizzlies in 2008, and it puts in him a rare class of players anywhere in the world.
Marc Gasol was once traded for his brother
Marc Gasol, the younger brother of six-time All-Star Pau Gasol, got his start in professional basketball as a teenager with FC Barcelona. After three years with Barca, Gasol played two years with Akasvayu Girona. He came to the U.S. to sign with the Memphis Grizzlies in July 2008.
Memphis acquired his rights in February 2008 in a one-of-a-kind trade in NBA history. The rebuilding Grizzlies sent Pau Gasol and a second-round pick to the Los Angeles Lakers for a grab-bag of players that included veterans Kwame Brown, Javaris Crittenton, and Aaron McKie, along with two first-round selections.
Also included from the Lakers? The rights to 2007 second-round draftee Marc Gasol, Pau's younger brother. With Marc joining the Grizzlies in 2008 and remaining until his February 2019 trade to Toronto, it extended an impressive run for Memphis. It had a member of the Gasol family on their roster in each of its first 19 seasons after relocating from Vancouver to Tennessee in 2001.
The Grizzlies have not retired a uniform number but will break that string this season when Zach Randolph's No. 50 is sent to the rafters. It's likely both Pau's No. 16 and Marc's No. 33 jerseys will join Zeebo's jersey. The franchise planned to retire Tony Allen's No. 9 this season. According to the Memphis Commercial-Appeal, Allen asked the ceremony be delayed while he faces federal insurance fraud charges.
As for Marc Gasol, resuming his career in Girona puts him in rare company.
Marc Gasol founded Basquet Girona in 2014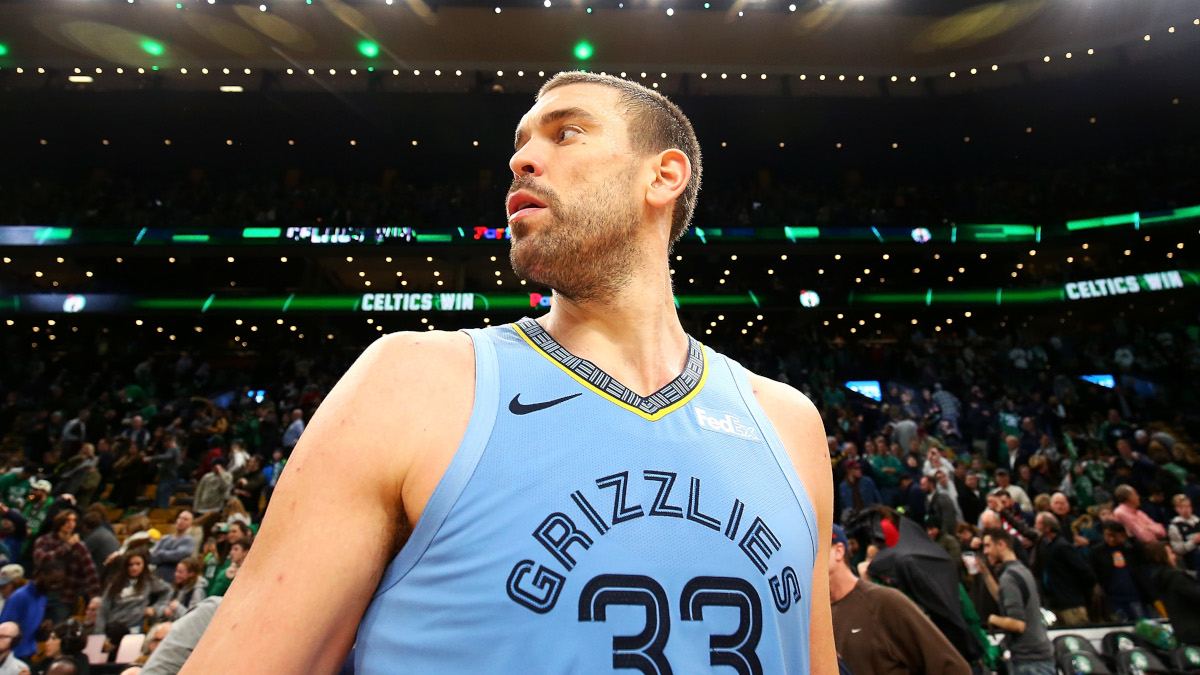 Marc Gasol played two seasons in Girona before going to the NBA. But the franchise Gasol represented folded in 2013, ending a 30-year run that included 20 straight seasons in Spain's top division, the ACB.
Gasol has a net worth of roughly $50 million, according to Celebrity Net Worth. In 2014, Gasol founded a school team in Girona. The club expanded its operation to the professional ranks in 2017, fielding a team in the EBA, Spain's fourth division. It has since advanced to the LEB Oro (Gold), the nation's second division.
On Nov. 25, Gasol became a player/owner when he announced via Twitter he was joining the active roster. The team is 2–7. The addition of Gasol could help Basquet Girona avoid relegation back to the third division. Girona is 15th in the 18-team circuit and has lost its last seven games.
It's not often a team owner scans the list of available players to help his club and comes up with his own name.
The arrangement would not be legal in the NBA
Given the salaries paid to NBA players today, it's natural to wonder if players could also have ownership stakes. The answer is no. But it is something the National Basketball Players Association wants to change.
In January 2021, union executive director Michele Roberts told Sportico that players would like to end the prohibition on having ownership stakes.
"We've got a collective bargaining agreement that says we can't [own stakes], and hopefully down the road we'll make some changes," Roberts said. "The players will be the last to suggest that we want to see the game's values, in any way, diminish, but it sure would be nice to be able to go to the party."
According to Celebrity Net Worth, Lakers star LeBron James is the wealthiest active player in the NBA with a net worth of $500 million. Hall of Famer Michael Jordan tops the list of richest basketball players at $2.2 billion and is majority owner of the Charlotte Hornets.
The ban on players owning shares in teams stems from rules in place to prevent salary cap manipulation. It's the same reason player/coaches were prohibited in 1985, when the first cap was put in place. It would be too easy to pay a player a veteran's minimum salary while ridiculously overpaying him to also take on an assistant coach's role.
Given the NBA salary cap already has enough loopholes to confuse a theoretical physicist, the bans make sense. Besides, having to pay off an ownership share so you can trade a player would be awkward.
That won't be a problem for Marc Gasol with Basquet Girona, however. He's the majority owner, team president, and will likely soon be the starting center.
Why the starter? Would you want to be the coach to tell the guy signing your checks that he's only good enough for the second unit?
Statistics courtesy of Basketball Reference and RealGM.