NBA Champion Richard Jefferson Takes Today's Players to Task for Willingness to Watch in Street Clothes: 'It Is No Longer a Badge of Honor to Play Every Game'
After being listed as probable to play on Nov. 12 against the Boston Celtics, NBA Finals MVP Giannis Antetokounmpo missed the Milwaukee Bucks' overtime loss to the Boston Celtics with a sprained ankle. Antetokounmpo has neither a reputation for being injury-prone nor a player who regularly asks out of the lineup. But his absence caught the attention of longtime NBA player Richard Jefferson, who blasted the current generation of players for its willingness to don street clothes on game nights.
Antetokounmpo returned to the lineup on Nov. 14, scoring 26 points on 9-of-21 shooting, but the Atlanta Hawks blew out Milwaukee, 120–100. The evidence of Antetokounmpo's ankle issues showed in his season-low five rebounds. He's still averaging 11.3 boards per game, and his lack of activity on the glass in Atlanta speaks to being slowed getting off the floor. Still, Jefferson brings up an interesting point, even if it comes off as "old guy yells at kids on lawn" material.
Giannis Antetokounmpo is a durable player by today's standards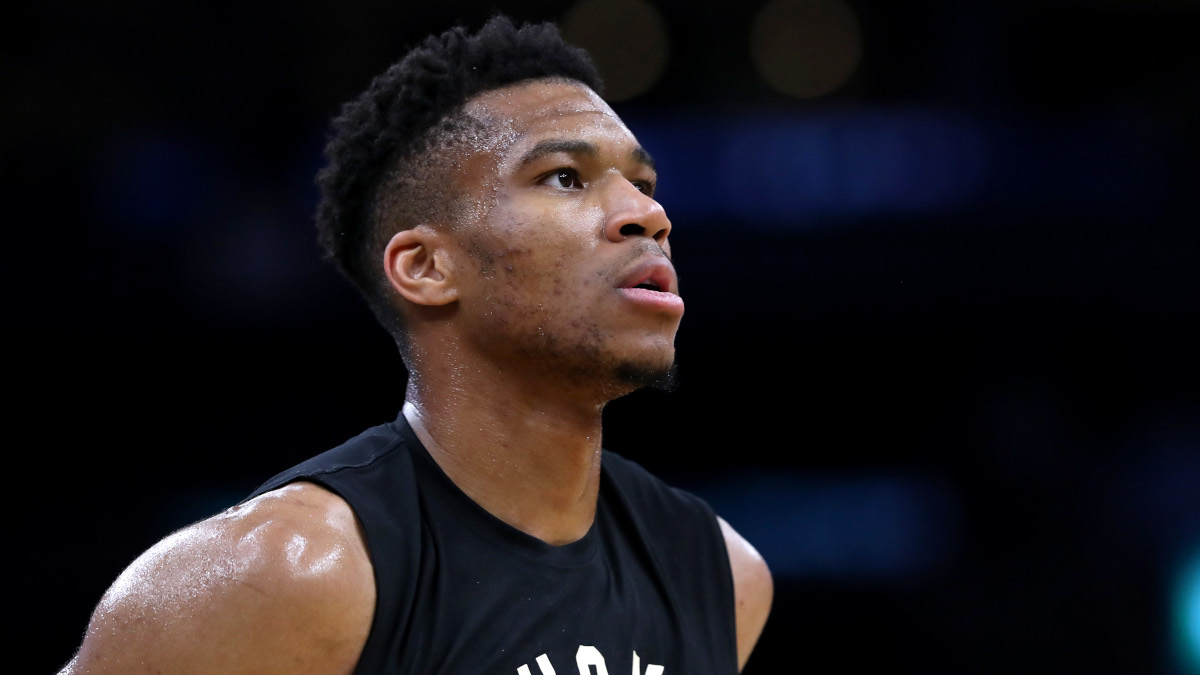 In his ninth NBA season, Giannis Antetokounmpo has played in 602 of a possible 651 regular-season games. He missed 11 games last season and 10 in each of the previous two. His style of play lends itself to considerable amounts of contact, and his explosive athleticism can take a toll on the joints.
The two games he missed at the end of last year's Eastern Conference Finals after spraining his knee are the only playoff games Antetokounmpo has missed in six playoff trips. By the numbers, he's played in 64 of 66 possible games. Antetokounmpo hinted he might have rushed his return to play in the NBA Finals, but he averaged 35.2 points, 13.2 rebounds, and 5.0 assists per game. And, you know, Milwaukee won the big gold trophy. The risk had its rewards.
The San Antonio Spurs of the early 2010s are considered the trendsetters for resting players during the regular season. Coach Gregg Popovich contended with an aging roster, Tim Duncan, Manu Ginobili, Tony Parker, and others past their 30th birthdays.
But the art of resting players is as old as the NBA itself. Before the NBA abolished the injured list, expanding rosters to 15 players with a nightly inactive list in 2005, the most common "injury" was back spasms. Often, a player developed back spasms and went on the injured list when a player was signed to a 10-day contract for a tryout.
After going to the Toronto Raptors and later the Los Angeles Clippers, Kawhi Leonard became the face of a new designation in the NBA, load management. It sounds much more scientific than merely listing "rest" as the reason for making a player inactive on a given night.
But Richard Jefferson's overarching point remains valid.
Richard Jefferson claims players no longer pride themselves in being available every night
On ESPN's NBA Countdown on Nov. 12, analyst Richard Jefferson reacted to Giannis Antetokounmpo's absence from the Bucks lineup with a broad statement about the NBA:
"Everyone puts their fingerprints on it, and there was a time where playing in 82 games was a badge of honor. It's no longer a badge of honor. It's about how long can we stay healthy and preserve it for the long run."
On the same show, Stephen A. Smith shared a conversation he had with a player last season. Smith called out the player for not being on the floor.
"He called me an hour later, and he said, 'Stephen A., it ain't our call,'" Smith said. "'The medical staff comes in, they make a call, and they have the authority to usurp the coaches, a power given to them by management. A lot of times, the players want to play, and the medical staff is forcing us to sit down, and we have no control over that.'"
As it was for Giannis Antetokounmpo in the NBA Finals, it becomes a risk vs. reward formula that the franchise's medical staff must solve. Yes, teams want to win every game, and most players would rather play than sit. Mitigating that competitive fire is part of the role of the medical personnel.
The numbers bear out Richard Jefferson's point
Richard Jefferson's NBA career began in 2001 with the New Jersey Nets. In 17 seasons, he played 82 games four times, including back-to-back seasons in 2007–08 and 2008–09. In 2013–14, at age 33, he also played every game.
But the numbers show there is far less emphasis on playing every game than there once was.
In Jefferson's rookie year of 2001–02, 42 players appeared in at least 82 games. Two, Bo Outlaw and Jalen Rose, played in 83 after changing teams. Five years later, in 2006–07, the number of players making 82 appearances fell to 36.
Since 2011–12 was a lockout season, we'll jump ahead to 2012–13. Only 28 players logged 82 games that season. In 2018–19, the last time the NBA played an 82-game schedule, 21 players put in a full slate.
The NBA went to an 82-game schedule in 1967. That season, 26 players recorded 82 games played. But there were only 12 teams and 151 players on the register. Percentage-wise, 17.2% of the NBA's players didn't miss a game.
And for all his durability, Giannis Antetokounmpo has never appeared in all 82 games. The closest he came was in 2014–15, his second season when he logged 81.
Given the size of contracts, particularly for superstar players, the investment becomes a bigger priority than the daily grind. If there's any risk at all a player could make a nagging injury into a long-term problem (or, the worst-case scenario, a career-ending malady), the team will err on the side of caution.
In the age of nine-figure contracts, that only makes business sense. Playing in every game is a nice bragging right to own, but it's not worth risking a team's season or a franchise's future just to put the number on the stat sheet.
Statistics courtesy of Basketball Reference and Stathead.