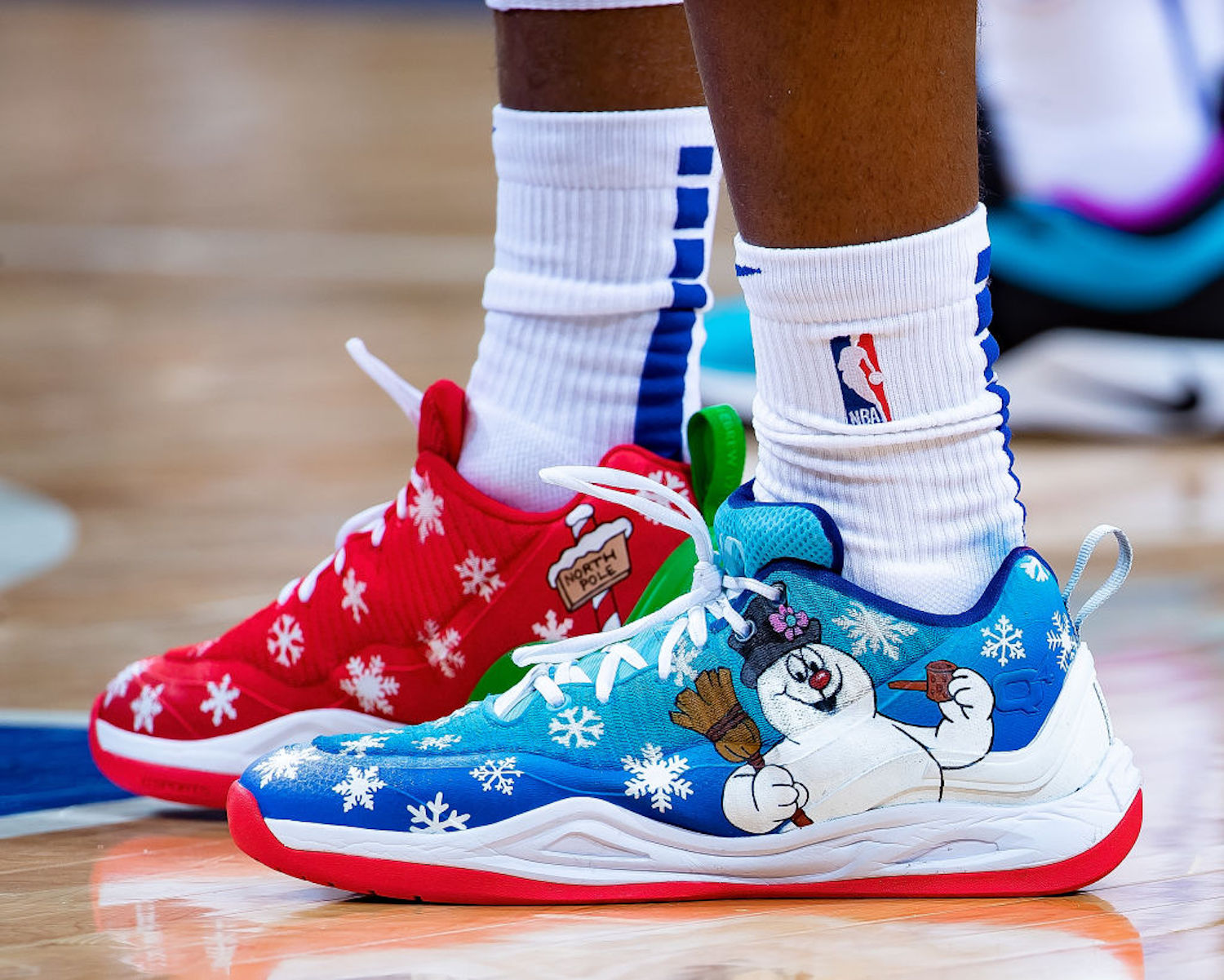 NBA Christmas Day Betting Preview: Odds, Predictions, and Best Bets
The NBA Christmas schedule is loaded with intriguing matchups this year, so let's make some money off them, shall we?
Christmas is finally here, which means we have a full slate of NBA games to mix in with our presents and egg nog. The NBA has become a holiday tradition in recent years, and now that sports betting is widely available and legal across the United States, we can make some extra Christmas money on the full day of basketball. Let's get to it.
NBA Christmas schedule and odds
New Orleans Pelicans at Miami Heat (-5, 226) – 12 p.m. ET
The Christmas slate tips off at noon eastern time with a fun matchup between the Pelicans and Heat. Miami is coming off a miraculous run to the NBA Finals last season, but they dropped their first contest of 2020 to the Orlando Magic. The Heat will look to bounce back at home against Zion Williamson and Brandon Ingram.
Golden State Warriors at Milwaukee Bucks (-10, 232.5) – 2:30 p.m. ET
A few years ago, this would've been the game of the day by a wide margin. But Golden State has lost all of its lust from its run to three championships in four years. Kevin Durant is now in Brooklyn, Klay Thompson is out for the season, and Draymond Green might not suit up Friday. The Bucks, on the other hand, have their best roster since Giannis Antetokounmpo was drafted in 2013. This one could be a blowout.
Brooklyn Nets at Boston Celtics (+3, 228) – 5 p.m. ET
Now here's a fun one. The Nets are a legitimate title contender this season with Kevin Durant and Kyrie Irving now on the roster. Brooklyn demolished Golden State in its season opener, while the Celtics inched past the Bucks thanks to some Jayson Tatum heroics. Could this be an Eastern Conference Finals preview?
Dallas Mavericks at Los Angeles Lakers (-6, 227.5) – 8 p.m. ET
LeBron James and Christmas day: a tradition unlike any other. James is playing in his 15th career Christmas game this year, and he's enjoyed a ton of success on the winter holiday. His teams have gone 9-5 straight up and 8-6 against the spread on Christmas. LeBron vs. Luka Doncic in the primetime slot? Sign us up.
Los Angeles Clippers at Denver Nuggets (+2, 224) – 10:30 p.m. ET
Oh boy. We all remember what happened the last time these two teams went up against each other. The Clippers surely do. They'll be out for revenge against the team that knocked them out of the playoffs last season.
Predictions for NBA Christmas day
New Orleans Pelicans at Miami Heat
The Pelicans looked awesome in their season debut Wednesday. They held the Toronto Raptors to just 99 points in the 14-point win, and Brandon Ingram looked like an All-Star. That said, Miami was an elite home team last season. The Heat went 20-11-1 ATS at home in 2019. That trend should continue here.
Heat 112 Pelicans 105
Golden State Warriors at Milwaukee Bucks
The Warriors have no hope of slowing down the Bucks in this matchup. Golden State gave up 125 points and 15 threes to Brooklyn in its season debut. The Bucks could score 130 in this one.
Bucks 126 Warriors 108
Brooklyn Nets at Boston Celtics
The Celtics are short home underdogs in this Eastern Conference battle, but that might be a mistake. Boston looked surprisingly lethal on offense against the Bucks in its season debut, and they have the horses to slow down Durant in this one. Celtics in another close one.
Celtics 118 Nets 115
Dallas Mavericks at Los Angeles Lakers
LeBron James vs. Luka Doncic is the best superstar matchup of the day. The two will put on a show in what should be a tight game throughout. The Mavericks will shoot better than they did on Wednesday, and they could be a live dog in this matchup. Lakers squeak out a barn-burner.
Lakers 111 Mavericks 109
Los Angeles Clippers at Denver Nuggets
The Clippers should come out fired up for this one. If Paul George plays like he did against the Lakers on Tuesday, LA should roll in this one. But the Nuggets just seem to have the Clippers' number dating back to last postseason. Nikola Jokic records a triple-double and leads them to an upset victory.
Nuggets 114 Clippers 110
NBA Christmas Best Bets
Pelicans/Heat UNDER 226
Nothing like betting the under on the early Christmas day game. The players aren't used to getting to the arena this early, so the game usually starts off slow. Miami should jump out to an early lead and clamp down on the defensive end for the rest of the game. No overtime, please.
Celtics +3
The Nets are a dangerous contender in the Eastern Conference this season, and they deserve some of the respect they're getting in the market here. But three points is just too many on the road against a feisty Celtics squad. Boston proved it can hang with anyone when they upset the Bucks at home to start the season, and they're extremely live as a home dog again here. The Celtics could very well win this game, so getting the key number of three is a bonus.
Mavericks/Lakers UNDER 227.5
This total has already come down a few points from the opener, but we're still on it at 227.5. Both the Mavericks and Lakers looked rusty offensively in their season debuts. The two teams combined to shoot 18-66 (27%) from beyond the arc in their first games in 2020. LeBron James has also been an under machine on Christmas day, as his teams have gone 12-2 to the under in his 14 Christmas games.
All betting lines courtesy of Bovada as of 12/24/2020