NBA: Damian Lillard Could Pass J.J. Redick and Ray Allen on the All-Time List in This 1 Key Stat
Damian Lillard is still growing his legacy as an NBA superstar, and if he can keep improving on a year-by-year basis, he could be in some exclusive company in one particular regard. Lillard is already one of the greatest free-throw shooters in NBA history, but with another year like he has had recently, he could move into the top 10 greatest free throw shooters in NBA history.

Damian Lillard stands over legends
As of the beginning of November, Damian Lillard stands as the 11th greatest free throw shooter of all time at 88.9% for his career. That puts him right ahead of legendary sharpshooters like Reggie Miller and Larry Bird, who are 12th and 13th, respectively. Other legendary shooters who Lillard stands above are Kevin Durant, Kyle Korver, Dirk Nowitzki, and Kyrie Irving, who all find themselves directly behind him on the list.

For everything that Lillard gets lauded for, from his killer instinct in big games to his ability to lead the Blazers when things are looking bleak, his free throw shooting should be equally lauded. Just as he has shown his ability to hit daggers in close games, Lillard's reliable shooting from the line makes him harder to guard, as sending him to the line is nearly as good as two points.

Damian Lillard's rise to NBA superstar
Lillard was an 84% shooter when he came into the NBA. Although that is a respectable free throw percentage for an average player, Lillard let it be known that he was not an average NBA player from the get-go. Lillard worked on his free throws from that point on, with his free throw percentage rising almost every year from 2013-18.

In the 2018-19 season, one of the best overall seasons in Lillard's career, he shot 91.2% from the field, just .04% off of his career-high from a year earlier. The poise he possessed at the line helped the Blazers keep composure during a season filled with close games, and while the highlight plays like his game-winner against the Oklahoma City Thunder got the highlights, these bore weight all year.

If Lillard can keep shooting in the 89-91% range, he should be able to surpass multiple players both this year and beyond. Scott Skiles, the current 10th place holder, holds a minuscule .01% lead on Lillard, but many of the names who are attainably above him would show fans just how good he is.

Chasing the greats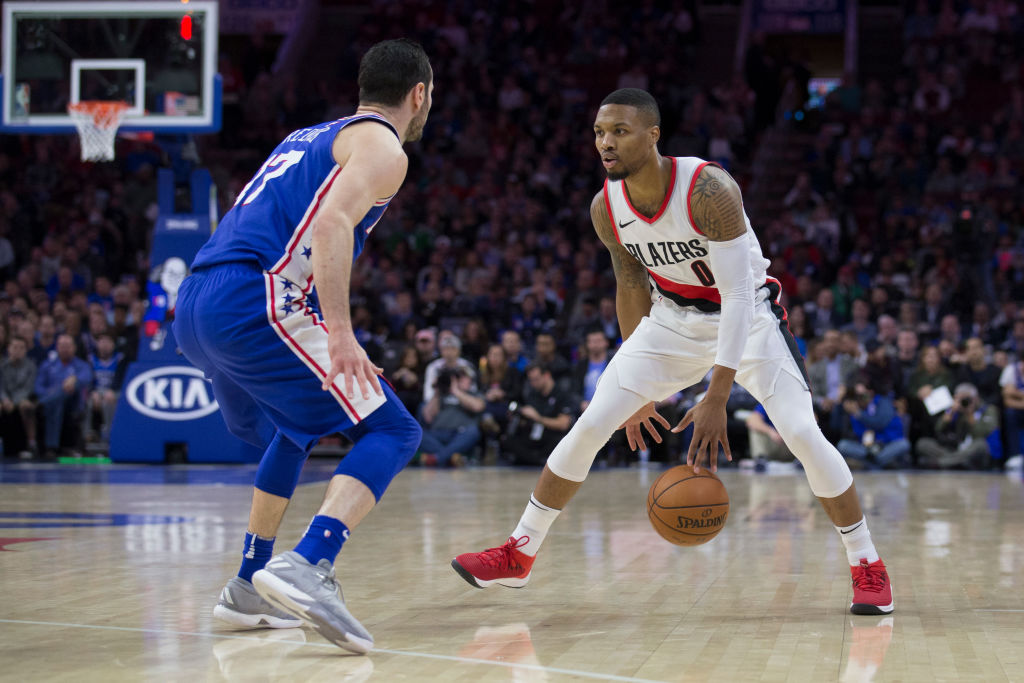 J.J. Redick is synonymous with his sharpshooting. Ever since his days at Duke, he has been punishing other teams both from the free-throw line and from three-point range. He currently holds a .06% lead on Damian Lillard, although Lillard will shoot more free throws based on his role. Any slight regression from Redick could open him up to be leapfrogged by Lillard.
The next two names on the list, Calvin Murphy and Rick Barry, hold more decisive leads, but at 89.15% and 89.31%, respectively, a good season from Lillard could see him leapfrog them, too. While Murphy and Barry are legendary shooters in their own right, it might be the list of players after them that best displays the type of company that Lillard could join.

The 5th or 6th spot is the most likely place where Lillard would peak with a career-best type season. Here, Ray Allen and Chauncey Billups stand with 89.39% and 89.40% respectively. Billups, like Lillard, was known for his ability to come up big when the moment called for it. In a pre-Steph Curry world, Ray Allen may have been most synonymous with reliable shooting on the basketball court, and Lillard surpassing him would be something to celebrate.

Free throw numbers might not get the attention of others, but it does not mean that we should shrug them off. A good free throw shooter can be the most valuable weapon in a close game, and Damian Lillard is proving that he is among the best to ever do it. If he keeps on climbing the ladder, he should get more praise than he already does.