NBA: Damian Lillard Reacts to ESPN Ranking Zion Williamson Ahead of Klay Thompson
Over the last several years, ESPN has an annual tradition of releasing its rankings of NBA players during the offseason. This year's list has many up in arms, such as LeBron James falling to third-best rated player overall. But there has been another placement involving Klay Thompson and Zion Williamson that has Portland Trail Blazers All-Star point guard Damian Lillard left scratching his head.
Zion Williamson's buzz entering the NBA
The sports world truly became enamored with Williamson's play once he stepped on the court for what turned out to be his lone collegiate season at Duke.
Beyond his elite production, Williamson is simply a physical specimen with incredible athleticism that arguably separates him from any other talent that has come through the collegiate ranks. He put together an impressive freshman campaign where he was the consensus National College Player of the Year while helping lead the Blue Devils to a deep run in the NCAA Tournament.
The 19-year-old unsurprisingly made the decision to jump to the NBA, where he was selected with the first overall pick by the New Orleans Pelicans. Williamson has the potential to become the next face of the franchise with Anthony Davis out of the picture by proving to be one of the best young talents in the league.
ESPN buying Zion Williamson's hype over Klay Thompson, Damian Lillard rebuttals
As expected, ESPN made headlines with their annual NBA player rankings, this time around involving Williamson's placement on the list prior to him playing in a single regular-season game.
The Pelicans rookie big man was ranked 42nd overall. putting him most notably ahead of All-Star guard Klay Thompson, who was placed in the 49th spot ahead of the 2019-20 campaign. It didn't take long for this to make the rounds on social media, leading to Lillard chiming in on Instagram with utter astonishment at how low Thompson was on the list.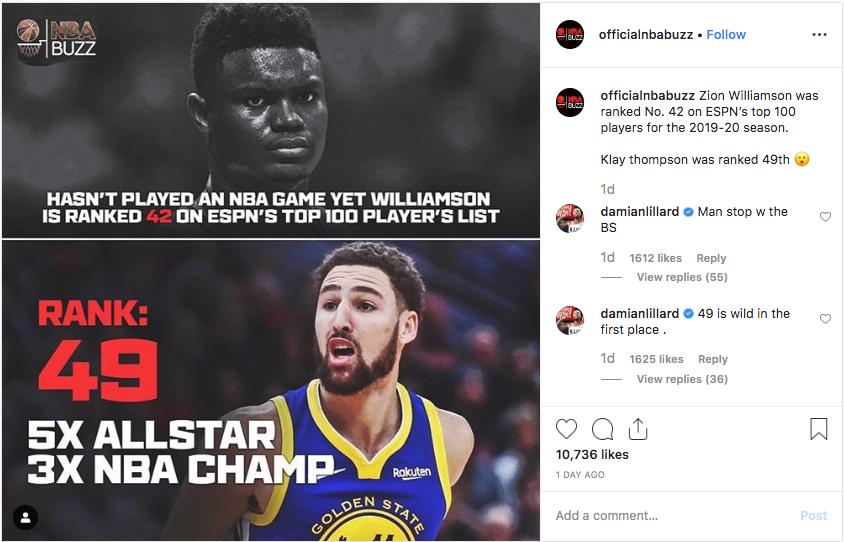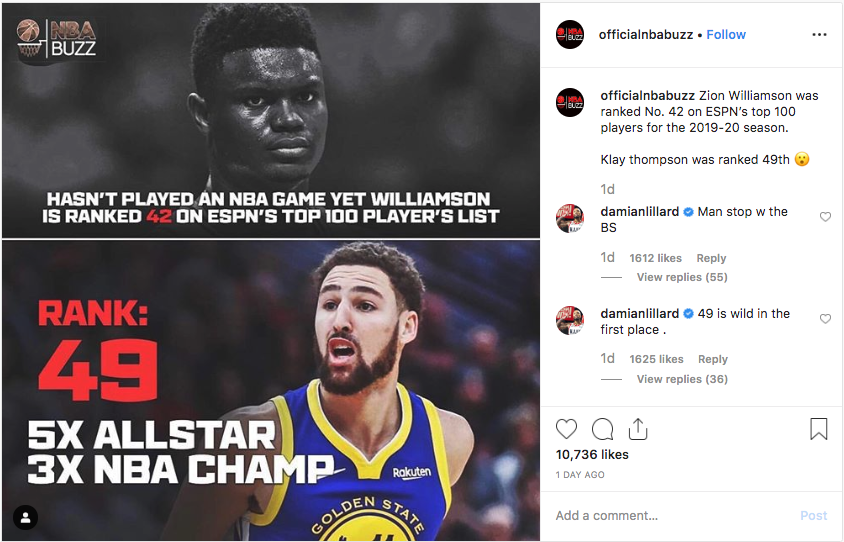 Although Thompson was relegated to being the third option in the Warriors' offense behind Kevin Durant and Stephen Curry, he still proved to be one of the league's best two-way players and shooters while should have been a member of one of the All-Decade teams. He's coming off his fifth straight year averaging more than 20.0 points at 21.5 points per contest while shooting 40.2 percent from beyond the arc and 46.7 percent from the field earning him his fifth straight All-Star selection.
Granted, Thompson is coming off a torn ACL that will greatly impact his availability for this upcoming season, he is still among the top players in the league. There was an expected fall given that his shooting numbers had slightly dropped, but he tumbled 31 spots from the year prior that raised plenty of eyebrows.
Another motivating factor for Klay Thompson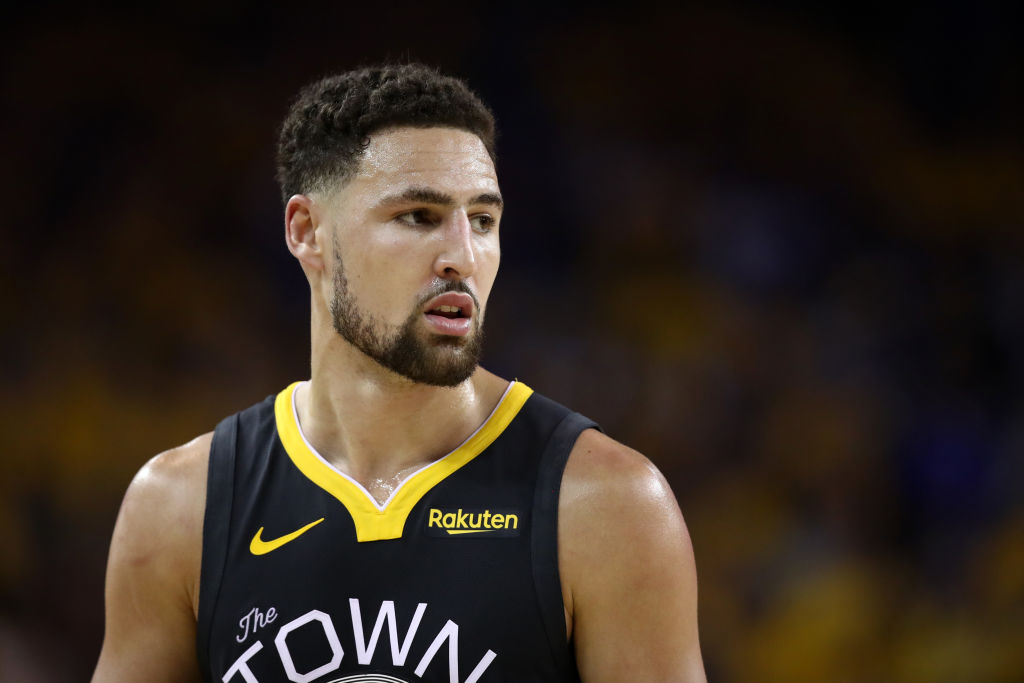 The push back to these rankings doesn't have so much to do with Williamson, but rather based on Thompson's significant drop.
The 19-year-old has the opportunity to prove that he deserves that praise this upcoming season in his first year with the Pelicans. However, this is a chance for Thompson to prove that he's still among the best talents in the league.
He will play a bigger offensive role with Durant now out of the mix despite the offseason addition of All-Star point guard D'Angelo Russell. Thompson could also experience a jump back up in his shooting percentage from 3-point range. This just adds more whiteboard material for the 29-year-old beyond those doubting the Warriors' chances of winning more NBA titles.
This could all make for an even greater comeback from Thompson this upcoming season.