NBA: 4 Times DeMarcus Cousins Caught a Bad Break
DeMarcus Cousins has been a polarizing figure in basketball since before he ever stepped foot on an NBA court. While his talent isn't up for debate, many fans and media personalities dislike Cousins' in-game tirades, clashes with coaches, and occasional locker room blow-ups. It is a reputation that has followed him until this day.

DeMarcus Cousins might be a lightning rod for controversy because of his complaining and with occasional antics in the locker room, but that reputation might be a tad unfair. He has been one of the best big men in the NBA for much of his career, but he never saw the playoffs until this year. Many hold Cousins' issues with behavior against him, but when one looks at his career, many of the things that held him back had very little to do with his attitude or his teams' collective failures.

1. The early years
DeMarcus Cousins stepped into a volatile situation in his first year in the league. He came to a woefully mismanaged Sacramento Kings team that had issues at nearly every level. With original owners, the Maloof Family, beginning to lose money based on business failures outside the NBA, the team spent almost no money to attract free agents, instead opting to overpay mid-tier guys instead of premier free agents.

During two of his first four seasons in the NBA, the Sacramento Kings were involved in relocation sagas which put the business side of the Kings into battle with the basketball side. Every move was seen as a cost-cutting measure for an ownership group which was constantly rumored to be selling or moving the team. DeMarcus Cousins came into a team that was constantly in a state of flux thanks to legendary mismanagement.

2. Michael Malone's firing
After a baffling offseason which included letting future All-Star point guard Isaiah Thomas go for virtually nothing, the Sacramento Kings had one of their best starts in almost a decade. In just his second season with the team, coach Michael Malone had the team playing a gritty brand of basketball that the NBA was having a hard time adjusting to thanks to dominant play by Cousins. Then, in a stroke of bad luck, DeMarcus Cousins missed a few games with a case of viral meningitis, and the team never recovered.
The Kings struggled to win without Cousins, and general manager Pete D'Alessandro took advantage of the struggles by firing Malone to get his own coaching hire on the bench. The results were catastrophic. The Kings quickly replaced Malone's replacement, Ty Corbin, with George Karl, a coach later clashed with Cousins and the rest of the team for the next season and a half. Malone, on the other hand, has become a contender for Coach of the Year in his new stint as the coach of the Denver Nuggets.

3. The torn Achilles tendon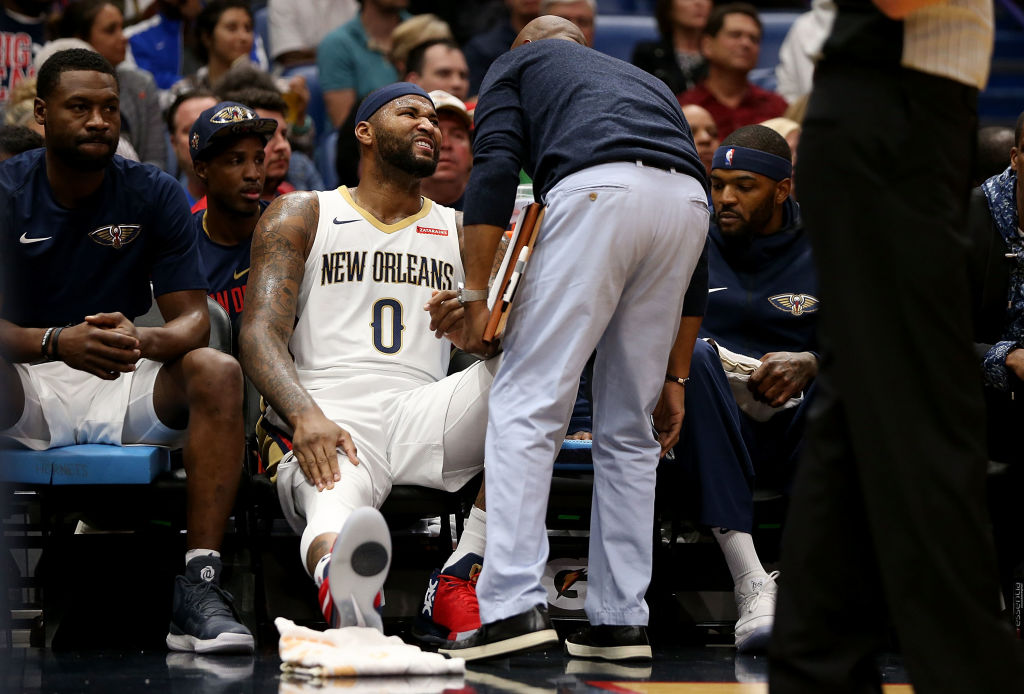 After a rocky relationship for the rest of his tenure in Sacramento, the Kings finally traded DeMarcus Cousins to the New Orleans Pelicans. After struggling at the end of the 2016-17 season, Cousins, Anthony Davis, and the Pelicans looked like a playoff team the following season. Cousins earned his first starting spot for the Western Conference in the All-Star game.

Tragedy struck soon after, however, as Cousins tore his Achilles' Tendon in a January 2018 game against the Rockets. The injury equated to a lost season as he didn't come back until January 2019. It was a heartbreaking injury which derailed perhaps the best season in his career, and made for a sad ending to his tenure with the Pelicans.

4. Torn quad in the 2019 playoffs
After feeling pushed out of New Orleans, Cousins wanted to play for a contender, and he signed with the Golden State Warriors. Although he missed more than half the season recovering from his torn Achilles, Cousins came back in mid-January and immediately looked ready for NBA competition.

By season's end, Cousins was the Warriors full-time starter at center, and he was adjusting well to his role with the team. Tragedy struck again, however, in the early stages of his second-ever playoff game, when Cousins dove for a ball on defense and tore his left quad muscle. Time will tell if Cousins make a full recovery. He likely will miss the remainder of the postseason, making his playoff debut a disappointing one.

The shortcomings are all Cousins' fault
NBA fans who dislike DeMarcus Cousins' poor attitude and aggressive demeanor are entitled to their opinion, but factors outside his control have complicated his career progression. When you couple the Kings' dysfunction with two untimely injuries, it's almost like dark forces are making life tough for DeMarcus Cousins. While the passionate big man has brought some criticism on himself, it is important to remember that he wasn't always set up to succeed.