NBA Enemies: 10 Pairs of Players Who Don't Like Each Other
It's hardly surprising when you learn about the fights and feuds that have taken place in the NBA. In a league where competition is king and the quest for a championship can be cutthroat, it makes sense that players might let their emotions get the best of them, resulting in a publicized beef.
As much as we hate to admit it, these minor squabbles are all just part of the game; things we've come to expect. That is until they escalate. For whatever reason, some conflicts get out of hand and cannot be controlled.
No longer is this about the harsh realities of competition, where NBA enemies like to jab at each other. No, it becomes much worse than that. This is about hate — and where there's hate, there's bound to be enemies. Throughout the history of the NBA, we've seen many examples of players becoming enemies. In our opinion, these 10 pairs are the most notable of them all.
1. Zach Randolph and Kendrick Perkins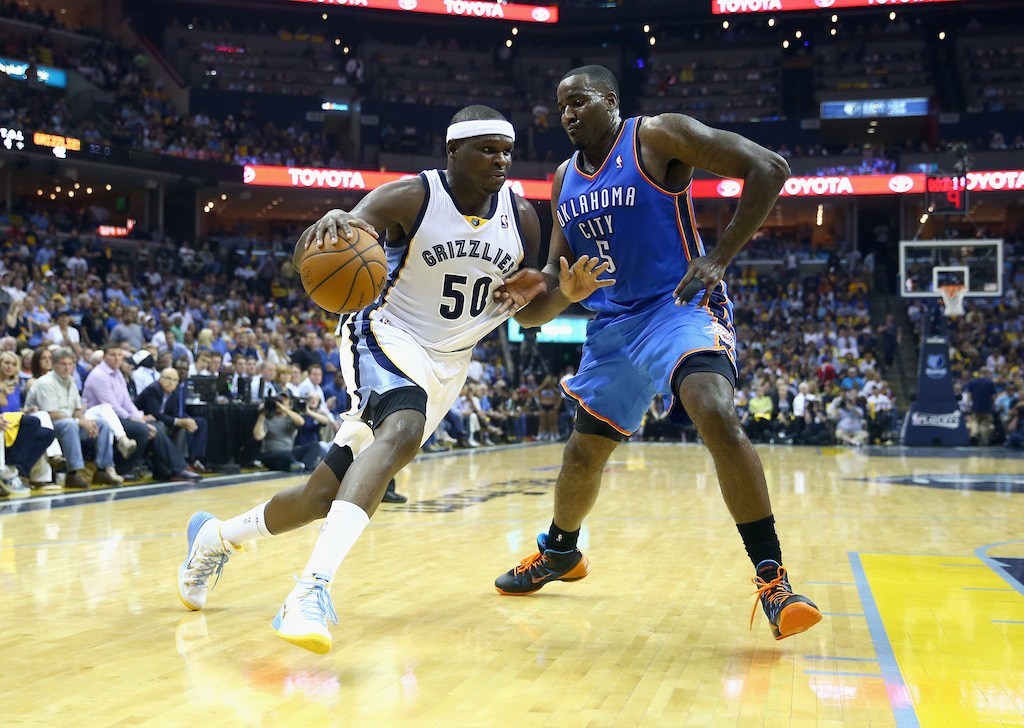 With respect to the beef between Zach Randolph and Kendrick Perkins, there are so many instances of animosity to choose from. There's the time when Z-Bo was fined $25,000 for confronting Perkins in the locker room area following a physical and chippy game between the Memphis Grizzlies and the Oklahoma City Thunder.
There's the time when Randolph called Perkins out for being "too slow." There's even the time when the Grizzlies power forward stated, "I'm a jackin' dude," when asked if he could take Perkins in a fight. We'd say that final point pretty much sums up the relationship.
2. Kevin Garnett and Charlie Villanueva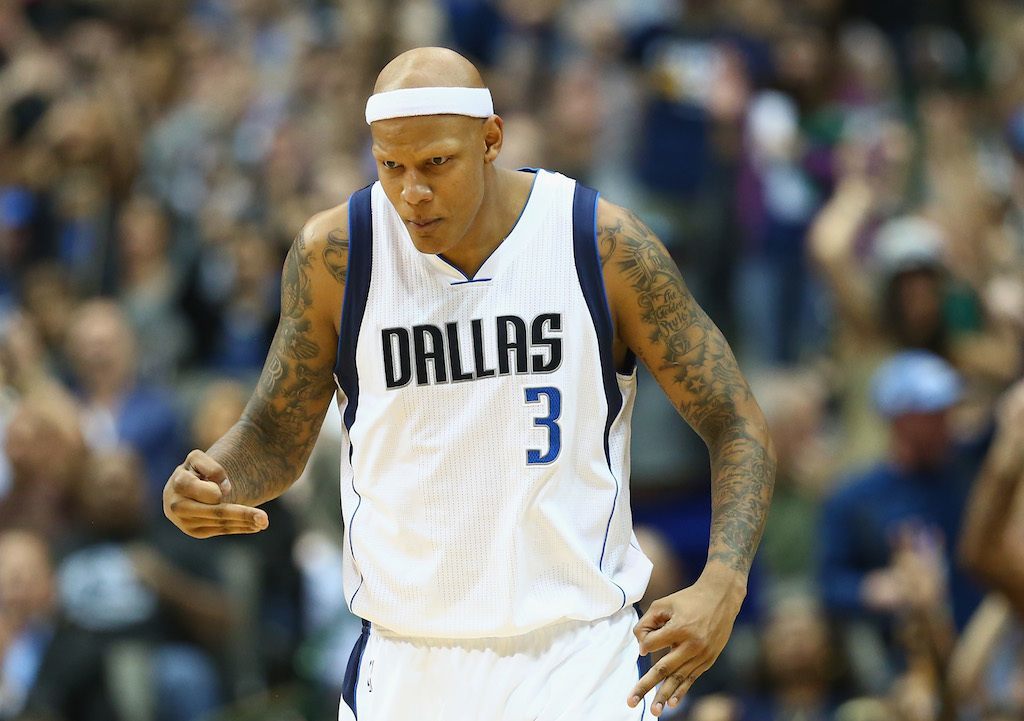 Everyone knows that Kevin Garnett played with intensity, emotion, and unbridled passion. Unfortunately, the same traits that made him such a special player over the years also got him into trouble.
Following a game against the Garnett's Celtics, Charlie Villanueva, who was playing with the the Detroit Pistons at the time and happens to suffer from alopecia universalis (a medical condition that results in an inability to grow hair), tweeted out the following message : "KG called me a cancer patient, I'm pissed because, u know how many people died from cancer, and he's tossing it like it's a joke."
According to Garnett, this was just a simple miscommunication — what he actually said was, "You are cancerous to your team and our league." Oh, well, when you put it like that…
3. Kevin Durant and Dwight Howard
Kevin Durant is the kind of player who likes to let his game do the talking. But not even the calm and collected K.D., then injured at the time, could stand by while Rockets center Dwight Howard showed just how "soft" of a player he could be. We're not going to repeat what Durant said to Howard, but let's just say he drove his point home — emphatically.
4. Kevin Garnett and Carmelo Anthony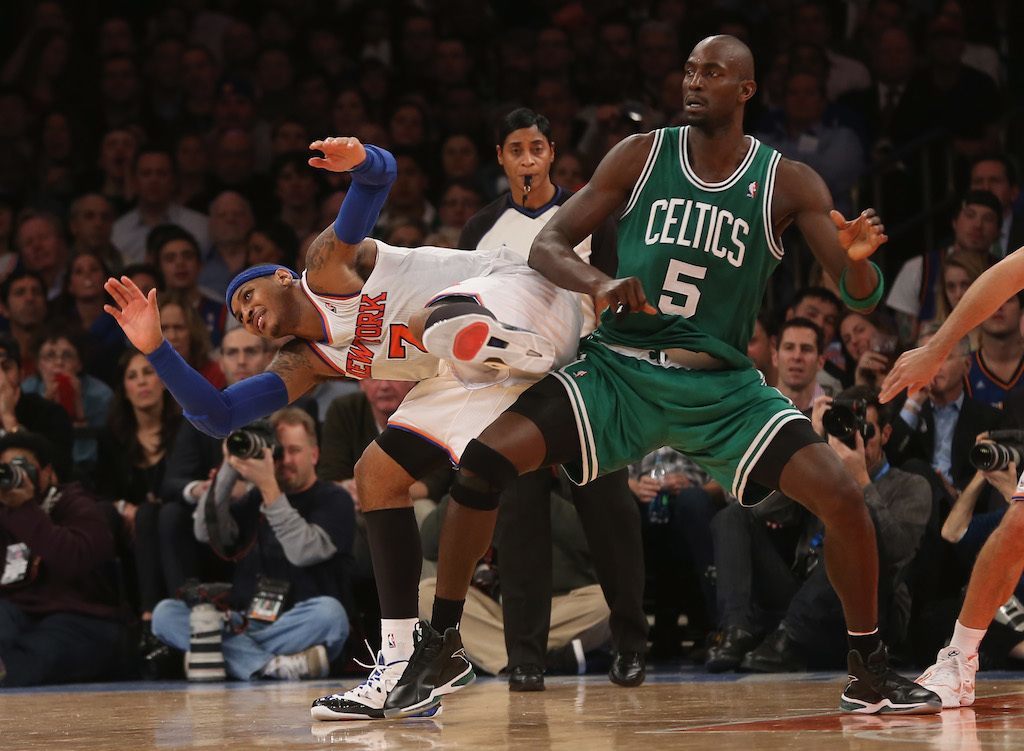 Once again, Garnett let his emotions — and lack of a filter — get the better of him. During a game between Boston and the New York Knicks at Madison Square Garden, Carmelo Anthony was so heated from a confrontation with the then-Celtics center that he looked to continue the "conversation" in the parking lot by the visiting team's bus.
While it was later refuted by LaLa Anthony, it was initially reported that 'Melo was furious because K.G. said LaLa, "tastes like Honey Nut Cheerios." Suffice to say, had this been true, we could definitely see where Anthony was coming from. As peaceful as we are, those are fightin' words.
5. Kobe Bryant and Smush Parker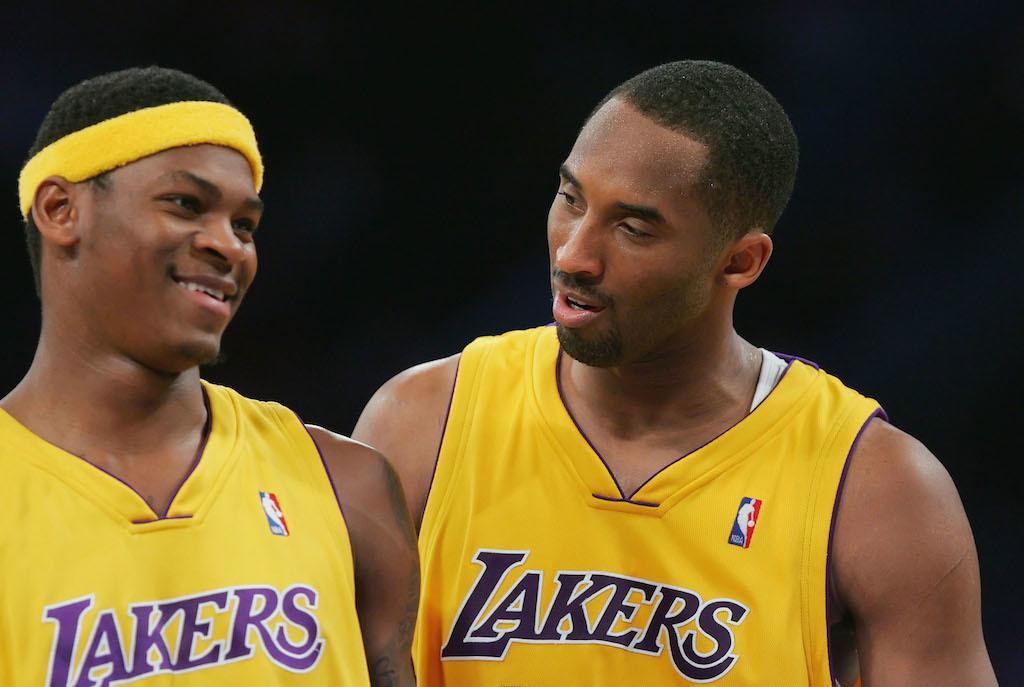 Just so we're clear, it's not so much that Kobe Bryant dislikes Smush Parker, it's that from a basketball standpoint, he thinks the former Lakers starting point guard is "the worst." Like, so bad that he shouldn't have ever made it to the NBA. Talk about cold words from the Mamba.
Fortunately for us, Smush has no problem voicing his own opinion — and in case it wasn't obvious enough, he is not the biggest fan of No. 24. For more proof of these NBA enemies, check out the following video.
6. Charles Oakley and Charles Barkley
At a time when referees in the National Basketball Association weren't so quick with the whistle, players — especially the more physically imposing ones — used to really go at it. Such was the case with Charles Oakley and Charles Barkley — two hot-headed NBA enemies who consistently jabbed at each other and had no issues with treating each meeting like it was a wrestling match.
Nowadays, Oakley uses social media to voice his distaste for Barkley. On the flip side, Sir Charles doesn't have an opinion on the Oak Tree because "he's not important enough for me to think about." — his words, not ours. At least these gents are now using words to deal with the bad blood between them; the alternative could be a lot worse.
7. Gilbert Arenas and Javaris Crittenton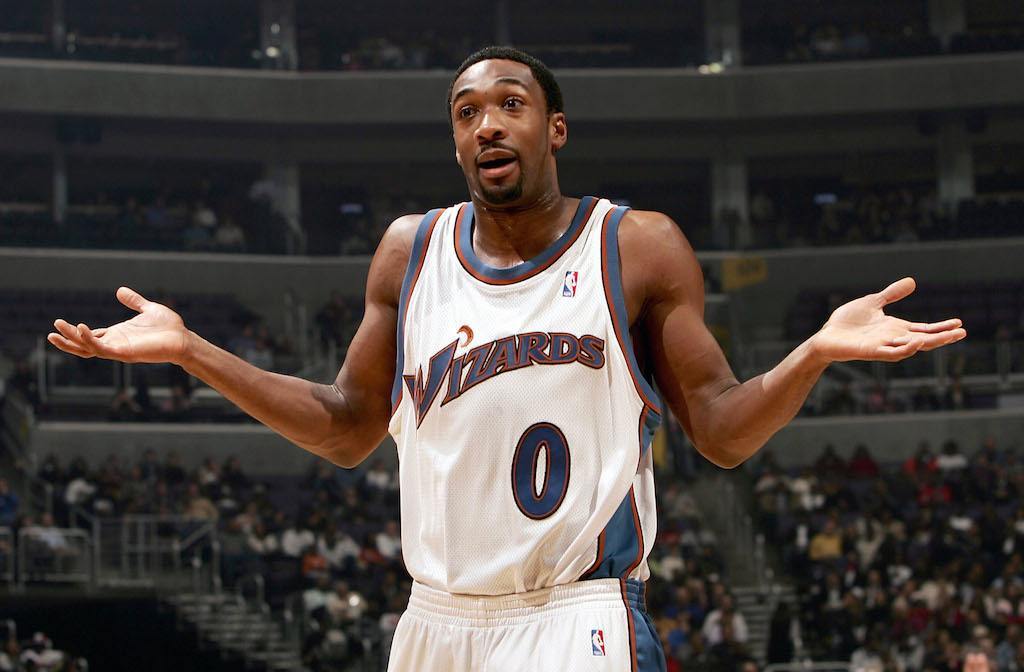 Former Washington Wizards teammates Gilbert Arenas and Javaris Crittenton took things to the extreme when an argument over a gambling debt escalated to the point where each was making threats about what they'd do to the other at the next practice. More specifically, each acknowledged that they "play with guns."
Caron Butler described the chilling scene between these two individuals through his own first-person account. Let's just say this is the perfect example of what happens when things go too far.
8. Tony Parker and Brent Barry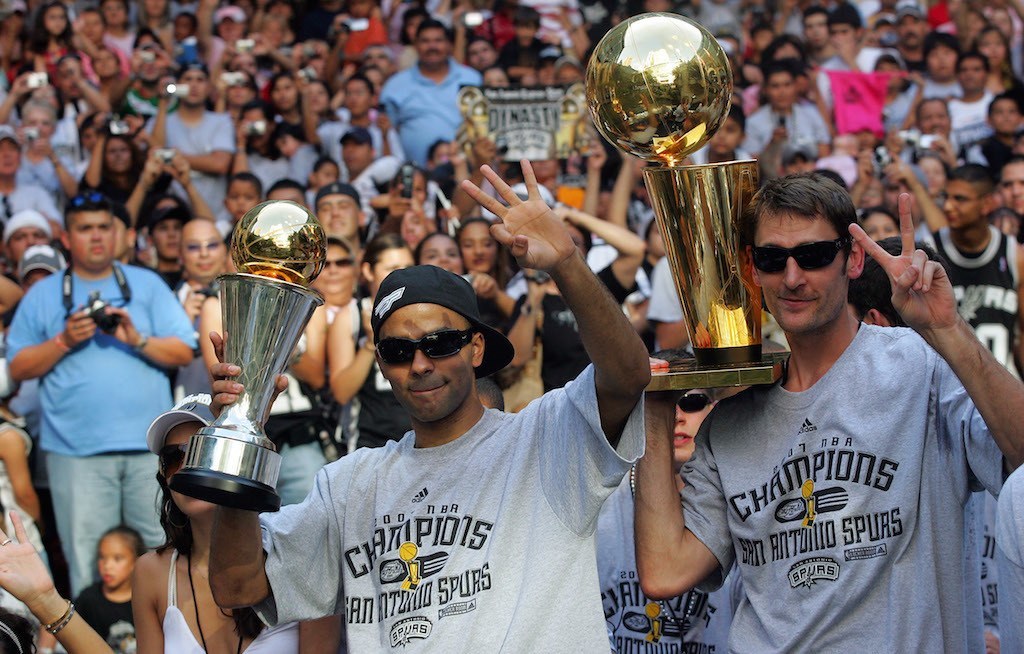 Tony Parker and Brent Barry may have enjoyed celebrating the 2007 NBA title together, one that featured a Spurs 4-0 victory over LeBron's Cleveland Cavs, but the above picture is a far cry from what their relationship turned into. And we think it's safe to say that Parker is the one to blame.
While Parker denied ever having a physical affair, the same could not be said about the inappropriate "sexting relationship" he had — with Erin Barry, the above teammate's wife at the time. This scandal resulted in the divorce of Parker and Eva Longoria, the end of the Berry's marriage, and plenty of fractured relationships. Clearly the Spurs organization hasn't always been a model of excellence.
9. Kobe Bryant and Shaquille O'Neal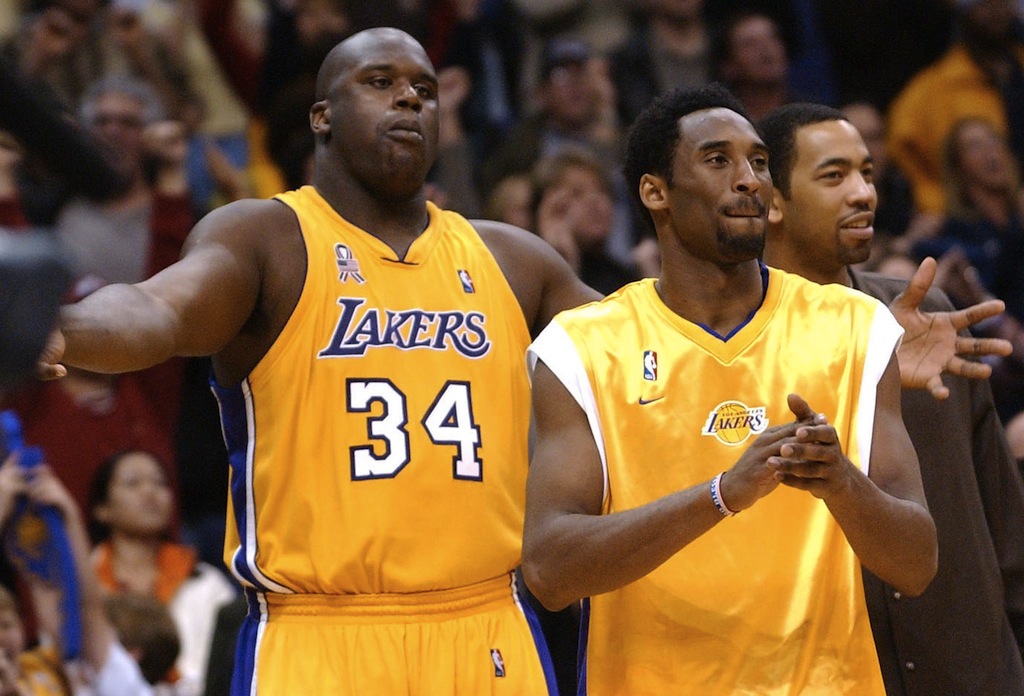 The Shaq-Kobe feud is one of the most legendary beefs in the history of the National Basketball Association. Despite being an incredible dynamic duo on the court, which resulted in three Los Angeles Lakers championships, they each wanted to be the star, and the organization — or the city of LA for that matter — wasn't big enough for the both of them.
Eventually, the franchise chose Bryant, and shipped O'Neal off to the Miami Heat. Although these two squashed their beef years later, the damage was done — particularly on the hardwood. Egos and immaturity broke up a Lakers squad that had the makings of a historically great dynasty. To this day, we'll never know what that Los Angeles team could've accomplished. It saddens us to think about it. Such a shame.
10. Michael Jordan and Isiah Thomas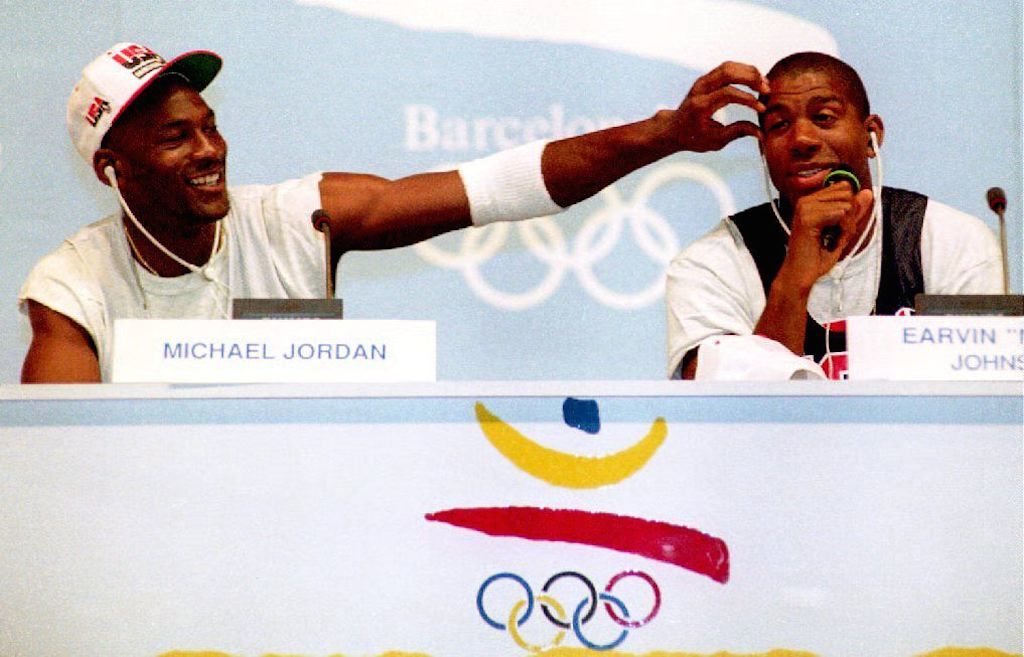 The above picture of Michael Jordan and Magic Johnson is an great example of what an authentic friendship looks like; two of the best basketball players of all time joking around as they prepare for their "Dream Team" to decimate the competition at the 1992 Olympics.
You know who was nowhere to be found on the greatest team ever assembled? Isiah Thomas. You might ask, "How is that even possible?" Just ask His Airness. As Jordan reminded all during his Hall of Fame speech, he never forgets anyone who disrespects him. Ever.
While Thomas denied ever doing so, it was always suspected that the former Pistons guard orchestrated a "freeze out" of M.J. during his first-ever All-Star Game appearance in 1985. Jordan got his revenge years later when he kept Thomas off the "Dream Team." As you can see, it pays to be Jordan's friend.