NBA Fans Are Obsessed With Alex Caruso for This Hilarious Reason
Alex Caruso plays on a team with such big names as LeBron James, Anthony Davis, Rajon Rondo, and Dwight Howard, yet he has still managed to get himself a cult following independently of teammates he has.
He's a high-flying player who looks more likely to be a substitute teacher than the point guard on a very good NBA team, but Caruso has embraced his status as a new generation of NBA folk legend.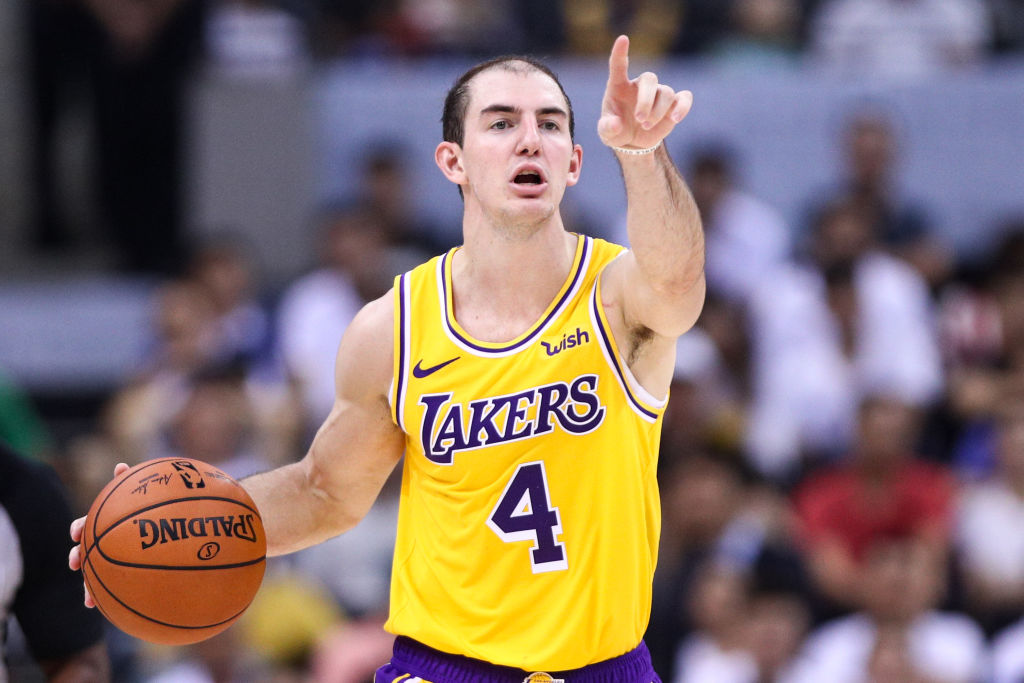 The rise of Alex Caruso
Alex Caruso was never one of the biggest names in college basketball. In 137 games at Texas A&M, he averaged eight points, 4.7 assists, 3.6 rebounds, and a pair of steals. After a surprise deep March Madness run by Texas A&M in Caruso's senior year, he was able to get some NBA attention.
After going undrafted in 2016, he played for the Philadelphia 76ers in Summer League before signing with the Oklahoma City Thunder in September.
While the Thunder eventually waived Caruso, he would eventually sign with their G-League team, the Oklahoma City Blue. There, he had a decent season running the point guard, averaging 12 points and five assists to go with three rebounds and a pair of steals.
He was a relentless player whose energy and effort may have made up for any flaws in his game, and this drew the attention of the Lakers for their Summer League roster.
At Summer League, Caruso was able to impress the Lakers enough to secure a spot on their G-League roster. Caruso would spend the next two seasons back and forth between the Lakers and their South Beach affiliate but made it onto the team's official roster heading into the 2019-20 season.
Although Caruso had a good end to the 2018-19 season, he has not yet shown what kind of NBA player he will. Despite this, his unique look combined with high-flying athleticism and non-stop effort has made him a magnet for attention.
'Token meme guy…'
Alex Caruso's effort can be part of the reason that fans love him, but his unique look, balding hair, and rise from nowhere all play a part. Caruso embraces his status as a meme, although he does seem a little bit confused by that.
"I think from there they just chose me as the token meme guy and video guy," Caruso told media (per Silver Screen and Roll). "I'm not really sure why. Maybe we can get a poll out there, consensus to figure out why they chose me, but I enjoy it. There's no such thing as bad publicity and it's always better to have them rooting for you and not against you."
The team itself seems to respect Caruso and his weird rise to glory. When throwing it down against the Golden State Warriors, the Lakers' bench could be seen laughing it up and celebrating even though the team was down by double-digits in the first half of the game.
The Alex Caruso is the internet's hero
Caruso has become an irony-drenched meme hero, a feat that he acknowledges may have something to do with his every day look. However, he also went viral in the offseason after a picture of his shirtless physique grabbed attention and an ensuing drug test.
Lots of his folk legend has painted Caruso as the greatest player in NBA history. A juggernaut who the NBA fears at night like a movie serial killer or the boogieman.
Others have turned him into a sex symbol who even Rihanna can be seen ogling on the sideline.
The legend of Alex Caruso has even reached the NFL, with reigning MVP Patrick Mahomes taking to Twitter to comment on how much he likes the player.
Whether the legend of Caruso continues to grow with his first full-time role in the NBA or it goes away, Caruso has resonated with fans across the league. Unlike many, however, he seems perfectly content with the attention he is getting. What will be the next chapter of his tale?