NBA Finals Jerseys Auctioned Off: Memory of LeBron's Cramp Worth $50K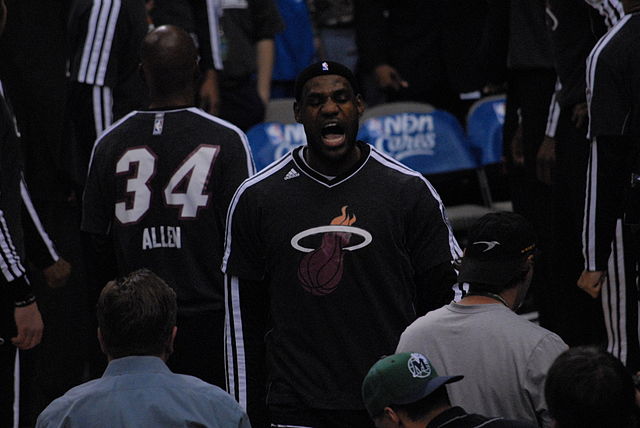 Game 1 of the 2014 NBA Finals will probably be remembered as the first step toward San Antonio's eventual rout of the defending champions, the Miami Heat. It will definitely be remembered for its air conditioning. That was the infamous cramp game — if you didn't see it, LeBron James was forced out of the game as a result of the high temperatures, which were reported at over 90 degrees in the arena during the broadcast by ESPN's sweating telecast crew.
James, who remains the undisputed best player in the league, lost any ability to play at a high level right around the last four minutes of the game — which was still close, at 90-94. We have footage of the precise moment coming up, but when James lingered under the basket after cutting the lead to just 2, it was obvious (in real time) that something was up. He'd already been dealing with cramps earlier in the quarter, but after the Heat stopped the play with an intentional foul, there was no way LeBron would be able to perform at a high level. The Spurs would eventually win, 110-95.
Then, when the NBA auctioned off the jerseys from what can only be called The Cramp Game, one particularly enthused bidder swooped in and wound up paying $50,020 for LeBron's game-worn jersey. We suspect that the plan is to use the residual sweat to create an army of LeBron clones and teach them all how to play soccer. The bidder wasn't done there, though.
Per ESPN's Darren Rovell, the anonymous buyer also wound up with "the Game 1 jerseys of Tim Duncan ($20,770), Kawhi Leonard ($14,020), Tony Parker ($11,020), Dwyane Wade ($10,770), Ray Allen ($5,770), Chris Bosh ($5,770), Shane Battier ($2,820) and Chris Andersen ($1,851)." Doing some quick number crunching, our masked purchaser spent nearly $123,000 on jerseys from that game, the same jerseys you can see in the footage of LeBron cramping, above. Also, aside from Birdman's gear, all of the bids end in increments of $20 or $70. Just saying.
While James's gear may not have reached the lofty heights of some of his historical contemporaries and reference points, the bulk purchase of all of these uniforms suggests to us nothing less than a life-size diorama of one of the plays from the Finals. We really hope that the buyer comes forward with wax statues in tow to reveal a still life of this dunk.