NBA Finals MVP Reveals the Secret to Stopping LeBron James: 'You Can't'
The cliché "defense wins championships" is as old as sports itself, or so it seems. For Andre Iguodala, now back with the Golden State Warriors, defense also won an NBA Finals MVP. When the Warriors beat the Cleveland Cavaliers for the championship in 2015, Iguodala earned the Finals MVP trophy. While he had solid offensive numbers in the series, his defense on Cavaliers superstar LeBron James pushed him to the top of the voting.
That's saying something in a series during which James averaged 35.8 points and 8.8 assists per game. But he shot only 39.8%, in part because he was a solo artist instead of part of a Big Three. Kevin Love didn't play in the Finals because of a shoulder injury. Kyrie Irving missed all but Game 1 after fracturing his patella. During a podcast appearance, Iguodala shared some insights into defending LeBron.
Andre Iguodala might be the least likely NBA Finals MVP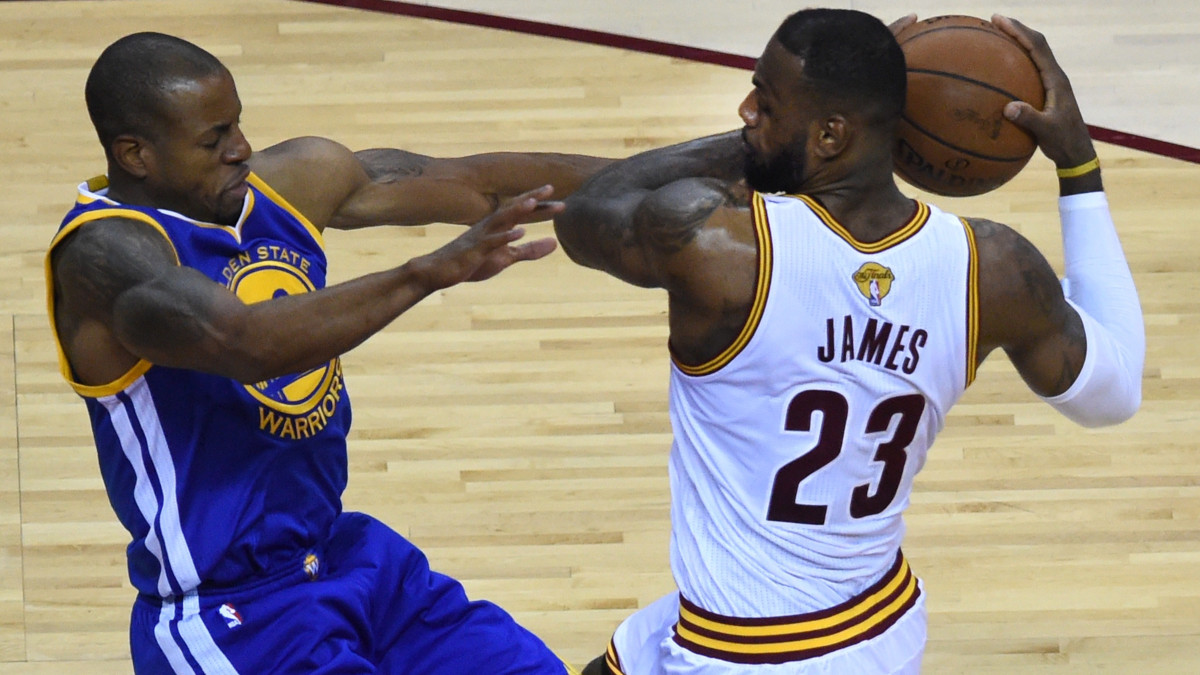 When one skims the list of players honored as NBA Finals MVP since the introduction of the award in 1969, it's a Who's Who of basketball superstars. Jerry West, Wilt Chamberlain, Kareem Abdul-Jabbar, Magic Johnson, Moses Malone, Larry Bird, Michael Jordan, Shaquille O'Neal, Kobe Bryant, LeBron James, Kevin Durant … the list goes on.
But there have been outliers. Cedric Maxwell was a starter for two championship teams for the Boston Celtics. But after winning Finals MVP honors in 1981, he is also one of only two eligible winners not in the Naismith Memorial Basketball Hall of Fame (Chauncey Billups is the other).
Andre Iguodala will likely end up on that list. Basketball-Reference gives him a 6.1% chance of induction. In the 2015 NBA Finals, Iguodala took home the Bill Russell Trophy after averaging 16.3 points, 5.8 rebounds, 4.0 assists, and 1.3 steals in 37.0 minutes per game. He shot 52.1% overall and hit 40% from downtown (we won't mention his 10-of-28 performance at the foul line).
But most of the award's focus was his defensive work on James. The King put up colossal counting numbers in the series but had to work hard to get them. James averaged almost 33 shots per game in the series (because was Cleveland going to all-in with Timofey Mozgov?).
Iguodala is the only NBA Finals MVP not to have started every game in the series he won. Iggy came off the bench in Games 1-3 before assuming a starting role for the final three games.
As for his defense on James? Even he won't take too much credit.
Andre Iguodala explains his approach to defending LeBron James
Andre Iguodala appeared with teammate Draymond Green on The Draymond Green Show podcast. Among the topics discussed was the approach to defending LeBron James. Teammate Andrew Wiggins asked the veteran for some pointers.
Iguodala was emphatic about one aspect of the job:
"It's really not about stopping him … because you can't."

Andre Iguodala on defending LeBron James
Instead, the two-time All-Defensive honoree said it was more about a mindset when guarding James. That mindset began on the other end of the floor.
"It's just about beating him to the spot before he gets there," Iguodala said. "And that starts when [Stephen Curry] shoots. So as soon as Steph shot the ball, I would be looking for LeBron like, 'All right, where's he at and what point of attack will he be taking the ball out of bounds?' That's the first thing that went off in my mind."
Green also asked Iguodala what he thought about his chances of ending up in the Hall of Fame. Green went so far as to say it bothered him when people dismiss Iguodala's chances, but the soon-to-be 38-year-old veteran had a different take on the topic.
"If it comes, it comes. If it doesn't, it doesn't," Iguodala said. "And like I said before, the impact our generation of basketball players are going to have, it just gets bigger and bigger through each generation, which shows that there is maturity. It shows evolution."
Did Curry deserve the 2015 NBA Finals MVP? Did LeBron James?
The Golden State Warriors won three championships between 2015–18. But their signature star, Curry, was shut out in the NBA Finals voting. Andre Iguodala won in 2015, and Durant got the trophy in 2017 and 2018.
The Curry vs. Iguodala question still ignites fierce debate. Iguodala has even admitted he thought Curry should have one.
During a July appearance on The Old Man and the Three podcast with JJ Redick, Iguodala shared a conversation with NBA veteran Trevor Ariza about the award.
"He should have a Finals MVP. And I was like, 'I'm not even really that good, like, I lucked up and got one.' And Trev was like, 'What?' And I was like, 'I'm all right, like, I'm just OK. I would rather Steph have a Finals MVP."
As Iguodala tells the story, Ariza strongly disagrees.
Of course, the NBA had to shut down a claim from Nick Wright of Fox Sports 1 about the rigged voting for the 2015 NBA Finals MVP. Wright claimed in a since-deleted tweet that three media members changed their votes from Curry to Iguodala after they were told there was a tie between Iguodala and LeBron James.
Tim Frank, the NBA's senior vice president of communications, tweeted in response to Wright that the story was untrue.
Given Golden State's hot start, Curry might get an opportunity to add that piece to his trophy case. In any event, Andre Iguodala has his hardware. That's due in large part because, while he didn't stop LeBron James, he at least made the 2015 NBA Finals difficult for The King.
Statistics courtesy of Basketball Reference.