NBA Finals: 3 Teams to Come Back From a 2-0 Deficit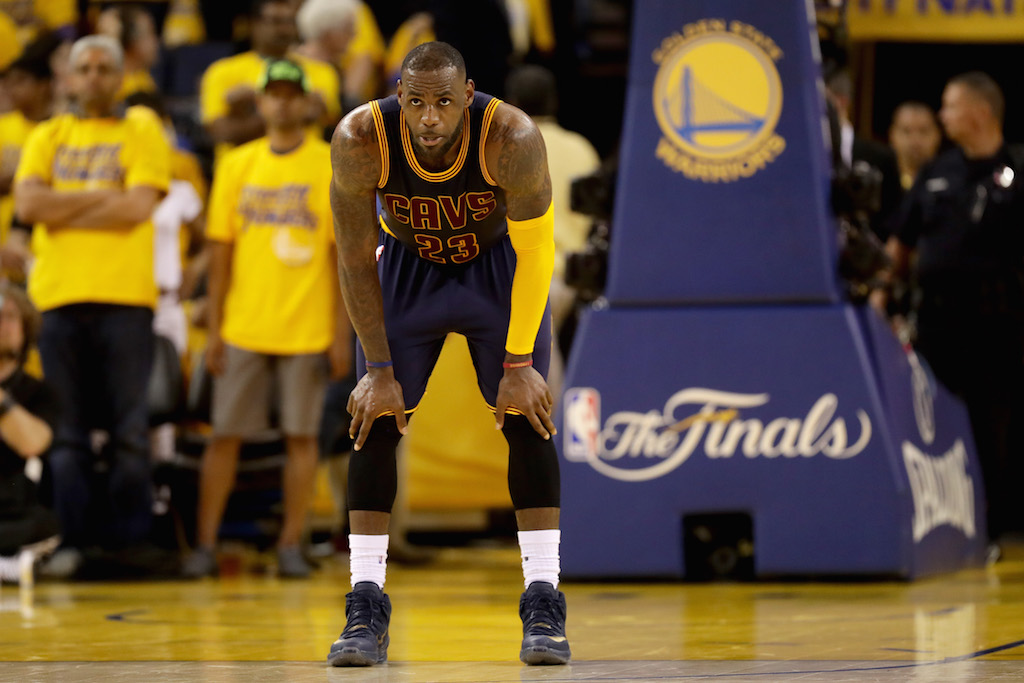 Coming into the 2016 NBA Finals, there was every reason to believe that LeBron James and the Cleveland Cavaliers were good enough to get over the last remaining hurdle standing between them and that long-awaited NBA championship. Yet after two monumentally lopsided defeats at the hands of the mighty Golden State Warriors, the narrative of what was supposed to be a grueling Finals rematch  shifted dramatically.
The question was no longer about whether or not the Cavs have what it takes win the whole thing but whether or not they have enough weapons at their disposal to actually win a single game. And then, as fast as you could blink, the series was all tied up and headed into Oakland for a Game 7 of the NBA Finals: the Super Bowl of the NBA.
Having just one game to decide the NBA Finals, particularly against a team as talented as the Golden State Warriors, is far from ideal. But in all honestly, the fact that Cleveland took it to seven is already a serious comeback. And that's before you realize overcoming this sort of deficit at this particular junction in the postseason has happened before — three times, to be exact.
1. 1968–69 Boston Celtics
In the 1969 NBA Finals, the Boston Celtics found themselves in a 2-1 hole to a Los Angeles Lakers squad that went 55-27 during the regular season. Unlike what we're seeing in this year's finals, the C's managed to keep things close, having lost the first two games by a combined total of eight points.
Still, a 2-0 deficit is a 2-0 deficit, and close only counts in horseshoes and hand grenades. Luckily for the Boston faithful, this particular group was plenty resilient. Behind John Havlicek's 28.3 points and 11 rebounds per game and Bill Russell's ridiculous 21.1 boards per contest, Boston forced this series to go the distance, ultimately winning Game 7 in Los Angeles by the score of 108-106.
Not only were the Celtics able to pull off this massive upset, they also found a way to withstand a performance for the ages from LA's Jerry West, whose averages of 37.9 points, 4.7 rebounds, and 7.4 assists per game helped him become the first — and only — member a losing team to be named NBA Finals MVP.
2. 1976–77 Portland Trail Blazers
After the first two games of the 1977 NBA Finals, it looked as if the Philadelphia 76ers were going to roll all over the Portland Trail Blazers. Led by Julius Erving — who averaged 30.3 points per game in the Finals — and Doug Collins, this Philly squad had 50 wins on the year, was putting up 110.2 points a game, and now owned a commanding 2-0 lead on the game's biggest stage.
It was going to take a superhuman effort to get the Blazers back into the series. Fortunately for Portland, Bill Walton had his cape ready. In 37.7 minutes a game, Big Red completely took over, averaging 18.5 points and 19 rebounds while shooting 54.5% from the field.
The Trail Blazers, energized by their home crowd, went on to win the next four games of the series, capturing the first NBA championship in franchise history. The Sixers had to suffer a few more Finals defeats before ultimately winning the whole thing in 1983.
3. 2005–06 Miami Heat
As much as we (still) enjoy watching Dirk Nowitzki go to work and drop buckets on his opponents, the 2006 NBA Finals was about a different star; one who refused to get rattled after his Miami Heat squad fell behind 2-0 to a tough Dallas Mavericks team.
We often stress how important a complete team effort is to prevailing in the championship round, however, in this instance, Dwyane Wade was all Miami needed. With only two other Heat players averaging double figures, D-Wade shouldered the bulk of the scoring for the Eastern Conference champs, and finished the series with ridiculous stat line of 34.7 points, 7.8 rebounds, 3.8 assists, and 2.7 steals per game on his way to earning MVP honors.
Miami rattled over four straight victories, won the first NBA championship in franchise history, and proved once and for all that if you're willing to block out the noise, come together in a united front, and fight until the bitter end, your fortunes can change in a "Flash."
Statistics courtesy of Basketball-Reference.com, ESPN.com. and ESPN Stats & Info.