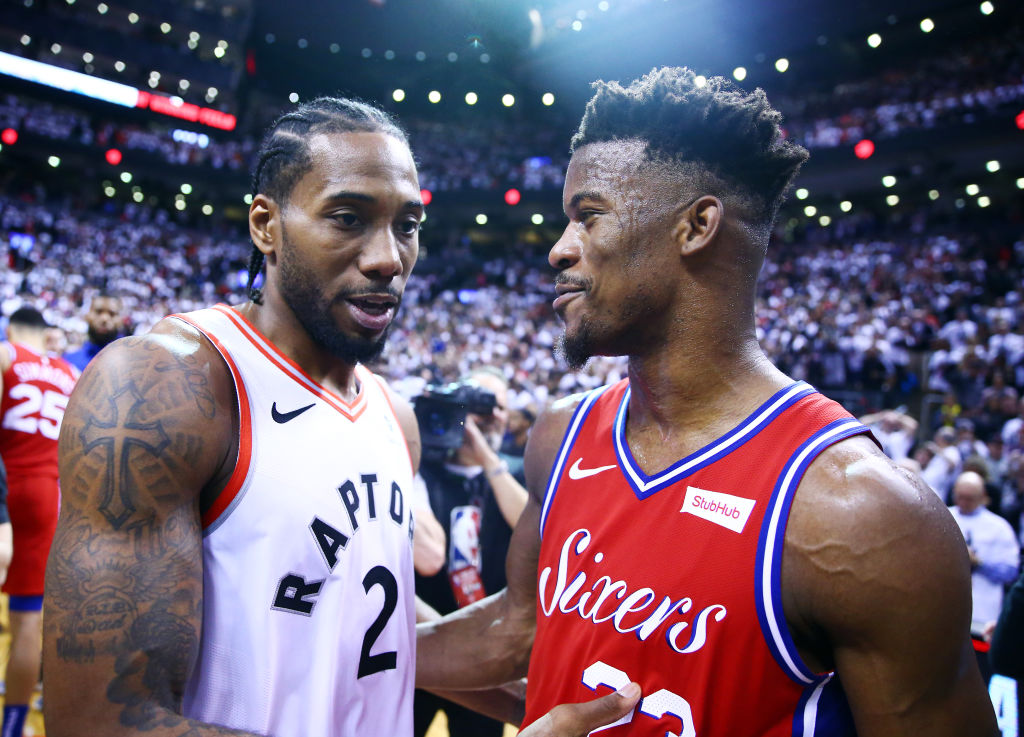 NBA Free Agency: Clippers Sign Jimmy Butler and Other Predictions That Didn't Come True
Free agency is a time when struggling teams make big changes. Here are 5 moves for 2019 NBA free agency that didn't come true.
Dominoes are falling with the 2019 NBA free agency class. Darren Collison announced his retirement and Nikola Mirotic is taking a deal to play for Barcelona in the Spanish basketball league. Players are shuffling teams and everyone is scrambling to make sense of it all. Here are 5 predictions that haven't come true.
Jimmy Butler to Clippers
When he's focused, Jimmy Butler is one of the best two-way shooting guards in the NBA. After forcing his way out of Minnesota, Butler signed a max contract with the 76ers. Philadelphia seemed determined to keep their core of Butler, Ben Simmons, Joel Embiid, and Tobias Harris together. Butler could've headed to LA to be the No. 1 option for the Clippers.
Butler and point guard Patrick Beverley would've given the Clippers two of the toughest defenders on the perimeter while helping Lou Williams with scoring. Instead, Butler joined the Miami Heat in a sign-and-trade deal for Al Horford.
Kyrie Irving reunites with LeBron
Kyrie Irving helped bring a title to Cleveland then headed to Boston to lead his own team. It didn't work as planned, as the Celtics looked better without him in the postseason. Chemistry issues arose between Irving and the young Celtics core. Some predicted he'd head to the Lakers to join James and Anthony Davis. Instead, the struggling Brooklyn Nets acquired both Irving and Kevin Durant, significantly improving their roster.
Kemba Walker becomes a supermax player
For months Charlotte Hornets fans worried about Kemba Walker's free agency decision. Will he join a team that can contend for a championship? Some believed the thought of losing $80 million would be too much for Walker to pass up, and he'd re-sign with Charlotte on a five-year supermax contract. Instead, Walker is replacing Irving for the Boston Celtics — they badly needed a center.

Kawhi Leonard teams up with D'Angelo
There was so much talk about Kawhi Leonard going to the Clippers that other possibilities faded into the background. One team, the Brooklyn Nets, were looking for heavy players in this free agency market. Pairing Leonard with a growing offensive star in D'Angelo Russell could've gotten the Nets into the top four of the Conference. At this point, Russell is heading to Golden State. Leonard will likely land in California — with the Lakers.
Kevin Durant re-signs with the Warriors
When Kevin Durant went down with a ruptured Achilles, we believed the New York Knicks would offer him a four-year max contract. But they won't get the opportunity. Klay Thompson re-signed with Golden State, so many thought Durant would stay. This would help the Warriors get healthy for the 2020-21 season. However, KD is joining Irving in Brooklyn. He's signing a four-year, $164 million contract with the Nets.