NBA: Giannis Antetokounmpo's Strong Stance on His Pending Free Agency
Over the last few years, Milwaukee Bucks forward Giannis Antetokounmpo has developed into arguably the best player in the NBA. This has brought into question his long-term future with the franchise as he enters the third year of his four-year, $100 million deal. In light of that, Antetokounmpo has issued some stern comments about what lies ahead of him with his next deal.
Giannis Antetokounmpo's rise to stardom
It has been nothing short of a steady climb to the top of the league as one of the NBA's best all-around talents. Antetokounmpo has become a dominant player on both ends of the floor that has helped earn him elite status recognition around the league.
The 24-year-old is coming off a career-best campaign that saw him earn his first MVP award and was a finalist for the Defensive Player of the Year award. Antetokounmpo put up career-high averages across the board, finishing third with 27.7 points, sixth with 12.5 rebounds, 21st with 5.9 assists and 10th with 1.5 blocks.
Although there is still room for improvement with his outside shooting touch, he has solidified his place among the top of the crop in the NBA. More importantly, Antetokounmpo has turned the Bucks into a legitimate NBA title contender.
Giannis Antetokounmpo doesn't want to disrespect his teammates
This has seemingly shifted attention over to the reigning MVP's future with Milwaukee as he's set to enter the second-to-last year of his current contract.
Antetokounmpo has stayed the course with his stance throughout the process with the focus centered on the team. He once again voiced that same sentiment to Michelle Steele of ESPN on Monday after Bucks Media Day.
"I feel talking about my contract on a team that we have a chance to get out of the East and play in the NBA Finals is disrespectful to my teammates. At any point of the season, I don't want to be disrespectful selfishly talking about my contract…I don't want to take the attention away from where we need to have attention. I just got to stay focused on what's important right now."
There is a clear desire to keep his focus only on the court with a situation that will continue to hover over him throughout next season. The outside noise is expected to grow louder, especially after general manager Jon Hurst was fined earlier this month after publicly stating that the team will offer their star forward a super-max deal next offseason.
Antetokounmpo may not want to discuss his long-term future with the team at any point after Monday, but the media attention will be largely out of his control.
Giannis Antetokounmpo's focus is on the 2019-20 season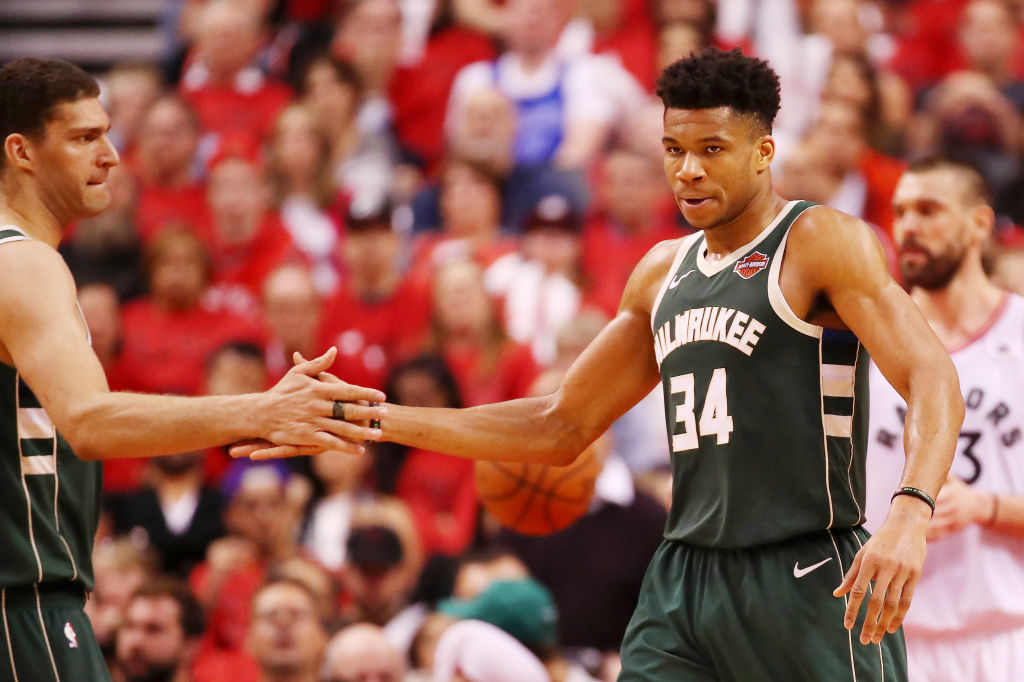 Following yet another offseason of major player movement, it has once again shaken the landscape around the league. Despite that, the Bucks remain in the thick of the conversation as one of the favorites to contend for an NBA title.
Antetokounmpo's latest comments make it quite clear that his focus is solely on doing what he can to lead the franchise to a championship. Milwaukee has put together a highly talented roster around him by retaining big man Brook Lopez and All-Star forward Khris Middleton in free agency.
The Bucks have also added more pieces to the puzzle with the additions of swingman Wesley Matthews, guard Kyle Korver and big man Robin Lopez. This has only made them a deeper team that will not only be in the picture for the top record in the league but also make another deep playoff run.
Regardless of where his contract situation stands, Antetokounmpo has the team in place to bring an NBA title back to Milwaukee next June.