NBA: Has Damian Lillard Become an Elite Point Guard?
Through his first three seasons in the league, Portland Trail Blazers guard Damian Lillard had developed a reputation as one of the top young point guards in the game. After four relatively unheralded years at Weber State, Lillard burst onto the scene after being picked sixth overall in the 2012 NBA draft, and has already garnered numerous accolades to his name: NBA Rookie of the Year, two All-Star Game selections, an All-NBA Third Team nod, and an NBA All-Rookie First Team selection.
All of this helped him earn a much-deserved contract extension last summer, when he signed a five-year, $120 million deal. All this individual success couldn't help but raise the expectations for the 25-year-old, especially after the organization saw their other four starters — LaMarcus Aldridge, Robin Lopez, Wesley Matthews, and Nicolas Batum — leave over the offseason. This put the fate of the franchise squarely on the shoulders of Lillard in his fourth season, and he responded appropriately.
After a slow start, the Trail Blazers have been the hottest team in the league over the last month, winning 14 out of their last 17 games including the last five straight. These five wins have come against Western Conference opponents with records of .500 or better. The recent surge was capped off by Lillard's best performance of his career, when he dropped a career-high 51 points on the defending NBA champion Golden State Warriors (tying with Geoff Petrie for the fourth-highest scoring output in franchise history). It also made him the only NBA player to notch 50-plus points, seven assists, and six or more steals in a single game since steals became a statistic in the 1973-74 season.
Lillard is just the second player in league history, joining reigning MVP Stephen Curry, to score at least 50 points while making at least nine three-pointers and shooting at least 75% from beyond the arc. He is also the first player, since Michael Jordan in the 1995-96 season, to have more than 50 points, six steals, and shoot 64% over better from the field.
Following up on that career game against the Dubs, Lillard continues to be blazing hot, dropping his fourth straight 30-plus point outing with exactly 30 points against the Utah Jazz on Sunday, which made him the first player in franchise history, since Hall of Famer Clyde Drexler in the 1991-92 season, to record at least 30 points in four straight contests. During this stretch, Lillard has averaged 36.3 points on 49.5% shooting, including 45.8 percent from 3-point range, along with 6.5 assists and 2.5 steals.  Not bad, Dame. Not bad at all.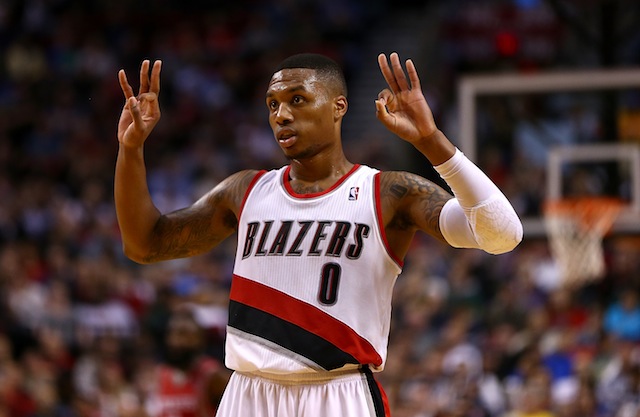 It has also been a historic season in several other aspects for Lillard as he became the fastest player in league history to reach 600 career 3-pointers in just 247 games and the quickest in franchise history to record 1,500 career assists. He's also the fastest player to reach 5,000 points and 1,500 assists in 240 games, dethroning Derrick Rose, who notched those numbers in 248 contests.
On top of that, Lillard is averaging career-best marks in points (25.0) and assists (7.3), which ranks fifth and sixth in the league in each category respectively. He is currently the only NBA player in the top-six in both scoring and assists. Although his uptick in production was somewhat expected with his larger offensive role (that's what happens when nearly every player of worth departs for greener pastures), Lillard has taken his play to another level — he's possibly the only reason Portland is contending for a playoff spot despite a major offseason roster overhaul and low expectations entering the season.
With that in mind, the emergence of C.J. McCollum this season also helps, as the Blazers now feature one of the league's best scoring backcourts, averaging 45.9 points per game through 56 games this season, the third highest total by any duo in the NBA, (trailing only Oklahoma City and Golden State). All of this, of course, only makes Dame's All-Star Snub even more appalling, if that were possible. 
More than any other player in the league, Lillard has thrust himself into the conversation of the greatest point guards in the league. The responsibility of being the face of the franchise and the primary offensive weapon has helped propel him to greater heights in his individual game, and we're now looking at a game-changer who deserves to be mentioned alongside Chris Paul, Kyrie Irving, Russell Westbrook, Stephen Curry, and John Wall.
Yes, elite is a term that shouldn't be used lightly but in Lillard's case, he has only become a more offensively explosive scorer while remaining near the top of the league in assists. Simply put, it's difficult to understate the type of season Lillard is putting together. He has become one of the marquee superstars in the NBA — not only one of the best players at his position but also in the entire league.
Statistics courtesy of ESPN.com, Basketball-Reference.com, and NBA.com.