NBA History: Two Dunks for the Price of One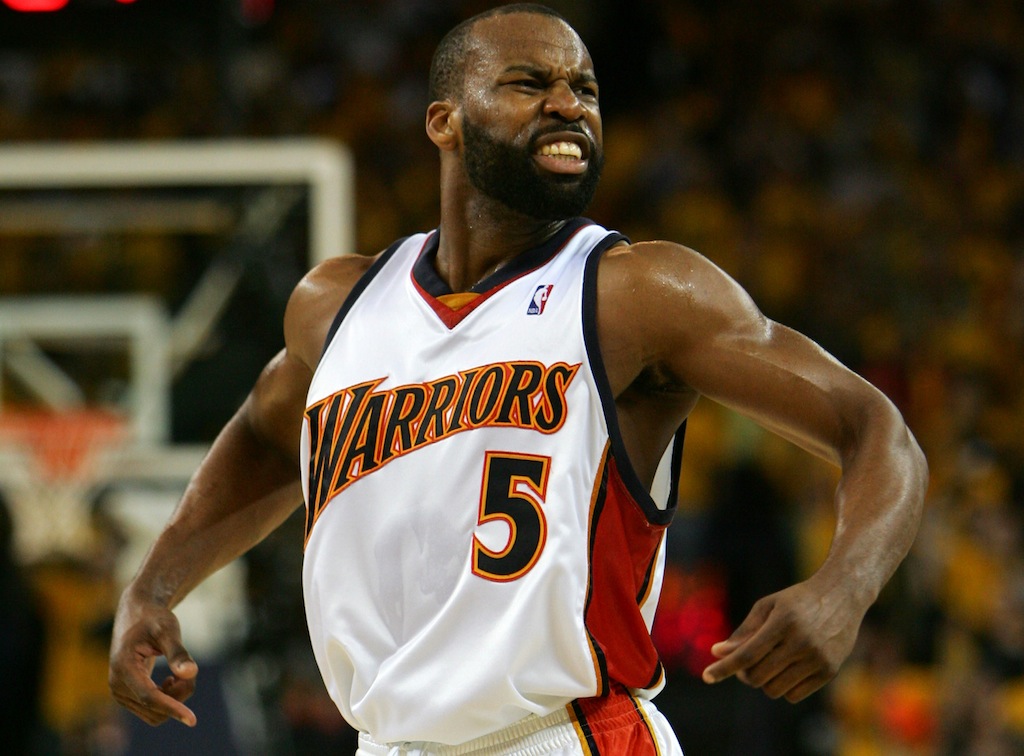 We're always going out of our way to look for dunks that have that "wow" factor. The ones that leave us excited, confused, and utterly speechless. You never know when you're going to see one of these jams, and you never know which player is going to be the one delivering the goods, but when ones of these remarkable displays of athleticism unfolds right before your very eyes, you know it. That, we believe, is undeniable.
We've tried our best to break down some of these great moments. In a league such as the NBA, where change is happening on a consistent basis, we think it's important to draw attention to those singular instances that take our breath away. However, sometimes you come across two equally impressive plays and find it's impossible to choose one over the other. So, on this particular occasion, we decided to do the only sensible thing we could think of: break them both down.
That's right, we're about to give you two dunks for the price of one. Please refrain from getting too overly excited; at least until you've seen the jams, anyway. And believe us, when you these epic exhibitions of individual dominance from both Baron Davis and Grant Hill, you'll be happy you did.
So, sit back, relax, and enjoy another edition of "Throwback Throwdowns."
We've become so used to seeing the Golden State Warriors at the top of the NBA food chain, that we forget there was a period in time when this team was nothing more than an upstart looking to make a name for itself on the biggest stage. And when we take a moment to remember that group, we can't help but think about the squad from the  2006-07 season.
If you're in need of a history lesson, we're happy to remind you that this was team that, as a lowly 8th seed, knocked off the 67-win Dallas Mavericks in the first round of the 2007 NBA Playoffs. However, while that upset proved to be one of the most memorable moments in league history, we tend to be drawn to the next round of that particular postseason. For that's when Baron Davis brought the thunder on Utah's Andrei Kirilenko.
On May 11, 2007, the Warriors found themselves in desperate need of a victory. Already in a 2-0 hole against a talented Jazz team, Golden State couldn't afford to lose Game 3 on its home floor. The Dubs needed to make a stand. And luckily for us, they did. Emphatically.
With just under three minutes left to play in the game, the Warriors were in complete control, up 119-99. It was at that junction that Boom Dizzle (yes, that's a nickname) decided to lay down the proverbial hammer.
Davis brings the ball across half court and immediately passes it to center Andris Biedrins, who's in the post at the top of the key. That's when the magic happened. With Deron Williams guarding him, Davis gets the ball back, hesitates for a quick second, and explodes to the basket with three powerful left-handed dribbles. He lifts off the ground, Andrei Kirilenko rotates over, trying to protect the rim. It's too late. Davis flushes the rock, posterizes Kirilenko, and draws the and one. Complete pandemonium. Davis lifts his shirt up in celebration, the sound level hits a high of 108, and we're left with a gloriously historical dunk. How can anyone not love this game?
We promised two dunks. And we always keep our promises.
This next unbelievable slam is brought to you by Grant Hill — a special player who, due to injuries, was never able to reach his full potential. Still, on this specific occasion, we see nothing but perfection.
On March 16, 1998, the Detroit Pistons traveled to Miami for a hard-fought matchup with the Heat. With five minutes to go in the fourth quarter of a tight ball game, Hill and Miami's Alonzo Mourning end up on the floor after getting tangled up during one of the Heat's offensive possessions. Actually, that's not exactly how it went down.
What really happened was that Mourning set a hard screen on Hill, who didn't like the play, so he proceeded to throw Zo to the ground. While this mixup may seem inconsequential to some, it's actually the perfect setup for what was soon to follow.
Immediately after that possession, Grant Hill has the ball with the Pistons ahead 86-79 and just over four minutes left to play. That's when he goes to work. Hill gets to the top of the key, puts it between his legs, crosses over Miami's Dan Majerle, and heads to the bucket. Mourning steps up to meet him. The two players rise up together, but it's Hill who wins the battle, finishing the jam in Mourning's face and drawing the foul. Game. Set. Match. The perfect ending to an already confrontational evening.
Happy Thursday, everyone.
All statistics are courtesy of Basketball-Reference.com.