NBA: How Kevin Durant Just Got Back to Elite Status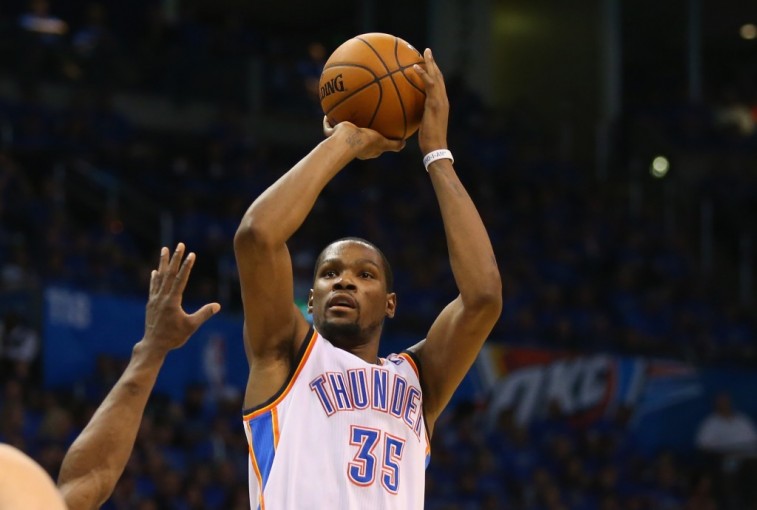 A year ago, Oklahoma City Thunder forward Kevin Durant was working his way back from a Jones fracture that forced him to miss the first 17 games last season. It would be a short-lived return, as he suffered an ankle sprain and then sprained his left big toe, undergoing two procedures to reduce the pain and swelling in his surgically repaired right foot, which ended his season. All of this limited Durant to just 27 games in the regular season and also raised a few doubts about his health moving forward.
Some worried that this recent string of injuries would become a persistent problem for the former league MVP. However, he erased all those doubts this season as the fourth-leading scorer in the league at 27.7 points, while shooting career highs from the field (53.1) and three-point range (46.8) along with a career-best 8.1 rebounds and 4.1 assists in 16 games played. The six-time All-Star ranks ninth in the league in field goal percentage and first among forwards. He is second in the NBA in three-point percentage behind San Antonio Spurs forward Kawhi Leonard.
Durant did miss six consecutive games due to a strained hamstring, but since his return, he has been a dominant scorer, notching at least 20 points in eight straight games. This includes three performances of 30-plus points, which he capped off with his 10th career triple-double in the Thunder's 107-94 win over the Atlanta Hawks on Thursday night. The 27-year-old has been on an offensive tear this season, only failing to score 20 points once and shooting over 50% from the field on 11 occasions.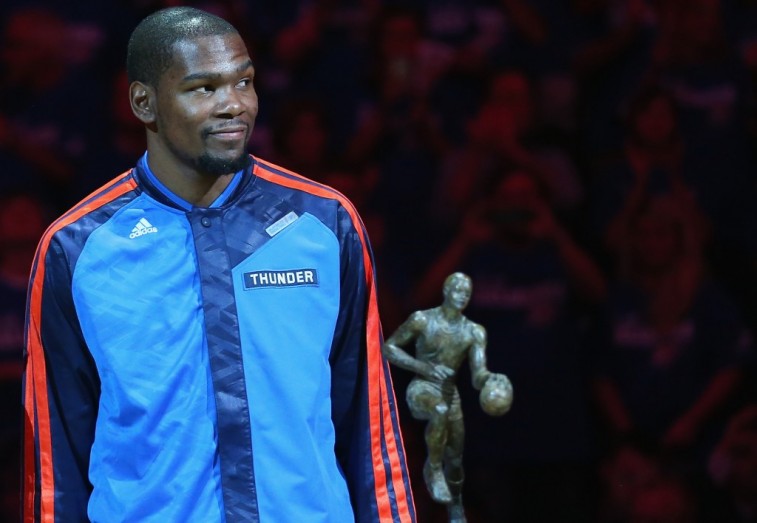 What has been different than years past for Durant is that he has become a more efficient scorer, especially with Russell Westbrook continuing to see improvements in his overall game. Westbrook currently ranks second in the league with a career-best 9.9 assists per game while shooting a career-high 47.4% from the field, which is 4% higher than his career average. Westbrook's play has opened up the floor even more, so Durant gets better scoring opportunities.
According to NBA.com's advanced stats, Durant is second in the league in player impact estimate behind Golden State Warriors star point guard, Stephen Curry. He finds his sweet spots on the floor, with most of his offensive damage coming from mid-range and beyond the arc. Durant is hitting at a 54.3 clip from 15 to 19 feet away from the rim, and making 47.2% of his three-pointers at the top of the key. His improved shot selection allows him to become a better shooter, which is a crazy notion given that he's already one of the league's best scorers.
Durant's return to elite status in the league plays a major part in helping the Thunder become a serious threat once again in the loaded Western Conference. Oklahoma City has won three straight games, including seven out of their last 10 games, which gives them the third spot in the West behind the Warriors and Spurs. Durant's production needs to continue in order to be a major part of the Thunder's offense, as he and Westbrook are what makes the team a title contender.
All in all, Durant's strong play is what makes Oklahoma City a powerhouse team in the NBA again, putting him back in the conversation of the best in the league. Although he isn't averaging 30-plus points per game, his resurgent season is arguably shaping up to be his best year in the league yet. "I can shoot whenever I want," Durant said, according to ESPN.com. "I worked hard to get that privilege. But I just try to play the game as simple as possible. It's fun seeing the game slow down for you, things start to get really fun."
All statistics courtesy of ESPN and NBA.com.
Want more great content like this? Sign up here to receive the best of Cheat Sheet delivered daily. No spam; just tailored content straight to your inbox.