NBA: How Steph Curry May Own the 3-Point Record Forever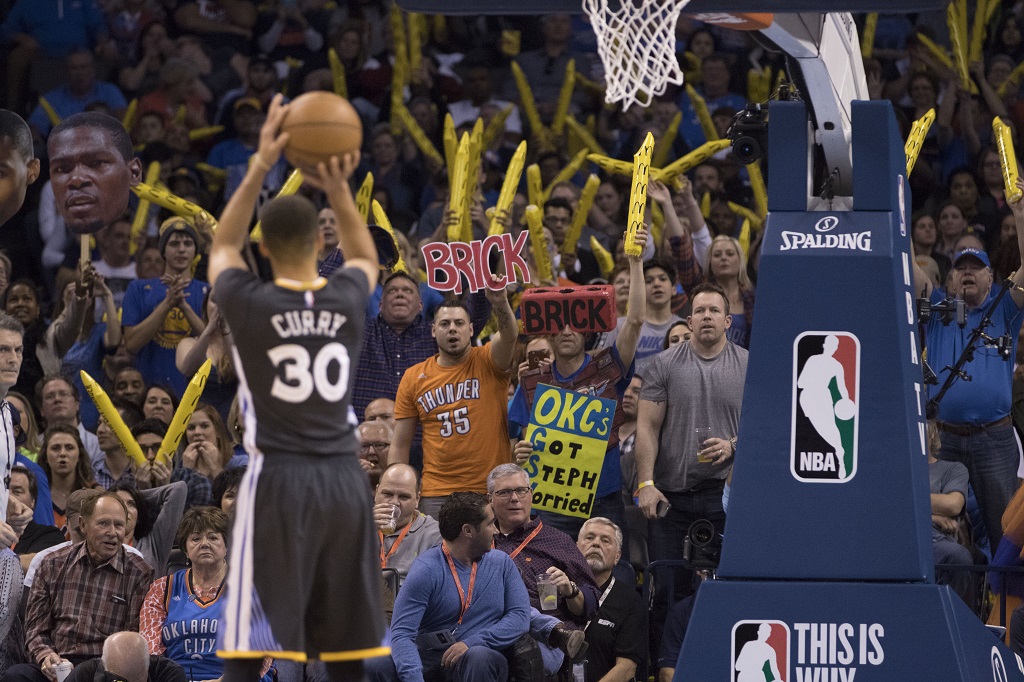 It's been good to be Golden State point guard Stephen Curry over the last couple of years. From a wild NCAA career to a precarious ankle to an NBA MVP Award, an NBA Championship, and possibly securing his legacy as the greatest scorer in basketball history … Would he be as impressive if he played in the hand-checking era? It's impossible to say, but we're certain the answer is yes. We're talking about a guy who's skill floor is consistently underrated (if you can believe that) because his shooting prowess is so far beyond reasonable that you can't do it justice in video games.
At this time last year, there were rumblings that Curry could be the best shooter in the league — his three-point prowess, at least, was unimpeachable. And now he's added another feather to his cap. With 24 games left in the season, Curry's done it again. If you missed his absurd game-winning three-pointer against Oklahoma City last February, you really missed out. We've got the footage below, so take a minute to check it out.

That is what a nothing-but-net three from 30 feet out (at least) looks like. As noted in the call, the Warriors had a timeout left, and the "responsible" thing to do could have been to use it and draw up an inbound play. But there's no need to be responsible when you have a scorer like Steph on your squad — analysts have been running out of ways to say "wow" for the entire season because he takes the entire idea of a heat check, laughs, and scores anyway. No one is supposed to do that, and certainly not night after night after night (after night).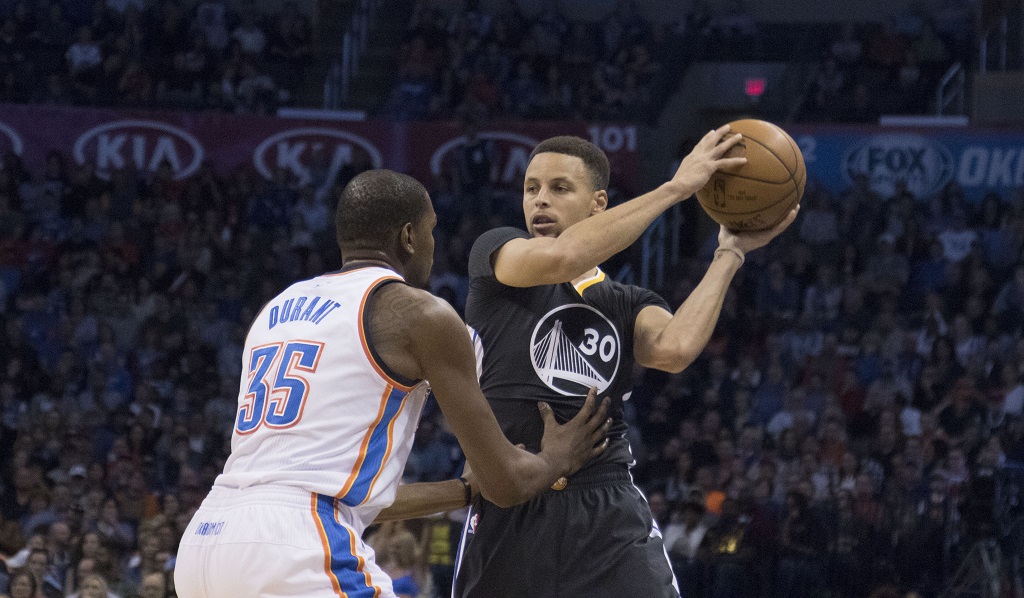 Chef Curry not only owns the NBA's single-season record for three-pointers (see: his eternal green light and unlimited range), but he also owns second and third place, too. After dropping 12 of them on OKC, itself a single-game record, Steph sits at 288 three-pointers sunk through 56 games of the 2015-2016 season. With the Warriors being the first team to clinch a playoff spot in February since the Showtime Lakers, the shots clearly come in service of wins, and if Curry keeps averaging just over five made-threes per game, the new record will be even more insurmountable than the last.
Assuming he stays on his current pace, the reigning NBA MVP will finish with about 410 threes to his name. In comparison, the '96 Chicago Bulls, as a team, made 544. You could bring up the fact that it's a different game, and you'd be right, but consider this: Curry's doing this with a real three-point line, not the shortened one that Jordan and company benefited from for the 1994-95 season through the 1997 Finals. Of course, when you are considered a real threat to hit from 30 feet out, we're not sure how much the line length matters to the Warriors.
Who else fills out the top-five list for single-season threes? Well, you have Ray Allen at 269, Dennis Scott at 267,  George McCloud at 257, and Jason Richardson at 243 — Curry's got a season in there, too, as he finished 2013-2014 with 261. Out of those, Scott and McCloud benefited from the short three line of the '90s, while J-Rich and Ray-Ray are two of the best shooters ever. Allen's shot was certainly prettier, but it's pretty clear Steph has made himself the king of this particular hill.
Statistics courtesy of Basketball Reference.