NBA: Iman Shumpert Uses Batman To Cover-up an Embarrassing Tattoo
You can't watch one NBA game without seeing at least one player covered in tattoos. It's a popular trend among NBA players, and for good reason: it gives them a way to express themselves. Some have a few tattoos. Then there are some former players like Chris Anderson or Dennis Rodman who have them covering what seems like their entire bodies. There's one player, Iman Shumpert, who has quite a few tattoos that he is immensely proud of.
Shumpert recently explained many of his tattoos in an interview. He had one interesting tattoo — a Batman symbol — that serves a unique purpose in his collection. 
Iman Shumpert's NBA career overview
According to Basketball Reference, the New York Knicks selected Shumpert with the 17th overall pick in the 2011 NBA Draft. Shumpert spent several years in New York before the team dealt him to the Cleveland Cavaliers.
There he'd play a vital role as a shooting guard, providing complimentary scoring for the team and helping them win a championship in 2016. After leaving the Cavs, he bounced around the league a bit, with short stints in Sacramento, Houston, and Brooklyn. 
Shumpert's career per-game averages are 7.2 points, 3.3 rebounds, and 0.9 assists. He was named to the league's All-Rookie team in 2011-2012. Shumpert is known for his scoring ability, but he's never been quite able to capture the magic of his rookie season where he averaged 9.5 points per game — he's never had a total that high in any subsequent season since. 
While Shumpert is known as being a role player, one thing he's also known for is his many tattoos. He recently sat down to explain them, one-by-one. 
Covered in tattoos
Iman Shumpert recently gave GQ Magazine a "tattoo tour" for a video posted to their website. In the video, he explains his various tattoos. Shumpert has no shortage of ink. They cover nearly his entire upper body. 
According to Shumpert, the goal of his tattoos is to make "the dream world meet the money." The tattoos lining his right arm have what Shumpert calls a "dream-like quality." He walked through a few of his many tattoos. Here's a sampling of what's depicted within Shumpert's extensive body art: 
Black Jesus walking through snakes
A sign to represent the highway near where his parents live
A basketball
A phoenix rising from the ashes
A money tree to represent how "cash rules everything around me"
The Shumpert family crest
His mother and father
A boom box
Those aren't the only ones. Shumpert has one conspicuous tattoo which serves double duty — along with being one of his tattoos, it also acts as a "cover-up." 
How Iman Shumpert uses Batman as a cover up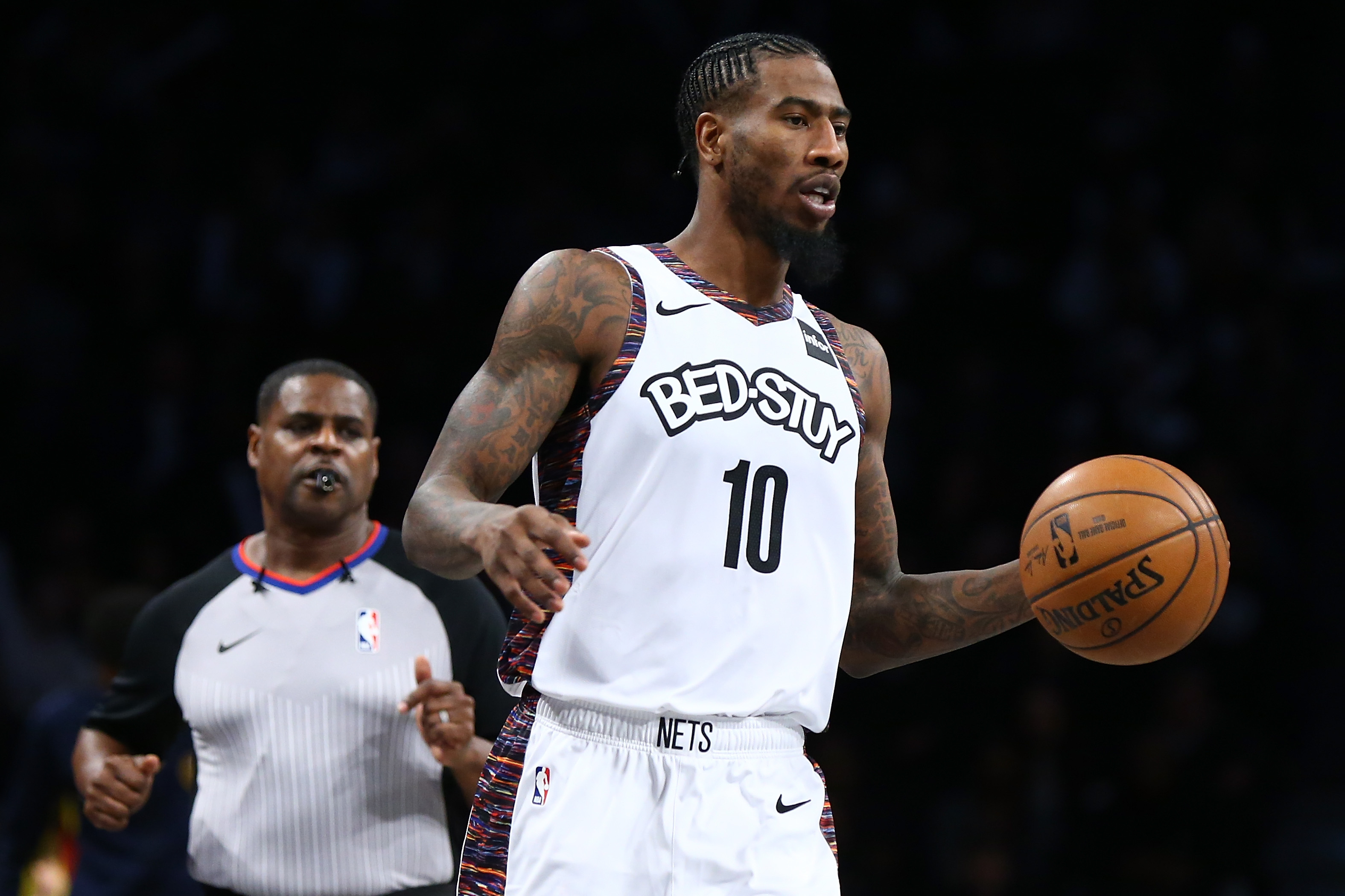 Shumpert also has a Batman symbol tattooed on his right bicep. When explaining the tattoo, the typically outspoken Shumpert clammed up a little bit.
He claimed the tattoo was a "cover-up," which means it was used to cover up an earlier tattoo. It makes sense — the tattoo itself is wide and all black. Here's what Shumpert had to say about the ink: 
"Batman was actually a cover up for, yeah. Something that, you know, when you were a kid and you want to just rap something? Yeah. Covered that all up."
It's unclear exactly what Shumpert was covering up, and unless he spills the beans, we may never know. Of course, everyone makes decisions when they're younger they may want to change later. Shumpert took a symbol he enjoyed and turned his presumably negative older tattoo into a positive.